Easy BBQ rib serving ideas, from smoked macaroni and cheese to grilled corn on the cob, and potato salad to homemade cornbread. Discover what to serve with ribs today.
BBQ ribs are a crowd-pleaser at any backyard party. Whether you prefer spare ribs or smoked baby back ribs, there's nothing better than chowing down on a juicy rack of barbecue smoked ribs. But what should you serve with them?
From easy grilled vegetables to delicious smoked party platter dishes, we have the answer. Discover how to complete your barbecue platter with these easy sides and serving ideas.
BBQ Beans
This isn't your average helping of baked beans. These smoked baked beans are tangy, sweet and – best of all – smokey. Prepared with thick-cut bacon, Dijon mustard, and molasses, there's a rich punch of flavor in every bite.
To make these smoked baked beans, heat up a cast-iron skillet on your smoker grates over 225°F (107°C). Brown thick bacon chunks and diced onion in the skillet before stirring in the beans, BBQ sauce, beer, molasses, and Dijon mustard. Smoke for 2 hours before serving alongside your rib platter.
Mac & Cheese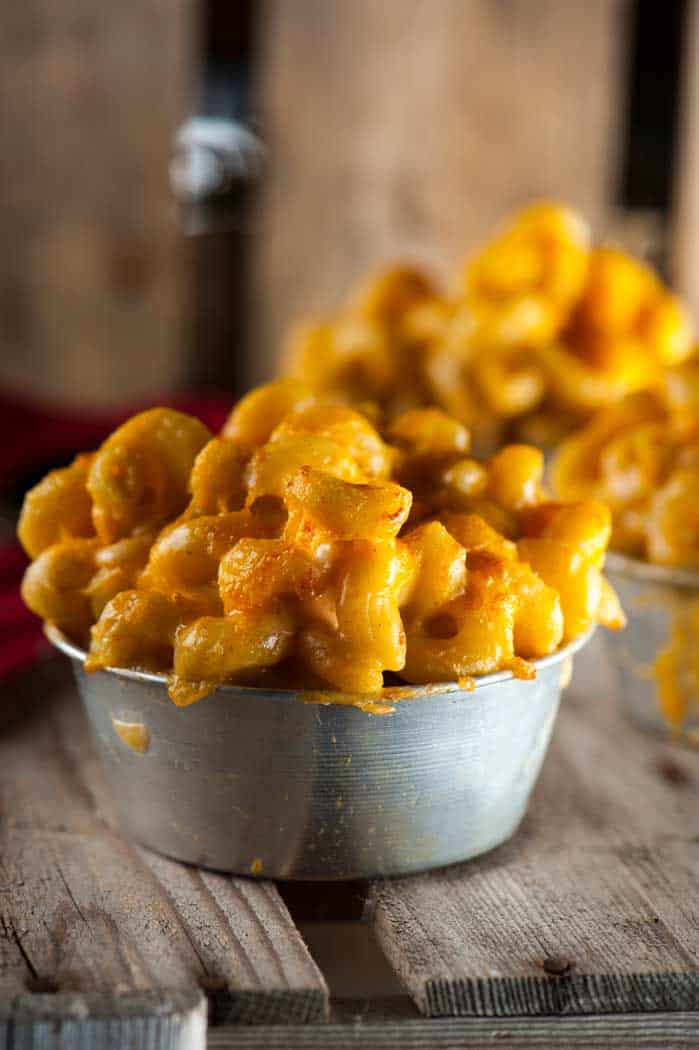 Mac 'n' cheese is so good that it might overshadow your BBQ ribs! Everyone loves the creamy, comforting flavors of mac and cheese, which balance out the intensity of barbecue smoked meat.
For this smoked macaroni and cheese, make the cheese sauce by starting with a roux, adding milk, and stirring it together. Mix in cooked elbow macaroni, then cook over high heat on your backyard smoker for a crispy finish.
Corn on the Cob
Corn on the cob is one of the most classic barbecue sides, and no better than with pork ribs. The softly sweet taste cuts through any smoked meat and has an addictive mouthfeel that's unlike any other dish.
Making grilled corn on the cob is easy. Fire up the grill to medium-high and remove the corn's husks and silk. Apply a touch of butter to each corn cob before grilling until golden brown all over.
Grilled Cornbread
Buttery, sweet, and crumbly, cornbread is a Southern classic. This dish has so many variations, from including jalapeños to bacon, but skillet grilling takes it to a whole new level.
Our easy grilled cornbread is flavored with sweet corn kernels, buttermilk, and a touch of smoke from its flame cooking. Using a cast iron skillet, combine all the ingredients and cook for 30 minutes over medium-high heat.
Texas Potato Salad
Potato salad is a barbecue classic for good reason. The creamy texture and mild flavor go well with the often-strong flavors of barbecued meat. This Texas potato salad adds an extra kick of flavor thanks to the addition of Dijon mustard and chopped dill pickles.
Instead of the typical creamy potato salad dressing, use dill pickles, Dijon mustard, olive oil, and freshly chopped herbs to make the dressing. You can use your favorite herbs, including parsley, chives, and cilantro for added flavor.
Sweet Potato Fries
French fries and barbecue make the ultimate comfort food combination. To serve up this combination with a twist, make sweet potato fries instead. The slight sweetness of sweet potato fries balances well with the BBQ sauce on the ribs.
To make sweet potato fries, just cut the sweet potato into wedges, season, then bake. Baked sweet potato fries are tasty and indulgent but actually healthy because they don't pick up a lot of oil during cooking.
Hush Puppies
Hush puppies are a barbecue staple, especially in the American South. These fried balls of dough are traditional at almost every barbecue, even when serving ribs. Their slightly sweet, greasy batter is the perfect thing to break up heavy, meaty ribs.
Making hush puppy batter is surprisingly easy. You just need to mix up cornmeal, flour, eggs, milk, and seasonings. You can add chopped onion or garlic if you want your hush puppies to contain more flavor. Then, fry the dough balls until they are crispy and light brown.
Fried Green Tomatoes
Fried green tomatoes are another Southern staple when it comes to barbecues and holiday parties. The tangy, slightly acidic flavor of fried green tomatoes, slightly mellowed out by the coating, helps to cut through the richness of the ribs.
To make fried green tomatoes, just slice unripe tomatoes into thin slices, then dip in a batter made out of cornmeal and seasonings. Shallow fry the tomatoes until golden and crispy.
Corn & Tomato Coleslaw
Coleslaw is a barbecue classic because its creamy, tangy flavors balance out the richness and uniform flavors of barbecued meat. However, what if you've grown tired of the same old coleslaw barbecue after barbecue? Then, you can switch up your side dishes with this corn and tomato coleslaw.
For this coleslaw, use red cabbage as a base instead of regular white cabbage. Then, add chopped tomatoes, corn, and a dressing made out of olive oil, lime juice, and other ingredients. You get the bright acidity of coleslaw but add a bit more color to your plate.
Crisp Bell Peppers
Bell peppers are such an underrated vegetable. People most often serve them stuffed or in chili, but they make great snacks just on their own. The sweet, fresh flavors of the peppers balance out the earthy, smoky flavors of barbecue ribs.
The good news is that crisp bell peppers are super easy to make, allowing you to focus on the main dish (and on spending time with your friends). All you need to do is cut bell peppers into wedges and season and roast them, being careful not to let them overcook.
Crispy Corn Fritters
Corn is a classic summer barbecue vegetable thanks to its sweet, fresh flavors and easy accessibility. There are so many different ways to prepare corn as a side, so you never have to get bored with it. These crispy corn fritters are one of the best to go along with ribs because they're easy to make and very tasty.
To make the fritter batter, you'll need corn, jalapeños, chives, flour, cornmeal, milk, and eggs. You can season the batter with cayenne if you want an extra kick.
French Green Bean Salad
Steamed green beans or haricots verts seasoned with red pepper flakes and tossed in olive oil and lemon juice
Green beans are one of the most underrated vegetables. They never get the attention more glamorous veggies such as artichokes do, but they're so dependable. You're guaranteed to always have some on hand, and they're super easy to prepare, making them the perfect side for when you remember at the last minute that you have no vegetables.
To make this very simple French green bean salad, all you need to do is quickly blanch the green beans so they retain their crispness. Then, make a tangy dressing out of lemon juice, Dijon mustard, and olive oil. If you're a spice fan, sprinkle over some chili flakes for a (slight) kick.