This grilled asparagus is quick to make, and the results are perfectly textured, lightly seasoned, and just a bit smoky. The simple balance of asparagus, salt, pepper, olive oil, and lemon juice makes for an easy but richly flavored side dish that will convince even the pickiest of eaters to love their veggies.
This quick and easy recipe for grilled asparagus combines simple flavors and elevates it into a delicious grilled side dish. With only 15 minutes and a handful of ingredients, this healthy dish can be quickly paired with your next BBQ dinner!
Discover how to make this tender, smoky, and perfectly seasoned grilled asparagus, plus charred lemon wedges to pair that make for a wonderful appearance.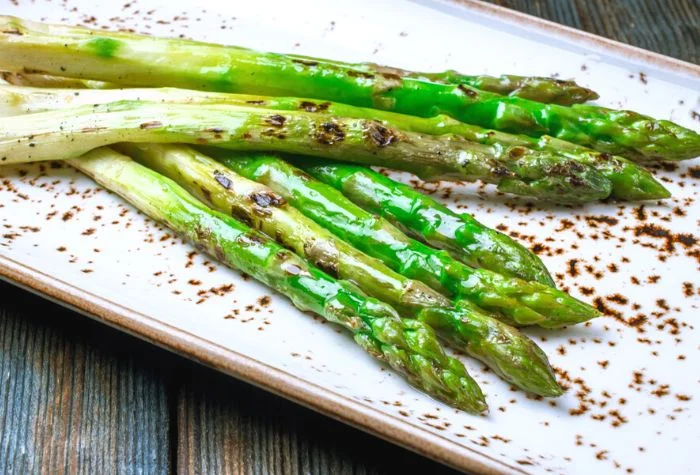 Asparagus on the Grill
Asparagus doesn't always get the best reputation. Often, it's served overcooked, flimsy, rubbery, or worse, with the woody stem still attached. Luckily, it's surprisingly easy to make asparagus not only taste passable – but actually taste really, really good!
For this grilled asparagus recipe, we will be discarding those woody stems and tossing the asparagus in a combination of olive oil, salt, pepper, and lemon juice. These simple ingredients work together perfectly to make a lightly seasoned and well-flavored dish.
In addition to a light and healthy side dish, you'll also serve your grilled asparagus with charred lemon wedges. This handy trick makes for an attractive presentation and has the added bonus of making your lemons juicier.
How to Prepare Asparagus for Grilling
As mentioned earlier, one of the few tricks to master when it comes to making asparagus taste great comes down to discarding those pesky, flavorless stems. There are two ways to go about this.
Trim the Stalks All at Once: Line up your asparagus evenly, then chop the bottom ⅓ of the asparagus stalks. This method is quick, but it's hard to guarantee you'll get all the woody stems removed, as each stalk of asparagus is different in size.
Give 'em a Snap: Simply snap each asparagus stalk as if you're trying to break it, and voila, the exact amount of woody stem will break off, leaving you with only the tender tops of the asparagus. This method is slightly more fun, but it does take a bit longer.
Seasoning: In addition to trimming the asparagus, it's important to season the asparagus simply, as it is an easily overpowered vegetable and will take on additional smoke flavor from the grilling. If, when the asparagus is finished, you think it needs additional seasoning, add it right before serving.
How to Grill Asparagus
Now that your asparagus is perfectly cooked, it's time to grill. Begin by preheating the grill to medium-high heat (350°-400°F) and lightly oil a grill pan. If you don't have a grill pan, you can place the asparagus directly on the grill for those attractive grill marks. Just make sure you thoroughly clean the grill with a grill brush before cooking.
The asparagus should be seasoned right before you're ready to throw it on the grill, to prevent wilting.
Once the asparagus is on the grill, it's important to rotate the stalks constantly with a pair of tongs, as they'll overcook very quickly. The asparagus is done grilling when it has taken on a vibrant green color and is tender but not wilted.
Storing & Reheating Grilled Asparagus
This recipe for grilled asparagus makes 4 servings, though you could easily double or triple this recipe to feed more hungry guests with little to no added prep time!
As for leftovers, any leftover grilled asparagus can be stored in an airtight container and kept in the fridge for up to 3 to 4 days. Alternatively, if you want the asparagus to last longer, you can freeze it for up to 3 months. Make sure the asparagus has fully cooled before freezing it.
To reheat grilled asparagus, the oven is your best bet. Preheat the oven to 400°F and place your leftover grilled asparagus on a baking sheet. Then, bake for 8-10 minutes or until the asparagus is fully warmed.
If reheating from frozen, there is no reason to thaw your asparagus before reheating. Simply toss it in the oven after coating it with an additional tablespoon of oil.
Quick Tips
No grill? No problem! The grill can be swapped for an oven preheated to 375°F for about 15-20 minutes.
Leftover asparagus can be used in many different ways, either on salads, sandwiches, or even atop a pizza!
Use an infused salt such as garlic salt or chili sea salt for added flavor, though season lightly at first. It's always easier to add more seasoning than to take it away.
Did you know there's more than just green asparagus? There's also purple and white asparagus! Keep in mind purple asparagus will turn green after cooking.
If using table salt, use slightly less than this recipe calls for, as kosher salt is less potent than regular table salt.