Delicious grilled eggplant slices prepared in fresh garlic and herb marinade. These smoky and charred slices are the perfect vegetable side – and ready in just 20 minutes!
This quick and easy grilled eggplant recipe is loaded with flavor. It combines a few simple ingredients to make tender, savory, and smoky grilled eggplant that will satisfy even the fussiest of eaters. Best of all, this simple grilled side dish comes together in just a few quick steps and just 15 minutes of cook time!
Eggplant (or aubergine) is a hearty vegetable that's ideal for grilling. Its firm texture and mild flavor allow it to stand up to the flames while imparting the perfect balance of smoky and charred flavor.
For this grilled eggplant recipe, we will be brining each slice in a simple saltwater solution. This will help draw out excess moisture in the eggplant and make for a more tender dish.
Then, each side will be coated in a marinade made of crushed garlic, fresh herbs, and red chili flakes. This will make for a hearty vegetable side dish that's balanced with savory, spicy, and fresh flavors, plus an unmistakable char that you only get from perfectly grilled veggies.
From preparing the perfect marinade and brine to delicious serving ideas, discover how to grill eggplant perfectly today.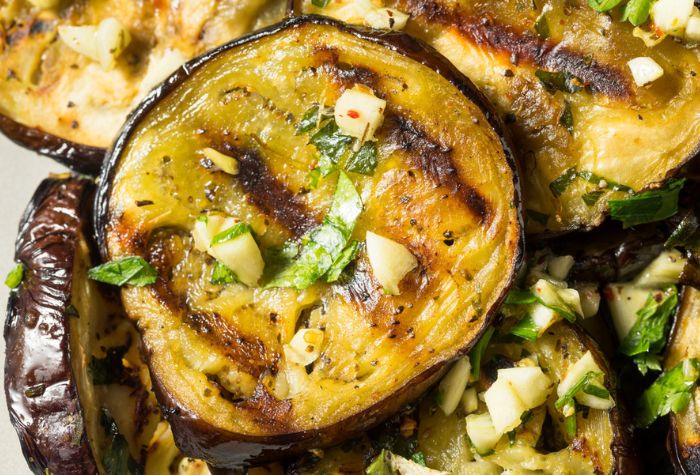 How to Grill Eggplant
In addition to tasting great, it couldn't be easier to make this grilled eggplant. Even if you don't consider yourself a professional griller, you'll have no problem following this recipe.
Prepare the Eggplant: Remove the leaves and stem from the eggplant, then chop into quarter-inch-thick slices
Make the Brine: Combine water and salt in a shallow bowl, mixing until the salt dissolves. Coat each eggplant slice in the brine until fully covered, and weigh down the eggplant with a heavy plate or pot lid to keep them submerged in the brine.
Fire Up: Preheat the grill to medium heat. Lightly coat a paper towel in oil and, using a pair of tongs, oil the grill grate so the eggplant doesn't stick.
Make the Marinade: In a bowl, combine the marinade ingredients, and mix well to combine
Marinate the Eggplant: Remove the eggplant from the brine, shake to remove excess moisture, and pat dry with a paper towel. Transfer eggplant slices to a baking dish or plate and brush the marinade on both sides.
Grill the Eggplant: Place the eggplant slices in a grill basket, and place the basket on your grill's grates. Grill for 10-15 minutes, flipping halfway through. The eggplant is done when it's tender and slightly blackened.
Serve: Remove eggplant from the heat and serve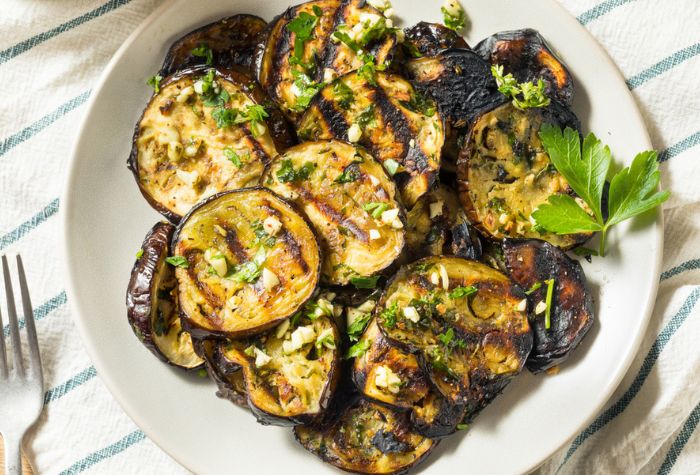 Ingredients
In addition to being easy to make, this recipe is also made up of simple ingredients, most of which are common kitchen staples. Here's exactly what you'll need for this grilled eggplant recipe:
Eggplant: Also known as aubergine, any size eggplant will do but keep in mind that grilling times will vary depending on the size of the eggplant. Look for firm but not hard eggplant that has no mushy or brown spots.
Water: To make the brine that will draw out excess moisture in the eggplant and make for a more tender dish. Room temperature is best.
Salt: To make the brine. Any type of salt will do, though fine sea salt is best.
Oil: Any neutral cooking oil with a high smoke point will work, such as canola oil or vegetable oil
Garlic: Adds flavor and essential freshness. Can be swapped for garlic paste.
Fresh Parsley & Mint: Adds essential freshness that balances perfectly with the flavor off the grill. Parsley is preferred, but mint can be swapped with thyme, rosemary, or oregano if desired.
Red Chili Flakes: Can be swapped for red chili oil, Sriracha, or omitted completely
Ingredient Swaps & Suggestions
This recipe is great as is, but there is definitely room for some simple modifications to make it truly your own. Here are some of our recommendations:
Asian-Glazed Grilled Eggplant: Omit fresh herbs, swap neutral oil for sesame oil and add one tablespoon of soy sauce, one tablespoon of honey or maple syrup, and one teaspoon of fish sauce. Garnish with sesame seeds.
BBQ'd Grilled Eggplant: Prepare as indicated, omitting fresh herbs. Toss grilled eggplant in BBQ sauce before serving.
Balsamic Grilled Eggplant: Omit fresh herbs and red chili flakes in place of one tablespoon of balsamic vinegar. Top grilled eggplant with balsamic glaze.
Storage & Reheating Leftovers
This recipe makes 4-6 servings. Just in case you end up with leftovers, you can store leftover grilled eggplant in an airtight container and keep it in the fridge for up to 3-4 days.
When you're ready to reheat the leftover grilled eggplant, place them on a baking sheet lined with parchment paper and heat at 350°F for 7-10 minutes, or until the eggplant has fully reheated.
Quick Tips
Japanese eggplants, also known as long Asian eggplants, are sweeter than normal eggplants and cook much faster thanks to their tender skin.
If you don't have a grill, you can swap it for an oven set to 375°F for 25 minutes, stopping halfway through to flip each slice.