These smoked mushrooms combine perfectly cooked, smoky, and tender mushrooms with a combination of butter and spices to make a super flavorful appetizer or side dish. Best of all, it takes just forty minutes to bring these savory smoked mushrooms to life!
These quick and easy smoked mushrooms are the perfect appetizer or side dish and come together in no time. The results are savory, smoky, tender mushrooms garnished with fresh herbs in a rich, buttery sauce.
Discover tips for making perfect smoked mushrooms with just a handful of ingredients, and have them on the dinner table in a little over an hour!
Smoked Mushrooms Explained
Mushrooms are the perfect veggie for smoking. Their umami flavor and tender texture make them the ideal vegetarian alternative to meat or as a complementary side dish. Mushrooms are one of our favorite smoked vegetables, and this recipe shows exactly why.
This recipe takes white button mushrooms and coats them in a combination of butter, Dijon mustard, salt, and pepper. These flavors pair perfectly with smoked mushrooms and melt together to make a rich and flavorful dish.
Ingredients
The ingredient list for this smoked mushrooms recipe is super simple, and you likely have everything you need at home already. Only six ingredients are required to make these savory smoked mushrooms, and there's plenty of room for modifications depending on what you have on hand.
Here's exactly what you'll need to make these smoked mushrooms:
White Button Mushrooms: Perfect for smoking because they're easy to cook and have a naturally mild flavor. White buttons can be swapped for crimini, portobello slices, or wild mushrooms.
Butter: Unsalted is preferred so you can better control the amount of salt added
Salt & Black Pepper: Adjusted to taste
Dijon Mustard: Amplifies flavor, though it can be swapped for stone ground mustard or omitted if preferred
Fresh Parsley: Optional, for garnish and a pop of color
Ingredient Swaps and Suggestions
This recipe is great as is, but there is room for some simple modifications to make it truly your own. Here are some of our recommendations:
Make an herb compound butter: Combine melted butter with dried herbs such as rosemary, thyme, or oregano. Whisk to combine before coating the mushrooms.
Add minced garlic and a squeeze of fresh lemon juice
Add two tablespoons of honey for sweet and savory smoked mushrooms
Swap Dijon mustard for balsamic vinegar
How to Smoke Mushrooms
In addition to tasting great, making these smoked mushrooms couldn't be easier. Even if you're new to the smoker, you will have no problem making these savory smoked mushrooms.
Prep Work: Clean mushrooms by gently wiping them with a wet paper towel, then preheat the smoker to 250°F
Smoke: Add the cleaned mushrooms to a cast iron skillet and smoke for 10 minutes with the lid on.
Add the Butter: Cut the butter into chunks, remove the mushroom and add the butter, mustard, salt, and pepper. Smoke for an additional 20 minutes.
Serve: Remove the mushrooms from the smoker and garnish with fresh parsley.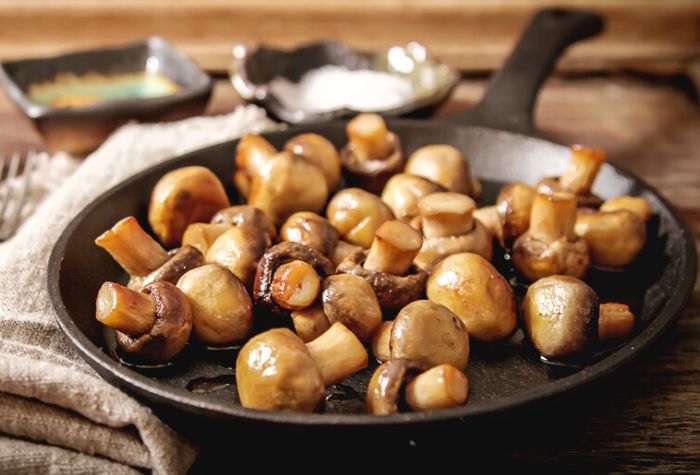 Serving Suggestions
These smoked mushrooms taste perfect on their own, but they taste even better when paired with equally delicious side dishes. Here are some suggestions:
Serve atop creamy polenta or mashed potatoes
Add to meatless tacos
Add to burritos
Serve with buttery pasta noodles and shaved parmesan
Quick Tips
If you don't have a smoker, you can still have smoky mushrooms by adding ½ teaspoon of smoke flavor to your mushrooms, then bake at 425°F for 20-25 minutes or until tender.
Instead of smoking your mushrooms, place your skillet on a grill preheated to medium-high heat. Cook with the lid on for about 20 minutes.
Storage & Reheating
This recipe for smoked mushrooms makes 4-6 servings, depending on if they are the side dish or the main course. That said, it's super easy to make a double – or triple-batch of this recipe with little added prep time.
As for leftovers, you can store leftover smoked mushrooms in an airtight container and keep them in the fridge for up to 3-4 days.
Alternatively, if you want your smoked mushrooms to last longer, you can freeze them in an airtight container (or freezer bag) for up to three months.
When you're ready to reheat the leftover smoked mushrooms, place them on a baking sheet, then cover them in foil, and heat in the oven at 275°F for 10-12 minutes or until the mushrooms are fully reheated.
FAQ
How do you smoke mushrooms without a smoker?
If you don't have a smoker, you can swap it for your grill. First, add the mushrooms to your skillet, followed by the butter chunks and spices, then let them cook on indirect heat with the lid on for 20 minutes.
Can you cold-smoke mushrooms?
Yes, you can cold-smoke mushrooms, though they will have a more subtle smoky flavor and slightly more chewy texture. To cold smoke, set the smoker to 75°F and let the mushrooms smoke for 2-2 ½ hours.
How do you clean mushrooms?
Since mushrooms absorb a ton of water, it's best not to run them underwater to clean them. Instead, carefully wipe them with a wet paper towel to remove excess dirt before cooking.