Grilled sweet potato slices drizzled in olive oil and paprika seasoning. This easy side recipe takes only minutes to prepare and is the perfect dish for any table platter.
Looking for a side dish that will perk up your whole spread for the barbecue? Look no further than these grilled sweet potatoes.
Sweet, savory, easily customizable, and perfectly charred, this simple but effective preparation method allows the natural flavors of sweet potatoes to shine. Both prep and cooking time only take a few minutes, so you can whip these up quickly while you focus on the main meal. Just be careful: These sweet potatoes are so tasty that they could outshine your main dish.
Simple but addictive, it's easy to see how this is one of our most popular grilled appetizers or sides. Here's how to grill sweet potatoes from scratch. Let's get grilling.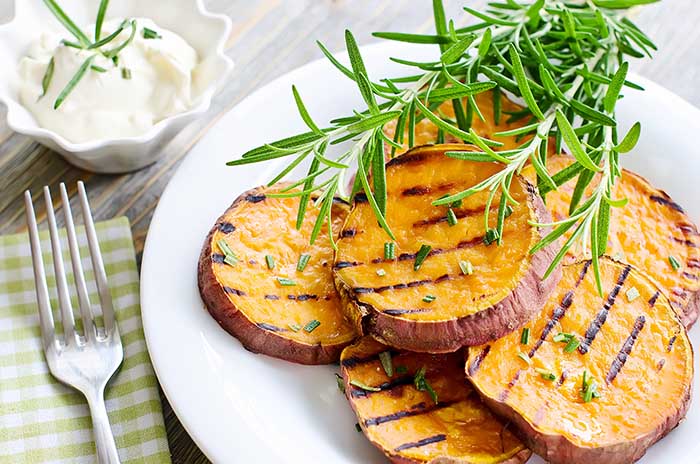 Quick Tips
Before you start your grill, line the grates with a thin layer of canola oil. This will help stop the potato slices from sticking to the grill as they cook. It's important to use canola oil instead of other types of cooking oil because canola oil has a high smoke point of nearly 400°F (204°C), allowing it to withstand high grilling temperatures.
Buy sweet potatoes that are similar in size and color. This will ensure that they cook at the same rate and taste just as good as each other.
Don't forget to parboil the potatoes before slicing. This is the best way to ensure that your potato discs have a caramelized outside and soft and sweet inside.