Complete your barbecue with these delicious smoked side dishes. Tasty recipes to pair with your smoked brisket, turkey, chicken, and pulled pork.
Choosing the side dishes for your barbecue is just as important as the main meat, and should be taken seriously. If you're not sure where to start, I've got you covered.
I've compiled the best smoked side dish recipes for your next cook-off, and best of all: All of these can be made on the smoker.
From summer classics like Texas baked beans and mac n' cheese to winter favorites like stuffing and smoked cheese, these dishes will have your guests raving.
Mac and Cheese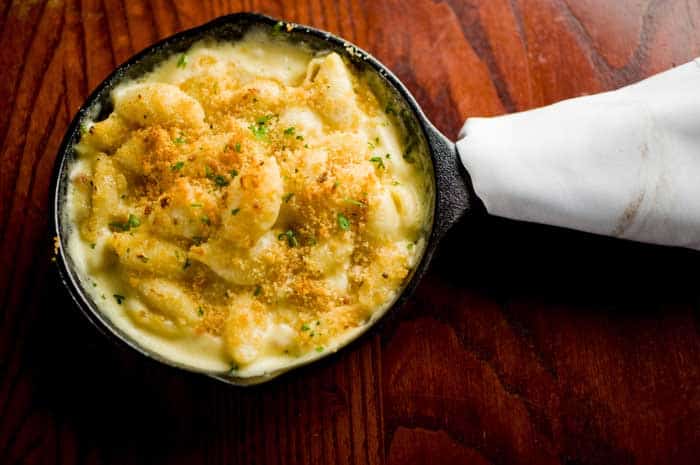 Everyone has their own take on this classic recipe, but I promise that preparing it in the smoker will be unlike anything you've had before.
Cooking over applewood takes this smoked mac and cheese to a new level. It mixes elbow macaroni, cheddar, and gouda to stay faithful to traditional recipes. But the blend of the smoke and bacon topping will give you a combination of flavors unlike anything else.
Baked Potatoes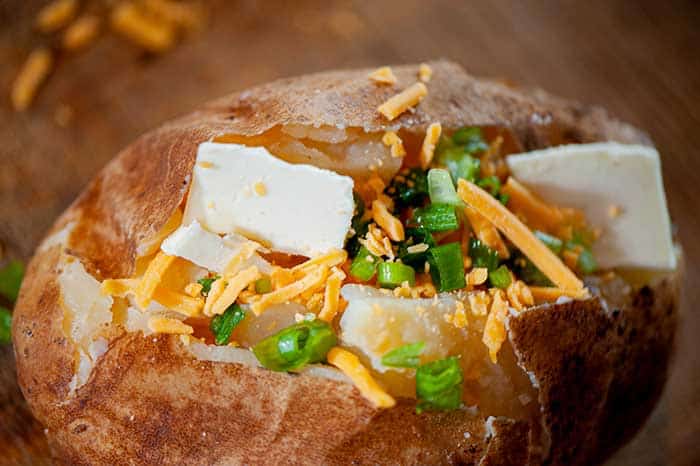 Infused with rich wood-fired flavors, these smoked baked potatoes are a serious upgrade on traditional oven-baked fare. Simply wash and season them before placing on your smoker grill grates, and cook for 2-3 hours until light and fluffy on the inside. Top with your choice of butter, shredded cheese, sour cream, and bacon.
Fennel Sausage Chestnut Stuffing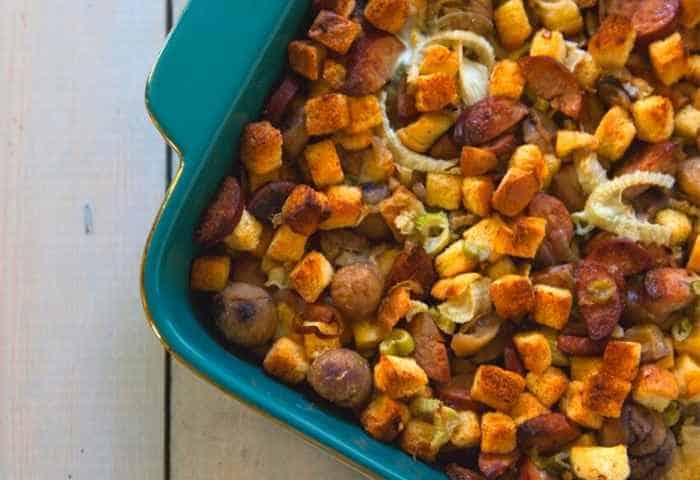 Made with fennel sausages that are filled with flavors and textures, this is proof that you shouldn't rely on the canned stuffed!
This sausage is hearty and satisfying and makes the perfect companion to your smoked turkey. Best of all, it's easy to prepare. You can cook it at the same time as your turkey, sharing the grates in your offset or electric smoker.
Brisket Burnt Ends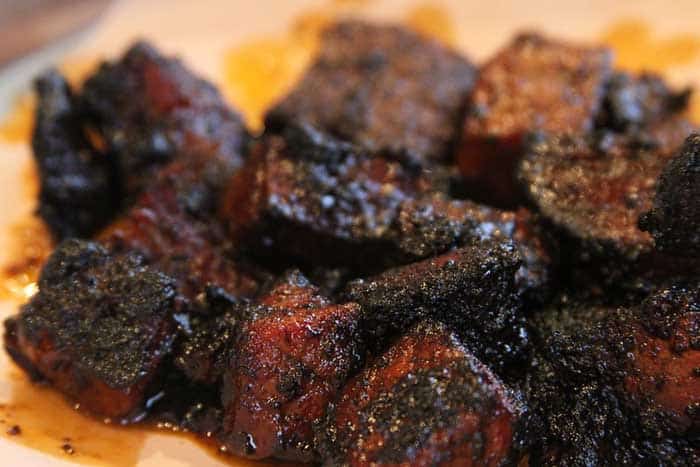 Burnt ends come from leftover smoked brisket, and come from the part that contains the most fat and marbling. This means that they are loaded with incredible, succulent flavors when smoked.
They've got everything wonderful about brisket, stripped down to tasty little cubes that are full of juice and flavor. Best of all, brisket burnt ends can be made from scratch, making them fresher and more delicious.
Beef Cheeks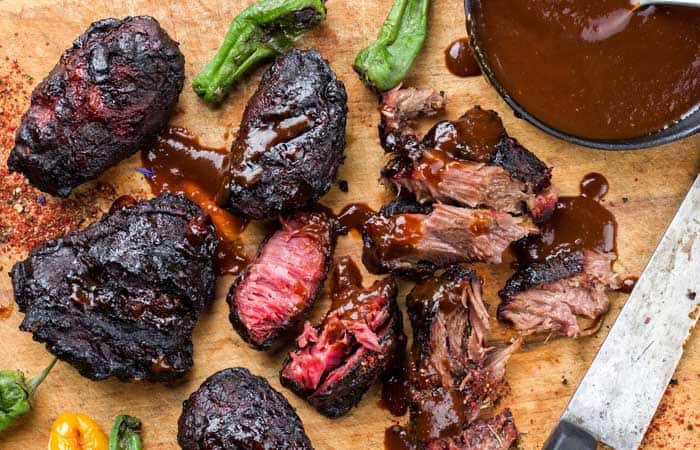 Gooey, sticky smoked beef cheeks are perfect on their own, or as a taco or sandwich filling. These small and lightweight beef cuts contain a thick strip of collagen that runs through its center. This breaks down as it's smoked, giving the beef its signature stickiness.
Poor Man's Burnt Ends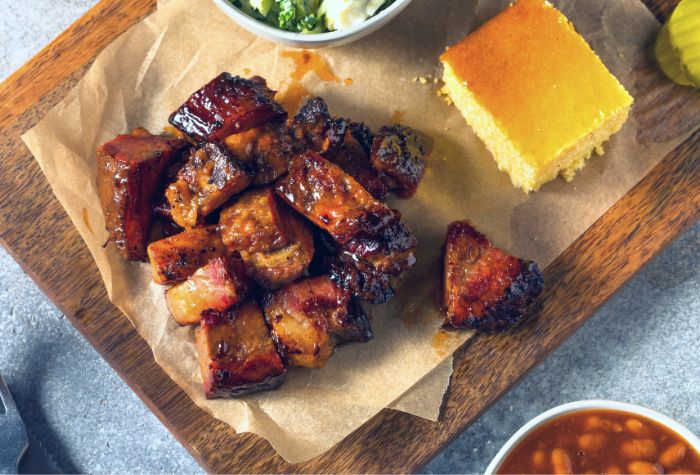 A cheaper twist on the brisket classic, poor man's burnt ends replace the beef brisket with chuck roast for a more budget-friendly and easier version of the barbecue favorite. The good news is that these are just as delicious, tender, and addictive.
Riblets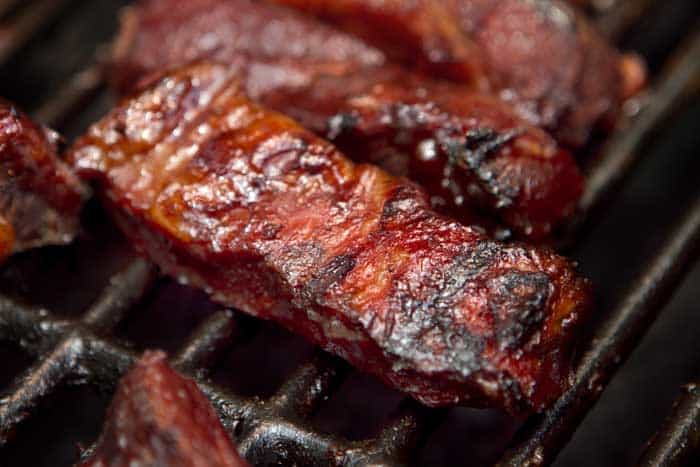 These might be new to you, but they're a worthy addition to anyone's barbecue repertoire. Pork riblets are crunchy, tangy, and impossible to put down. They're easy to cook and cheap, so perfect for a crowd.
Riblets come from the round bone ends of the rib rack, which are usually thrown out, or from the leftovers when trimming the ribs. Not to be confused with 'rib tips,' which are boneless strips of meaty tips cut off St Louis-style ribs, these will go down a storm.
Venison Ribs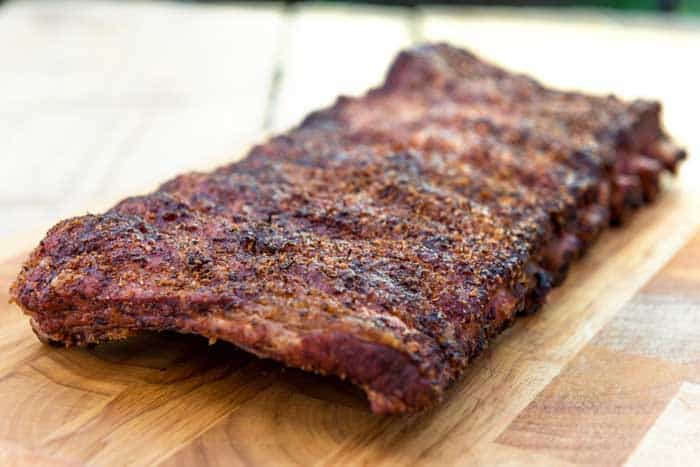 Why not pair your meat with more meat? Change things up with these smoked venison ribs instead of pork or beef for something truly unique. These beauties are fine, tender, and fall-off-the-bone.
Venison ribs are cheap to buy, packed with protein, and low in fat. They're easy to smoke in a short time, making them one of the best smoked sides to rustle up at short notice. They carry a rich flavor that's milder than other game meat cuts, so even people who don't normally like game could be swayed!
Turkey Legs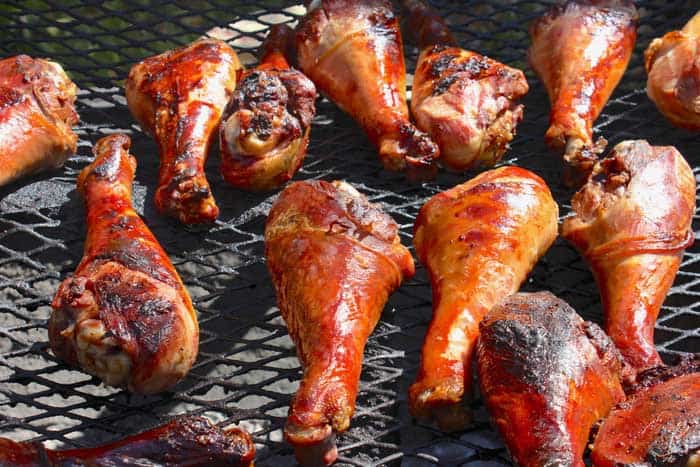 Juicy and tender, with a crisp skin to round off a great taste. These smoked turkey legs are prepared with a sweet and spicy rub before cooked low and slow over cherry wood, delivering an intense flavor.
Hot Dog Burnt Ends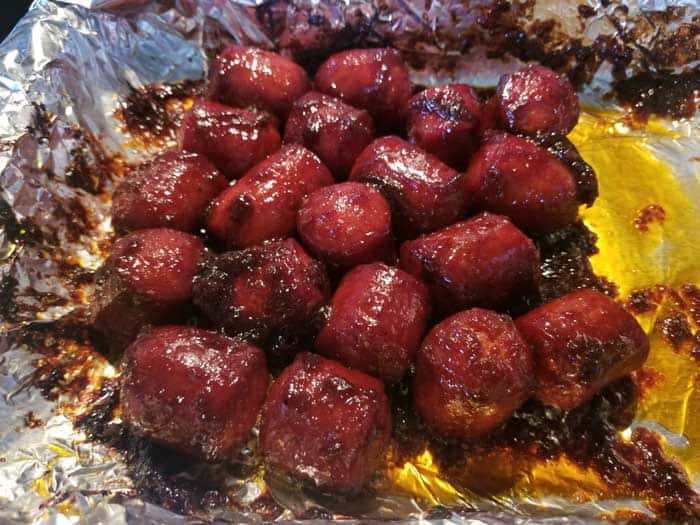 If brisket isn't your thing, these smoked hot dog burnt ends are the perfect alternative side dish. They carry that unmistakable hot dog taste, with an added sweet and spicy kick.
They're cheap, easy, and are done in just 90 minutes. Smoked as whole frankfurters in a bath of butter and BBQ sauce, they offer a rich and juicy caramel-like taste that'll go with anything.
Stuffed Mushrooms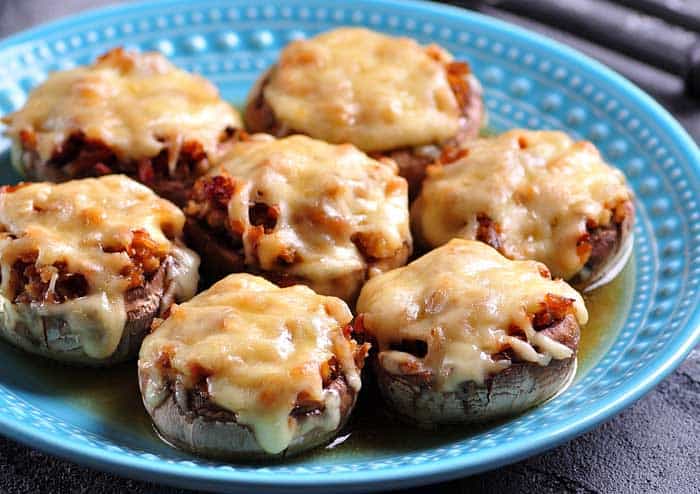 Beautiful portobello stuffed mushrooms, slowly brought to temperature and topped with delicious melted cheddar. While I normally do these on the grill, they can easily be smoked over indirect heat to give the wood time to do its thing. Topped with bacon, cream cheese, and jalapeños for a tangy, spicy kick of flavor.
Texas Baked Beans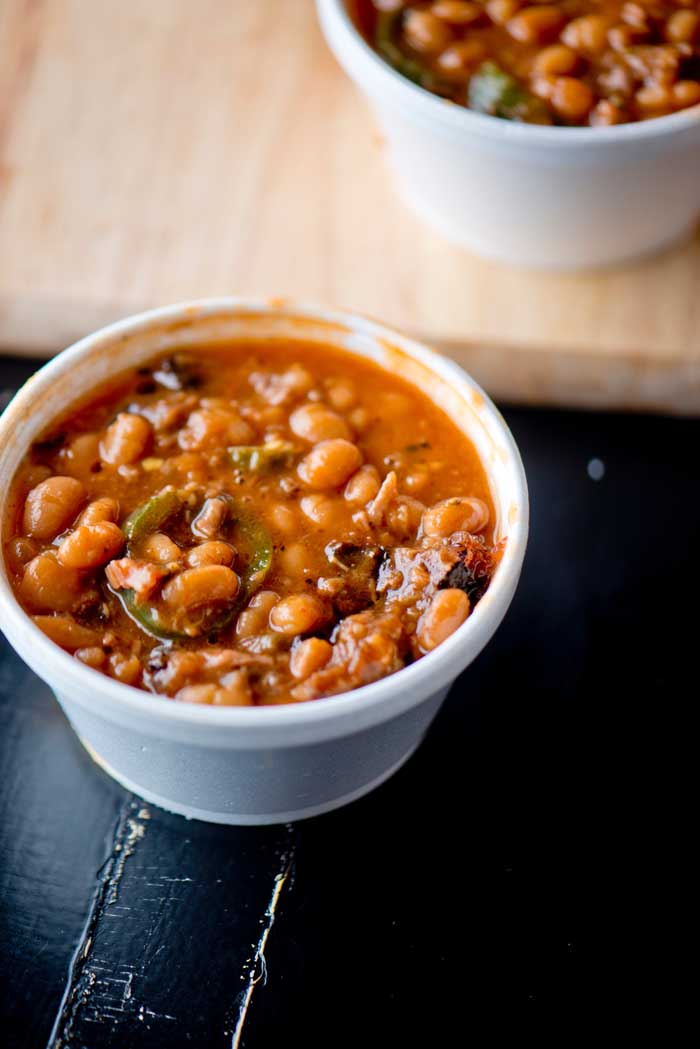 This side is a Texas BBQ classic, and for good reason. Cooked low and slow over hickory smoke, and mixed with bacon, beer, and barbecue sauce, these BBQ baked beans are bursting with flavor.
Fire your smoker to 250°F. As it heats up, sauté the onion and garlic in a skillet over medium-low heat. Add bacon and sliced jalapeno peppers and cook for about 10 minutes or until browned. Remove the pan from the heat.
Add beans, beer, and barbecue sauce to the mix, and stir in molasses. Combine thoroughly and move the skillet to the smoker. Cover in foil and cook for one to two hours, or until the beans have browned.
Mashed Potatoes
No dinner platter would be complete without mashed potato, but why not take things up a level by infusing this classic side with smoke?
Our smoked mashed potatoes are made with Russet potatoes and cream cheese, whipped together in a cast iron skillet before being cooked low and slow for just an hour on your charcoal, electric, or pellet smoker.
BBQ Coleslaw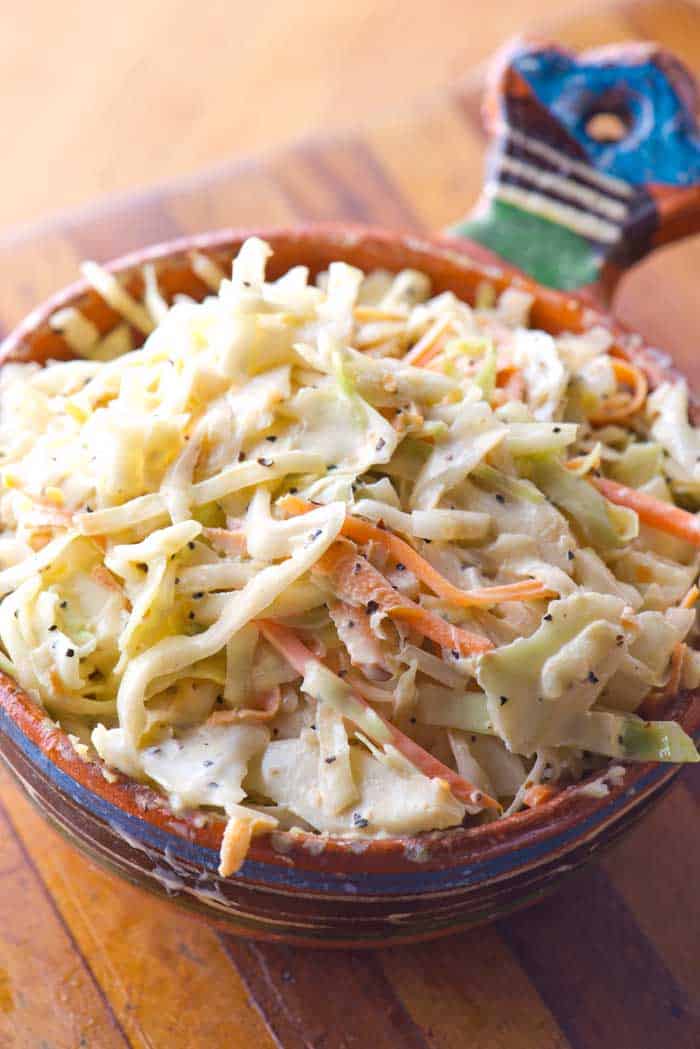 Crunchy and refreshing, coleslaw is the perfect side to any barbecue dish, but even more so when finished in the smoker. Resist the temptation to get store-bought, and make your own. You'll be glad you did.