Delicious side dish recipe ideas for your homemade pulled pork. From classic mac & cheese to barbecue baked beans, these best pulled pork sides will take your BBQ spread to the next level.
Smoky, saucy, and completely mouth-watering, pulled pork is an American classic and a favorite for many backyard barbecues. Let's face it, the natural flavor combination that comes out when you cook and shred pork this way is pretty close to perfection, but sometimes you may want to add a little extra on the side when serving the dish.
Whether you feel like lightening up the meal with fresh and zesty salads, or you want to lean into the decadence with various types of buttery carbs, these pulled pork sides will take your barbecue platter to the next level. Let's get cooking!
Smoked Macaroni & Cheese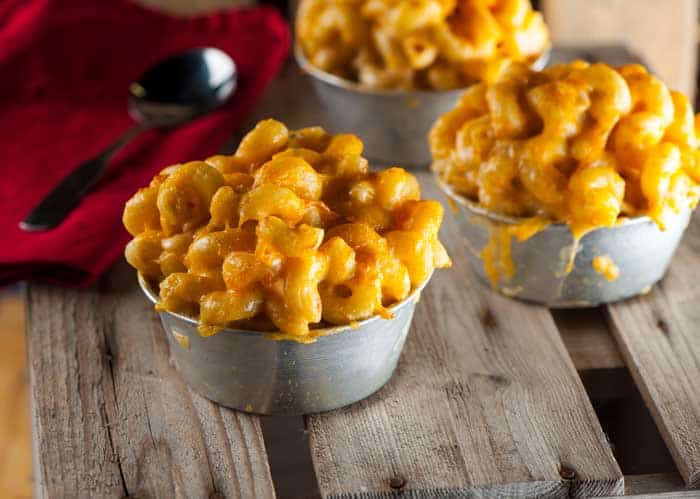 Ooey, gooey, and a total cheese overload, macaroni and cheese is the ultimate comfort food for those colder nights in. Unlike regular mac and cheese, this BBQ spin on the classic mixes in gouda and bacon for extra decadence before smoking it in a skillet over applewood smoke. The result is a dish that holds together nicely with a beautiful layer of smoke that pairs perfectly with salty-sweet pulled pork.
Combine cooked elbow macaroni, butter, flour, and milk in your skillet mix, butter, and cheese into a pan, before topping with even more cheese as it cooks on your grill. We said it was a cheese overload, so don't say we didn't warn you!
Try This Recipe: This applewood smoked macaroni and cheese boasts gouda and cheddar cheese, plus crispy bacon for a rich and decadent flavor.
BBQ Beans
You haven't had baked beans like this, trust us. Not your standard baked beans, BBQ beans match sweet with smoke (and even a dash of heat) for a side dish that's worthy of any barbecue platter.
While different regions have their own spin on smoked baked beans, they invariably add sauteed onion to regular beans, before packing in the flavor with bacon, sauces, and more.
Try This Recipe: These simple smoked barbecue baked beans are made with bacon and BBQ sauce to pack in a flavor that's out of this world.
Corn on the Cob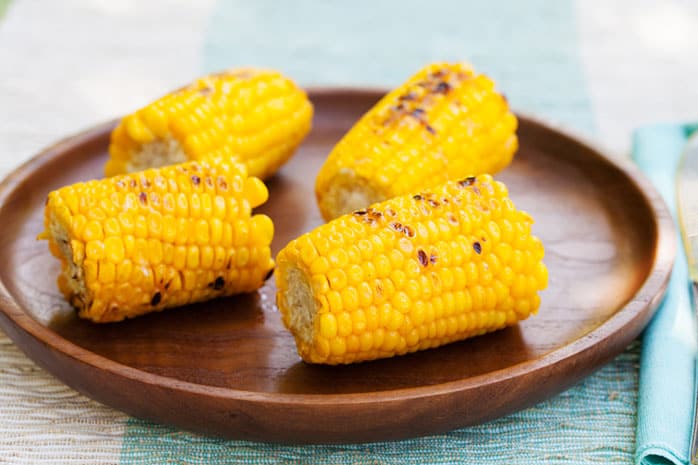 Corn on the cob is one of the classic barbecue sides, and no better than with BBQ pork. The softly sweet taste cuts through the rich flavors of pulled pork and has an addictive charred texture that's unlike any other side.
Try This Recipe: Making corn on the grill without husks is easy. Fire up the grill to medium-high and remove the corn's husks and silk. Apply a touch of butter to each corn cob before grilling until golden brown all over. Ready in just ten minutes.
Homemade Coleslaw
Pulled pork is great eaten by itself, but sometimes you need some added crunchy texture. Coleslaw is refreshing and crunchy, adding a different dimension to pulled pork sandwiches or just on the side of a plate. And sure, buying coleslaw from the supermarket is easy, but there's something so satisfying about making your own from scratch. Plus, it's deceptively easy!
You can shred it with additional veggies depending on the type of cabbage you love. We recommend carrot before pairing it with a slightly sweet and subtly slightly sour dressing. It's imperative to let the coleslaw mix settle in the fridge overnight to let the flavors get to know each other, but don't be afraid to sneak in a taste (or two).
Try This Recipe: This homemade coleslaw skips the usual inclusion of sugar, instead adding apple cider vinegar and Dijon mustard for a nice kick.
Deep-Fried Okra
Deep-fried okra is one of those side dishes that looks impressive and tastes even better. Deep frying this underappreciated vegetable with a crispy, golden brown exterior and a well-seasoned interior will ensure you're left with finger food that's hard to resist. Due to the element of crunch, deep-fried okra pairs well with the juiciness of pulled pork.
Buttermilk should coat all edges of the chopped okra before the whole thing is dredged with flour and spices. Then, a flash in hot oil and you'll be ready to eat them fresh and warm.
Try This Recipe: These fried okra have a two-to-one ratio of all-purpose flour and cornmeal for that signature golden exterior and crunch. 
Potato Bread Rolls
A potato bread roll is your best bet if you want to soak up all the sauce and spices from pulled pork. Unlike regular bread rolls, potato bread rolls are fluffy, airy, and completely delectable, so much so that we promise we won't judge if you make three or four pulled pork sandwiches just for yourself.
The name potato bread comes from including instant mashed potato in the rolls. While it may seem weird to have carbs-upon-carbs, something about the potato makes the rolls that much softer. And with the addition of melted butter brushed on top of rolls that come out fresh from the oven, you definitely won't want to stop at one.
Try This Recipe: These fluffy potato rolls are incredibly easy to whip up, even if you've never made bread from scratch before.
Veggie Kabobs
Whether you're looking to go low-carb for a while, or are simply in the mood for freshly grilled vegetables, veggie kabobs are a great appetizer or side dish option when you're serving up pulled pork. Besides being fun to make, veggie kabobs are completely customizable based on what you've already got in the back of your fridge.
A variety of colorful veggies placed on a skewer and tossed in herbs and olive oil, is a perfect option for those outdoor picnics or summer barbecues.
Try This Recipe: These easy grilled veggie skewers add flavor and zing with a special herb sauce and balsamic vinegar. 
Sweet Potato Fries
Restaurant-style sweet potato fries are completely achievable in the comfort of your own home—and when you serve them up with smoky-sweet pulled pork, it creates the ultimate comfort food. Regular fries are great, but there's something so addicting about the slightly sweet, slightly salty flavor of sweet potato fries. When they're placed in the oven or fryer, sweet potato tends to develop a slight caramelization flavor, making you return for more.

Coating them in cornstarch after giving them a cold water bath is a surefire way to get the crispy, savory, fries of your dreams.
Try This Recipe: These grilled sweet potato fries are perfectly seasoned with a good mix of garlic powder, paprika, and black pepper.
Mediterranean Salad
You'll only need a handful of ingredients to make a Mediterranean salad, one of the most popular salads in the world. Known for its simple and tart dressing, Mediterranean salad is light, refreshing, and makes you feel good after eating. For those who are a bit more health-conscious, this salad is a great accompaniment to pulled pork.
The secret of this salad lies in the quality of the produce. You'll want the best quality cucumber, onions, and tomatoes, before mixing in olives and feta cheese—which both impart a much-needed briny taste.
Try This Recipe: This Mediterranean salad incorporates red wine vinegar into its simple yet delicious dressing.
Grilled Halloumi Salad
Halloumi is an exceptionally versatile cheese that works well in sandwiches, eaten plain with fruit, and in skewers. But in our opinion, adding it into a salad really makes the flavor shine. When you grill halloumi, you'll get those recognized brown grill lines, which add some color and dimension to the rest of the vibrant salad.
After placing halloumi on a bed of baby spring greens, you'll want to pepper the dish with an even mix of tomatoes, cucumbers, and fresh herbs, like mint.
Try This Recipe: Easy to make and even easier to consume, this grilled halloumi salad ties in the richness of the cheese with fresh greens. 
Garlic Butter Potatoes
Garlic and butter are one of those heavenly combinations that taste too good to be true—and when you combine it with a fluffy carbohydrate like potatoes, you won't be able to get enough. Garlic butter potatoes are a great carbohydrate source for plain pulled pork, and the delightful umami flavor of garlic will be complementary to the richness of the meat.
You'll want to get the garlic butter combo in the crevasses of the potato, to ensure maximum crunch in every bite. Don't forget to sprinkle extras like parmesan and parsley on top.
Try This Recipe: These garlic butter potatoes are a twist on regular baked potatoes, with a unique hasselback shape.
Sweet Corn Fritters
Whether eaten as a snack or as a side dish, sweet corn fritters are fun to make and can be enjoyed by the whole family. When corn and batter are mixed together and cooked in a pan, you create a sweet and savory mix of flavors that pair well with a variety of dishes, like pulled pork.
Best of all, you can customize these fritters just how you'd like. Only have frozen corn kernels? No worries, throw them in. What about some leftover chives, green onions, or herbs? They'll only add to the flavor.
Try This Recipe: These quick and easy sweet corn fritters are made with only a handful of ingredients (most of which you'll already have lying around) and can be made in under 15 minutes.