These beautiful smoked onions are sweet and rich in smoky flavor. The perfect addition to burgers, sandwiches, or soups, this wood-smoked vegetable will be a key player in your backyard cooking repertoire!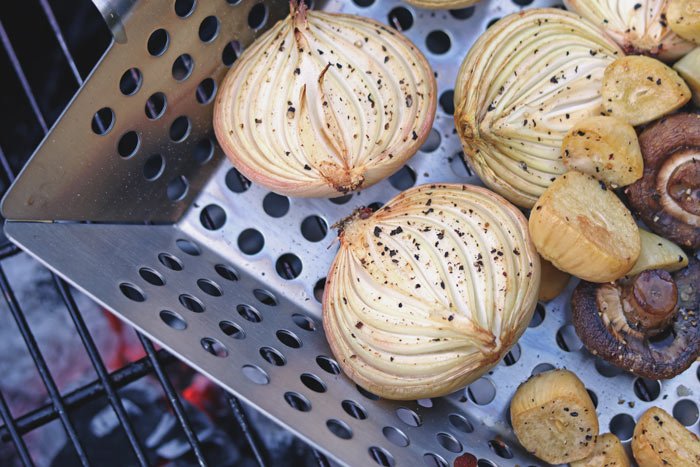 Smoking onions might sound a little out of the ordinary but this could be a game-changer for your outdoor cooking. They're fantastic at absorbing smokey flavor, while their natural sugar content caramelizes beautifully to give you a smokey-sweet vegetable that can be used in sandwiches, soups, and salads.
Best of all, this easy smoked vegetable recipe couldn't be easier and is the perfect thing to throw on your smoker while you focus the rest of your attention and energy on a meaty main or vegetable platter.
From preparing your onions to the right smoker setup, discover how to smoke onions today!
Why You Should Smoke Onions
Smoking onions isn't just another cooking method like roasting or sauteeing. Cooking them low and slow will completely transform their texture and flavor unlike any other. They're fantastic at absorbing smoke, which elevates their sweet taste. This added depth of flavor makes them a fantastic addition to any of your favorite BBQ sandwich recipes, as well as hot dog or salad toppings, as well as base ingredients for soups.
Choosing the Right Onions for Smoking
Let's talk about picking the perfect onions for smoking, because believe me, not just any onion will do. Here's what you need to keep in mind to get those onions just right for the smoker:
Yellow Onions: When it comes to smoking, not all onions are up to the task. You want to go for varieties that have the right amount of natural sugars to transform under smoke. Yellow onions are your best bet here. They deliver the perfect blend of sweet and smoky we're after.
Size is Key: Don't go too big here otherwise you'll be adding hours to your smoke time. Just go for medium-sized onions, and ensure they're uniform in size to help keep flavor and texture consistent between them all.
Always Go Fresh: You want fresh onions that are firm and ready to absorb all that smoky flavor. Obviously fresh will always taste best, but fresh onions will also hold their shape as they slowly start to soften over the course of our cook time.
How to Smoke Onions
These easy smoked onions are caramelized, and loaded with rich, smoky flavor. Best of all, it couldn't be easier to do on your backyard grill or smoker. Here's how to do it:
Prep: Simply slice each onion in half lengthwise (i.e. vertically). This will help maximize our surface area, helping them absorb more smoke and cook more quickly. Also, keep the stem ends attached; this will help the halves keep their shape as they soften.
Season: Brush a thin layer of olive oil on the onions to help with flavor and caramelization. Then, season with a little salt and crushed black pepper.
Fire Up: Warm up your smoker to 225°F (107°C). If you're using a charcoal grill, make sure you are set up for 2-zone indirect cooking with your coals at one side.
Smoke: Once your smoker is at our target cooking temperature, arrange the onions in a grill basket. This will help them stop falling through or sticking to your smoker's grates, while still allowing smoke to flow through the onions from underneath.
Wrap: After 2 hours, wrap the onions tightly in aluminum foil (I like to double-wrap them). Place back on the smoker and increase heat to 250-275°F (121-135°C). Smoke for another 1 hour, or until onions are soft and caramelized.
Pull: Pull onions from the smoker, unwrap, and allow to cool for 10 minutes. Serve immediately!
Best Wood for Smoking Onions
The best wood for smoking onions is something mild that doesn't overpower the natural sweetness of the vegetable. For this recipe, we've gone for oak wood because it's relatively neutral and allows onion to come through. However, mild fruitwoods like apple or pear are also a good choice.
Try to avoid 'heavier' woods like hickory or mesquite. They're on the bolder side, and can be far too overpowering for something more delicate like onion.
How to Use Smoked Onions
These smoked onions aren't just a simple side dish – they can make the perfect addition to any dish for a touch of smokiness. Here's how to make the most of them:
Burger & Hot Dog Toppings: Chop these onions up fresh off the smoker and throw them on your favorite BBQ burger, hot dog, or sandwich.
Soups & Stews: They can add an incredible depth of flavor to your homemade soups or stews.
Salads: Yep, even salad. Sprinkle some chopped smoked onions on top of your boring old lunch salad for a smoky twist.
Dips & Spreads: Mix these onions into cream cheese for a smoky onion dip, or blend them into butter for a spread that's full of flavor.
Quick Tips
Keep the Heat Low: We want caramelization not char for these onions, so ensure you keep the heat at 225°F for at least the first two hours.
Use a Grill Basket: While you can use a baking tray or heatproof pan to cook these onions, be aware that they may inhibit the smoke from fully penetrating the onions. I recommend using a grill vegetable basket to place the onions in to allow good smoke to flow through.
Smoked Onions
These beautiful smoked onions are sweet and rich in smoky flavor. The perfect addition to burgers, sandwiches, or soups, this wood-smoked vegetable will be a key player in your backyard cooking repertoire!
Print Recipe
Pin Recipe
Ingredients
3

large yellow onions

2

tbsp

olive oil

1

tsp

sea salt

1

tsp

ground black pepper
Instructions
Preheat your smoker to 225°F (107°C). Place 1-2 chunks of oak wood on the coals.

Peel and halve the onions lengthwise. Do not cut off the ends – we need them to keep the onion halves together as they smoke.

Lightly coat the onion halves in olive oil. Season with salt and black pepper.

Once your smoker has hit the target temperature, place onions in a grill basket and then place the basket on your smoker or grill grates.

Smoke for 2 hours. Then, wrap the onions tightly in foil and place them back on the grates. Increase temperature to 250-275°F (121-135°C) and smoke for a further 1 hour, until onions have turned soft

Remove from smoker and allow to cool for 5-10 minutes before serving