Complete your beef brisket with these delicious side dish ideas and recipes. Barbecue classics including Texas BBQ baked beans, spare ribs, and grilled corn. Find your new favorite smoked brisket side today.
While barbecue smoked brisket is the star of the show, it's not complete without a couple of accompanying sides. The best plates will transform your beef brisket, taking it from BBQ platter to full-on feast.
From Texas baked pinto beans to classic grilled corn on the cob, these fun side dish recipes will complement your beef perfectly.
Texas Baked Beans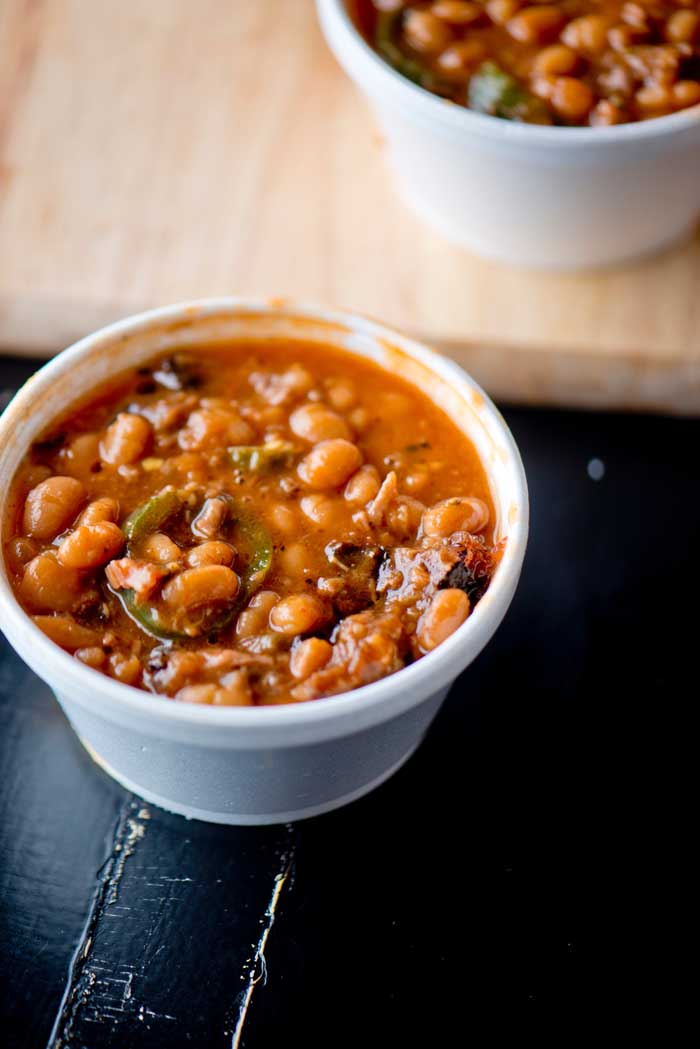 I don't think there's anything that goes hand-in-hand with brisket more than baked beans. This Texas-style take on it is the perfect example why.
This all-American classic is smoked low and slow over hickory to give our smoked barbecue baked beans a beautifully thick layer of smoke flavor. Containing bacon, beer, and BBQ sauce, it has everything we hold dear about backyard cooking in it.
Fire up your smoker to 250°F. While it's warming up, sauté onion and minced garlic in a skillet over medium-low heat. Add bacon and sliced jalapeño peppers, and cook for about 10 minutes or until they have browned. Remove the skillet from the heat.
Add beans, beer, and barbecue sauce to the mix, and stir in molasses. Stir the mix thoroughly and transfer the skillet to the smoker. Cover in foil and cook for one to two hours, or until the beans have browned.
Brisket Burnt Ends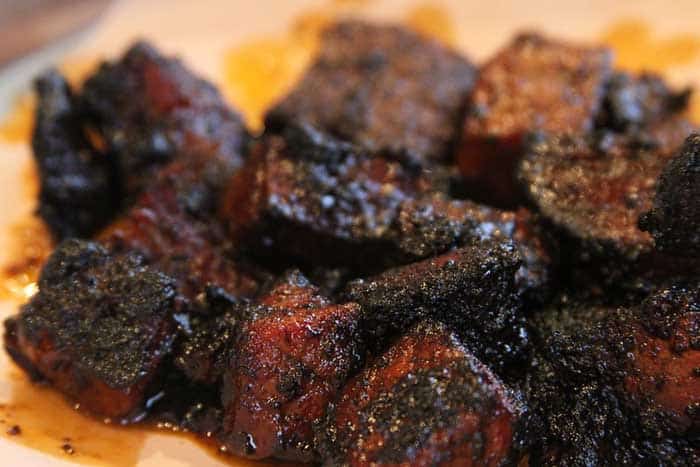 Why not pair your brisket with more brisket? Sticky, juicy, sauce, soft brisket burnt ends. Super soft and melt in your mouth delicious. These little chunks of beef make the most of the best part of the brisket, and elevated when combined with smoke and BBQ rub.
Burnt ends come from the fatty point end of the brisket. This contains a lot of marbling, which means that as it cooks it'll melt away and that's why these taste so awesome. Slowly rendered fat. So much juice. So much flavor. Delicious.
BBQ Spare Ribs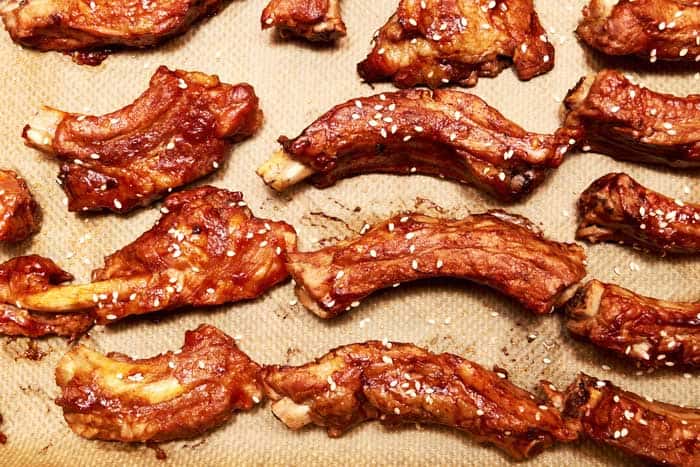 One of the best ways to complete a BBQ platter is with a serving of pork spare ribs. Spare ribs are one of the most popular types of pork ribs, and it's not hard to see why.
Unlike baby back ribs, spares carry a beautiful amount of fat and meat. This means a good rack of spare ribs will be dripping with flavor.
If you like spice and want to have something different, try our Korean-style spare ribs. They're coated in gochujang, giving them an incredible layer of spice and sweet flavor.
Corn on the Cob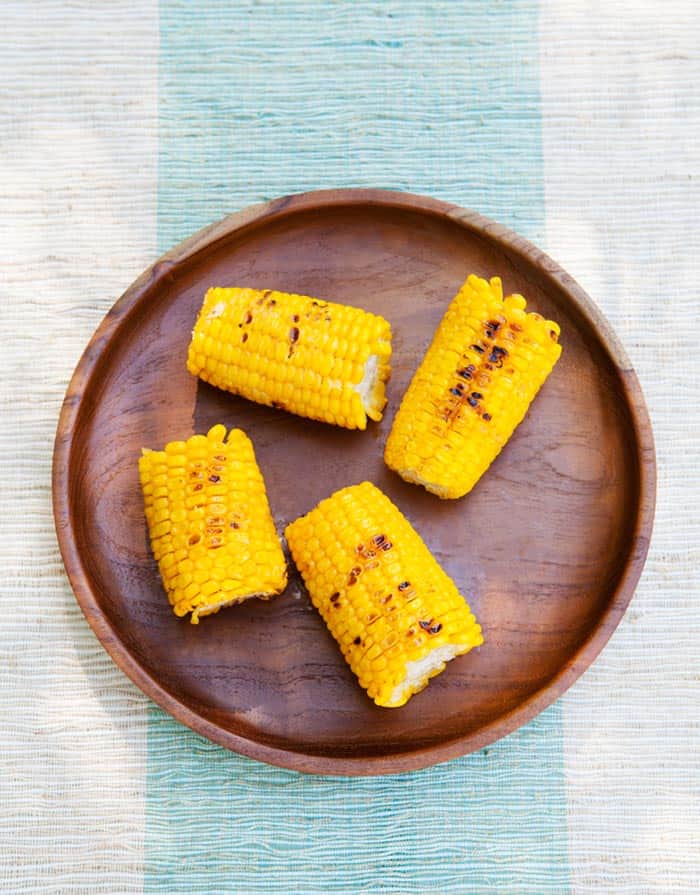 This twist on the classic American BBQ side will change your life. Grilling corn on the cob without husks caramelizes its natural sugars, giving it a deep and nutty taste unlike any corn you've had before. We top it with butter for some extra flavor, and it's a winner. Best of all, it only takes 10 minutes to grill.
Grilled Potato Skins
As if grilled potatoes weren't addictive enough, we've only gone and topped them with bacon and cheese.
These russet potatoes are split and smoked, hollowed, and then grilled to perfection. The end result is a crispy, smokey, delicious appetizer or side. These potato skins are easily customizable, and you can even fill them with some pulled brisket.
BBQ Coleslaw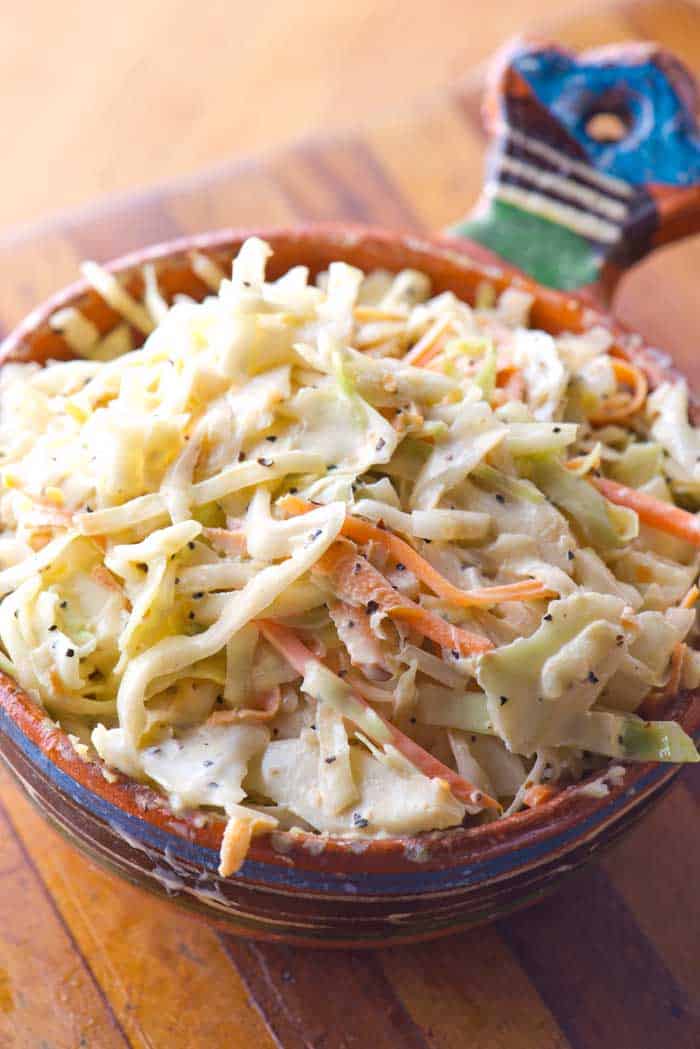 Crunchy and refreshing, coleslaw is the perfect side to complement smoked beef brisket.
Resist the temptation to get store-bought, and make your own. You'll be glad you did.
Smoked Mac and Cheese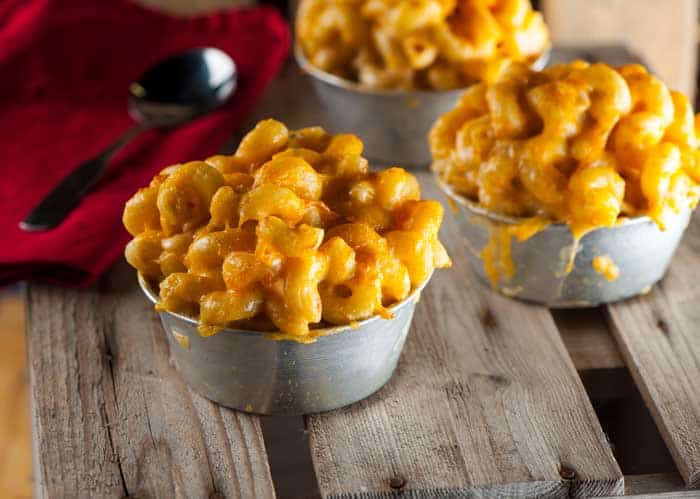 This smoked mac and cheese recipe takes everything you love about the classic side dish and dials it up to eleven. Melted cheddar and gouda cheese over macaroni, cooked over apple smoke, and topped with crispy bacon. What could be more American?
This recipe takes perfectly cooked elbow macaroni, mixes in the sharp and rich tastes of cheddar and gouda, and tops it with applewood smoke. It's a flavor combination unlike anything else.
Grilled Asparagus
Asparagus is lighter than potato or corn, so offers a great alternative if you've gone all-in on the beef brisket. Best of all, it's one of the easiest vegetables to grill and can be ready in under ten minutes.
And hey, if you want to wrap it in bacon, I'm not judging.
Hot Dog Burnt Ends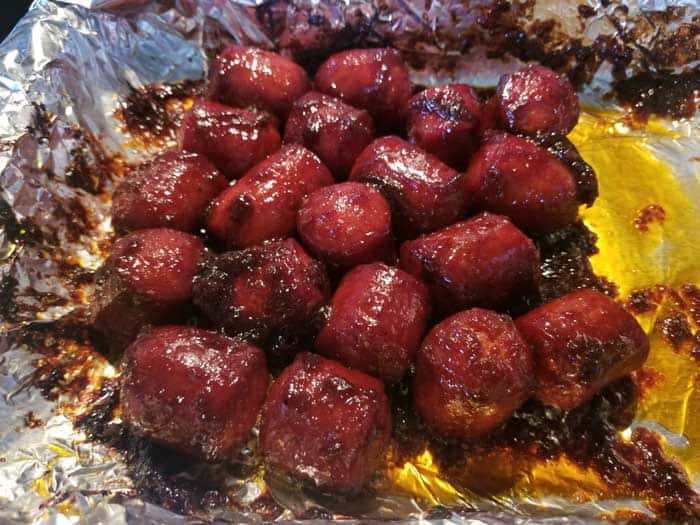 If one burnt ends recipe wasn't enough for you, here's another. Smoked hot dog burnt ends are the perfect dish if you want to smoke something cheap and easy. Smoked in just 90 minutes, this take on barbecue hot dogs is sweet, spicy and a classic party appetizer.
Smoked hot dogs burnt ends are essentially regular frankfurter or hot dog sausages, served in chopped up pieces. They're smoked whole before being chopped up and cooked in a bath of butter, sugar, and BBQ sauce for a further period of time. This allows the middle of the sausage to be rich and moist, while the outside is caramelized and delicious. Yeah, it's good.
This crust on top of the final dish creates a beautiful balance. On the inside of the sausage, you have a juicy flavorful pork, and on the outside, you have a crispy, sugary crunch.
Grilled Peach Salsa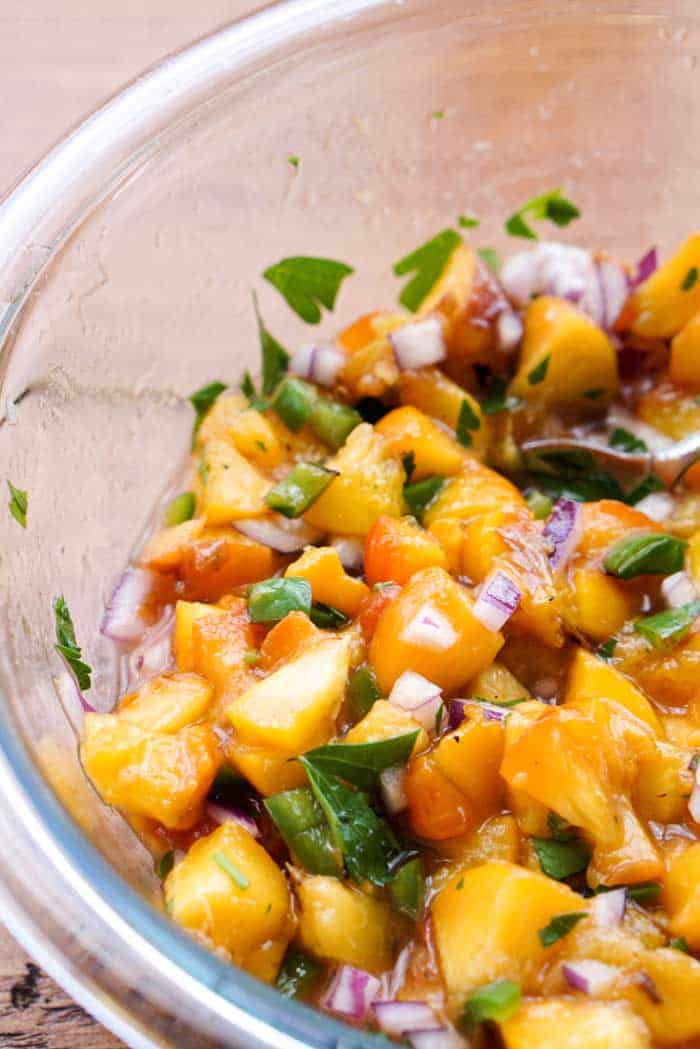 Sometimes you need something sweet to complement the deep smokey flavors of beef, and a fruit salsa does the job perfectly.
The twist is that the peaches are grilled, breaking down and rendering all the sugars to give you a rich, camarelized side.
Tomatoes and garlic and thrown in for balance, but the real star of the show in this grilled peach salsa is the fruit itself. Perfect as a dip, or as something to dip your brisket slices in.
Grilled Stuffed Mushrooms
Anything is made better with cheese, and brisket is no exception. These grilled stuffed mushrooms are seared over hot charcoal to give them an unmistakably smokey taste. And with a bacon, cream cheese and jalapeño filling, they are packed full of flavor. Best of all, they only take 20 minutes!
Buffalo Dip
More cheese? We've got you. This classic buffalo chicken dip is the perfect accompaniment to almost any kind of meat. Made with smoked chicken, three types of cheese, and buffalo sauce, you get a rich, tangy, BBQ flavor unlike anything else.
Pulled Pork Nachos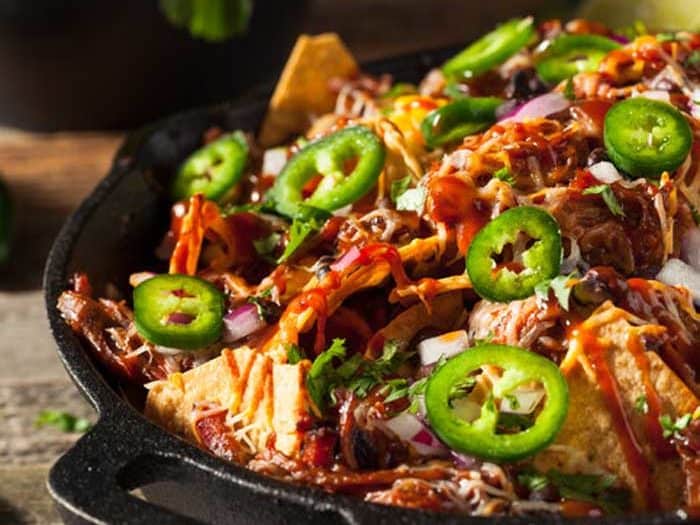 There aren't many party dishes better than nachos. Sure, they're messy. But are is there any other crowd-pleaser that's on the same level? Try something new by preparing them on the grill with this beautiful BBQ smoked pulled pork nachos recipe. Rich in flavor and loaded with that unmistakable smoked barbecue taste, this is the best way to use your leftover pulled pork.
Potato Wedges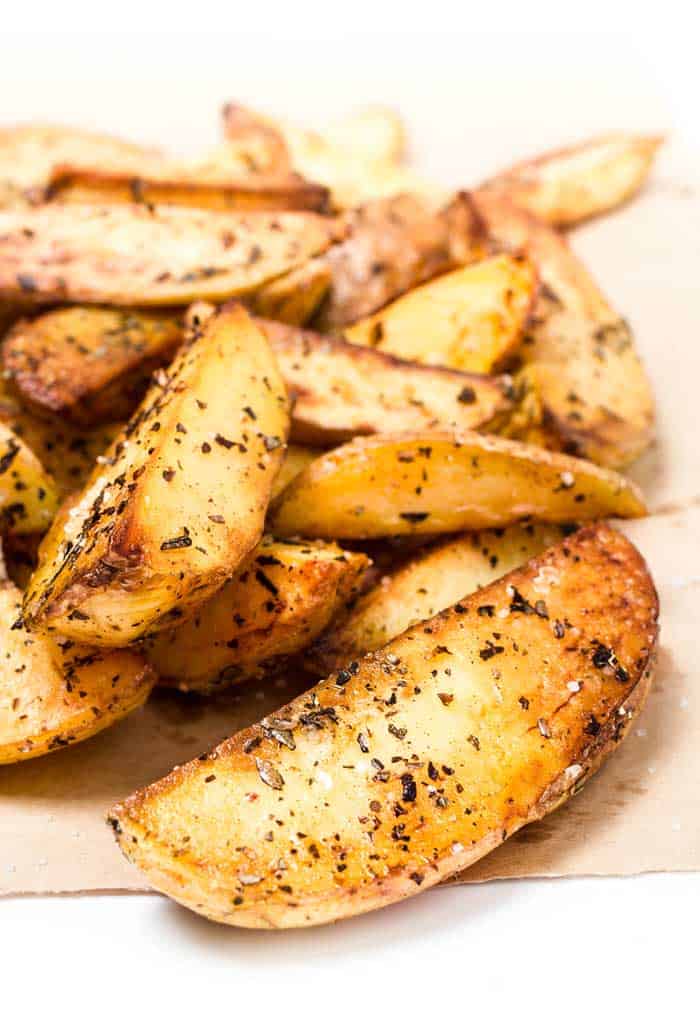 These beautiful homemade BBQ grilled potato wedges are sure to be your next BBQ party hit. Sliced from russet potatoes, and rubbed in a simple seasoning, these couldn't be any easier to make.
The secret is to soak the raw wedges in water for ten minutes. This will help to give you crispy skin once they're grilled. They're then seasoned with a simple blend of paprika, kosher salt, crushed black pepper, and potato flakes. This will give them extra crunch when it comes to eating time.