This smoked mac and cheese recipe takes everything you love about the classic side dish and dials it up to eleven. Melted cheddar and gouda cheese over macaroni, cooked over apple smoke, and topped with crispy bacon. What could be more American?
I'm a big believer that almost anything can be improved in the smoker, and mac and cheese is no exception. Everyone has their own go-to take on the classic recipe, but I guarantee that a little bit of time cooking over smoke will take it a whole new level.
This recipe takes perfectly cooked elbow macaroni, mixes in the sharp and rich tastes of cheddar and gouda, and tops it with applewood smoke. It's a flavor combination unlike anything else.
This barbecue take on the classic side dish is as versatile as it is delicious. It can be blended in with pulled pork or smoked lobster, or even as a BBQ sandwich filling.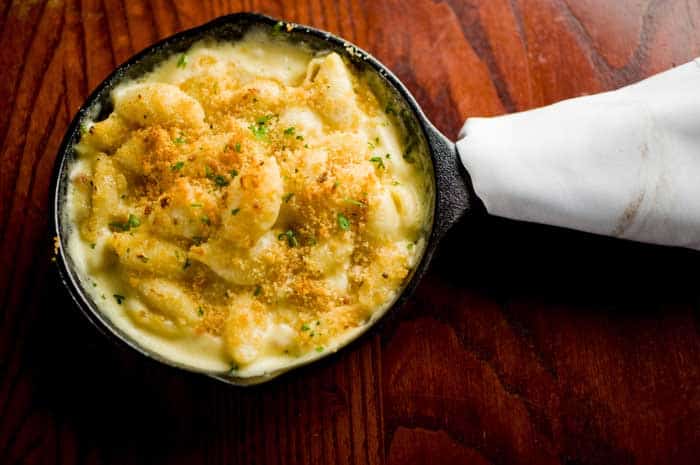 How to smoke mac and cheese
If you've made mac and cheese before, you'll be familiar with most of this process. The big difference with this recipe is that instead of baking it in the oven, we're going to move it to the smoker. This will still provide the same effect but will enrich the cheese with a beautiful layer of smoke. If you've ever made your own smoked cheese before, you'll know how beautifully these flavors combine.
Use a cast-iron skillet
Some recipes recommend using an aluminum tray in the smoker, but a cast-iron skillet will help you move between the stovetop and the smoker seamlessly. The skillet material is also perfect for heat retention, plus it saves on washing up after!
Cook to al dente
The key to making this all work is only cooking your macaroni to al dente. This means cooking it to the point where it's tender but firm. This is important because the pasta will be soft enough to take on the flavor of the cheese and smoke, but not so that it will turn mushy in the smoker.
Use fruitwood
The best wood for smoking mac and cheese is mild fruitwood. For this recipe, I've gone for apple, because it matches sweet and smokey perfectly while being subtle enough not to overpower the cheese. Apple smoke complements most cold smoked cheeses, and this hot smoked recipe is no different.
If you feel like experimenting, other fruitwoods like cherry or pecan also work wonderfully. Avoid strong woods like hickory or mesquite. These are best suited to robust foods like beef, and will completely overwhelm and ruin your dish of mac and cheese.
Toppings
My smoked mac and cheese recipe is topped with crispy bacon and a touch of chopped parsley, but there's a lot of room to experiment here.
Other topping ideas include panko breadcrumbs, some extra melted butter, and even leftover pulled pork.