Delicious grilled bell peppers coated in olive oil and seasoning, and lightly charred on your backyard grill. Paired with chopped onions and an incredible dipping sauce, this easy vegetable side dish is the perfect way to round off your dinner platter!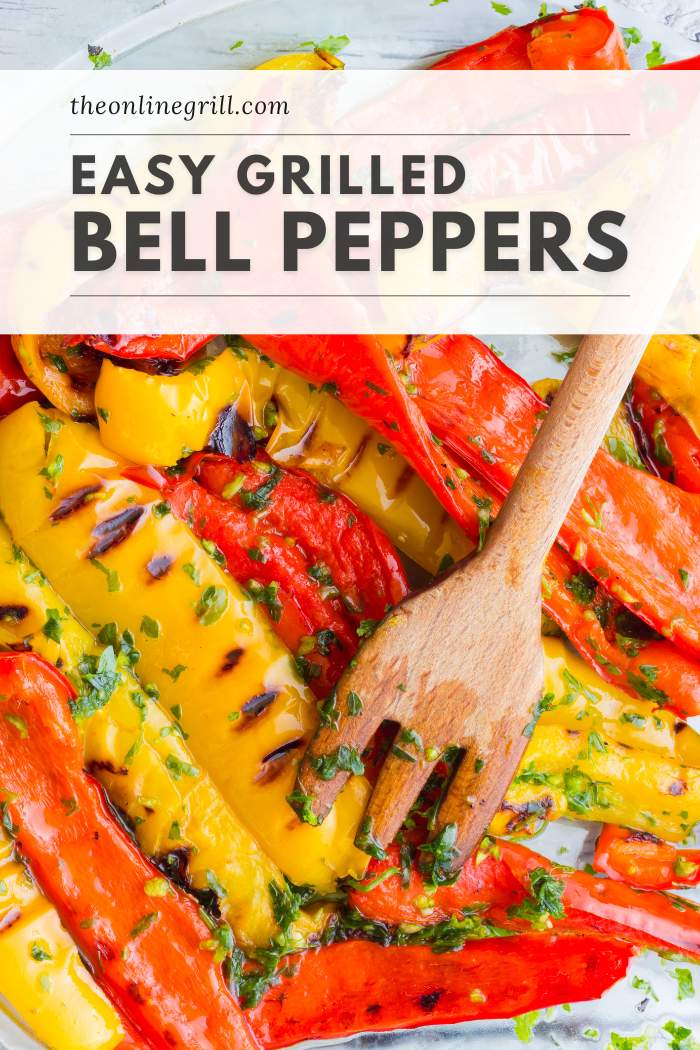 This grilled bell peppers recipe is quick and simple, yet deliciously smoky and tender. Paired with sweet grilled onions, this easy grilled vegetable side dish comes together in just 20 minutes from start to finish!
From prepping your veg to finding the right dipping sauce, discover how to make perfectly grilled bell peppers today!
Grilled Bell Peppers & Onions
Bell peppers are an excellent side dish that, when made right, can convince even the pickiest of eaters to get their daily dose of veggies. In addition to being mild in flavor and easy to cook, they're also loaded with fiber and antioxidants, making for a healthy side dish.
For this grilled bell pepper recipe, we will combine the peppers with yellow onion to enhance flavor and add complexity, then toss everything in oil, salt, and black pepper.
Once everything cooks on the grill, the results will be blackened, tender, smoky, and delicious grilled bell peppers and onion.
Ingredients
As mentioned above, the ingredient list for this grilled bell pepper recipe is simple. That said, there's also room to modify the ingredients, depending on what you have to hand.
Bell Peppers: Any pick of red, yellow, or green will work – or try a blend of all three for a splash of color!
Yellow Onion: For subtle sweetness. This can be omitted in place of an additional pepper or swapped for a purple onion.
Kosher Salt: More delicate than table salt, so if using table salt, then reduce the amount by about half
Black Pepper: Can be adjusted to suit your preferences
Fresh Herbs: Finish your grilled bell peppers with a quick garnish of herbs like basil, rosemary or thyme to give them that summertime finish. Some people prefer rosemary or thyme for their woody aroma as it complements the BBQ charr of the grill, but I prefer a dash of basil to add a hint of pepper to the sweetness of the peppers.
How to Grill Bell Peppers
Grilled bell peppers are super easy to make, and there is room to adjust these steps depending on the type of equipment you have.
Fire Up: Begin by preheating the grill to medium-high heat and place your grill basket or pan on the grill so it warms up.
Prep: While the grill preheats, prepare the peppers and onion by removing the stems and seeds from the peppers and peeling the onion. Next, slice each pepper and your onion into roughly 8-equal sized pieces.
Season: Toss your sliced peppers and onion in oil, salt, and pepper
Grill: Place the veggies on your preheated pan and grill for about 15 minutes. Keep an eye on them, as they can burn quickly, and rotate each piece with a set of tongs every couple of minutes.
Serve: Your grilled bell peppers are done cooking when they are slightly blackened and tender but not mushy. Once done, remove them from the heat and serve.
Different Methods for Grilling Bell Peppers
Regardless if you have a grill pan – or even a grill – you can enjoy these grilled bell peppers no matter what! Here are some recommendations, depending on what equipment you have on hand.
Placing bell peppers straight on the grill: Bell peppers can be grilled without a grill pan or basket, simply cut them into quarters (so they don't fall through the grill slots) and place them directly on clean grill grates. They will cook faster and likely become more blackened, so keep an eye on them.
Making a foil basket: If you don't have a grill pan but don't want your peppers to get too charred, make a foil basket
Using the oven: Swap a grill for an oven preheated to 400°F (205°C) for about 15 minutes or until the peppers are fork-tender
To do this, lay out a sheet of foil wide enough for your peppers, plus several extra inches. Then, roll up each end of the foil until you have a contained basket. Use a set of tongs to handle the foil once it gets placed on the grill.
Dipping Sauce Ideas
These grilled bell peppers are perfect as is, but if you want to make them even more exciting, then try any of these easy and tasty recipes:
Spicy Mayo: Mix a mayonnaise with sriracha in a 4:1 ratio, before adding in a splash of lime juice
Ranch Dressing: Combine 1 cup of mayonnaise, 1 cup milk, and 1 packet of ranch seasoning
Zesty Yogurt Dip: Combine 1 cup Greek yogurt with the juice of half of a lemon, zest of 1 lemon, 1 teaspoon salt, ½ teaspoon dried dill
Garlic Aioli: Combine 1 cup mayonnaise with 2-3 minced garlic cloves, juice of half of a lemon, and ½ teaspoon salt
Quick Tips
Store leftover grilled bell peppers in an airtight container and keep them in the fridge for up to 4 to 5 days, or freeze them for up to 3 months
To reheat leftover grilled bell peppers, place them in an oven preheated to 350°F for about 12-15 minutes or until thoroughly reheated.
Use an infused salt such as chili or garlic salt for added flavor