Smoked jalapeño poppers made with a bacon and cheese filling before smoked over hickory wood fire. This simple barbecue appetizer recipe will be an instant hit at your next backyard cook-off.
This easy smoked jalapeño poppers recipe takes everything you love about the classic appetizer and dials it up to eleven by cooking them on your outdoor smoker. Starring smoked thick-cut bacon and melted cheese filling, this delicious barbecue recipe infuses wood-fire smoke into this addictive finger food dish.
This is one of our best smoked appetizers, and it's easy to see why. From preparing the ultimate BBQ dry rub to choosing the perfect smoking wood, here's how to make smoked jalapeño poppers from scratch. Let's get smoking.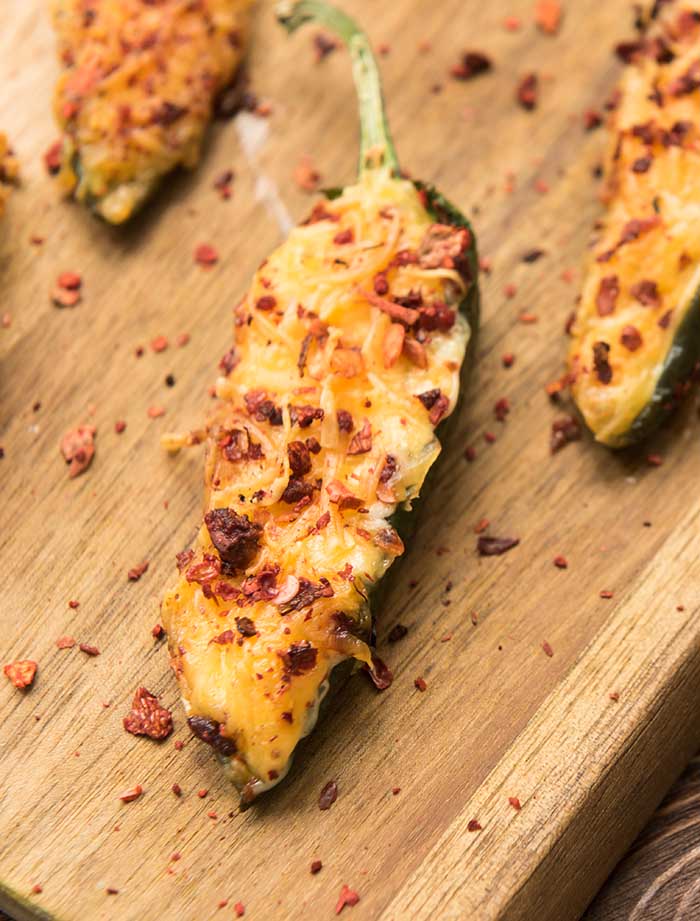 Filling
Our jalapeño popper filling is made with delicious cream cheese and shredded cheddar, mixed with chopped crispy bacon and a smoky-sweet dry rub (ingredients in the recipe below). This ingredient combination delivers the perfect balance of creamy filling with sweetness to match the jalapeño's natural heat.
If you would prefer to use a store-bought rub, I recommend either Hey Grill Hey's signature sweet rub or Hardcore Carnivore's Tex Mex seasoning. (Note: Neither of these is an affiliate link and we do not earn a commission from any purchases made via these links – I just love their stuff!)
Most barbecue popper recipes call for wrapping the bacon around the poppers before smoking. In our experience this can create a lot of fatty run-off in your smoker, creating a lot of mess and sometimes flare-ups if using a grill. More importantly, however, it can stop your bacon from turning crispy. To get around this, we pre-smoke the bacon to crispy, then chop it up and serve it in our cream cheese filling.
Smoking Wood
For this quick recipe, we use hickory wood. While hickory is a robust smoking wood that releases thick smoke and a strong aroma, the short cook time of this recipe means we need something powerful that can impart plenty of flavor in a short space of time.
If you want something milder, try blending applewood with a couple of hickory chunks to impart a balance of fruitwood with traditional barbecue smoke.
Quick Tips
To keep your poppers mild and low in spice, soak the jalapeño peppers in cold water for 30 minutes after you've removed the seeds and membrane. Remember to pat them dry before smoking.
Ingredient preparation slowing you down? Use a melon baller to make light work of stripping the insides out of the peppers.
When smoking your bacon try cranking up the heat to at least 400°F (205°C) for the final 10 minutes to turn it crispy.