These grilled scalloped potatoes elevate the classic side dish by firing the potatoes on the grill. A guaranteed crowd-pleaser, these scalloped potatoes are tender, caramelized, and slightly smoky.
These grilled scalloped potatoes take creamy, buttery potatoes and add a whole extra twist by grilling them until tender and lightly smoked. The results are mouthwatering and make for the ultimate grilled side dish for any outdoor cook-off.
From potato prep to quick tips and tricks, discover how to make scalloped potatoes on the grill today. Let's get cooking!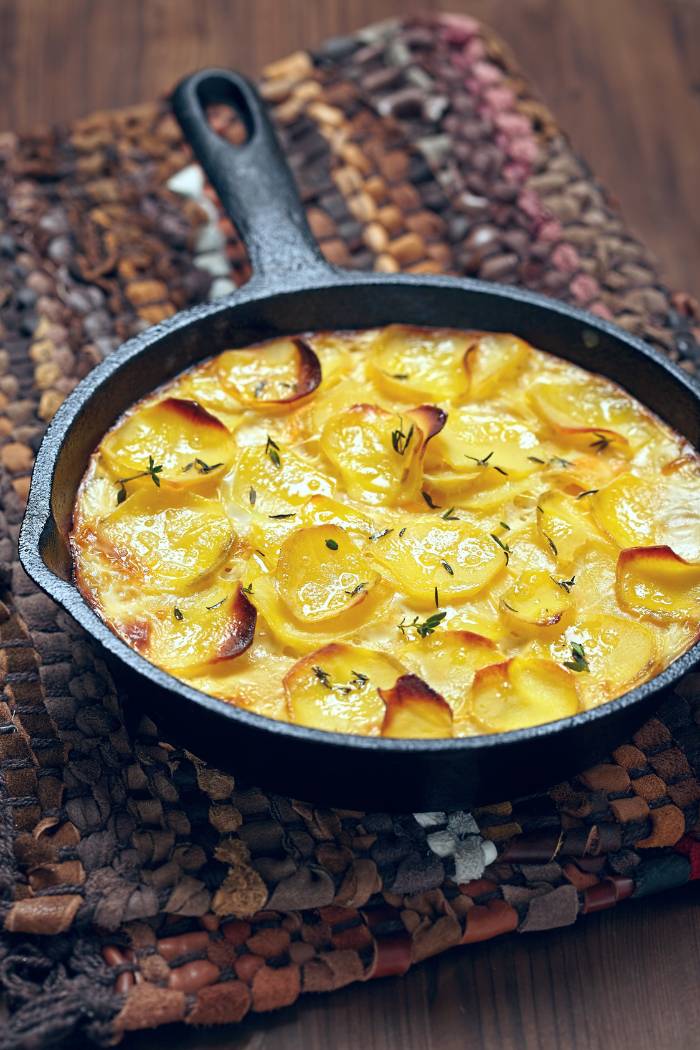 Scalloped Potatoes on the Grill
Scalloped potatoes are one of those dishes that potato fanatics love. After all, what's better than thinly sliced potatoes baked in a creamy, buttery sauce along with perfectly caramelized onions?
This recipe takes those same decadent, smooth, and rich scalloped potatoes and adds in one small twist. By grilling the scalloped potatoes, you get that same delicious flavor but with the added bonus of lightly smoked and slightly charred potatoes. The resulting dish is even more loaded with flavor and the perfect balance of textures.
How to Make Grilled Scalloped Potatoes
Prep Work: Preheat the grill to medium heat and grease a cast iron skillet with butter or cooking oil. Toss the sliced potatoes in the salt, pepper, and paprika.
Layer the Skillet: Add sliced onions to the bottom of the skillet, followed by the potatoes. Spread them out evenly across the skillet.
Add the Butter and Milk: Spread the butter cubes evenly across the potatoes, then pour the milk over the top.
Cook: Cover the skillet with foil and cook for 45 minutes, then remove the foil lid and cook for 10 minutes or until the potatoes are fork-tender. Serve warm with chopped chives.
Ingredients
This grilled scalloped potatoes recipe takes a handful of common household ingredients and turns them into the perfect side dish. But, honestly, you probably have most of the ingredients you'll need on hand already!
So, here's exactly what you'll need for these grilled scalloped potatoes:
Potatoes: Preferably red potatoes or Yukon gold, as they will hold up their shape better after being cooked
Onion: Preferably yellow or white onion as they have a milder and more complimentary flavor
Milk: Either dairy or nondairy milk will work
Butter: Unsalted is best as it allows you to better control the amount of salt added
Salt and pepper: Adjusted to taste
Paprika: Adds a subtle layer of flavor, though it can be swapped for dried herbs or omitted
Chives: Optional, for garnish and pop of color
Ingredient Swaps and Suggestions
This recipe is great as is, but there is definitely room for some simple modifications to make it truly your own. Here are some of our recommendations:
Add cheese: This is actually how you make potatoes au gratin. Simply add 1 cup of shredded cheese (white cheddar, mozzarella, and gruyere are all great choices) to the potatoes after grilling for 45 minutes.
Add garlic: Either minced or garlic paste will add tons of flavor. 3-4 cloves or ½ tablespoon of garlic paste should do the trick.
Add fresh herbs: Swap the chopped chives for fresh basil or any other fresh herbs of your choice.
Leftovers
This recipe for grilled scalloped potatoes makes four servings, making it the perfect side dish for your next barbecue dinner.
If you do end up with any leftovers, you can store them in an airtight container in the fridge. Stored this way, they should last up to 4-5 days. Or, if you want your grilled potatoes to last even longer, you can freeze them in an airtight container or freezer-safe bag and store them in the freezer for up to 3 months.
To reheat your grilled scalloped potatoes, transfer them to a baking dish and heat in the oven at 350°F for 10-12 minutes or until the potatoes have fully warmed through.
Alternatively, you can microwave leftovers in a microwave-safe bowl in 30-second intervals until thoroughly warmed through.
If reheating from frozen, allow your potatoes to thaw overnight in the fridge before reheating.
Quick Tips
When it comes to potatoes, the waxier they are, the better they will hold up their shape after being cooked. Russet potatoes will work in a pinch, but they are more starchy and, therefore, will have a different texture after being grilled.
Using a mandolin (like this one on Amazon) will help to thinly slice the potatoes and guarantee they are uniform in thickness.
If you don't have a cast iron skillet, you can make a boat of aluminum foil instead. Simply lay out a sheet of foil wide enough for your potatoes, plus several extra inches. Then, roll up each end of the foil until you have a contained basket. Use a set of tongs to handle the foil once it gets placed on the grill.