These incredible poor man's burnt ends swap in smoked chuck roast for beef brisket without losing everything we love about the classic BBQ side. Coated in a homemade sticky barbecue sauce, there's flavor in every bite!
Poor man's burnt ends are a great way to get a classic BBQ dish rich with flavor without breaking the bank.
While traditional smoked burnt ends are a BBQ appetizer or side that everyone loves, it involves buying and smoking a whole brisket just to get one tasty section. If you don't have the time or inclination to spend out on a big slab of brisket just for the burnt ends, you'll love this smoked poor man's burnt ends recipe.
By using chuck roast instead of brisket, you can save yourself hours at the smoker and money at the meat counter without losing any of that delicious taste.
From preparing your chuck roast for the smoker to choosing the best smoking wood, discover how to make poor man's burnt ends today!
What are Poor Man's Burnt Ends?
Poor man's burnt ends are a delicious smokey and tender recipe made from an inexpensive cut of beef – the chuck roast.
Traditional burnt ends are made with beef brisket, but brisket is usually a larger cut of meat (around 10lb plus for most briskets) and costs more to buy than a smaller cut of chuck roast (typically 3-4lbs) – since the chuck roast is cheaper to buy it got the dish got the name poor man's burnt ends!
Brisket Burnt Ends vs. Poor Man's Burnt Ends
Brisket Burnt Ends
Brisket burnt ends are made using the point end of a brisket cut. This brisket point is fattier than the rest of the cut and takes longer to render down the fats and make the meat tender. Brisket and brisket burnt ends are often considered some of the best dishes to come off the smoker, but the only problem is that they aren't overly cheap.
Brisket can be a huge cut of meat and end up setting you back a lot of money, which isn't ideal for many home grillers who might just have a hankering for some good old-fashioned BBQ dining without wanting to feed an army of people.
Brisket is a great crowd-pleaser for big home barbecues, and the most dedicated of home grillers can spend upwards of 12-14 hours preparing and smoking the perfect brisket banquet. While you have to admire their commitment, it's a lot of work to go to just to get some tasty burnt ends.
Poor Man's Burnt Ends
If you want all the flavor of brisket burnt ends but without the work (and cost!), then poor man's burnt ends is just the thing. It's essentially the same recipe as brisket burnt ends but for a quarter of the cost and a lot less time spent by the smoker. Chuck roast can give you the exact same look, taste, and tenderness as brisket if cooked correctly.
Best Meat to Use
The best beef cut to make poor man's burnt ends is chuck roast. The beef chuck comes from the front of the cow and comprises parts from the shoulder blade, neck, and upper front arm. As it's an area of muscles that are worked hard day to day when the cow is grazing, it is a tough cut of beef, but it is also very flavourful.
It has a lot of connective tissue, so it does best when cooked low and slow (this is why you'll often see chuck being used for stews or braised dishes); this makes it perfect for cooking on the smoker.
Best Smoking Wood
When preparing your smoker for making your poor man's burnt ends, you want to ensure you're using the best wood to get that authentic smokey taste.
Hickory is the best wood to use when smoking poor man's burnt ends as it infuses a rich and deep flavor to the meat.
Times & Temperatures
Since beef chuck is a tough cut of beef, we want to ensure we're cooking it as long as possible at the correct temperature to give the connective tissues and fats a chance to melt and render into the surrounding meat to make it melt in the mouth tender.
To make poor man's burnt ends, we want the smoker set to 275℉ (135℃), and we are looking for the beef chuck to reach an internal temperature of 165℉ (75℃) for the initial smoking and then 195℉ (90℃) when wrapped in foil.
As a general guideline on timings, chuck roast should take 45 minutes per pound to reach the correct internal temperature.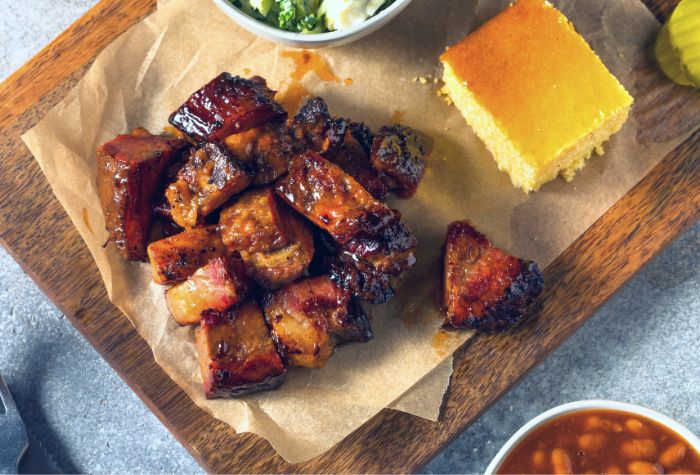 Quick Tips
Seasoning Chuck Roast: Less is more when it comes to seasoning a chuck roast for poor man's burnt ends; the main flavor comes from the smoke and the BBQ sauce. All you really need to season your chuck roast is a half-and-half mixture of sea salt and cracked black pepper – sprinkle it as evenly as possible over the chuck roast, making sure to get all sides.
Look at Temperature, Not Time: With this recipe, the main factor we are looking at when cooking the chuck roast is its internal temperature and not how long it's been cooking. The internal temperatures will tell us when we've hit the right level of heat to ensure all of the fat and connective tissue in this usually tough cut of beef has rendered back into the meat, making it moist enough to melt in your mouth.
Marbling Matters: When picking your chuck roast, try to pick the one with the most marbling running through it. You want something that has a good amount of well-distributed flecks of white to get the best result.
BBQ Sauce: If you don't want to make your own homemade BBQ sauce, go store-bought! Look for something sweet that's not too thick, like Rufus Teague's honey sweet sauce.