These grilled green beans are quick to make, and the results are smoky, tender yet crispy, perfectly seasoned veggies. The balance of just five essential ingredients creates a simple and delicious side dish that will pair perfectly with whatever else is on the grill!
These grilled green beans take just minutes to prepare, yet the results are perfectly textured and smoky vegetables perfect for any BBQ dinner platter.
Green beans often have a reputation for tasting boring or flavorless, but nothing could be further from the truth. Fire this easy side on the grill and you'll soon have a delicious dish that's tender and crispy, with the perfect balance of smoky and savory flavor.
For this grilled green beans recipe, we will toss the green beans in a simple combination of salt, pepper, oil, and crushed garlic. Then, they'll cook on a griddle over medium-high heat until they reach the perfect texture.
This recipe is quick, so the green beans have no time to turn soft, making for a fast side dish that can be prepped and on the table in just minutes.
From mastering vegetable seasoning to keeping on top of times and temperatures, discover how to grill green beans today.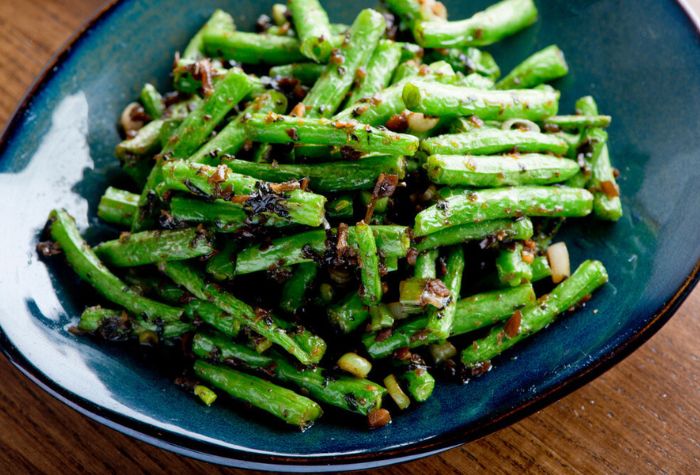 Ingredients
As mentioned above, the ingredient list for these grilled green beans is super simple. In fact, it's probably safe to say you already have everything you'll need in your kitchen already.
Green Beans: The main attraction, any type of green bean will work in this recipe. They will need to be washed and trimmed before grilling.
Garlic: To enhance flavor and add complexity. You can add more or less garlic to suit your preferences or swap it for a teaspoon of garlic powder.
Oil: Use any neutral cooking oil for this recipe, such as canola or vegetable oil
Want to mix things up a bit? While we love this recipe as it is, there is definitely room for some simple modifications to make it truly your own. Here are some of our recommendations:
Top the green beans with a heavy dose of shredded parmesan cheese and a squeeze of lemon juice
Swap oil for a combination of a half-cup of butter melted with a tablespoon of brown sugar for a brown sugar glaze
For Asian-style green beans, swap canola oil for sesame oil, and add a teaspoon of minced ginger and half a tablespoon of honey. Then, top with toasted sesame seeds.
How to Grill Green Beans
In addition to tasting great, it's truly a breeze to make these grilled green beans. Even if you don't consider yourself a grill master, you will have no problem with these easy steps:
Fire Up: Begin by preheating the grill to medium-high heat and lightly oil a cast iron griddle. Place the griddle on the grill grates to allow it to warm up
Prep: Wash the green beans under cold water and trim the bottoms off each end
Season: Toss the trimmed green beans in oil, salt, pepper, and minced garlic
Grill: Once the grill is hot, transfer your green beans to the griddle, spreading them out evenly. Grill the green beans for about ten minutes, rotating them with tongs to cook them evenly
Serve: Your green beans are done when they are tender enough to pick up with a fork but still have a slight bite to them. Once they're done, remove them from the heat and serve.
Quick Tips
If you don't have a cast iron griddle, don't worry; green beans can be grilled directly on your grill. Simply place them directly on your grill's grates (oil them beforehand so the beans don't stick) and rotate them frequently with a pair of tongs. They will cook faster and likely become more blackened, so keep an eye on them.
If you don't have a grill pan but don't want your green beans to get too charred, make a foil basket. To do this, lay out a sheet of aluminum foil wide enough for your green beans, allowing a couple of inches on either side. Then, roll up each end of the foil until you have a contained basket. Use a set of tongs to handle the foil once it gets placed on the grill.
Leftover grilled green beans can be stored in an airtight container and kept in the fridge for up to 4 to 5 days, or they can be frozen for up to 3 months
To reheat leftover green beans, place them in a baking dish and heat them in an oven preheated to 350°F (180°C) for about 10-12 minutes or until they are thoroughly reheated