The best fun and unusual recipes you can throw on the grill today. Doughnuts, kimchi, peaches. Nothing's off limits.
BBQ grilling is about far more than burgers and hot dogs.
Here are 27 fun and unusual things you can grill this year. We'll be looking at grilled tacos, peaches, pork chops… and even doughnuts (yes, doughnuts!).
Kimchi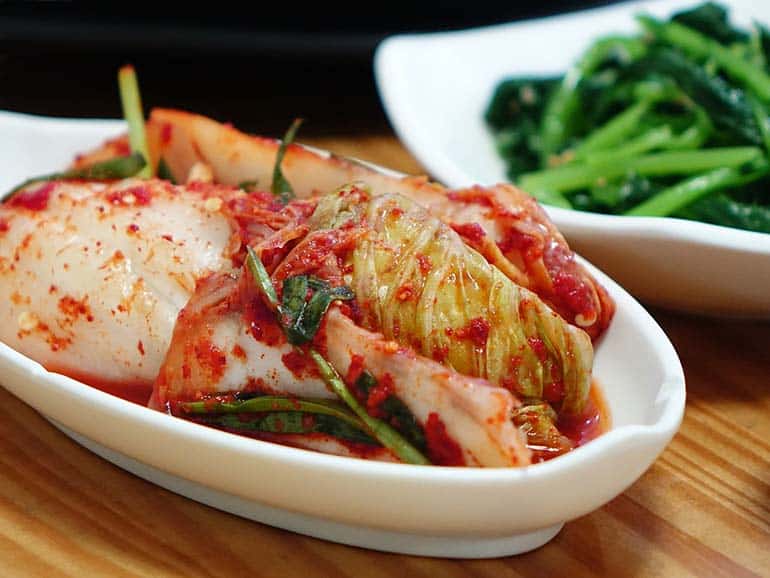 Yep, you read that right. This grilled kimchi recipe gives a whole new dimension of flavor to the Korean staple. It goes from sour and vinegary, to smokey and caramelized.
It needs to be seen to be believed.
Peach Salsa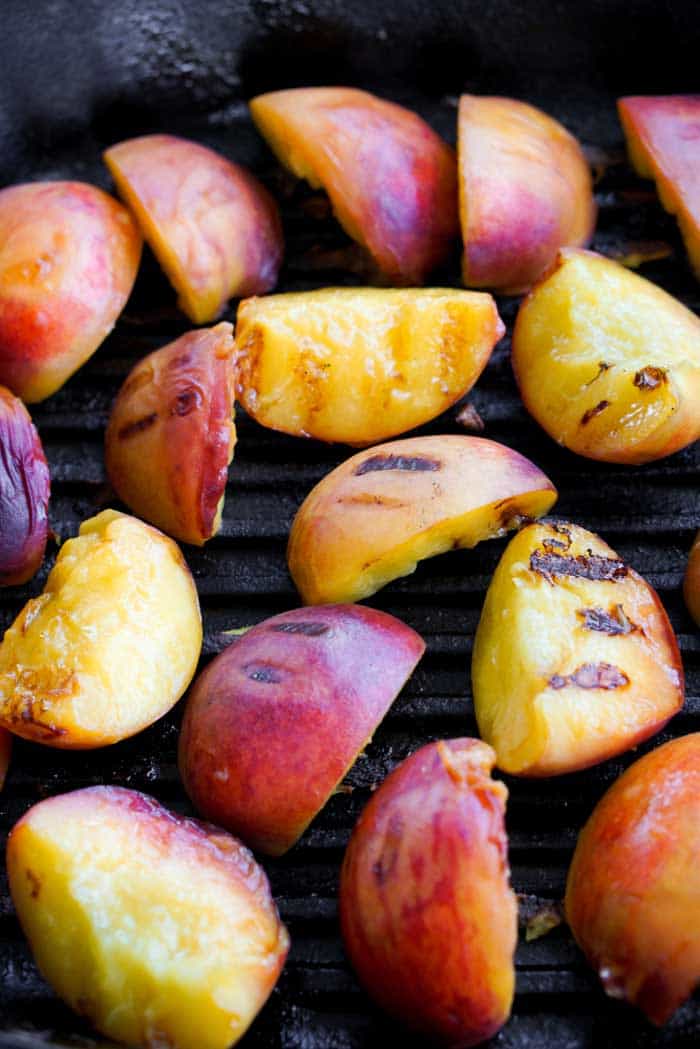 This beautiful BBQ grilled peach salsa recipe is a revelation Made with just a handful of ingredients, this is a great fruity BBQ appetizer that can also go great with grilled chicken or grilled pork.
Grilled Fish Tacos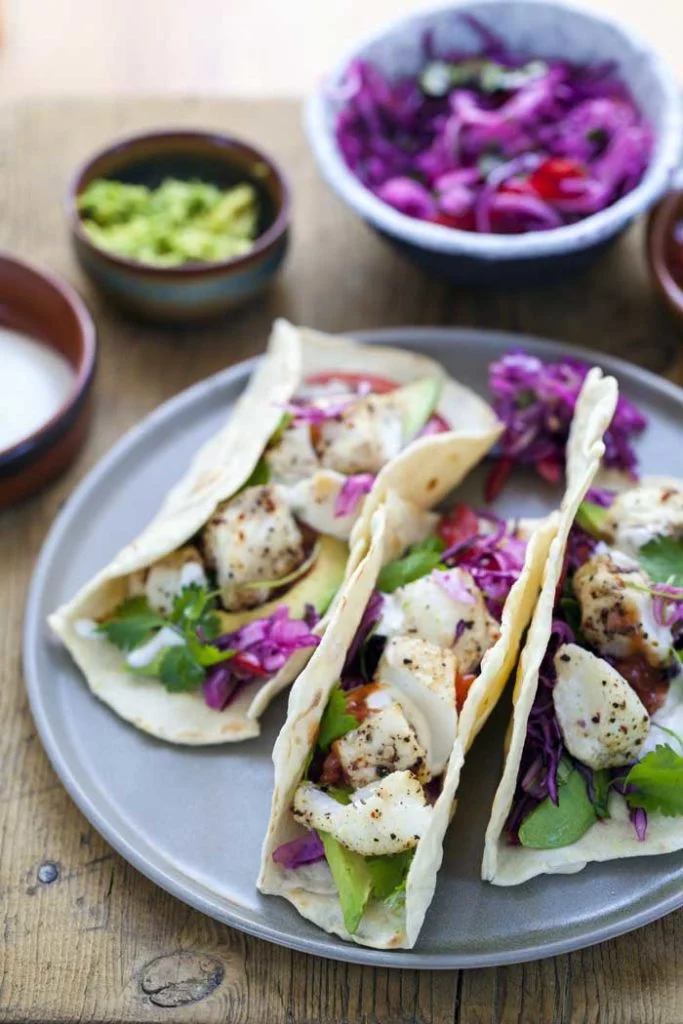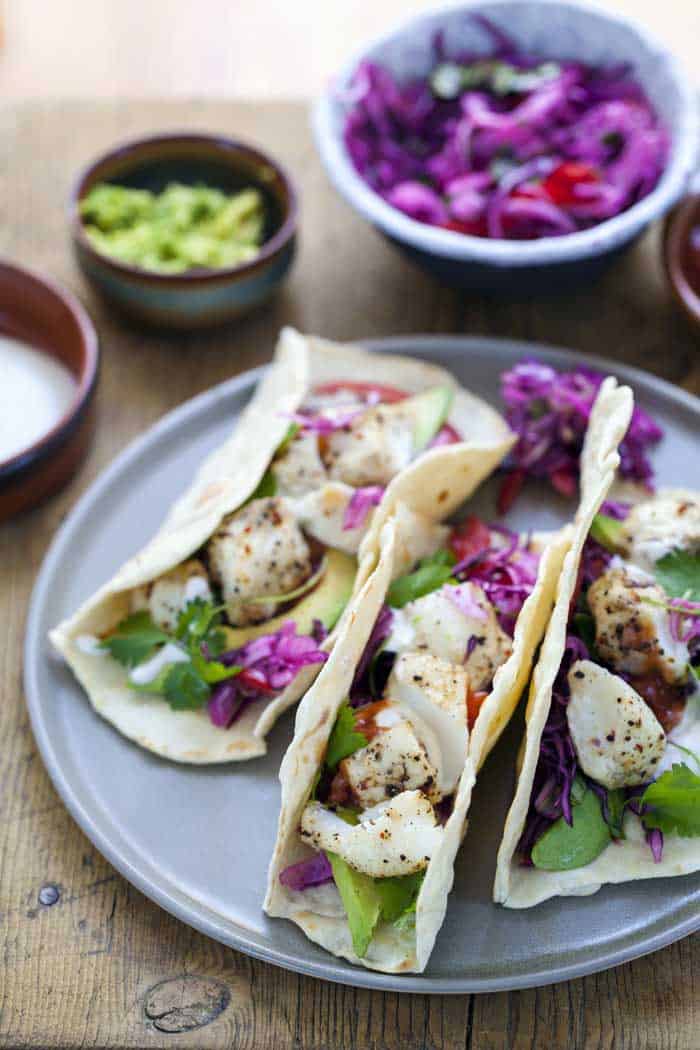 Now, bear with me here. Grilling fish might not be anything new, but it's a criminally underrated meat for cooking on the barbecue.
And where better to use it than with this grilled fish tacos recipe?
Beautiful and fresh grilled fish filling in a tortilla, topped with zesty red cabbage, guacamole and a creamy white sauce.
Texas Toast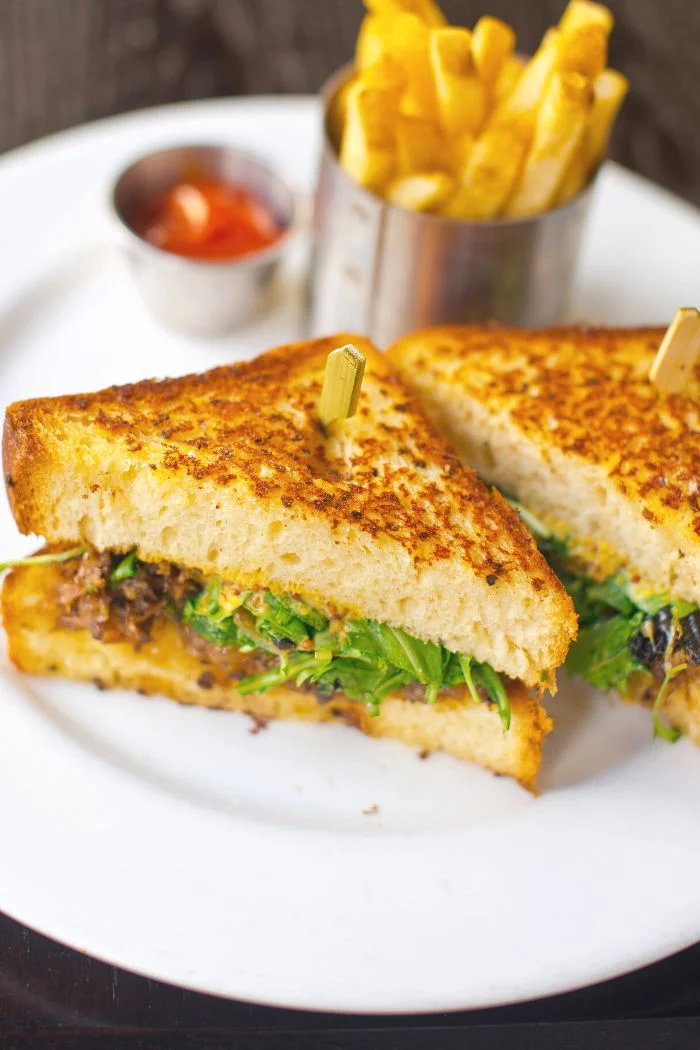 Perfect for mopping up every last bit of your BBQ pulled pork or beef brisket, this Southern spin on garlic bread is thick and buttery in equal measure.
While often served as a BBQ side in Texas and other Southern US states, Texas toast is often made in either the oven or pan. However, things are taken to a new level when fired over your backyard grill with the help of a cast iron skillet.
Our grilled Texas toast is crispy and golden-brown, and only takes a few minutes to cook. Perfect as a barbecue side dish, or as the bread for your next meaty sandwich.
Smoked Cornish Hens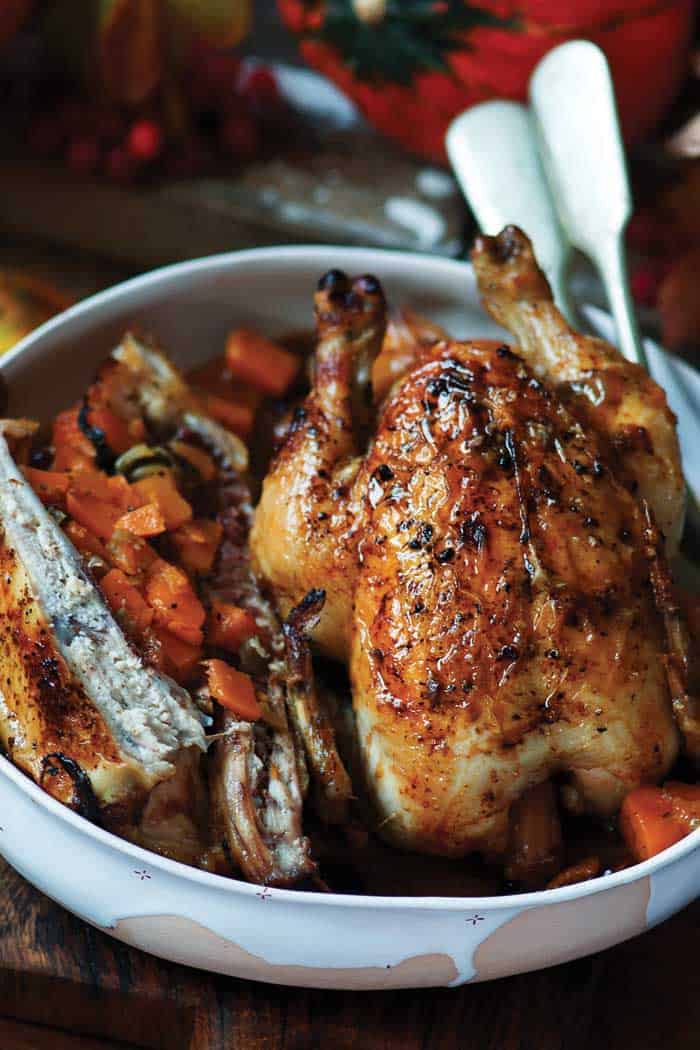 Poultry doesn't start and end with chicken or turkey. Cornish hens are smaller in size, but offer as much juicy white meat when smoked on the grill.
Our smoked Cornish hen recipe matches delicious bird meat with a carefully prepared BBQ rub containing paprika, thyme and chili powder. It's then smoked for two hours over a blend of apple and hickory wood for a delicate smoky flavor to savor.
Quinoa and Mustard Avocado Boats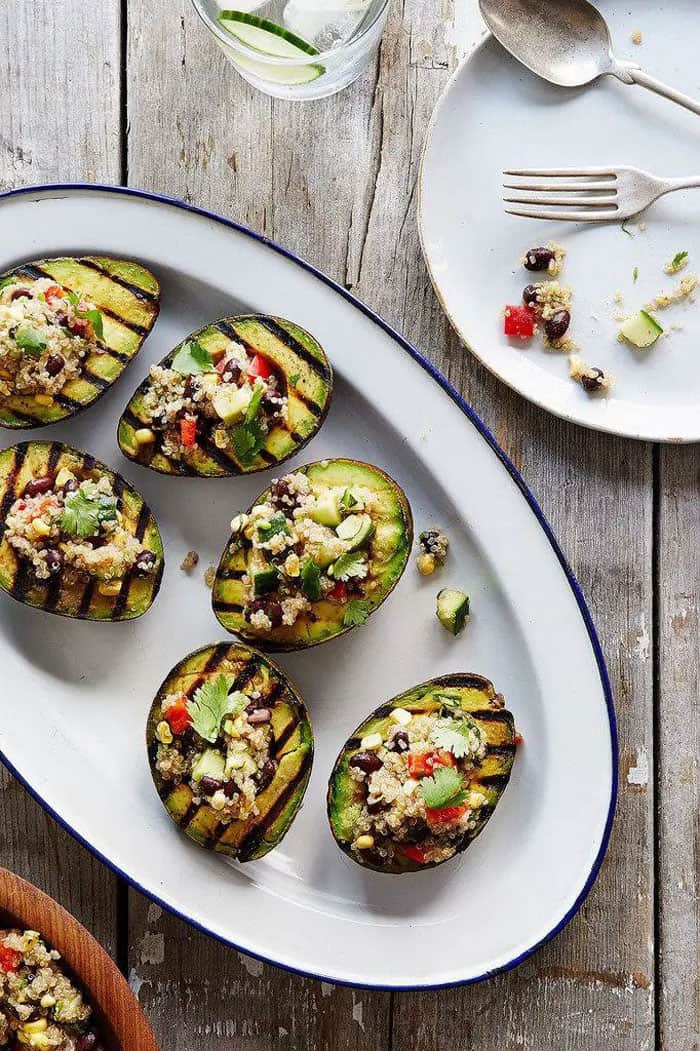 Avocado can be used for much more than just guacamole. These boats are grilled face down and rammed with a beautiful salad filling for the perfect summer grilling side.
Brazilian Grilled Cheese
Because Brazil is about a lot more than just picanha.
These cheese skewers are more commonly known as Espetinhos de Queijo de Coalho in Portuguese, and are a popular snack in Brazil. It's not hard to see why.
They're made in just minutes and topped off with olive oil and garlic to give you a bit of a kick. A great BBQ party appetizer.
BBQ Grilled Romaine Salad and Lettuce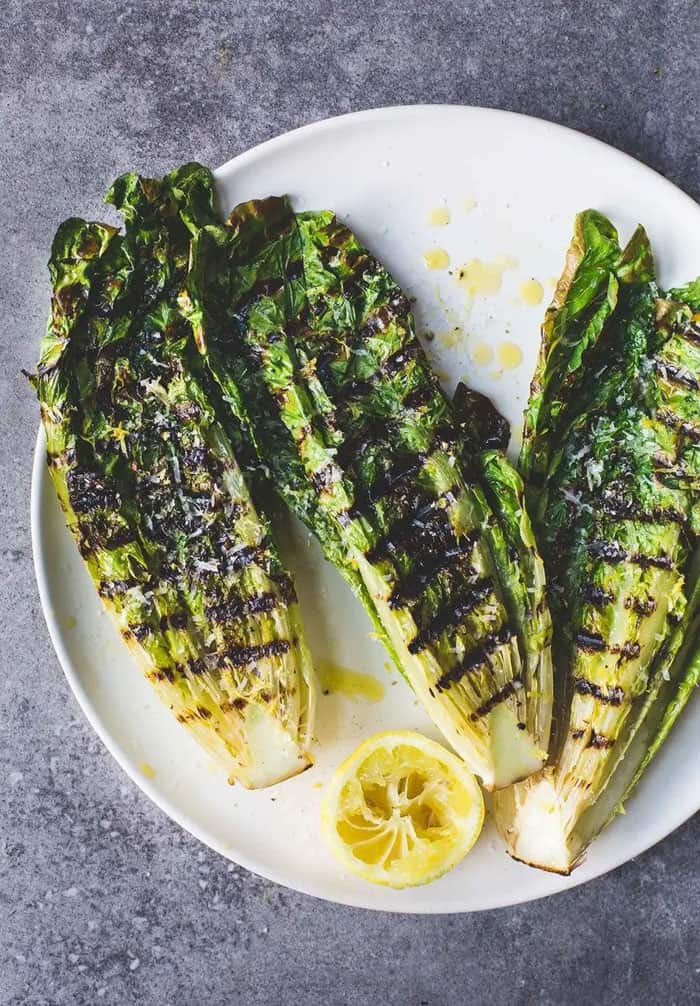 OK, grilling lettuce might not sound like an earth-shattering innovation. But if there's one food that is almost unrecognizable once it's thrown onto the grill, it's lettuce.
These lettuce strips are seasoned in olive oil and black pepper, and are transformed into a juicy and crunchy BBQ side that is bursting with fresh flavor.
Grilled Peaches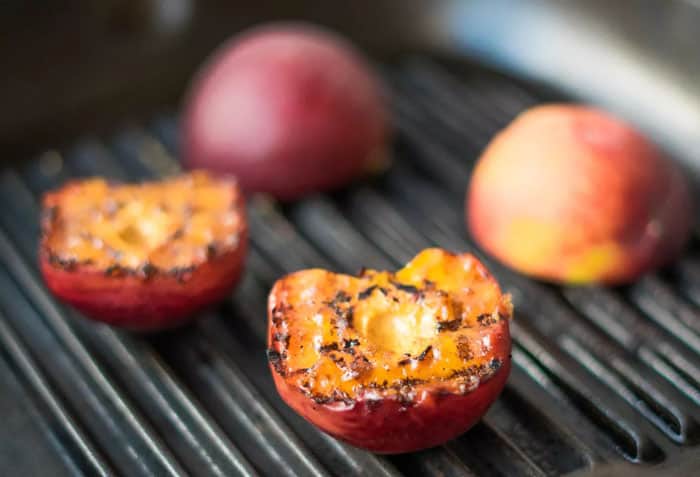 If the grilled peach salsa isn't quite to your liking, then we can strip away all of that and just go for this simple grilled peaches recipe.
Exposing the flesh of the peach to quick and high heat brings out the natural sugars and juices in the fruit, giving you a deliciously sweet side BBQ appetizer.
Bacon Bourbon BBQ Chicken Kebabs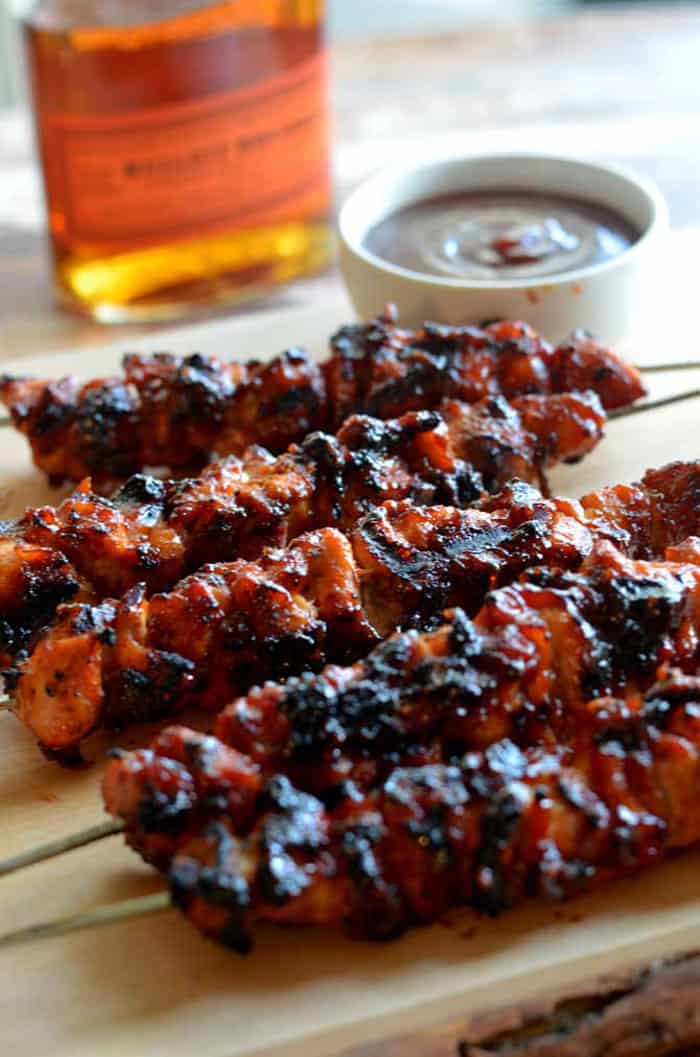 Proof that bacon recipes aren't always as easy as you might think. These skewers use bacon paste, which is a mix of bacon and spices blended in a food processor.
It's just as addictive as it sounds.
For this recipe, bacon paste is applied across the chicken skewers to add an incredible layer of flavor and juiciness.
Grilled Cornbread with Jalapeño Honey Butter
Anything with jalapeño peppers in it immediately as my attention. Spread over grilled cornbread and we're onto a winner.
These slices of soft, buttery cornbread and grilled quickly (only 5 minutes) to give you beautifully charred pieces of crisp square.
Grilled Sesame Edamame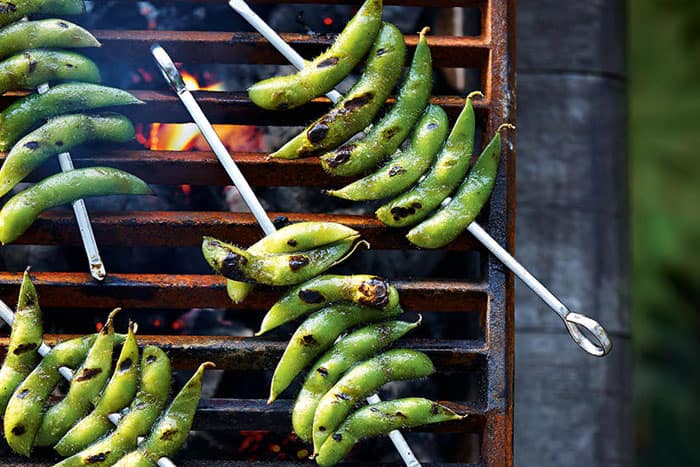 Let's ditch the boring green beans and grill something much more fun. Edamame are protein-packed vegetables that are taken to a whole new level when charred with flames and smoke.
These edamame are skewered and grilled for no more than 8 minutes to leave you with a seriously addictive meat-free side dish.
Grilled Summer Sweet Potatoes & Chimichurri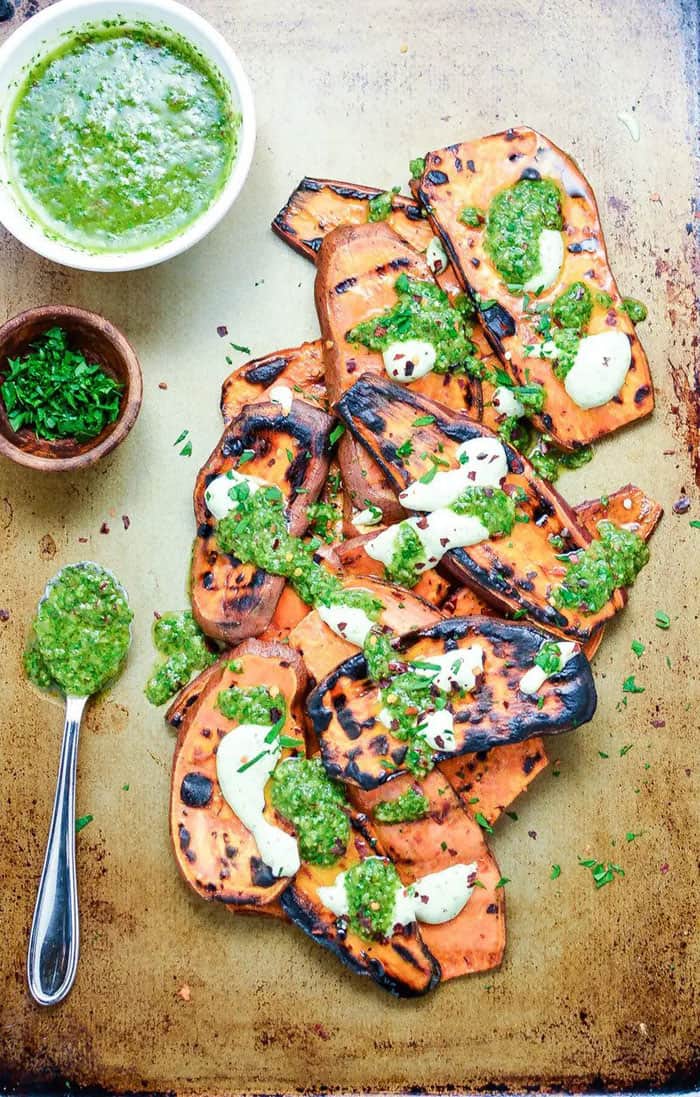 Chimichurri is one of the best bbq sauce alternatives for ribs, but its use extends far beyond just pork. It's also delicious when used with meat-free dishes.
Enter these grilled sweet potatoes. If you're a veggie sceptic then this is the dish that'll win you over.
The texture of the sweet potatoes is matched beautifully with the cilantro cream and chimichurri topping.
Grilled Chipotle Lime Cauliflower Steaks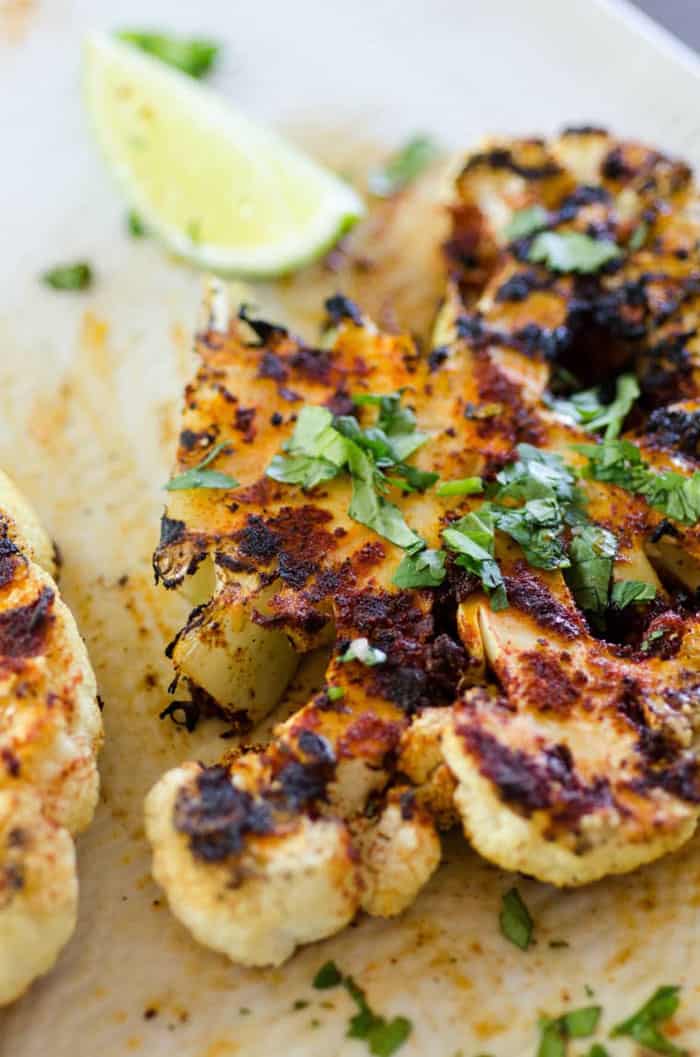 As we've seen with vegan wing recipes, cauliflower is a great meat substitute on the grill. And it's something that even meat lovers can get involved with.
Don't believe me? These chipotle lime cauliflower steaks are all the proof you need.
Coated in spice and tangy lime, these grilled veggies are as satisfying as anything to devour.
Grilled Garlic Butter Mushrooms
Mushrooms might sound a bit bland, but trust me on this one. Whether it's grilled stuffed mushrooms or barbecue skewers, mushrooms can pack in much more flavor than your average vegetable. These little beauties are dipped in garlic butter before being grilled to bring out a caramel-like texture that's a joy to eat. They're much healthier than they look, but just as delicious.
Grilled Donuts
Yes, you did read that right: Grilled donuts.
While this recipe is primarily designed for the oven grill, it can easily be replicated on your home BBQ charcoal or gas grill. Just to be sure to go easy on the wood, and go on a high sear to avoid overpowering the sweetness with too much smoke!
Bacon-Wrapped Shrimp
Anything wrapped in bacon is going on this list immediately. Even more so if it's smoked shrimp.
This deadly meeting of pork and shrimp is topped with chili and lime for a zesty kick, while the brine in the recipe makes sure that they are beautifully moist.
California Grilled Chicken
Balsamic is about far more than just salad. Here it's mixed with honey and cheese to give a beautifully sweet topping for this reverse-seared chicken recipe.
Grilled Corn
OK sure, you know corn. But corn is easy and delicious, and anyone can do it. That's what makes it fun.
But hold on, this recipe offers more. It's topped with butter and salt (you know, just in case you thought this was too healthy and boring) for a melt-in-the-mouth, moist finish to it.
Honey Soy Grilled Pork Chops
Any pork chop fan will tell you that they are easily overcooked and dry. This recipe does away with all of that by making use of a beautiful soy marinade that managed to lock in plenty of moisture and flavor.
This recipe is also perfect proof that soy sauce can be used for so much more than just Asian cuisine.
Matched with honey, this manages to match together delicious salt and sweet flavord without overpowering the real star of the show: The grilled pork.
Grilled Asparagus
Many might think of asparagus as un-barbecue like, but there aren't many vegetables more suited to grilling than these.
As the saying goes: When the weather's nice out, always grill your vegetables (I'm sure that's a saying…)
Cut off the ends, season generously with salt, and get them charred. Perfect.
Grilled Shrimp Tacos with Sriracha Slaw
Another grilled taco entry, but this time with an often forgotten sauce: Sriracha.
Put the ketchup, mustard or mayo to one side, and instead give the Asian sweet and spicy condiment a try.
The delicious sauce is used to great effect here, topping a grilled shrimp and spicy slaw filling. Perfect if you want to give fish a try over the usual run of red meat or chicken.
BLT Grilled Sausage Burgers
I have my own grilled sausage sandwich recipe, but this is a whole different take that deserves its own special mention.
These sausage burgers are packed with bacon and fresh tomato to create a burst of juicy flavor. They're a great alternative to regular beef burgers, but in no way less tasty.
Fish Tacos
Claimed to be 'the be all and end all' of fish tacos, and it's hard to disagree.
These tacos are filled with delicious flaky cod, and marinated with a beautiful mix of lim juice, cumin, and chili powder.
Finished with cabbage slaw, it's the perfect blend of hearty, filling, and fresh.
Spicy Grilled Broccoli
If you're a broccoli skeptic, then be prepared to be amazed.
Topped with soy sauce, Worcestershire sauce, honey, and ketchup, these little green trees are bursting with flavor.
BBQ Grilled Jerk Chicken
Jerk chicken might not be anything new to you, but no barbecue is complete without it.
Coated in lime, garlic, and spice, this take on grilled chicken is perfect for anyone who wants a kick to their grill. Marinate the chicken overnight, be liberal with the spice, and you're on to a winner.