The best BBQ grilled skewers recipes and ideas from around the web. Ideas from steak to shrimp, tofu to pork, and more.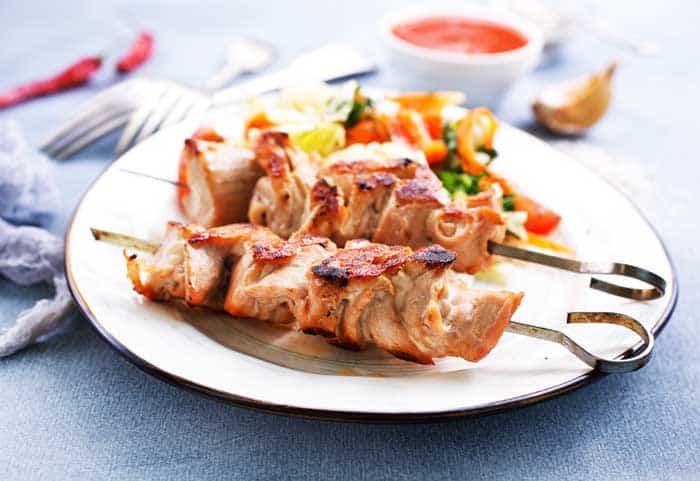 Nothing screams summer cook-off quite like BBQ grilled skewers. They're fresh and rich in flavor, and can be made with practically anything. From red meat, to crisp vegetables.
If you've never made them outside on the grill, then here are 11 reasons why you're missing out. Each of these delicious skewer recipes boast rich ingredients, beautiful spice blends, and rich sauces and marinades.
The smoky touch that's brought to each of these is unreal, and the fact each can be made in mere minutes makes them the perfect choice for your next grill party.
So whether you're craving beef kebabs, shrimp skewers, or grilled tofu, there's enough here to satisfy meat lovers and vegans alike.
Let's get into it!
Grilled Steak and Asparagus Kabobs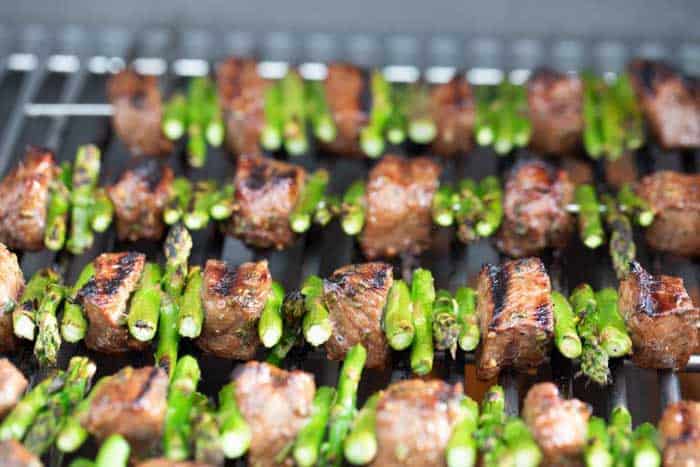 Grilled asparagus has got something amazing about itself, whether it's the texture or the bursts of flavor it comes with. Susie over at Hey Grill Hey goes for some New York Strip steaks on the kabobs to compliment the asparagus just right. Going for some steak marinade makes things flavorful from the inside, sprucing the dish up with herbs.
Shrimp Skewers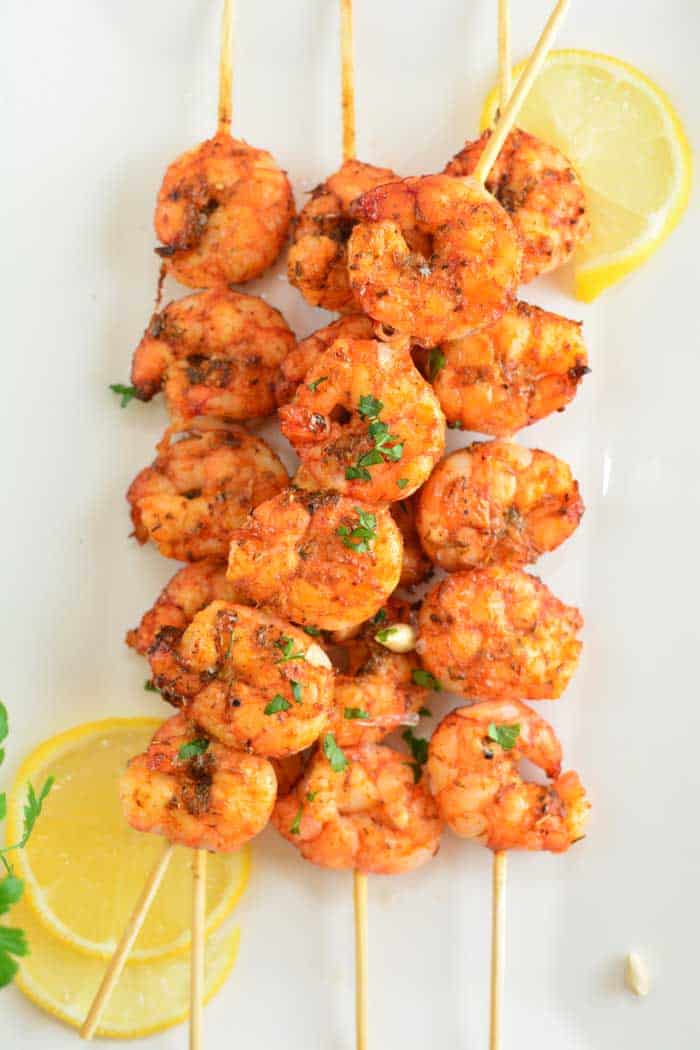 These spicy grilled shrimp skewers are This grilled shrimp recipe is the perfect appetizer to kick start your barbecue. Spicy and sweet, it'll have your guests coming back for more every time!
BBQ Chicken Pineapple Kabobs with Bacon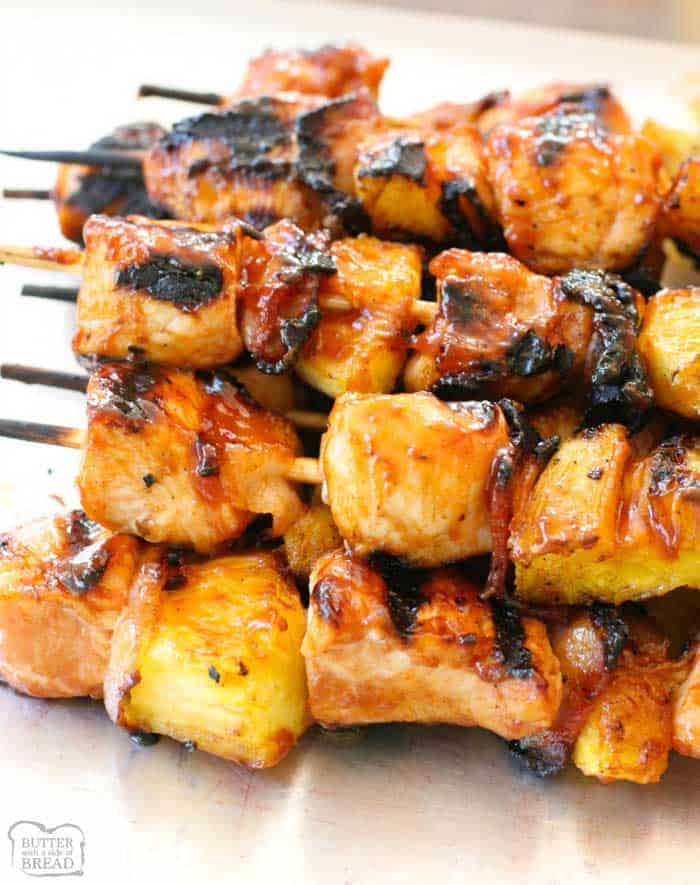 The very first glimpse of these kabobs with bacon are enough to make one and all drool. The BBQ Chicken Kabobs have got really tender chicken that's grilled with pineapple and bacon, further slathering everything with rich BBQ sauce to bring out a juicy touch to the snack.
Grilled Spicy BBQ Chicken Skewers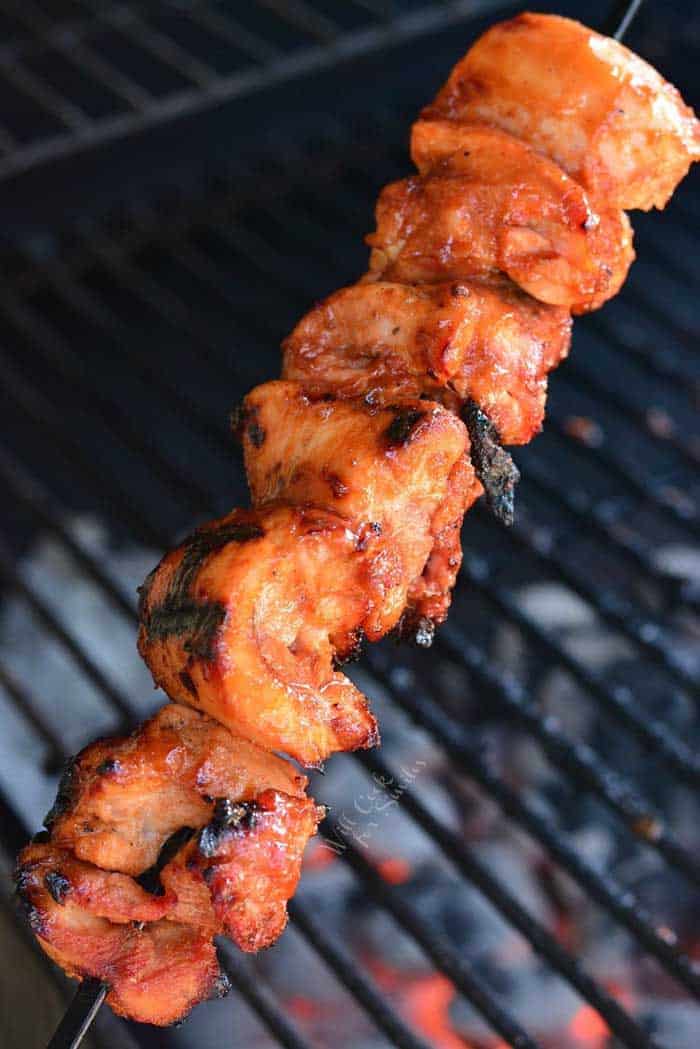 The recipe states that these barbecue chicken skewers will make you want to lick your fingers, and we totally back the statement. The absolute juiciness and tenderness in every bite is brought by some chicken thigh meat that's further marinated in BBQ sauce. It gets served ready when grilled and topped with some more sauce.
Grilled Barbecue Tofu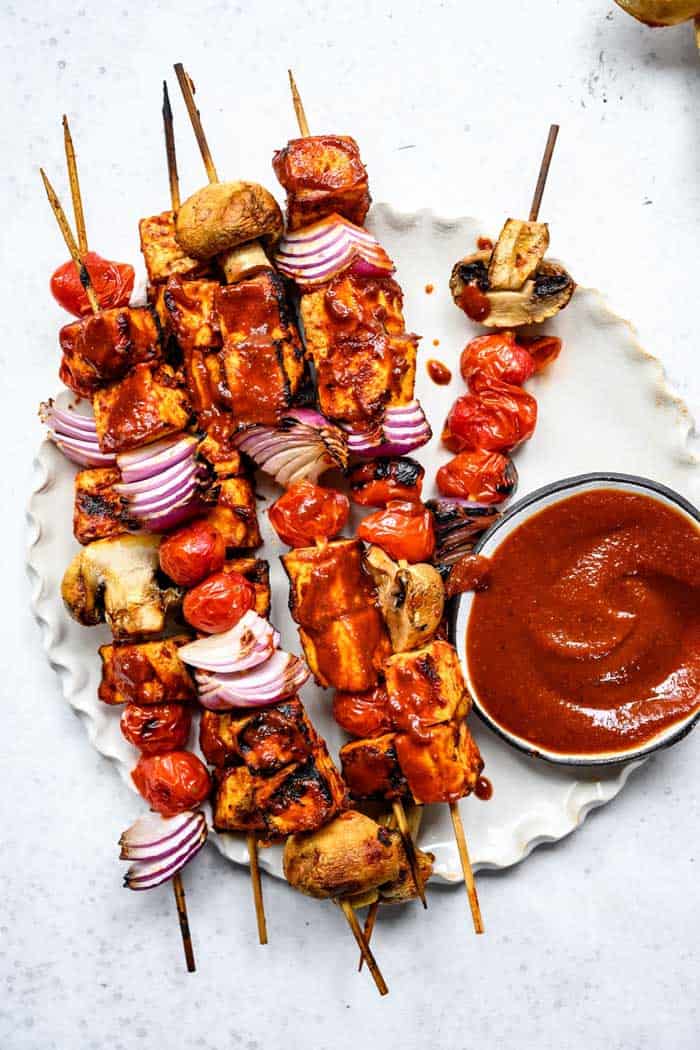 A super quick and delicious dinner, this one takes just a matter of 30 minutes of preparation. What makes these grilled tofu skewers get all that juicy flavor through an easy-to-make barbecue marinade. Some vegetable kabobs on the side are the perfect accompaniment to this meal that's spruced up with a bundle of spices and sauces.
Sausage and Grilled Shrimp Kabobs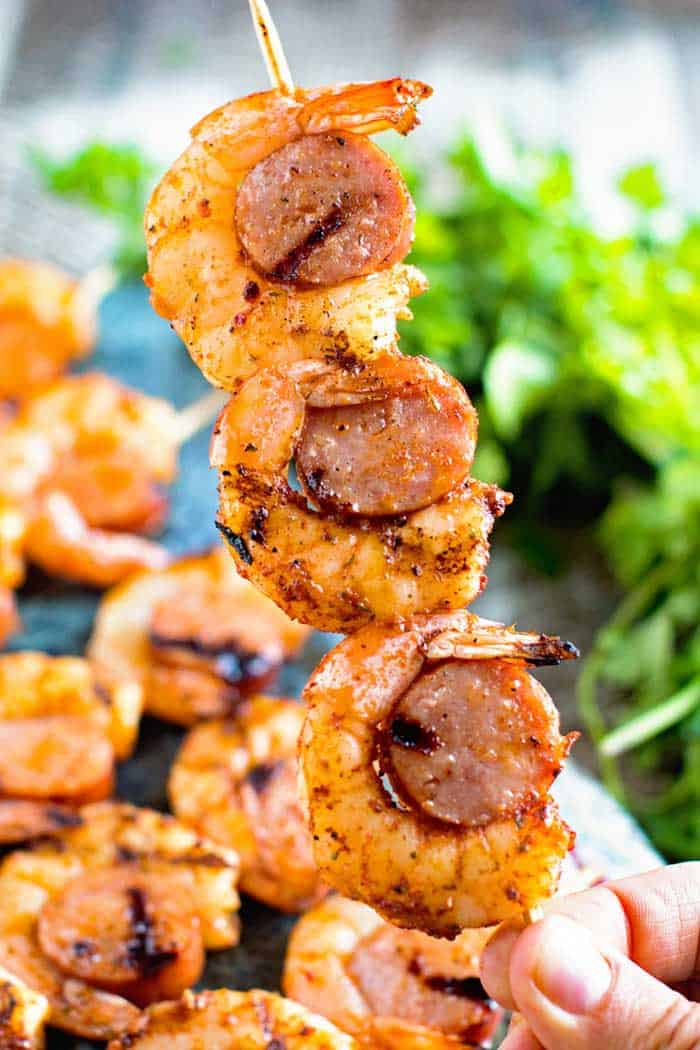 Looking absolutely toothsome, these kabobs are apt and appropriate for serving at a party. And the best thing about them is that you can prepare them on the grill while you are busy around the house. They get a lovely zest by the addition of some barbecue seasoning on the shrimp that's wrapped around the sausages.
Bourbon Bacon Barbecue Chicken Kebabs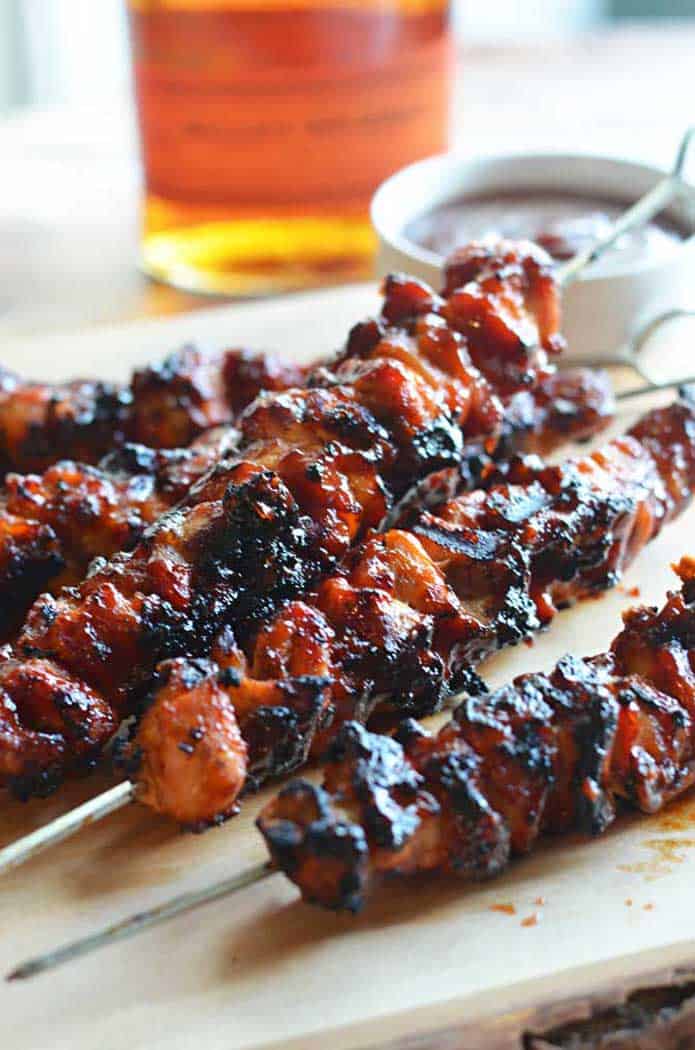 Whether you roast these kebabs or broil them, they are going to be a delight every single time. A bacon paste is used to smother the chicken pieces with, getting a perfect tang with some vinegar sauce. The touch of smoked paprika and the barbecue sauce blended with some bourbon makes everything more rich.
Honey Garlic Bacon Wrapped Chicken Kabobs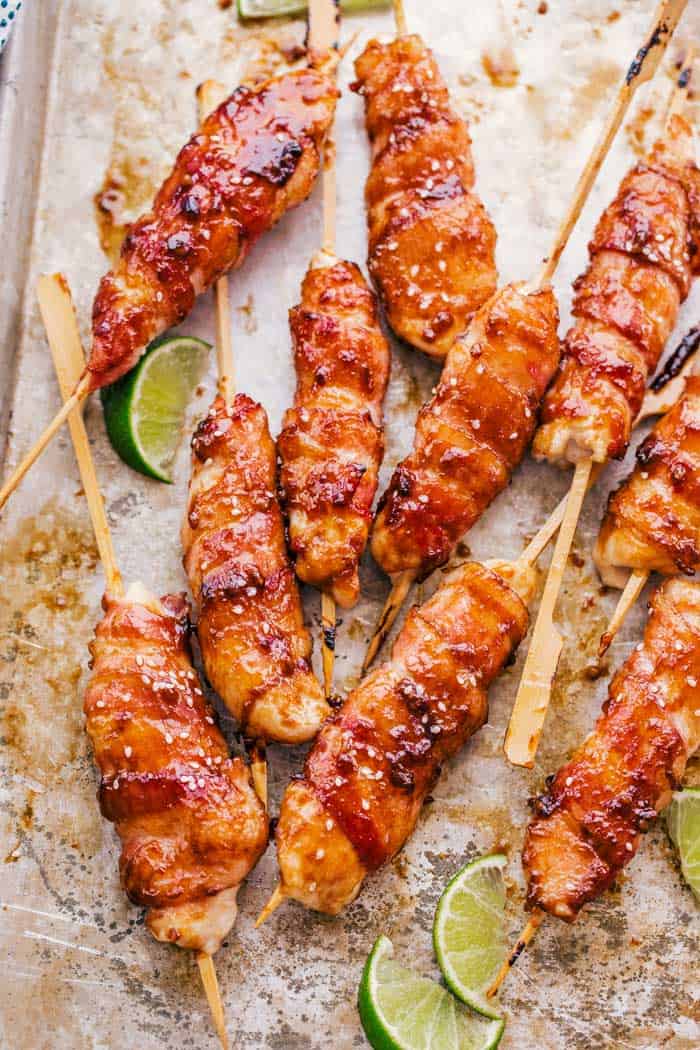 Is there anyone who wouldn't fall in love with these chicken tenders that are beautifully wrapped in bacon and smothered in a rich layer of honey lime sauce? The kabobs feature a tender and super moist texture brought by the honey garlic sauce that oozes flavor in each bite.
Why chicken tenders? While they come from the same area of the bird, there are some differences between chicken tenderloin and breast. Tenders are a thin cut of chicken that comes from alongside the breast. They are much smaller and tender, so don't take as long to cook.
Grilled Thai Coconut Chicken Skewers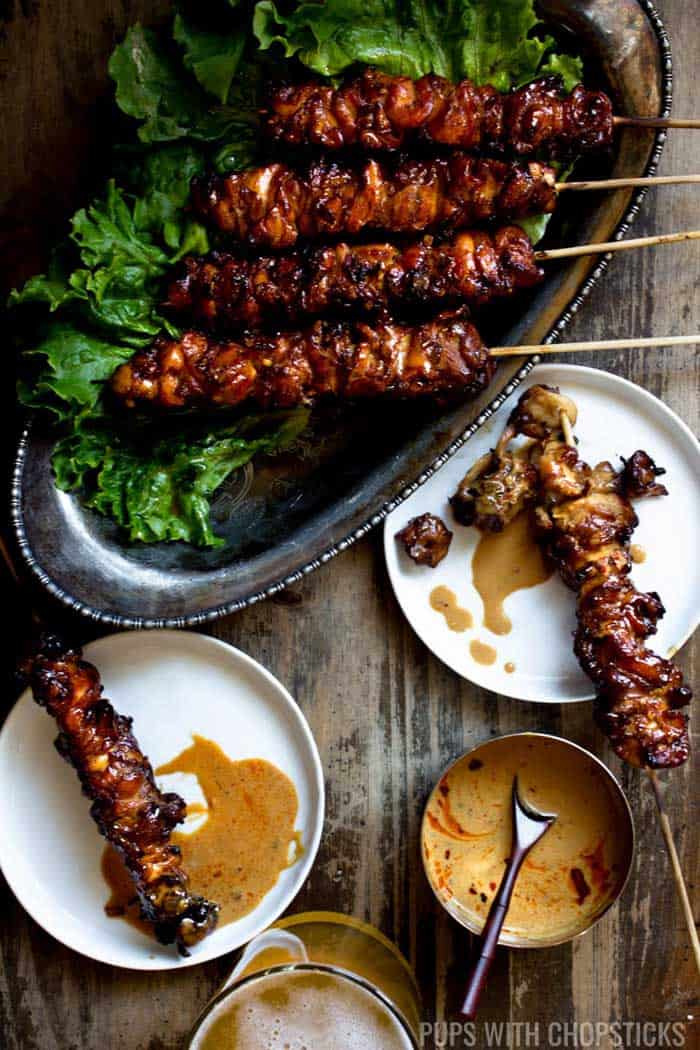 Amazingly tempting in terms of appearance and equally drool-worthy to savor, these smoky grilled chicken skewers are super easy to pull off at home. A great blend of soy sauce, coconut cream, garlic, and ginger go for a luscious marination in this recipe, finishing things up with some sweet coconut cream glaze. Marvelous when served with peanut sauce.
Grilled Steak Kebabs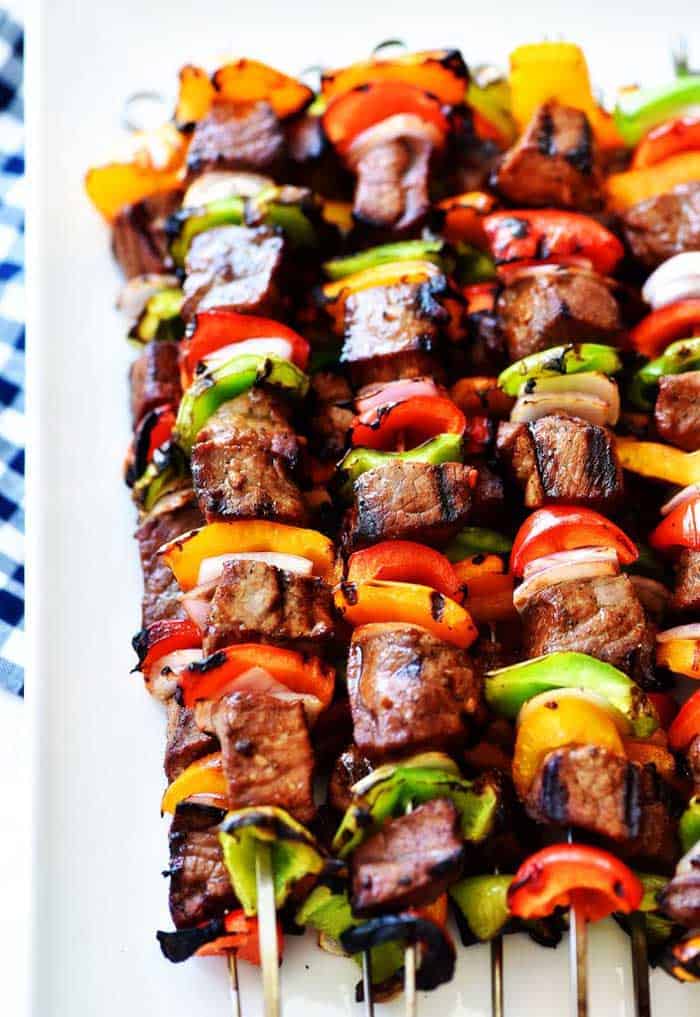 What a wonderful union of bright colors, these kebobs have got some chewy veggie slices accompanying the steak. The veggies include onions and three hues of bell pepper, while the other ingredients include soy sauce, minced garlic, and some black pepper.
Mediterranean Grilled Tofu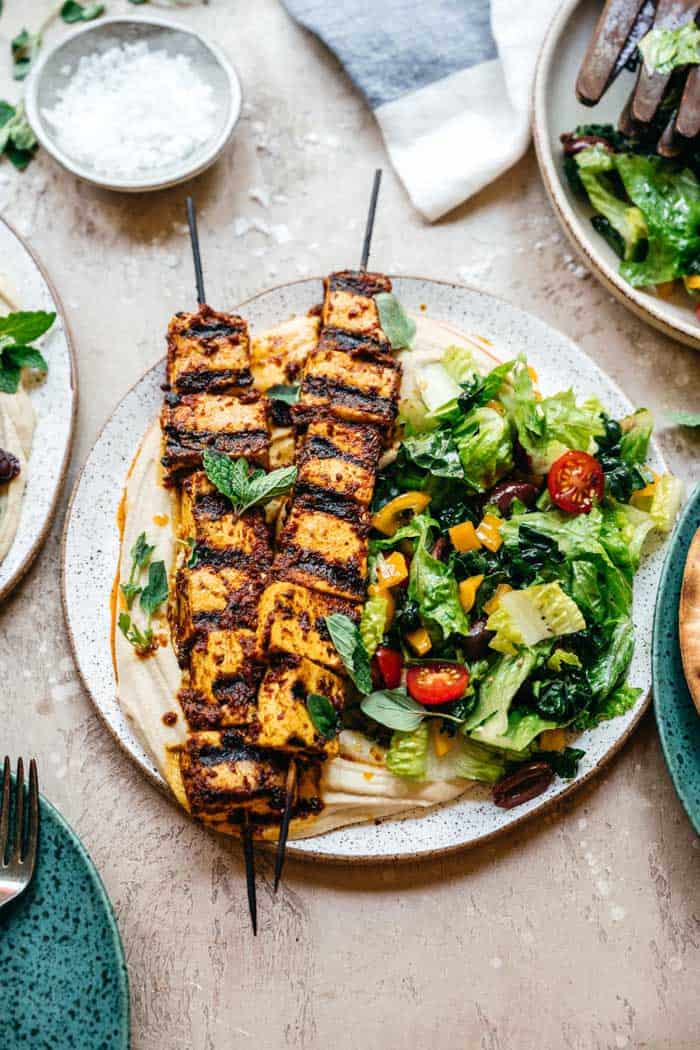 These grilled tofu kebabs with a brushing of flavorful marinade of Mediterranean spices comes together in no more than a few minutes, while being very versatile when it comes to accompaniments. Charred to utmost perfection, the chewy grilled delights taste best with creamy hummus and pita.