Easy griddle breakfast ideas to jumpstart your morning. Delicious outdoor cooking inspiration, including pancakes, bacon and egg hash, and breakfast skillets.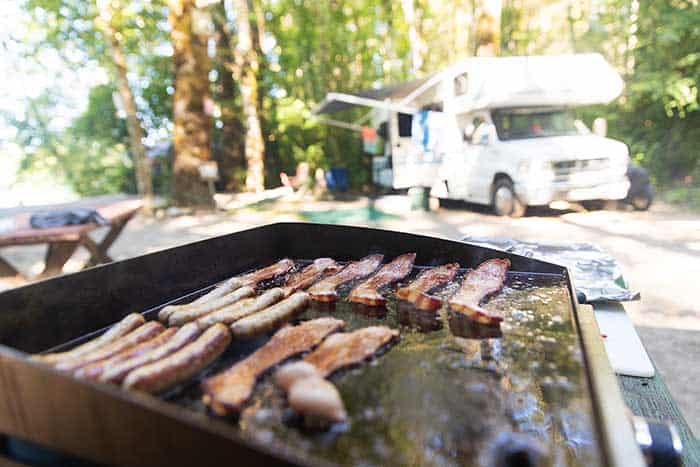 The griddle is a staple of many restaurants and diners, but even in your home kitchen, you can use it to serve up fast, delicious breakfasts. If you're stuck in a breakfast rut, here are a few ideas for making the most out of your griddle.
Chorizo Breakfast Hash
A chorizo breakfast hash combines delicious breakfast staples such as potatoes and eggs with ingredients that have a bit of a kick, such as chorizo and salsa. While you can make this dish, just like any breakfast hash, in a skillet, making it on a griddle will help the potatoes crisp up faster and make it easier to whip up a large batch.
To make a chorizo breakfast hash, chop up chorizo sausage, bell peppers, and onions. Boil cubed potatoes, then add to the frying mixture. Top with eggs if you want more protein.
Try This Recipe: Chorizo Breakfast Hash. In this twist on a breakfast classic, red potatoes are teamed with Mexican chorizo, sour cream, and topped off with fried eggs.
Mexican Breakfast Molletes
A mollete is a type of open-faced sandwich popular in Mexico. Traditional toppings include beans and cheese. While you can prepare this sandwich in a skillet, a griddle allows you to whip up several molletes at once and toast the bread evenly.
To make a traditional breakfast mollete, slice rolls (usually bolillo rolls) in half and slather with butter. Top with refried beans and shredded cheese, then place on the griddle until the cheese melts.
Try This Recipe: Mexican Breakfast Molletes. Served on traditional bolillos, this blend of refried beans and chorizo is a delicious twist on grilled sandwiches and is a filling way to start the day when out on the road.
Pancakes
Have you ever wondered why this breakfast staple tastes so much better at a diner than when you whip it up at home? That is because most restaurants make their pancakes on a griddle, where they cook evenly.
Buy a pancake mix or make your own batter using flour, baking powder, eggs, and other ingredients to make pancakes. Pour out one ladle of batter per pancake and cook on both sides.
Scrambled Eggs
Scrambled eggs are another classic American breakfast food that tastes better when making this dish on a griddle. A griddle allows you to cook large batches of eggs simultaneously while ensuring that every bit is cooked evenly. It is also easier to stir the eggs on a griddle rather than in a pan with sides.
Beat the eggs with milk and salt until the yolks and whites are combined to make scrambled eggs. Grease the grill surface with butter, then place the eggs, stirring with a spatula to form soft folds.
Huevos Rancheros
Huevos rancheros are another traditional Mexican breakfast. Literally translated to "rancher's eggs," this hearty breakfast dish of poached eggs and salsa served on a tortilla is tasty and filling. Cooking this dish on the griddle allows you to cook several eggs at once evenly.
To make huevos rancheros, fry or poach however many eggs you need. Make salsa or buy your own, then put it all on a warmed tortilla.
Breakfast Burritos
Breakfast burritos are a staple food of the American Southwest. Many regional variations exist, but most breakfast burritos consist of scrambled eggs, sausage, and cheese wrapped in a tortilla. You can use your griddle to prepare multiple components of the burrito and fry the final product.
To make a breakfast burrito, start by preparing the individual components such as fried breakfast sausage, eggs, and melted cheese. Put everything in a large tortilla and wrap. Finally, place the finished burrito on the griddle for a few minutes to allow the ingredients to come together.
French Toast
French toast, or slices of bread dipped in an egg mixture and fried until golden-brown, is another American breakfast classic made better on the griddle. The flat surface makes it easier to flip the slices of bread without causing a mess.
To make French toast, beat eggs, sugar, cinnamon, and a splash of milk together. Coat the bread in the egg and fry on a buttered griddle until golden on each side.
Egg & Bacon Breakfast Hash
This breakfast dish combines three of the most popular breakfast ingredients: eggs, bacon, and potatoes. Making the hash on the griddle ensures that all of the ingredients are incorporated evenly.
To make an egg and bacon breakfast hash, start by dicing potatoes, then frying them until tender. Add pieces of bacon and seasonings of your choice. Finally, make wells on the griddle with the handle of your wooden cooking spoon and crack your eggs into the gap.
Italian Sausage
For a twist on traditional breakfast sausage that is still delicious and filling, make some Italian sausage. Italian sausage is a pork product seasoned with fennel, which adds a bit of a kick to the dish. You can buy it in mild, sweet, and hot varieties. When you cook any sausage, including Italian sausage, on a griddle, you can make breakfast in bulk while ensuring an even cook, which is why this is a great breakfast idea.
Serve your Italian sausage in a scramble or egg bake for a delicious savory breakfast. You can get this sausage from most supermarkets or make your own at home by adding fennel to minced meat.
Hash Browns
A full American breakfast isn't complete without hash browns, or shredded potatoes fried until brown. While you can make hash browns in a skillet, making them on a griddle allows the potatoes to crisp up better and prevents sogginess.
To make hash browns, start by finely chopping potatoes or shredding them on a box grater. Rinse to get rid of the starches, then mix with flour, onion and egg. Form the shredded potatoes into pancake shapes and fry until golden.
Cottage Cheese Griddle Cakes
Cottage cheese griddle cakes are flat circles of pan-fried dough that are similar to pancakes. The significant difference is that the batter contains much less flour, relying on cottage cheese and egg instead to hold the batter together. Making these cakes on a griddle allows the batter to come together even with a low flour content.
To make cottage cheese griddle cakes, combine melted butter, cottage cheese, eggs, and milk with a bit of flour and ladle out the batter to form cakes. Fry until golden brown on each side.
Griddle Corn Cakes
Griddle corn cakes are similar to pancakes, except they are made with cornmeal instead of wheat flour. This results in a more savory, robust breakfast pancake. Cooking corn cakes on the griddle helps the dough cook evenly.
To make griddle corn cakes, mix cornmeal with eggs and baking powder to form a batter. Cook them in the same way you would make pancakes.