This burger is a beast. Delicious homemade beef chili poured over a beautiful cheeseburger and topped with onion rings. This grilled chili burger will be an instant hit… for those who can finish it.
If you want an eating challenge this year, look no further than this BBQ chili burger recipe.
There's no getting around it: This burger is a beast.
Built upon a traditional cheeseburger, this monster packs in homemade chili and oven-cooked onion rings to create a tower of meat.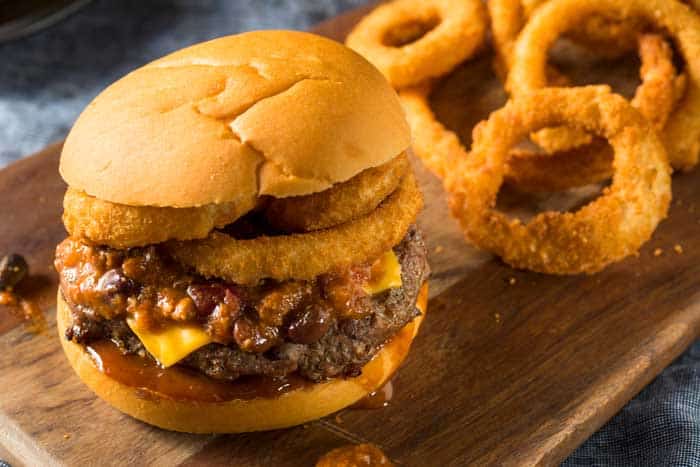 Quick Tips
I've used hickory as my hardwood for this recipe. Hickory's a deep and strong flavored wood, but it matches perfectly with many different cuts of beef, making it perfect for this chili. If you prefer a different wood, then oak and mesquite are similar in flavor and strength.
Everyone has their own go-to homemade chili recipe, so don't worry if yours deviates from the one I've laid out here. Just so long as it contains beef and isn't overpowered with spice.
I've recommended using a beef rub in this. If you don't have your own homemade or store-bought beef rubs, then I recommend trying Pit Barrel's beef pit rub.
What Are the Best Secret Ingredients for Chili?
If you want to add a bit more depth of flavor or heat to your chili, there are some reliable ingredients that you can add to make your chili more flavorful.
Peppers
The most obvious addition is more peppers. Chili wouldn't be chili without a little bit of kick to it. Try adding dried ancho peppers or chipotle peppers to combine some depth with that heat.
Parsley
A lot of people rely on cilantro or coriander as a herb topping for chili, but chopped Italian parsley is a fantastic alternative. It has a milder flavor than cilantro but a far richer green color.
Espresso
Coffee has a rich history of being combined well with barbecue (see our coffee dry rub if you don't believe me), offering a deep level of flavor that pairs well with smoke and wood. A single show of espresso can be mixed in with your chili to give it dark and mellow notes.
Does Chili Get Better the Longer It Cooks?
Absolutely. A common mistake a lot of people make with chili is cooking it too quickly. The longer it simmers at a lower heat, the more time the ingredients will have to mix and lock in together. In fact, chili is often better a day or two after, so you might want to make the chili part of this recipe ahead of time to reheat later.
What Are the Best Alternatives to Ground Beef for Chili?
While ground beef is the classic go-to meat ingredient for chili, it isn't for everyone. Thankfully there are some easy options for people who prefer to avoid red meat, or meat altogether.
Ground turkey is the best meat-based substitute for beef. Despite the fact that it's white meat, it's easily available in ground form and is lighter in fat content. Oh, and it tastes delicious, obviously.
Portobello mushrooms have a rich and savory flavor that is a good stand-in for beef. They can also be pulled in much the same way as pulled pork, giving them a satisfying mouthfeel and texture.
Chopped button mushrooms are also a fine alternative, as long as they are served in chunk sizes (and not thin slices). A word of warning: Mushrooms have high water content, so you might need to make the broth ingredients more concentrated for balance.
Why Don't Texans Put Beans in Chili?
Simply put, the literal name of chili con carne is 'chili with meat'. Texas has a long history with chili, and their interpretation of the dish takes the meaning of the name more literally than others and does away with the beans.
While other parts of North and Central America have continued to use beans, Texas chili burger recipes have stayed true to the non-bean take on the dish.
Whether you're beans or no beans, I hope this chili burger recipe proves a hit at your next cook-off!