Easy turkey burger sliders fired up on the grill. These mini appetizers boast feta cheese and tzatziki for a delicious Greek-style twist on cheeseburgers.
Grilled Greek turkey burger sliders will steal the show at your next BBQ. Of course, they're delicious on any given weeknight as well.
That's because these burgers pack in all of your favorite Greek flavors. But, unlike regular burgers, they're slider-sized, meaning each one is only a few delicious bites. So, you could enjoy a few for dinner or serve them on a platter at your next party.
When you use ground turkey for full-size burgers, they tend to come out dry. With sliders, however, low-fat ground turkey is a great option. Slider-sized burgers cook quickly, which helps keep your turkey from drying out. The results are flavorful, healthy, and delicious!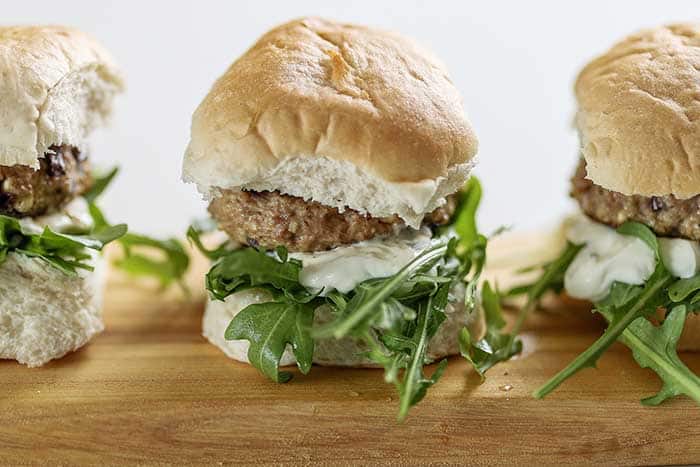 Ingredients
Grilled Greek turkey burger sliders don't have a long ingredient list. All you need is ground turkey, spinach, panko bread crumbs, feta cheese, and an egg. Of course, for serving purposes, you'll also want buns and tzatziki sauce.
Ground Turkey
Ground turkey contains less fat, cholesterol, and calories than ground beef, making it the perfect alternative to regular BBQ options.
For this recipe, look for 93% lean ground turkey. It will have a mixture of light and dark meat, which will be more flavorful in your sliders.
Slider Buns
Most supermarkets sell slider buns in the bakery section. Many of them offer specialty options, like mini brioche buns as well. Hawaiian rolls also work as a sweeter alternative.
Feta Cheese
Feta adds just a little fat to your turkey sliders, keeping them juicy. At the same time, it will add delicious salty flavors.
Spinach
Spinach can also add moisture to your turkey burgers and keep them from drying out. Plus, it makes them that much healthier.
Fresh baby spinach works best for this recipe and usually comes washed and ready to use. You can also use mature spinach, but you'll need to trim the stems and chop the leaves.
Panko Breadcrumbs
Panko is a Japanese style of breadcrumb that's dryer and flakier than regular breadcrumbs. It works well for this recipe because it absorbs less oil, which helps keep your burgers moist.
At the same time, it works with the egg to create a binder, holding your burgers together so they don't fall apart on the grill.
Eggs
The egg in this recipe accomplishes two things. First, it works with the breadcrumbs to create a binder that will hold your burgers together. Second, it adds moisture to the turkey, acting as one more safeguard to prevent dry burgers.
Tzatziki Sauce
Tzatziki is a classic Greek sauce made of cucumbers, yogurt, lemon juice, and herbs. It's available at most grocery stores in the deli section.
It's also easy to make a quick substitute for it. You can make a very close tzatziki replacement using Greek yogurt mixed with lemon juice, a pinch of salt, and dried dill. Sour cream or ranch dressing would also make for tasty condiments.
Serving Ideas
Grilled Greek turkey burger sliders go great with traditional BBQ sides. You could try it with creamy potato salad or sweet potato fries for something hearty. Or, try it with a crisp Caesar salad for something light.
Alternatively, since you've already got the grill hot, you could serve this dish with grilled corn on the cob.
How to Make Greek Turkey Burger Sliders
Making grilled Greek turkey burger sliders is pretty simple. Start by sauteing your spinach. To do this, heat a saucepan over medium-high. Add a couple of teaspoons of olive oil and swirl to coat your pan.
Then, add the spinach a few handfuls at a time. As it wilts, you'll be able to fit more spinach in the pan. Add a few pinches of salt to taste, and then set the spinach aside to cool down.
Next, preheat your grill to medium-high heat while you make your burger patties.
To make the patties:
Mix the ground turkey, wilted spinach, egg, and feta cheese in a large bowl.
Use your fingertips to mix it until the ingredients are spread through, but don't overwork the meat.
Form the resulting mixture into 12 half-inch patties.
Brush the grill grates with olive oil to keep your burgers from sticking, then cook the burgers for four minutes on the first side. Flip them, and give them another three minutes of cooking time.
You can also toast the slider buns if you want to, but that step is entirely optional.
When the burgers are ready, serve them on your slider buns with a dollop of tzatziki. If desired, you could also add red onion or sliced cucumbers.
Expert Tips
Before you make your burgers, check out our expert tips.
How to Stop Turkey Burgers From Falling Apart
If you have trouble with your burgers falling apart, try making them a few hours in advance. Put the formed patties on a sheet pan in the fridge for at least two hours. The rest time will help your egg and breadcrumb binder stick.
Just be sure to let them come back up to room temperature before you grill them. Placing them on the counter for about 30 minutes should do the trick.
How to Stop Turkey Burgers Sticking to the Grill
Brushing your grill grates with olive oil before cooking will keep your burgers from sticking. Alternatively, you could spray the grill grates with a non-stick spray.
Can You Freeze These Burgers?
Yes, these burger patties will freeze well. Wrap them tightly in plastic and place in an air-tight container in the freezer for up to two months.
Greek-Style Turkey Burger Sliders
Easy turkey burger sliders fired up on the grill. These mini appetizers boast feta cheese and tzatziki for a delicious Greek-style twist on cheeseburgers.
Print Recipe
Pin Recipe
Ingredients
2

lbs

ground turkey

4

cups

baby spinach

2

tsp

olive oil

¼

cup

feta cheese

crumbled

¼

cup

panko bread crumbs

1

egg

1

cup

tzatziki

for serving

12

slider buns
Instructions
In a skillet over medium-low heat, sautée spinach until wilted. Remove from pan and set aside.

In a large bowl, combine the ground turkey, feta, bread crumbs, wilted spinach, and egg in a bowl. Form mixture into 12 patties, each about ½-inch thick.

Fire up grill to medium-high, about 375°F (190°C)

Grill patties for 4-5 minutes on each side

Serve on slider buns with tzatziki sauce and your choice of garnish
Nutrition
Calories:
228
kcal
|
Carbohydrates:
19
g
|
Protein:
22
g
|
Fat:
7
g
|
Saturated Fat:
2
g
|
Polyunsaturated Fat:
1
g
|
Monounsaturated Fat:
1
g
|
Trans Fat:
0.01
g
|
Cholesterol:
61
mg
|
Sodium:
195
mg
|
Potassium:
288
mg
|
Fiber:
2
g
|
Sugar:
3
g
|
Vitamin A:
1055
IU
|
Vitamin C:
3
mg
|
Calcium:
83
mg
|
Iron:
2
mg