The best burger recipes. Delicious BBQ patty ideas from homemade grilled hamburgers to smoked ground beef patties. Find your new favorite recipe today.
Burgers are the classic grilling staple in the barbecue world, and few dishes are as versatile as the American favorite. Whether you prefer simple ground beef burgers, turkey patties, or portobello veggie burgers, the humble hamburger has something to offer anyone.
Grilled or smoked, the humble burger transforms into an unforgettable taste sensation that always leaves you wanting more. There's no doubt that delicious burgers are worth the effort, no matter how you make them.
These are the best ways to enjoy BBQ burgers, from easy party food to gourmet low and slow meat fillings. All easy, all delicious. Find your new favorite burger recipe today.
Grilled Hamburgers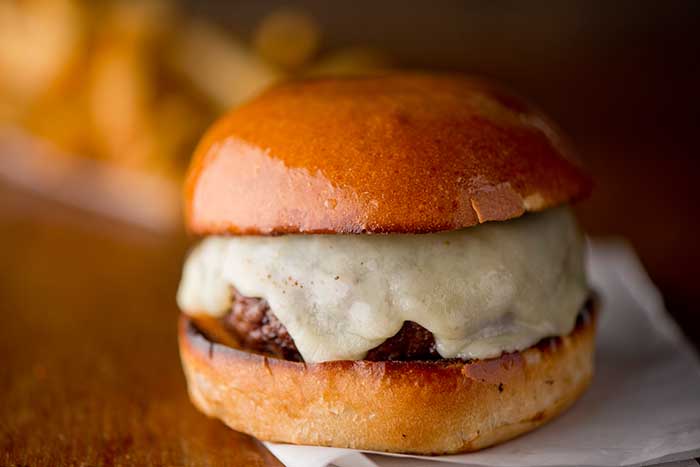 Where better to start than with the classic hamburger? Best cooked on the grill, this burger classic uses flame cooking for a delicious sear that coats its juicy beef patty. If you get your beef choice right (we prefer beef chuck), you'll have a quality homemade patty that has the perfect ratio of fat-to-meat.
Try This Recipe: While it might be tempting to buy premade beef patties, there's no better way than to make your own with our homemade grilled hamburger recipe. Use beef chuck to form your patties before firing over medium-high heat on the grill for just a few minutes per side. We won't tell you what to use for your toppings (although you can never go wrong with cheese, onions, and relish!)
Grilled Venison Burgers
Is there any cut of meat more underrated for burgers than ground venison? While game meat might not be for everyone, venison's unique gamey flavor is perfect for blending with seasoning. This opens up a new world of flavor possibilities when it comes to homemade patties. None better than these ground venison burgers.
Try This Recipe: These venison burgers are allows the natural taste of the deer to come through. We cook it lightly over coals before serving it with roasted peppers and sauteed onions in a buttery brioche bun.
Smoked Brisket Burgers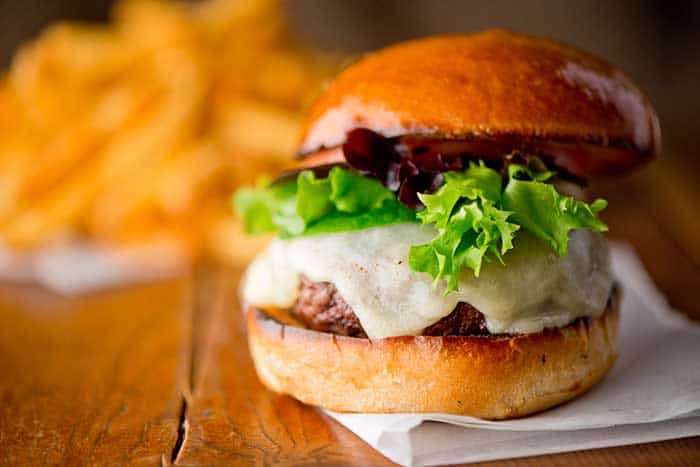 While grilling might be the default cooking method for most barbecue burgers, these brisket burgers are proof that, with a little bit of patience, smoking burgers can take them to another level.
If any meat lends itself best to barbecue smoking, it's brisket. The beef cut's rich marbling content makes it perfect for low and slow cooking, gradually yielding a burger that's outrageously flavorful and with a classic barbecue smoke flavor.
Try This Recipe: These delicious smoked ground brisket burgers are made with homemade beef brisket and garlic patties before slow-smoked over oakwood for an incredible BBQ flavor. They take an hour to cook but – trust us – the results are more than worth it.
Grilled Lamb Burgers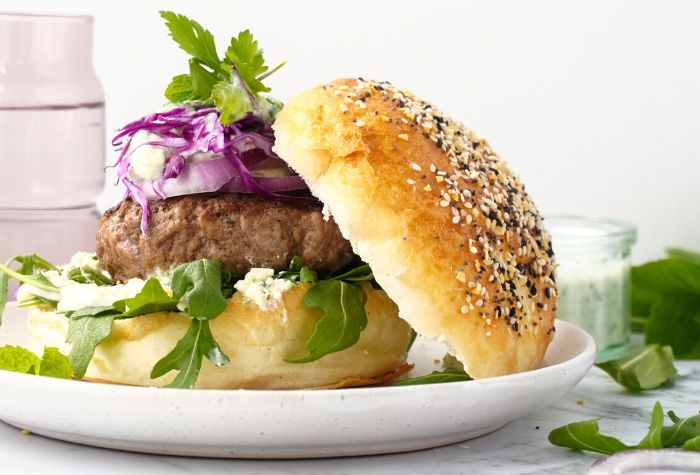 We're a big believer that lamb doesn't get the love that it deserves, and nowhere is this better seen than with grilled lamb burgers.
Ground lamb patties boast the perfect amount of fat that we need for juicy burgers, locking in flavor and guaranteeing deliciously moist burgers. Their robust almost-gamey flavor helps them stand up to flame-grill cooking without being overshadowed by your cooker's coals or wood.
Try This Recipe: These incredible grilled lamb burgers combine ground lamb with fresh herbs and spices in beautiful homemade patties. After firing over medium-high heat, we top them with tzatziki sauce and serve on a classic hamburger bun for an elegant but simple BBQ dish.
Grilled Wagyu Beef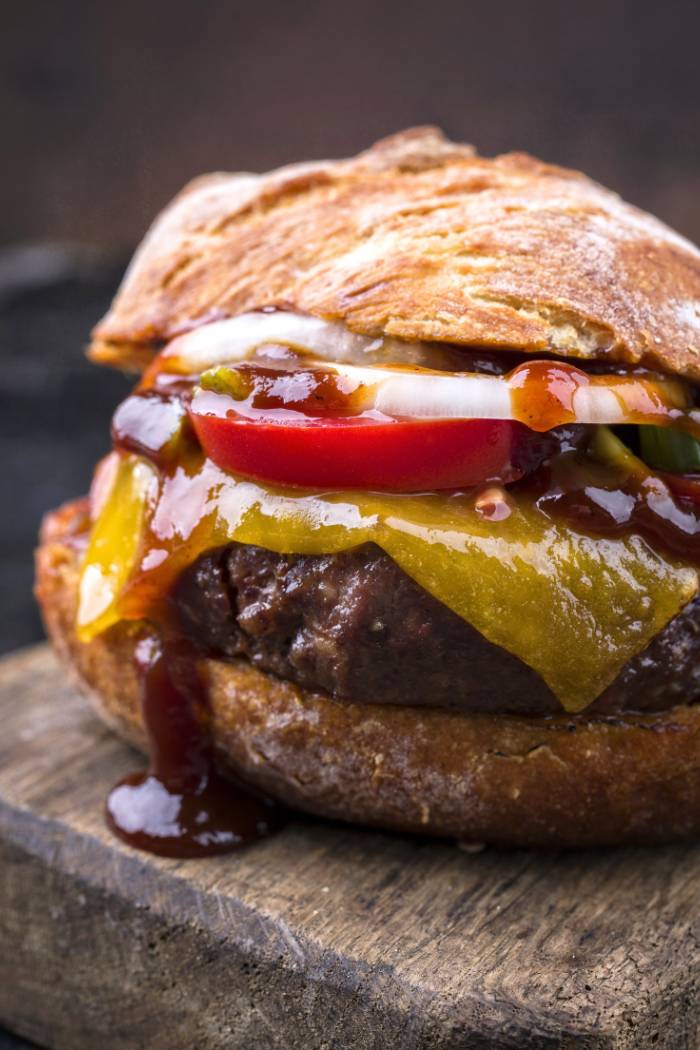 Using the daddy of all beef types, Wagyu burgers are a cut above your standard beef hamburger patty. Because Wagyu beef is so rich in intra-muscular marbling, these homemade burgers are loaded with intense beefy flavor and an outrageous melt-in-your-mouth texture.
Try This Recipe: Our grilled Wagyu burgers go light on the seasonings to allow the real star of the show to stand out: The ground Wagyu beef. Cooked to medium-rare, this juicy and tender beef patty is loaded with outrageous flavor.
Smoked Turkey Burgers
Switching up the meat used for your patty to something lighter means we can heap on more flavor, and nowhere is that better seen than with turkey burgers. While not usually our go-to meat, white meat like ground turkey helps us make use of fresh summer ingredients like basil and mozzarella, as well as working in a dash of spice. And because they're lower in fat, they take next to no time to cook!
Try This Recipe: Topped with mustard and melted mozzarella cheese, these smoked turkey burgers are loaded with juicy flavor.
Grilled Bison Sliders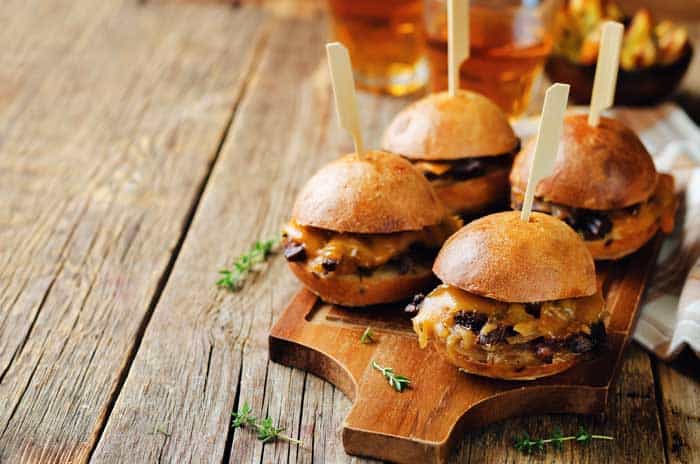 Yep, you read that right: Bison. An underrated meat, bison offers a more tender and juicy texture than regular beef but is far leaner, giving you a protein-packed meat that really packs in the flavor.
There's a lot to be said about bison being a healthier alternative to ground beef, with its rich protein, iron, and omega-3 fatty acids. And while all of that is true, this does a disservice to bison's best asset: Its flavor.
Bison carries a slight sweetness and subtle earthy taste that's unlike any beef cut. And this flavor when combined with a grilled char finish, tangy pickles, and lightly toasted bun creates a mouthwatering experience that will leave you craving more.
Try This Recipe: More succulent and delicious than standard beef, these grilled bison sliders are loaded with flavor. Make the patties ahead of time before firing over medium-high heat for just a few minutes per side. Rest before assembling the sliders with onions, pickles, yellow mustard, and – of course – cheese.
Turkey Sliders
Turkey might not be the first meat that comes to mind when designing your dream homemade burger, but hear us out. With the right meat-to-fat ratio, ground turkey packs in plenty of flavor and is versatile enough to be matched with almost any of your favorite sauces and spices.
While grilled turkey burgers can come out dry, shrinking them down to slider size helps retain the moisture and flavor we want. And what better way to enjoy them than with a beautiful blend of feta cheese and tzatziki?
Try This Recipe: Savor the enticing fusion of Greek-inspired flavors in these scrumptious turkey burger sliders. Each patty boasts lean ground turkey, aromatic onions, and tangy feta for an outrageous mouthful of flavor. Grill them over medium-high heat and serve them with a dollop of cool, creamy tzatziki sauce.
Beet Quinoa Veggie Burger
There's no end to the possibilities when it comes to creating the perfect veggie burger. It's true that non-meat burgers vary in texture and moisture, but selecting the right ingredients and seasonings can take them to a whole new level.
In order to make a tasty veggie burger, you need a great texture that complements the flavors. But we think we've cracked it with the combination of quinoa, beetroot, and breadcrumbs. This ingredient blend provides the structure we want to stand up to grill temperatures, while still providing moisture and flavor on the inside.
Try This Recipe: These beet and quinoa veggie burgers are crispy on the outside, but soft and rich on the inside. With a beetroot filling, there's plenty of moisture locked into each of these patties, while its zingy lime and avocado dressing makes these little beauties sing.