Incredible grilled lamb burgers combined with fresh herbs and spices before fired over high heat on your backyard grill. These easy homemade ground lamb BBQ patties are topped with tzatziki sauce and nestled in a hamburger bun for a delicious taste of the Mediterranean.
Burgers are surely one of the most popular foods for summer grills and BBQs. These meaty patties can be cooked in a flash and go down well with just about everyone. But we think it's time to take a break from the original beef and branch out to ground lamb.
If you've never tried grilled lamb burgers, you're in for a treat. The meat's high fat content makes for extra juicy burgers and the lamb's more robust flavor can withstand tasty extras like feta and herbs. That means that once you've mastered this delicious burger, you can mix the flavors up to your heart's content.
From forming the perfect patties to finding the best toppings, discover how to make homemade lamb burgers today.
Feta & Tzatziki Lamb Burgers
Lamb doesn't often get the top billing it deserves, with people regularly choosing beef as their red meat of choice. But lamb has a lot going for it: Its high fat content provides the most wonderful self-basting properties, meaning dry burgers are a thing of the past. Also, fat = flavor, making every bite of these homemade patties burst with flavor.
Speaking of flavor, lamb is much gamier than beef, and don't be put off because we mean that in the best way possible. It has a richness to it that beef just can't match and it means that it's perfectly complemented by strong-flavored herbs such as parsley and mint – making for an even more tongue-tingling dish.
Despite being less popular than beef in the West, lamb is a firm favorite around the world and you can take inspiration from all over for your burger flavors. You can use the sizzling masalas of India, sweet and spicy Korean gochujang paste, the flavor bomb that is Middle Eastern harissa paste, or even cumin and Sichuan peppercorns for something with a Chinese lean. The world is your lamb patty oyster!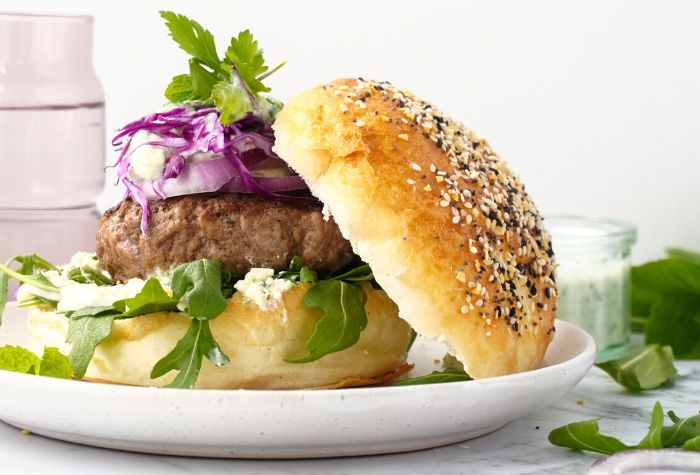 How to Grill Lamb Burgers
Fire up your grill to medium-high
Mix ground lamb with spices, feta, and herbs, using your hands to combine
Shape the lamb mixture into equal-sized patties
Grill the patties for 4 minutes per side
Rest for 10 minutes
Build your burgers
Ingredients
Ground lamb is obviously the key component of these burgers. Breast is one of the best lamb cuts for mincing because it's rich in fat content, but sometimes middle cut, scrag end, and other cuts are used. These lamb cuts are usually less juicy but find a second life once they're ground and become much more tender – this fat is also important in keeping each patty flavor-filled and juicy.
We'd say it's very important that you make sure your ground lamb is of the highest quality that you can afford. We like our burgers perfectly caramelized on the outside but still a little pink within – but you've got to be confident with your meat quality to do this.
Speaking of flavor, we've said that the gaminess of lamb can stand up for itself in a spice-laden dish and we meant it. Everything from cumin to cinnamon can enhance the flavor of this meat and our recipe utilizes a few different spices to bring that sweet lamb flavor to the forefront.
As well as spices, herbs perfectly complement this stronger meat – we love the Mediterranean flavors of mint and parsley (which you'll see below) but feel free to experiment with your own favorites. You'll find that even once they're cooked, the herbs bring a distinct freshness to the richness of the lamb.
Speaking of strong Mediterranean flavors, our patties also contain that perfectly salty cheese, feta. The umami richness of the feta cuts through the sweet lamb and just brings an extra dimension to the burgers.
You can complement your patties in any number of ways, keep them simple and let the lamb speak for itself, or do as we do and keep it Greek with lettuce, tzatziki, and raw sliced red onion.
How to Make the Patties
Most beef patties for homemade hamburger recipes use a binder like egg or breadcrumbs to keep them in one piece but lamb holds itself together pretty well. The only tip we'd add to that is that they hold better together the fewer extras you add to them – if you pack them with too much feta or herbs they might crumble.
Your hands are the best tools for forming the burgers, that way you can make sure the ingredients are well combined and pack them into the perfect puck shape. Be sure all the patties are even sizes (you can even weigh them to be sure) that way they'll cook in the same time.
Times & Temperatures
We recommend a fairly high grilling heat of 450°F (230°C) for your lamb burgers. Cooking them this way means you get great char and caramelization on the outside of the patties, they're less likely to stick to the grill and you can cook them fast and keep them pink and juicy within.
The meat will be medium done (around 4 minutes per side) when it reaches an internal temp of 140°F (60°C) and well done (around 6-7 minutes per side) at 160°F (71°C).
Quick Tips
Keep the grill temp high and lightly oil the grate to stop the burgers from sticking
Try to avoid pressing down on the burgers with a spatula whilst you cook. It's an odd habit some of us have picked up but it forces the juices out of the burger
Be sure to rest your burgers for 5-10 minutes before serving – everything we do is for maximum juiciness!