These grilled venison burgers are delicious fresh off the grill. Prepared with minimal seasoning, the natural taste of the game meat does all the work. Grilled over coal and served in a buttery brioche bun, these patties are bursting with flavor!
What is Venison?
Venison used to be described as almost any game animal, including smoked duck, bison, and moose, but that meaning has changed over time. In South Africa, the term has narrowed to deer or elk, as well as antelope. We'll be working with deer for this recipe.
Just like beef, venison meat is available in a number of cuts. From smoked venison ribs to tenderloin, or from sirloin to roast. It's available in steak cuts or even cured for jerky. However, we'll be using minced venison (also known as ground deer meat) for our burgers.
Being a type of 'game' meat, venison has a rich taste that's much stronger than most types of beef or pork. However, it is milder than most other types of game, like wild boar or smoked pheasant. Since venison is leaner than beef while still being high in protein, some people prefer it to beef.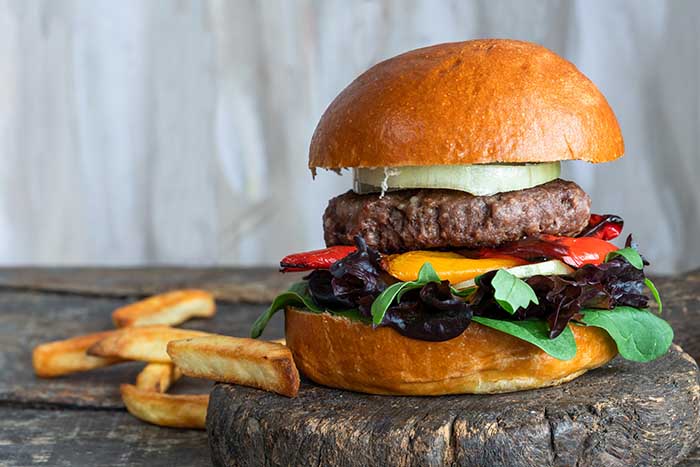 Time & Temperatures
Most grilled burger recipes don't take long to cook, and these venison patties are no different. We'll be firing up our grill to high, around 350-400°F, and cooking for around five minutes on each side. Just like beef and lamb, ground venison needs to be cooked to an internal temperature of 160°F (71°C).
Topping Ideas
For our recipe, we've combined lightly sauteed onion slices, roasted peppers, and some mixed-leaf salad. The earthy and mildly sweet flavors of the vegetables work well with venison, while still allowing the meat flavors to come through.
If these don't sound to your liking, there's plenty of room to experiment. A few of our favorite burger toppings include arugula, red onion, pickles, bacon, and – of course – shredded cheddar cheese.
---
FAQ
Got any burning questions about this recipe? Our frequently asked questions are here to help.
Do You Need to Add Fat to Ground Venison?
Some people add bacon fat to ground deer meat to keep it moist on the grill. While it is true that venison is leaner than most cuts of pork or beef, I don't find it necessary to add extra fat to the meat. We are cooking at medium-high heat for only ten minutes total, making it unlikely that the patties will dry out.