These grilled bison burgers are more succulent and delicious than regular beef burgers, but with less cholesterol. Perfect for game day, tailgating, or just about any BBQ party.
Everyone needs a go-to burger recipe that stands out from the crowd, and I think I have just that with these beautiful grilled bison sliders.
Where some people might just throw frozen beef burgers on to the grill and hope for the best, these bison cuts are oozing with succulent flavors.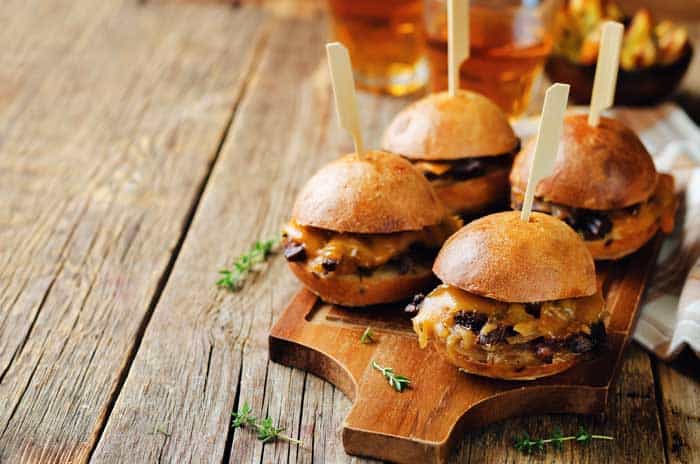 Smoking or grilling frozen meat is never as nice, so let's go fresh. It's the best way to delicious bison burgers.
The 'gamier' cut of meat is a bit lighter on the cholesterol than traditional ground beef burgers, but lacking none of the punch or flavor that you want from a burger.
Serve these up at your next tailgate or BBQ party and you'll have won over a new army of fans.
Bison vs Beef: What's the Difference?
Bison is a delicious red meat that's high in protein and low fat. It's also rich in flavor, and is remarkably different to beef. It's lighter than traditional beef and has a slightly sweet taste. Bison is extremely nutrient-dense, with one serving containing 34% of your recommended daily allowance of protein, and 33% of your iron (source).
Bison is available in ground form, which makes it easy to substitute in for beef when making burgers or sliders, as well as chili.
Is Bison Good for Burgers?
Bison meat is good for burgers because it is similar enough to beef that it can work as a substitute. In particular, it makes a good substitute if you are looking to eat leaner and healthier. Bison meat is leaner and lower in fat than beef, making bison burgers a much healthier option.
What Does a Bison Burger Taste Like?
Even if you've never had a bison burger before, your first bite will probably feel familiar. That's because bison meat tastes very similar to beef. However, it has a leaner, lighter flavor thanks to the lower fat content. It has a slightly sweet aftertaste.
What Is the Best Cut of Bison for Making Burgers?
The best bison cuts for burgers are similar to the best beef cuts (which makes sense since bison are related to cows). Bison chuck is a great cut for burgers because it has an intense, beefy flavor and a good ratio of fat to meat.
How to Keep Bison Patties From Falling Apart
Burgers are prone to falling apart when they dry out. The best to stop this from happening with bison burgers is to use corn flour in the mix. This will soak up any excess moisture, keeping it in the meat patty. Add ¼ cup for the best results.
How to Stop Bison Burgers From Going Dry
Bison burgers are delicious, but because the meat is so much leaner than beef, your burgers run the risk of drying out. Keep the patties nice and juicy by adding a bit of fat, such as a brush of olive oil, to lock moisture in. Be careful not to grill for too long.
How Long to Grill Bison Sliders
Grill for about 4 minutes on each side at 400°F/205°C, for a total cooking time of 8 to 10 minutes. Slider patties are smaller than burgers, so shouldn't need as much time over heat.