Need some tailgate BBQ ideas? Here are some of the best grilled BBQ tailgate recipes to help you throw the ultimate tailgate.
If you're tailgating this year then you're going to need an arsenal of grilling recipes that are easy enough to rustle up in minutes without compromising quality of flavors.
You can have the best tailgate grill and setup, but if you don't have crowd-pleasing recipes to rely on then your party will be over before it's even begun.
It's not an easy balance to strike, but I think I've done it with these recipes and ideas to take on the road with you. Here are 14 of the best grilled tailgate recipes to make your tailgate the talk of the party.
Beef Bison Sliders
Everyone needs a go-to burger recipe that stands out from the crowd, and these grilled bison sliders are just that.
Don't be lazy and opt for simple frozen burgers, and instead do something a bit more interesting.
Bison meat oozes juice and flavors, while the fact that it's a bit 'gamier' means that it's lighter on the cholesterol.
Smoked Hot Dogs
This barbecue smoked hot dog recipe brings one of North America's classic grilled foods to a whole new level. Slow-smoked over oak wood, this can be cooked either in your backyard smoker or by using 2-zone cooking on your favorite charcoal grill.
Grilled Sausage & Apple Slaw Subs
If burgers aren't your thing then these hearty brats should do the job.
The bratwurst will taste amazing fresh off the grill, and it's all topped off with a zingy and fresh apple slaw.
Grilled Chicken Sandwich with Caesar-ish Dressing
I love smoked chicken thighs. They're hugely underrated, which is a shame because their dark meat and fat content makes them extremely delicious when thrown on the grill.
This recipe is proof to just that.
These thighs are charred to give a beautiful deep flavor, and pairs it with a mustard sauce and basil slaw.
Chili Cheese Dogs
If there's anything in a hot dog that can improve upon cheese, it's chili.
Made with ground beef, onion, and chili powder, these chili dogs pack in heaps of flavor before then being drowned in cheese.
Perfect for lining the stomach should things start to get lively at your tailgate.
Chicken Drumsticks
Chicken drumsticks are always a crowd pleaser, and what makes them an easy choice is how quick and easy they are to put together.
They can go with any of your favorite BBQ sauces and rubs, and can be served with any choice of side.
Smoked Hot Dog Burnt Ends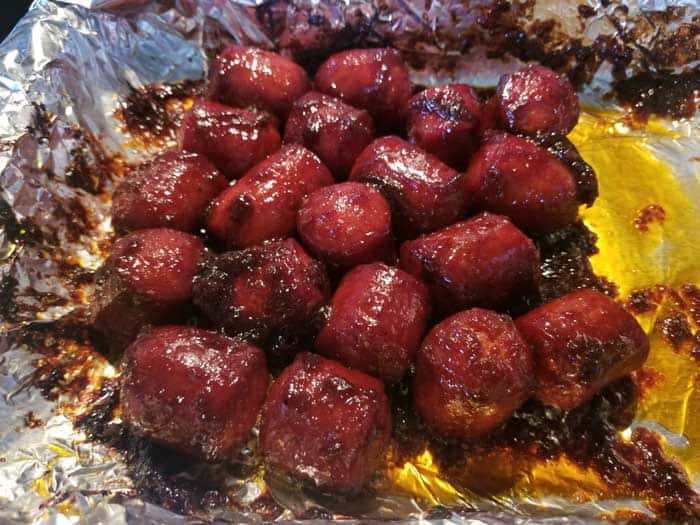 Technically this is a smoking recipe, but this take on hot dog burnt ends is such a quick and easy barbecue appetizer that I felt compelled to share it. Smoked in just 90 minutes, these barbecue hot dogs are sweet, spicy and a classic BBQ appetizer.
Grilled Vegetable Quesadillas
These quesadillas are so packed full of flavor and cheesy goodness that you won't even miss the meat. I promise.
Grilled Buffalo Chicken Sandwiches
This pairs two of my favorite BBQ components: Chicken and buffalo sauce. In fact, I've combined the two before in my buffalo chicken dip recipe. Not only that, but thrown into a sandwich.
What else can I say?
Grilled Beer Brats with Homemade Beer Cheese
Bratwurst, beer, buns. I'm sold.
The bratwurst here is slow cooked in beer and onions, before being finished off on the grill.
Grilled Vegetable Platter with Romesco Sauce
It wouldn't be fair if I didn't have a vegetarian option, would it? They're often neglected at grilling parties, but these charred vegetables are beautifully juicy and crisp, and are served with an incredible romesco sauce to bring it all together.
Grilled Firecracker Potato Salad
You might be thinking that everyone has a potato salad recipe, but I promise you that you don't have one like this.
The potatoes are slowly cooked in a griddle over the grill, which infuses them with rich flavor before being mixed in with everything else. It'll change how you make potato salad from now on.
Crunchy Bacon Cheddar Jalapeño Poppers
Jalapeños, bacon, cheese. Need I go on?
These crunchy poppers are the ultimate appetizer, but in all honesty I could eat so many that they might as well be my main.
Great for anyone with a cheese craving (which is basically everyone).
Smoked Brats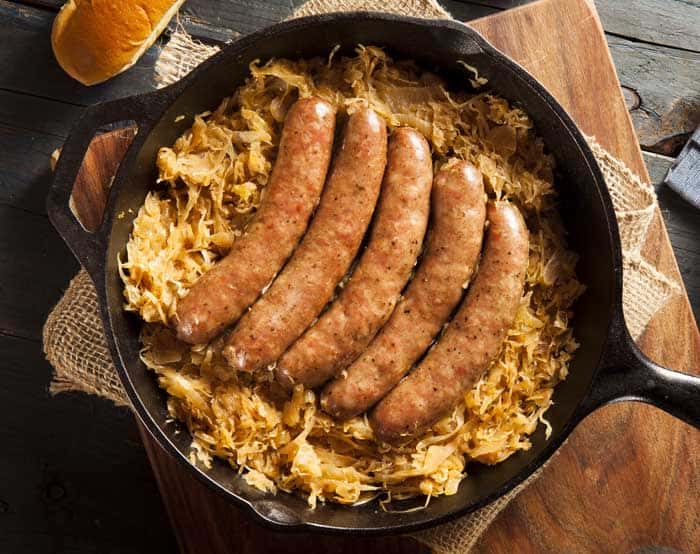 This American twist on a German classic is one surefire way to make your tailgate stick out from the crowd. Despite primarily being a smoking recipe, you can easily make these by setting your grill up for 2-zone cooking. These are easy and best done low and slow. Far better than your regular run-of-the-mill hot dog. Check out our smoked bratwurst recipe.