Enjoy breakfast the right way with these simple outdoor morning dishes. From skillet scrambled eggs to crispy bacon, these are the best ways to enjoy breakfast on the grill.
We love lunch and dinners cooked on the grill, so why not also enjoy breakfast on the grill? There are so many delicious dishes you can whip up for breakfast on your backyard or camping cooker.
From grilled cheese (literally grilled this time!) to skillet French toast, and scrambled eggs to shakshuka, find your new favorite grilled breakfast recipe today.
Corned Beef Hash
If you've got a cast iron skillet (a necessity in all homes) then you should absolutely be cooking on your grill with it, starting with homemade corned beef hash.
Eggs, potatoes, corned beef, and onions – it's simple, but it packs a punch. And better yet, it'll keep you full until lunchtime, if not dinner! It's also a great way to cook up leftover potatoes, so next time you've got a cooked spud or two lurking in the fridge, consider the humble hash.
Onions and potatoes are cooked together in a skillet over coals until they start to take on some nice color, the corned beef is stirred through and then the eggs are cracked in for the final minutes to cook.
Bacon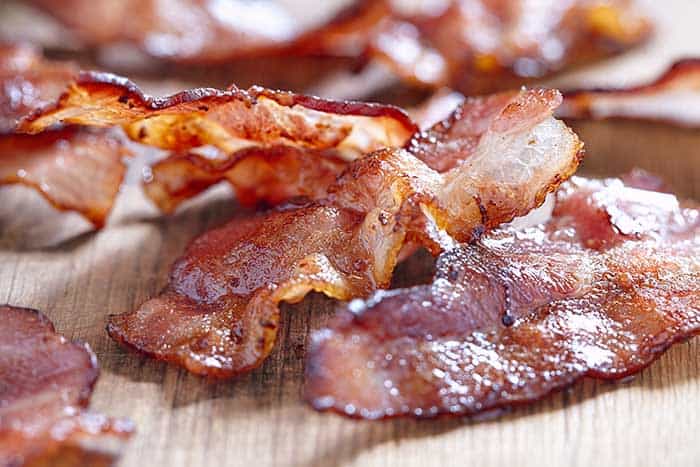 Look, we're not going to turn down any form of bacon – whether it's fried, baked, or broiled, if it's bacon, we're in. So in our minds, adding another way to cook this glorious cut of pork can only be a good thing, and that's where grilled bacon comes in.
When you think about it, it makes perfect sense – the bacon will cook quickly atop the BBQ, and the flames lick pieces of fat to give it a charred and caramelized flavor.
You simply get your grill to medium heat and cook your bacon on it. Be careful not to put the meat on when the temperature is too high, as the fat will cause flare-ups.
Grilled Cheese
Finally, a grilled cheese that's actually grilled! The name of this beloved sandwich has confused non-Americans for years when they discover it's actually pan-fried. No longer, now this sandwich can truly live up to its name and take on some of that delicious smokey char that the grill provides.
These sandwiches are as excellent for camping trips as they are made in your own backyard.
Again heat the grill to medium (around 350°F) then prep your cheese sandwich as you normally would (making sure to add butter or mayo to the outside) and then cook it on your BBQ until the outside is just the right side of brown and the cheese is gooey.
Breakfast Burrito
Who can resist the siren call of the beloved breakfast burrito? Chili, eggs, bacon, and cheese – it's ticking off every breakfast fantasy we've ever had. Add to that, these simple breakfast-filled wraps can be finished on the grill for a smoky finish and you're ticking every box.
The prep for these is just the same as normal, fill a tortilla with all your favorite breakfast bits, wrap it up tightly, and put it on a BBQ heated to medium. Cook until the outside is browned with nice grill markings, once you take it off and cut it in half you should find ooey gooey cheese and eggs inside.
Skillet French Toast
Cast iron skillets are a brilliant piece of equipment for cooking over high heat, allowing you to transfer almost any breakfast favorite to the grill. Case in point: Grilled French toast.
Making French toast on the grill is quick and easy, and takes the breakfast classic to a new level. By searing the egg-coated bread over high heat, it imparts it with a classic grill char and caramelizes the sugars to give you an out-of-this-world flavor finish.
Heat a skillet over medium-high heat and leave it to warm up. Mix together sugar, cinnamon, and eggs and dip thick-cut slices of fresh, crusty bread in to soak. Melt butter in the pan, fry off your sweet toast as usual, and finish with a sprinkle of icing sugar.
Italian Sausage
Much like bacon, sausages make the perfect grilling companion (you could do them both and whip up a full English), cooking evenly and taking on a nice outer char. Italian sausage with its sweet fennel flavor is perfect for mixing things up at breakfast time.
If you've never grilled sausages before, the secret is to make sure the heat is medium-high and not too hot, if the temperature flares up too much, the sausages will burn on the outside and either dry out in the middle or need to be taken off before they cook through.
We like to get a skillet going on the side and cook up some caramelized onions and sweet peppers to serve alongside.
Scrambled Eggs
When we said you can cook just about any breakfast food on the grill with the right equipment, we meant it. There's no reason you can't cook up multiple different dishes at once for your breakfast feast and what would that first meal of the day be without scrambled eggs?
We like to keep it simple with our eggs, we set a skillet over medium heat and melt butter in it. Beat the eggs with a pinch of salt and pepper and when the butter foams, pour the eggs in and cook whilst moving constantly until they're a little under your desired consistency (because remember they'll keep cooking) and it's as simple as that.
Huevos Rancheros
Much like breakfast burritos, we love the zest and flavor that huevos rancheros brings to the breakfast table, making this early-morning meal something really special that's packed full of flavor – go heavy on the chili if you want to really wake up!
We like to warm up the tortillas in a skillet set over a medium flame and then wrap them in foil to one side to keep warm. In the skillet, we then cook a mixture of chorizo, tinned tomatoes, onions, garlic, and jalapenos to create a jammy sauce. At the end, we crack eggs into our sauce, put a lid on the skillet to help them cook, and then scoop out spoonfuls to serve on our warmed tortillas, with sour cream, sliced avocado, and cilantro to finish.
Shakshuka
Shakshuka has gained incredible popularity in the past few years and it's not hard to see why. This Middle Eastern breakfast dish has everything from spiced jammy tomatoes to runny eggs, all topped off with a healthy sprinkle of chopped parsley and crumbled feta. With that trusty cast iron skillet, this is a one-pan breakfast grill recipe.
Medium heat is your friend again here and you'll fry off onions, garlic, and peppers until tender and starting to caramelize. Next, you'll flavor with spices like paprika, cumin, coriander, and chili before adding tomatoes and cooking down until jammy and darkened. Crack the eggs in, pop a lid on to cook and finish with feta, parsley, and a dollop of yogurt, using flatbreads to scoop.