Grilled bacon cooked over smoke on your outdoor grill. This easy pork recipe features delicious slices of thick-cut bacon and is perfect fresh off a hot grill.
Grilling bacon is the perfect way to enjoy our favorite crispy pork treat. While traditional bacon recipes call for oven-baking or skillet-cooking, we can take things up a level by cooking the meat over high heat and smoky flames.
This easy grilled bacon recipe uses juicy thick-cut bacon slices with minimal preparation. We then cook them on your backyard grill to infuse each strip with the smoky flavors that we associate with good barbecue grilling.
From the best type of bacon to avoiding flare-ups, here's how to cook bacon on the grill.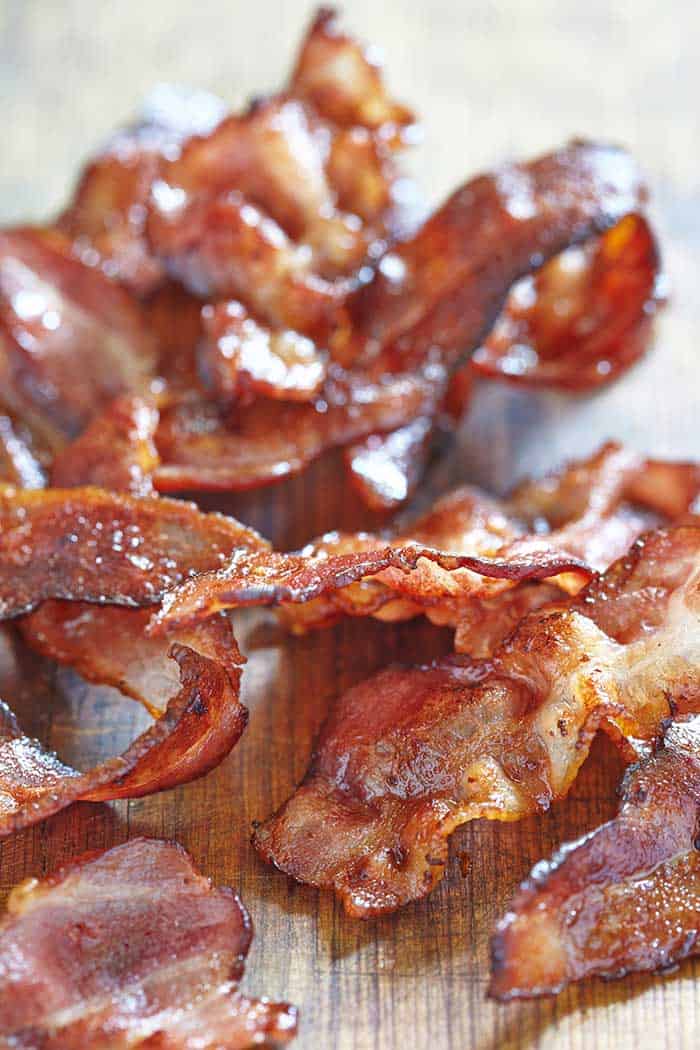 Best Bacon for Grilling
The best type of bacon for grilling over high heat is thick-cut bacon. As the name suggests, these pork strips are thicker than regular strips and are able to withstand the high temperatures over your coals or gas burners. Thick-cut bacon is also easier to flip when cooking and will cook more evenly.
Each slice of thick-cut bacon is around one-eighth of an inch thick, giving you about 12 slices per pound. If your butcher sells your bacon to cut, you can ask for it to be a little thicker if you prefer. Bear in mind that the thicker the bacon, the longer it will take to cook.
Avoid Direct Heat
Bacon is famously greasy, thanks in large part to the streaks of fat that run through each slice. This leads to a high amount of excess grease surrounding each strip of pork as it cooks.
When it comes to high-heat cooking, grease is the leading cause of dangerous grill flare-ups. This is where the flammable and fatty run-off from your food drips onto your cooker's flames and causes a short flame burst, creating a fire hazard.
To grill bacon safely and effectively, use either a cast-iron skillet or foil-lined oven tray to hold the bacon. This will allow the meat to cook without the threat of a fire hazard from the grease.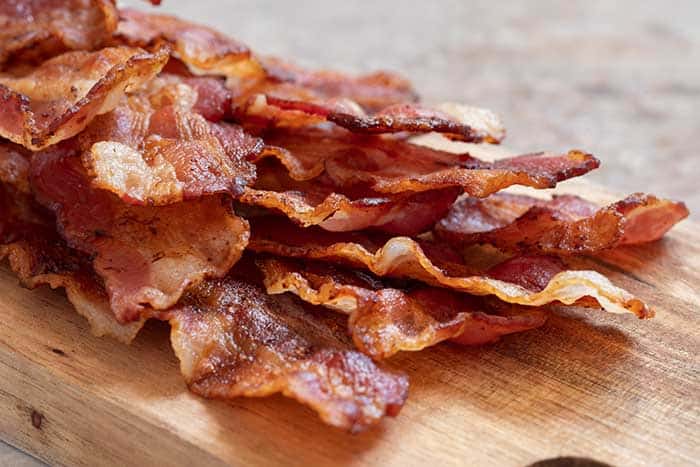 Quick Tips
Don't put bacon directly onto grill grates. The fatty run-off can lead to the strips sticking to the grates (even if you've used oil) and the run-off can also drip onto your coals and burners, causing flare-ups.
To reduce the amount of fat in your bacon, try cooking the slices on a wire rack on top of your line oven tray. This will allow the fat and grease to funnel out of the meat without risking flare-ups as you cook.
Arrange each strip of bacon with a little space between each piece. If they overlap, they will not cook evenly.