Coated in honey and brown sugar, this barbecue bacon jerky is unlike anything you've had before. This is how to make the best bacon jerky on a smoker.
If you're a fan of store-bought jerky, you've come to the right place. This barbecue bacon jerky is easy to make in the backyard on your smoker, and best of all it's completely painless to cook.
Made with just bacon, brown sugar, and honey as its core ingredients, it's done after just a couple of hours on the smoker.
While there are plenty of excellent homemade bacon jerky recipes out there that call for using a dehydrator or your home oven, this classic snack is best made on the smoker. Meat is almost always best enjoyed through barbecue, and this bacon jerky is no different.
What is Bacon Jerky?
Bacon jerky carries a delicious and chewable texture that's just as addictive as its beef counterpart. But what sets it apart is that it still has that unmistakable bacon aroma that gets us all salivating. Just think how much better it smells coming from your barbecue smoker.
If watching nutrition is your thing, you can rest assured. With very few additives, this jerky is healthier than your standard store-bought fare.
Made with your choice of thin or thick slices, this recipe is simple and perfect for barbecue newcomers just as much as seasoned pros.
What Does Bacon Jerky Taste Like?
It'll come as no shock that this jerky tastes a lot like bacon. Despite being dried, the flavor is far richer than regular bacon and the two hours of low and slow smoking takes it to a whole new level.
It also carries a mildly spicy and sweet flavor thanks to the addition of brown sugar, honey, and hot sauce.
Thick Cut vs. Regular Bacon
While you can use either thick or standard cut bacon for this recipe, I recommend using thick. They carry more flavor and have enough meat to absorb our honey and hot sauce marinade.
If you like a crispy or crunch texture, you might prefer to use a standard thin cut. You will need to adjust your smoking time accordingly, and regularly check the feel and appearance of the bacon as it cooks to ensure it doesn't overcook.
What Temperature for Bacon Jerky?
The best smoking temperature is 190°F-200°C (88°C-93°C). This is a bit lower than our usual smoking temperature of 225°F, but our priority here is slowly dehydrating the bacon. This will help us lock in the flavors of the meat and marinade.
How to Prep
For this recipe, we'll be using a simple marinade made with honey, hot sauce, and a few pinches of seasoning. While I have listed hot sauce in the recipe, you can also use your choice of BBQ sauce or sriracha. You might find it a little sweet, so try not to go overboard!
Simply mix the marinade ingredients in a small bowl, and apply it to each bacon strip with a basting brush.
Because bacon isn't a huge cut of meat by any stretch of the imagination, I'm only going to leave it to marinate while my smoker warms up (about 20-30 minutes). Marinating meat at room temperature is dangerous as it allows bacteria to multiply on raw meat (source). After that, we'll sprinkle on the brown sugar and we're good to go.
How to Smoke Bacon Jerky
With your smoker running at 200°F and your bacon marinated, we can get on to the real fun.
Transfer the meat to the cooking grates, leaving about an inch between each strip. Place a baking tray under the grates to catch any fatty grease drippings. You may want to line it with foil to make it easier to clean.
Smoke for two hours. Check on the bacon every 30 minutes to ensure it hasn't dried out and that the baking tray hasn't filled with grease. If it has, you'll need to empty the tray before placing it back in the smoker chamber.
At the 90-minute mark, open the smoker chamber and flip the bacon. This is simply to ensure good smoke coverage, but also gives us an opportunity to check in on the progress of our jerky.
You can mix honey and any sauce of your choice. You can now prepare the cooling trays as you put cooling racks on top. You have to make sure that the pieces of bacon have no direct contact with the wood.
As the jerky closes in on two hours, turn on your oven to 190°F. Once the oven has warmed up, transfer the bacon to the oven and cook for a further two hours. This will help to dehydrate the jerky, drawing out more excess moisture.
Remove jerky from the oven. At this point, it should have developed a beautiful, deep and dark color, with a familiar jerky texture.
Leave the jerky on a cooling rack until it has completely cooled down. Pat down with paper towels to remove more excess grease or moisture.
Best Wood for Smoking Bacon Jerky
The best smoking woods for bacon jerky are fruit hardwoods like apple, cherry, pecan, and maple. While some people also like to use hickory, I recommend sticking with a fruitwood to give you a mild and sweet flavor. It will pair beautifully with the pork, as well as the honey and brown sugar in the marinade. For this reason, we often recommend using mild fruitwoods with pulled pork, and this jerky is no different.
How to Store Bacon Jerky
Because bacon is perishable, your jerky will need to be stored soon after cooking to ensure that it stays fresh and safe to eat. For the best results, allow it to cool completely before patting it with a dry paper towel. This will remove excess grease or moisture on the surface of the meat.
Pro tip: Line the bottom of an airtight container with a paper towel. This will absorb any slow-releasing, excess moisture in the jerky over time.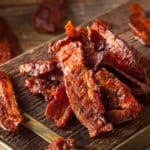 Smoked Bacon Jerky
Coated in honey and brown sugar, this barbecue bacon jerky is unlike anything you've had before. This is how to make the best bacon jerky on a smoker.
Print Recipe
Pin Recipe
Equipment
Smoker (charcoal, pellet, propane or electric)

Lump charcoal

Apple wood chips

Ziploc bag or airtight container (for storage)
Ingredients
2

lbs

bacon

1

tbsp

brown sugar
Marinade
½

cup

hot sauce

or BBQ sauce/sriracha

1

tbsp

honey

½

tsp

garlic powder

½

tsp

onion powder

1

pinch

kosher salt

1

pinch

ground black pepper
Instructions
Start smoker and heat up to 200°F (93°C). Use your smoker dampers and thermometer to maintain this smoking temperature. If you are using your charcoal grill, ensure that you have it up for 2-zone cooking.

Once the temperature is steady, add wood chips to the firebox.

In a small bowl, mix sauce ingredients thoroughly. Use a pastry brush to apply to bacon, covering both sides. Sprinkle with brown sugar.

Place bacon strips on smoker grates, leaving a space of half an inch between each piece. Place a baking tray underneath to catch drippings.

Smoke for 2 hours at 200°F (93°C). Turn bacon over at about 90 minutes to ensure even coverage. Also check that baking tray is not overfilling with fat or grease.

Remove bacon from the smoker and drain grease. Transfer to a preheated oven at 190°F (88°C). Cook for two further hours to dry out jerky, or when bacon has reached jerky-like texture and color.

Remove jerky from oven and leave to cool completely. Pat down with a dry paper towel. When completely cool, store in an airtight container or Ziploc bag.
---
FAQ
Stuck with a burning question? Our answers to our readers' frequently asked questions are here to help.
What's the Difference Between Bacon Jerky and Candied Bacon?
These two types of bacon are often mistakenly used interchangeably, but there are differences between the two. Candied bacon has a crispier texture, is layered with more sugar, and is often quicker to cook. Jerky, on the other hand, is smoked low and slow to create a much chewier consistency.
Do I Need to Refrigerate Homemade Jerky?
Yes. After your bacon jerky has cooled you will need to store it in either a Ziploc bag or an airtight container and store it in the refrigerator. Bacon is perishable, even when dried, and will need to be consumed within three days of smoking.