Slow-cooked over pecan wood and mixed with maple syrup, brown sugar, and sweet BBQ rub. This smoked bacon candy is the best way to enjoy everyone's favorite cut of pork.
Yes, you read that right – candied bacon. Of all the advancements mankind has achieved, getting candy from a pig may be our greatest. Whether you're a seasoned smoke-master looking to add something sweet to your arsenal of savory meat goodness, or a novice working with your first smoker and simply wanting to try new things, this delectable little meat snack may be just what you're looking for.
Here we'll discuss how to make bacon candy, a real treat that combines the natural , mouth-watering flavor of bacon with a caramelized sweetness of smoked maple syrup and brown sugar. One of the greatest things about bacon candy, however, is it's versatility, as there is literally no one correct way to make it. You have a variety of options: from a spur-of-the-moment snack whipped up in under an hour, to something marinated overnight and smoked oh so slowly, candied bacon is sure to be a hit at your next cookout.
Want something tough and chewy? Check out our smoked bacon jerky recipe.
Let's take a look at what you need first, then we'll get into what you can do with it.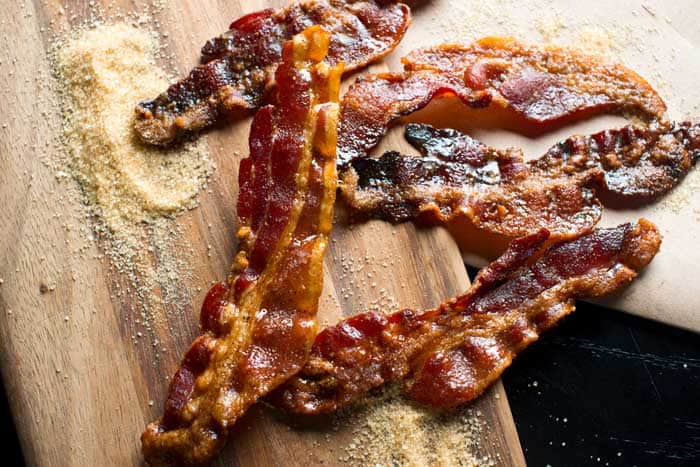 What smoking wood should I use for bacon?
Pork is best when smoked with sweeter woods, like apple or pecan. While maple is usually good, it would be overkill with the maple syrup here. Try to avoid strong or pungent woods like hickory, mesquite, or oak.
For this recipe, I have used pecan. It goes well with all types of pork, and has a richer flavor than apple, providing a hint of a nutty-like taste.
The bacon
What type of bacon you use is really up to you, but for making candy you will at least want to make sure it's thick. While thin bacon will work, thicker cuts will give you a better meat-to-sweet ratio, plus it holds up better in a smoker. You can use maple or peppered bacon if you wish, but considering the flavor transformation this particular bacon is about to go through, standard smoked bacon will work fine. One final note on bacon: for those who only want the very best, seek out meat cut from Korobuta Hogs, as this is considered the finest bacon money can buy.
The rest
A great thing about bacon candy is the simple ingredient list. You need maybe a cup of maple syrup and about a cup of nice brown or dark brown sugar, along with your favorite sweet-rub seasoning. If you don't have any rub, a number are available for purchase. You can find some great and easy recipes online to make one at home. You can even leave the rub out completely and still come out with a great end result.
The hardware
Depending on how you want to prep, you may need a mixing bowl, marinating pan, a good brush, and some tongs. Additionally, having a cooling rack, a cookie sheet, and some tin foil will make both smoking and clean-up much easier.
The prep
Here you have some options. It is up to you whether you want to marinate your bacon or dress it right before you cook; whether you brush it on or dunk it outright. Let's talk about the different methods and then we'll get into cooking.
If marinating, layer the bacon in a pan and drizzle it with maple syrup. Then sprinkle on some rub and brush it all in. Go ahead and repeat each layer until you're out of bacon. Cover the pan and leave it in the refrigerator overnight. When you're ready, head to the smoker. We'll discuss how to arrange the bacon later, which is universal, but this is when you will add as much of that brown sugar as you see fit, along with some more rub.
Don't want this to take all night? No problem. You can go straight from prep to a preheated smoker if so desired. Again, you have a couple of choices.
For ultimate coverage, you can mix a half cup of maple syrup with a half cup of brown sugar and your rub in a mixing bowl. Then, use tongs to add the bacon and let it sit until you get the smoker hot. The remaining mixture can also be brushed on midway through cooking.
If you don't want to dirty up a bowl, you can forgo this step and add all three ingredients directly to the bacon. If you marinated, you may be good on the maple syrup and can probably stick to the dry stuff. As a side note, using a brush will not only help combine the elements but will also give you better coverage overall. You can coat both sides or leave it at one, and you can do this either before, or after arranging the bacon for cooking.
The arrangement
No matter what you have decided on, ultimately you want to arrange each piece of bacon a little apart from its neighbor on a cooling rack, Bradley rack, or similar grill item. Place this rack on top of a foil-lined cookie pan if you have it. If you haven't added anything to your bacon yet, now is the time. When you're satisfied that the bacon candy is ready, find an elevated spot in your smoker, and let's get to work.
The quick snack
Get your smoker up to 275°F (135°C). You can cook anywhere from 25 to 45 minutes at this temperature, depending on your taste. You can also flip the bacon half-way through and reapply your coatings if you like, though it is necessary.
The slow smoke
Here you want the temperature a little lower, 225°F (107°C) for a slower smoke. Smoke your bacon for an hour. Then, flip each piece of bacon and reapply any desired ingredients. Now cook for an additional 30 minutes to an hour, again, depending on your taste.
Always let cooked bacon candy cool for 20 or 30 minutes, if you can, before enjoying.