There's no meat quite like chicken. From beer can chicken to beautifully grilled thighs, here are the best takes on our favorite white meat for you to throw on the grill this year.
Any grill master worth their salt needs a collection of chicken recipes to lean on.
From beer can chicken to beautifully grilled breast, here are the best grilled chicken recipes from around the web.
BBQ chicken thighs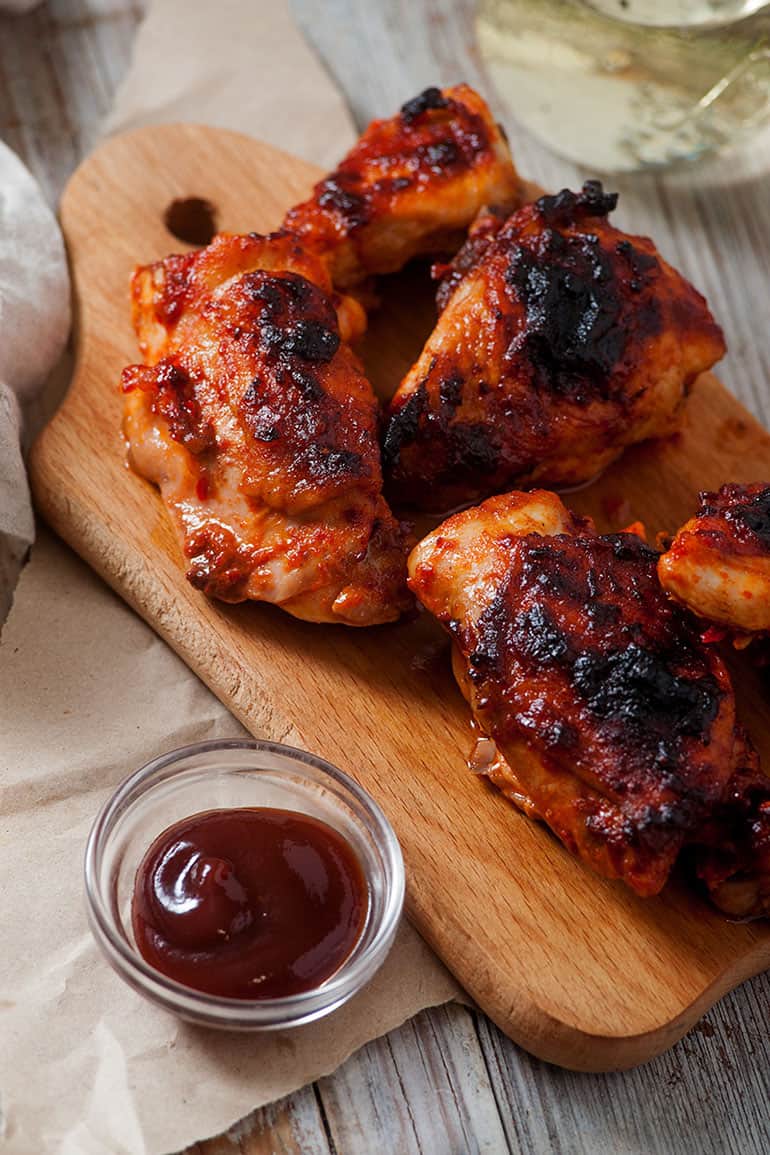 Chicken thighs are really underrated. Not only are they much cheaper than wings or legs, but they're also a much darker meat, making them packed full of flavor.
That's not all. They tend to cook much faster than other parts of the bird while still providing a fairly generous amount of meat (especially when compared to parts like chicken wings).
This recipe matches the natural flavors of the chicken is a slight hint of spice to give you a beautiful, juicy pack of flavor.
Here's how to smoke chicken thighs
Grilled chicken breast
Just look at that charred meat!
Sometimes you just need to let the meat do the talking, and this stripped back take on grilled chicken does just that.
Marinated in a beautiful paprika and garlic spice mix, the finished product has a hint of heat to it without overpowering the chicken breasts.
Beer can chicken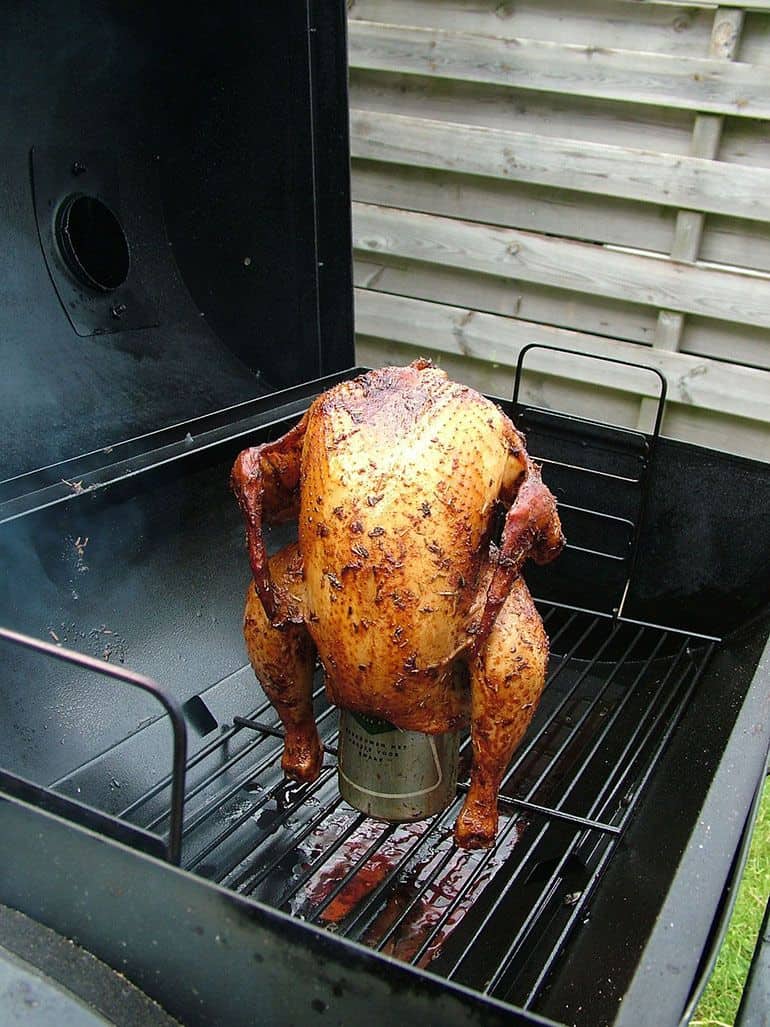 There aren't many barbecue show stoppers better than this beautiful BBQ beer can chicken recipe.
One of the best things about this recipe is that there's so much room for you to experiment and play with once you've mastered the core recipe.
Check out our beer can chicken recipe
Spatchcock Chicken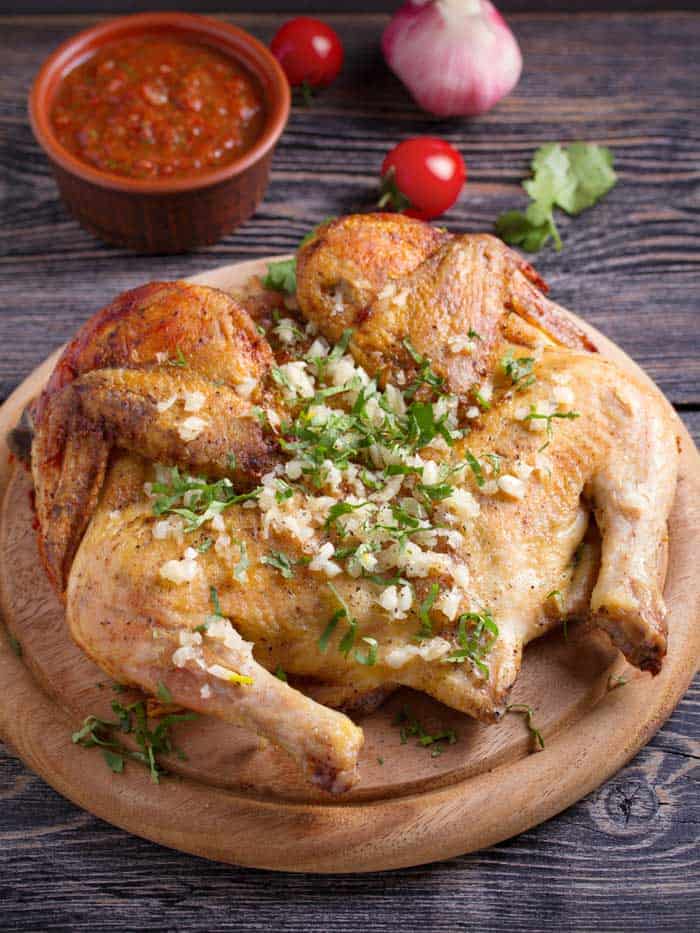 Although smoked, this low and slow barbecue spatchcock chicken can easily be made on the grill. This is the perfect way to master the presentation of your barbecue dishes. Prepared with a beautiful dry rub and smoked over applewood, this butterfly chicken is guaranteed to steal the show.
Honey lemon chicken
Any good chicken recipe starts with a good marinade, and this recipe is no exception. The recipe gets things going with a honey lemon marinade.
This recipe uses the thigh (the most underrated part of the chicken, in my humble opinion), so you know it's going to be tasty.
It all comes together to make a juicy, tender, sweet cut of BBQ meat.
Korean chicken wings
South Korea does chicken wings like no other country. Striking the perfect balance between spicy, sweet, smokey and crunchy, these wings will fast become your new favorite.
Smoked Korean chicken wings recipe
Easy BBQ chicken wings
Everyone needs a go-to BBQ wings recipe, and this one has stood the test of time over the years. I've stripped back complicated marinades and dipping sauces, leaving you with simple wings that you can rely on.
This leaves you the real star of the show: The wings. These beauties are fall-off-the-bone delicious, and should have everyone reaching for more!
Check out our easy chicken wings recipe
Grilled chicken nachos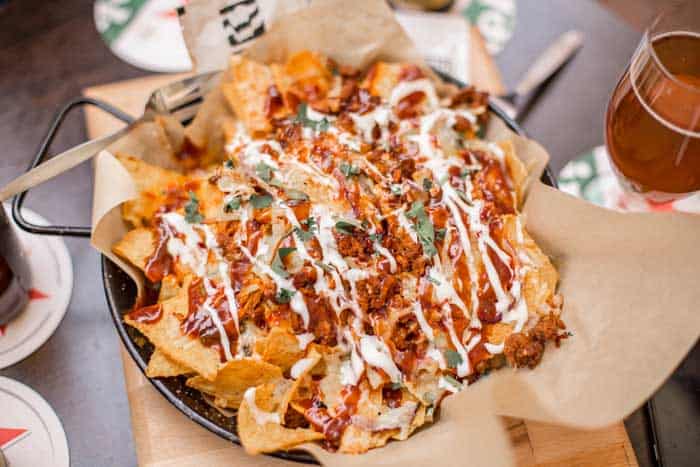 It's time to do away with those store-bought nachos. This BBQ chicken nacho recipe is like nothing you've had before. Cooked on the grill, the wood-fired chicken adds a whole new layer of flavor before being smothered in your favorite nacho ingredients.
Everyone has a go-to nacho recipe, but this BBQ chicken nachos recipe is unlike any other.
Cooked entirely on the grill, this dish makes the most out of beautiful shredded chicken, BBQ sauce, and meat rub.
It's been an instant crowd pleaser at every tailgate, Superbowl, or BBQ party that I've been at, and I'm sure you'll find the same when you cook it up.
Buffalo grilled chicken dip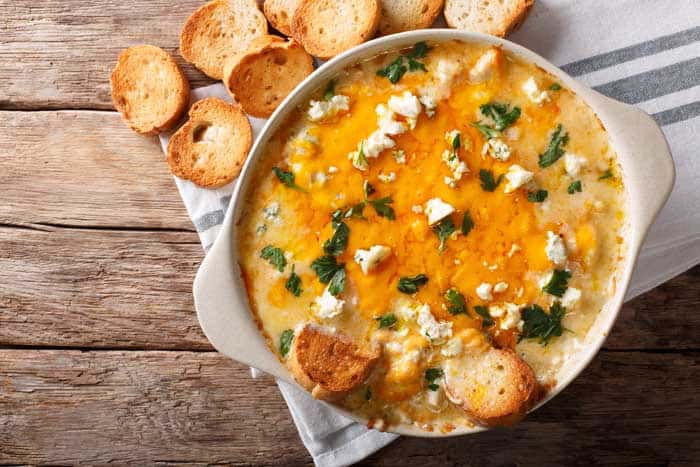 Grilled Chicken? Cheese? Buffalo sauce? Cheese and more cheese?!
The smokiness of chicken shredded to perfection and the kick of buffalo sauce, the sharpness of blue cheese.
This buffalo chicken dip has a flavor so bold you won't just taste it – You'll feel it!
Grilled Hawaiian teriyaki chicken skewers
Because no grilled chicken list would be complete without skewers.
They're a great go-to if you're struggling to think of something to make for a BBQ. Any meat eater loves chicken, and the vegetables add a welcome splash of color with its colored peppers, red onions and (bear with me) pineapple.
And if that wasn't enough, they're topped with a brilliant Hawaiian teriyaki sauce.
Chicken satay with peanut sauce
Peanut butter is one of my favorite spread or topping, so naturally I'm on board with anything featuring peanut sauce.
The sauce tops freshly grilled chicken to create delicious golden-brown nuggets of flavor.
For anyone in doubt, the peanut pairs perfectly with the charred flavors of BBQ.
Grilled chicken
Forget thighs or wings, sometimes you just need a simple chicken recipe in your repertoire that only takes a few minutes to prep for and then cook.
These juicy chicken breasts are exactly that, and go great with almost any BBQ side dish, and can even be made in bulk if you're wanting to do meal prep for the week.