Easy leftover rotisserie chicken recipe ideas for quick weeknight dinners. Delicious meal ideas from shredded chicken tacos to creamy rice casseroles, and green enchiladas to chicken pot pie.
Rotisserie chicken delivers the perfect blend of juicy meat and crispy skin, matched with the incredible flavors of slow-roasted or smoked chicken.
Cooked on a rotating spit over low heat, every inch of the chicken gets the most out of this incredible cooking method. It takes a long time, but smoked rotisserie chicken is well worth the effort. And the good news is that the leftovers are just as good.
These are the best ways to enjoy leftover rotisserie chicken, from quick weeknight dinners to slow-cooked soups. All easy, all delicious. Find your new favorite recipe today.
Pineapple Salsa Tacos
Tacos are always a great way to use up leftover protein, including rotisserie chicken. You save tons of time on preparing your meal, and your chicken gets a burst of flavor from the Mexican spices and salsa you add to your tacos.
This recipe uses a salsa made of pineapple, lime juice, and serrano peppers to perk up the tacos. Reheat the chicken, and top tortillas with salsa, chicken, and guacamole.
Chicken and Rice Casserole
A casserole is one of the quickest, easiest ways to make a meal that will feed a crowd, and it gets even easier when you use pre-cooked, leftover rotisserie chicken.
Make this chicken and rice casserole with pre-cooked rice, cream of chicken soup, celery, seasoning, and cornflakes. Just mix the ingredients together, top with cornflakes, and bake.
Buffalo Chicken Dip
You don't have to wait until you visit your favorite bar, or until the next big game is on to enjoy this flavorful dip. With rotisserie chicken, putting this appetizer together is quick and easy.
Make this easy buffalo chicken dip with cheese, ranch dressing, and buffalo sauce. Just mix the ingredients together, top with blue cheese crumbles, and grill until the dip begins to bubble.
Rotisserie Chicken Salad
If you're looking for a healthy way to use up leftover rotisserie chicken, check out this chicken salad recipe. It's a healthy yet filling meal that can be a powerful way to refuel at lunch. Besides the chicken, you will need vegetables such as celery and red onion. Make the dressing out of mayonnaise and mustard.
The beauty of this salad is that you can add your own favorite vegetables or dressing to customize it, but for a base recipe, go here.
Grilled BBQ Chicken Nachos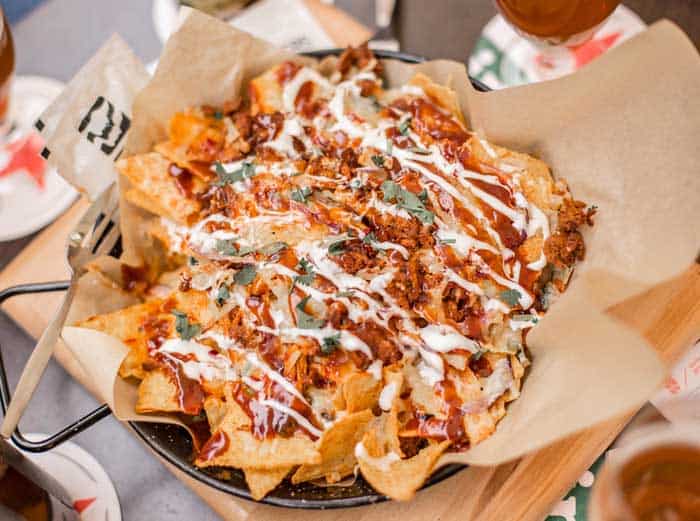 Are you sick of store-bought nachos and boring tortilla chips covered in plasticky, melted cheese? Then these BBQ chicken nachos are for you. They use up your spare shredded chicken and makes movie night snacks more interesting.
Sitting beneath the pulled chicken is a bed of tortilla chips, BBQ sauce, and shredded cheese. Layer the toppings over the tortillas and flash cook over the grill for a blast of smoke and fire flavors.
Chicken Taco Soup
If you're looking for a warm, hearty meal to comfort you after a long, cold day, then this chicken taco soup is for you. Leftover chicken gets folded into a warm, spicy soup for a comforting meal that comes together in minutes.
Besides chicken, you will need onion, black beans, red bell pepper, stewed tomatoes, sweet corn, and taco seasoning. Cook the ingredients in chicken broth, then finish with your favorite taco toppings.
Rotisserie Chicken Alfredo
Chicken alfredo is a favorite comforting meal from Italian American restaurants. You can easily replicate at home using rotisserie chicken and this recipe.
You will need parmesan, heavy cream, butter, salt, pepper, and nutmeg to make the sauce. Cook the pasta, then finish in the sauce with the shredded chicken. Get the recipe here.
Chicken Fried Rice
Fried rice is another restaurant classic that you can replicate at home. It's a great recipe to use up leftovers because you can throw in not just your leftover protein such as rotisserie chicken but also leftover cooked rice.
The only other ingredients you need are eggs, soy sauce, and your choice of frozen vegetables (peas go well with this recipe). Fry the cooked rice and chicken, stir the egg thoroughly and finish with soy sauce.
Rotisserie Chicken Noodle Soup
This is another soup recipe that comes together quickly thanks to the addition of rotisserie chicken. It is also a great recipe to serve up when you are feeling under the weather and need perking up.
The other ingredients that you need are egg noodles, sliced carrots, celery, broth, and seasoning. Sauté the vegetables in butter, then cook the other ingredients in the broth for about 20 minutes. Get the recipe here.
White Chicken Chili
This chili recipe is hearty without feeling too heavy thanks to the use of leftover rotisserie chicken instead of ground meat. Besides the chicken, the other ingredients you need are fairly standard for a chili, such as chilies, spices, and beans. Thicken the sauce with cheese instead of tomato. Get the recipe here.
BBQ Chicken Stuffed Sweet Potatoes
Stuffed sweet potatoes are a great, flavorful twist on traditional baked potatoes. Using shredded rotisserie chicken adds even more flavor and filling protein to the meal. The other ingredients that you will need are BBQ sauce, shredded red cabbage, and seasoning. Coat the chicken in the sauce, add to a hollowed-out, pre-baked, sweet potato, and bake. Get the recipe here.
Green Chicken Enchiladas
Enchiladas are a meal that is packed with flavor, but sometimes requires too much effort to put together. Using rotisserie chicken makes this enchilada recipe great for busy weeknights as well.
The other ingredients are tortillas, salsa verde, green chilies, shredded cheese, and seasonings. Mix the chicken with the chilies and other ingredients, place in each tortilla, and roll into enchiladas. Get the full instructions here.
BBQ Chicken Stuffed Baked Potatoes
If you'd rather make a traditional baked potato than the sweet potato recipe mentioned above, check out this recipe. It's just as simple as your average baked potato recipe, except you top the finished potatoes with shredded rotisserie chicken covered in BBQ sauce. You can add other favorite toppings such as sour cream and shredded cheese if you'd like. Get the recipe here.
Chicken Parmesan Casserole
Love the flavors of chicken parmesan, but don't have time to bread, fry, and sauce chicken breasts on a weeknight? This casserole is a great way to get your favorite comfort food flavors with less effort. Just combine chicken, cooked pasta, tomato sauce, cheese, and herbs in a casserole and bake. Get the full recipe here.
Easy Chicken Pot Pie
Chicken pot pie is a popular comfort food dish. So many people grew up tearing into flaky pie crust, soft vegetables, and juicy chicken. Instead of saving chicken pot pie for special occasions, make it a weeknight treat by using rotisserie chicken.
The other ingredients you will need are premade pie crusts, vegetables, milk, and herbs. Put one crust into a pie plate, fill with cooked filling, and top with the lid. Get the recipe here.
Rotisserie Chicken Lasagna
Lasagna is another favorite comfort food that you can make easily thanks to rotisserie chicken. Just layer the chicken with no-boil lasagna noodles, marinara sauce, ricotta cheese, and mozzarella cheese. Bake for about an hour in the oven, then uncover and finish with shredded cheese for a comfort food meal that's guaranteed to please. Get the recipe here.
Barbecue Chicken Pizza
There's no better treat than homemade pizza and topping it with rotisserie chicken covered in BBQ sauce adds a punch of flavor. You can make your own dough or use store-bought pizza dough. Finish with a sprinkle of mozzarella cheese. Get the recipe here.