Poultry shears will make short work of meat prep for your next butterflied chicken or turkey. Sturdy, easy to use, and sharp, they are a big step-up from your standard kitchen scissors. Find your next favorite trimming tool with our guide to the best poultry shears today.
If you regularly prepare whole cuts of poultry for cooking, a solid pair of poultry shears is a must-have.
Unlike kitchen shears, which are often used to cut raw meat, poultry shears are specifically designed to work with chicken, turkey, or duck. Their serrated blades make deboning quick and easy, while their ergonomic grips make them safe and comfortable to use.
However, this unique design means that choosing the right one is critical. We've brought together five of the very best, as well as the key criteria that you need to keep in mind when choosing your next pair of shears.
J.A. Henckels International
The Zwilling J.A. Henckels Poultry Shears make butchering poultry a breeze with their durable construction and sharp blades. You can use these shears to debone chicken and remove the neck. They are also useful for trimming fat off poultry.
The weapon of choice for the toughest on-the-job outdoor chefs, these shears feature stainless steel blades with serrated javelin teeth that grip sinew and bone with ease to make quick work of large or smaller birds alike.
The serrated blades are designed to resist corrosion when cutting through oily materials while providing an excellent grip on poultry bones. Their locking safety mechanism keeps blades from opening during storage, and the ergonomic handles make them easier to handle. These poultry shears will make quick work of that chicken breast or turkey drumstick! You'll be able to quickly break it down into parts with its Serrated blades doing all the work for you.
The flat cutting edge is specially designed for safety when stored inside a drawer or tool box and in order to protect you from injury, the locking blades will ensure that your hand stays out of harm's way!
Poultry shears should be a bit better than the usual pair of scissors you see lying around in the house. These kitchen shears need to deal with all sorts of moisture, meat, vegetable, and any other materials it needs to cut through in the kitchen daily. That's why it needs to be tough and have a few more unique attributes to be effective.
That's what the J.A. Henckels International Kitchen Shears is all about. The 3-inch stainless steel blade is finely edged and is up for everyday cutting tasks. The design also comes with an integrated bottle opener that should come in handy all the time in the kitchen.
This is designed for precise cutting and won't have to be sharpened for a long time especially when cleaned and maintained the right way. And of course, the micro-serrated blades and the handle of this kitchen shear are very easy to maintain. Of course, the handle itself and not just the blades are constructed tough and should be as durable as they come.
It's corrosion-resistant and is actually no-stain steel meant for slip-proof cutting. This kitchen shear also comes with a serrated area so you can utilize it for jarring lids, screwing caps, and cracking nuts with relative ease. It's a pretty versatile and do-it-all product.
Simple and straightforward but just equally effective, you probably won't need anything else. This poultry shear should always be by your side and would act like a little assistant for you as you prepare your meal for the family. It's also quite handy, compact, and can be easily hanged or stored so you can have access to it anytime.
Sale
Wusthof WU5558 Kitchen Shears
The Wusthof Kitchen Shears comes in a come-a-part design that can be convenient in a lot of ways. It should be effective for a lot of cutting activities like snipping flowers, cloth, strings, and herbs. It can cut through a lot of material easily and is built tough to withstand wear and tear for a long time.
The come-a-part design will let you clean it easily and rather thoroughly. We know how poultry shears can get stuff from all over it due to their application and so it is important to clean it as thoroughly as we can so then we will prolong its service life. Disassembling it would also enable you to sharpen it easily and effectively for the best results.
The handle can then be held either by the left or right hand. The handle itself has a serrated area to help you do stuff like jarring lids and any other similar task. The steel tooth insets on the handle will also help you easily open caps or twist open a bottle.
This is a bestseller for a lot of good reasons. It is armed with an 8-inch blade that's made out of high carbon steel. Easily one of the toughest poultry shears in the market today.
Shun Premium
If you think about Shun Premium Kitchen Shears then what comes to mind right away is that it's one of the best cutlery across the market. A brand dedicated to only delivering the best products this poultry shear won't let you down.
This is one effective and reliable tool to prepare your meal in the kitchen from herbs to shrimp. It's very functional and can handle all sorts of tasks. The blades are made of top-of-the-line and hybrid high-carbon and molybdenum-vanadium stainless steel and are guaranteed tough and will last for a very long time.
The blades can also be separated meant for easy cleaning and sharpening. But you probably won't need to sharpen it a lot of times as the edges of the blade will stay in tiptop shape for a while.
Bacon, tomatoes, poultry, or dried fruit, this shear will not have any problems with those and many more at all. The handles come with a black elastomer grip so it will stay on your hands at all times and won't strain it much as well.
Sale
Shun Premium
MULTI-PURPOSE KITCHEN SHEARS: Once you add the premium Shun Kitchen Shears to your collection,...
VERSATILE KITCHEN SCISSORS: These high-quality kitchen scissors come in handy for everything...
HIGH-QUALITY CONSTRUCTION: Shun Kitchen Shears are made from 420J2 stainless steel for durable,...
Chef Remi Kitchen Scissors
One of the most popular products on our list for this article is the Chef Remi Latest Kitchen Scissors. Now, that's premium quality if we ever see one. It looks really tough and looks really good. And, this poultry shear is not just all aesthetics but also tough as nails.
Durable and effective, this tool will help you cut through a multitude of materials and easily. It comes with a pull-apart design with micro-serrated blades, a cool-looking black handle with red trimmings, and a serrated area at its core for a lot of other functions.
This one is sharp and made out of high-quality plus corrosion-resistant stainless steel. The serrated edge is also slip-proof. The handle is also suitable for left or right operations. Both blades are joined reliably and won't fall apart anytime soon.
As they say, German-made products are some of the toughest ones and this poultry shear proves that statement true.
Chef Remi Kitchen Scissors
PULL APART KITCHEN SCISSORS - Are ideal for cutting of meat, poultry, vegetables, trimming fat...
HIGH QUALITY CORROSION RESISTANT - Sharp German designed stainless steel blades with...
BUILT IN BOTTLE OPENER - Serrated section in easy grip handle for opening tough sealed bottles...
OXO Good Grips
The OXO Good Grips Spring-Loaded Poultry Shears is one of the most uniquely designed products on our list. And of course, that's not all for show but also to offer functionality like no other.
We must also say that amongst all of the shears we've discussed in our review that this one is really designed for all sorts of meat and as its name says poultry. So you know that it's made out of material that can handle all those poultry juices, meat, and all sorts of properties that it will have to deal with and last for a very long time to boot.
The spring-loaded handle also makes sure that your hands won't get strained as you use it. The tapered blades are meant so you may access hard-to-reach areas when working on your meat and poultry. And lastly, its bolster and handle loop will ensure that it stays in your hands at all times.
Durable and effective, we are loving this poultry shear.
Sale
OXO Good Grips
3.5" steel blades
Serrated blades to take on tough materials
Locking blades for safety when storing.
---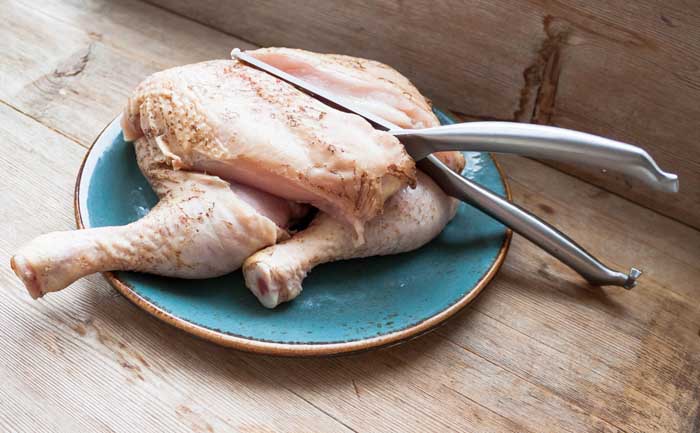 Why use poultry shears?
Using kitchen shears is a great way to cut through skin, flesh, and bone alike, without breaking or tearing either one. Get a good quality pair of shears(a specially made type of scissors, just for the kitchen). You can use them for a variety of reasons. Cutting chicken or turkey is an easy way to get ahead of your chores around the kitchen.
Spatchcocking and butterflying
Chicken or turkey can be cooked in various ways, and spatchcocking, or as some would call it butterflying, is one way. However, for you to spatchcock turkey or butterfly chicken, you will need to cut it in such a way that it is fully spread out and open. It's a way to avoid cooking it whole, which some do for lack of oven space, want to cook it more evenly or for visual appeal, or perhaps if you want your bird to look different.
Poultry carving
Kitchen shears will help you get precise cuts through both skin and flesh without too much hassle. You should not use a knife when carving poultry, either. Its teeth can awkwardly grip the skin and tear it away from the flesh. The key is to make sure they are sharp. They will also help you cut your bird into different pieces without much effort.
Safety
The other reason for using poultry shears is to avoid slippery moments when you handle a bird. Kitchen shears will easily slice through the bone, flesh, and meat. The ribcage can also easily be cut into, giving you clean cuts.
Important features
Handle grip and comfort
One of the most important things to look for in any kitchen utensil, including shears, is safety. The handle plays a big role in this. You want to grab the shears and be sure that they will not slip out of your hand as you cut into the bird.
Look for a pair that will have a small hole for your thumb and a bigger hole for the rest of your fingers. Comfort is key here. If it's not comfortable, you most likely won't want to use it. If it is too small, then it may reduce your force and grip on it. The design also helps you apply the necessary pressure without hurting yourself.
Also, to add to the safety aspect, a non-slip handle can make life easier for you. Working in the kitchen, your hands will most probably be wet. You want to make sure that the shears do not slip when you hold them, even if your hands are wet. Look for handles that are made of plastic or rubber.
Spring-loaded mechanism
Good construction is also vital amongst the top features to look for. The mechanism of the shears determines how well it works. You want to make sure it works well and won't buckle in your hand. Good tension helps you cut into the meat without adding a ton of force.
Shears with a spring-loaded mechanism can be used better by someone whose hand movements may be impaired, and they need a bit of help in applying force and pressure. The spring will automatically open the shears after each cut. If the shears have a spring system, it means that they need to have a locking system so that the blades don't stay open.
Serrated blades
Serrated blades are a variation that you can opt for on kitchen shears. They help you grab slippery food such as poultry much easier than you would with a smooth blade. The tricky part comes in when you need to clean the blades. This is because of the edges and how meat can get stuck in the edges. They are also harder to sharpen.
Sharp blades
You also want to make sure that the blades are sharp enough to cut into bones. If you want clean cuts and keep the skin intact, you need to ensure that the blades are sharp and cut through bones neatly.
Detachable blades
Kitchen shears often have detachable blades. These are great because they allow you to clean the blades individually and avoid rust, a common occurrence for kitchen utensils. This also helps you sharpen the blades better.
Scissors vs. shears
These terms are often used interchangeably, but they are not the same thing. They differ from what they are used for to how they are built. Poultry shears have unique features that enable you to cut into birds easier and ensure clean cuts. Kitchen scissors can be used for general cutting around the kitchen, from herbs to different types of meat, while poultry shears are made especially for a chicken.
Poultry shears have a curved blade, making it easier to cut through a whole blade, while scissors don't. Also, poultry shears have wider handles on each side. Also, you will find that poultry shears have a bone-cutting notch. Kitchen scissors are often shorter than poultry shears.
How to use poultry shears
Blade sharpening
The first thing to do would be to detach the blades so you can nicely get into the meat of it all. Try to remove all the loose parts of the shears so that nothing gets stuck in the machine you will use to sharpen the blades. Or you can use a sharpening block. In this case, you still need to have all loose parts safely put away so that you don't.
Then locate the edge of the blade that has a bevel. Simply put, the cutting edge. Place it on the block, and match the bevel with the surface of the sharpener. In circular-like motions, rub the blade across the sharpener.
It may almost seem like you are scraping small pieces of the metal from the sharpener. Repeat this for all the edges. However, you will need to be careful and ensure that you do not damage the shears' serrated edge.
Meat prep
You can use poultry shears to spatchcock a bird or cut it up into pieces. For spatchcocking, lay the bird on its front so that you have the backbone facing you. Then go in with the shears, and cut alongside the spine from bottom to top. Once the spine is removed, the bird will be opened and spread out.
Then cut through the breast bone, and wind up with two halves. To cut and get the individual pieces, follow the natural cut lines along with the chicken. This way, you get the wing, the thigh, and so on. for the thigh and leg separation, you can feel where the bend is and cut along there.
Carving
If you have a whole bird and want to carve it after cooking it, you can use poultry shears and avoid skin tearing. Lay the bird on its back. Then use the shears to cut through by inserting them into the cavity and then cutting them down to the neck. Open it up, and you have two halves.
You can then continue to cut along the chicken joints to get individual pieces if that's what you are going for.
Cleaning
To clean poultry shears, you first want to detach the blades. This is so that you can get into the different cracks and ensure they are properly cleaned. Make sure to wash them every time that you use them. Using soap and warm water, wash off the meat and get the blades clean. Keep the shears dry and well oiled for better efficiency.
Last update on 2023-10-02 / Affiliate links / Images from Amazon Product Advertising API