This smoked spatchcock turkey recipe is the perfect way to master your barbecue platter presentation. Prepared with a beautiful dry rub, this meat preparation method will steal the show this holiday season.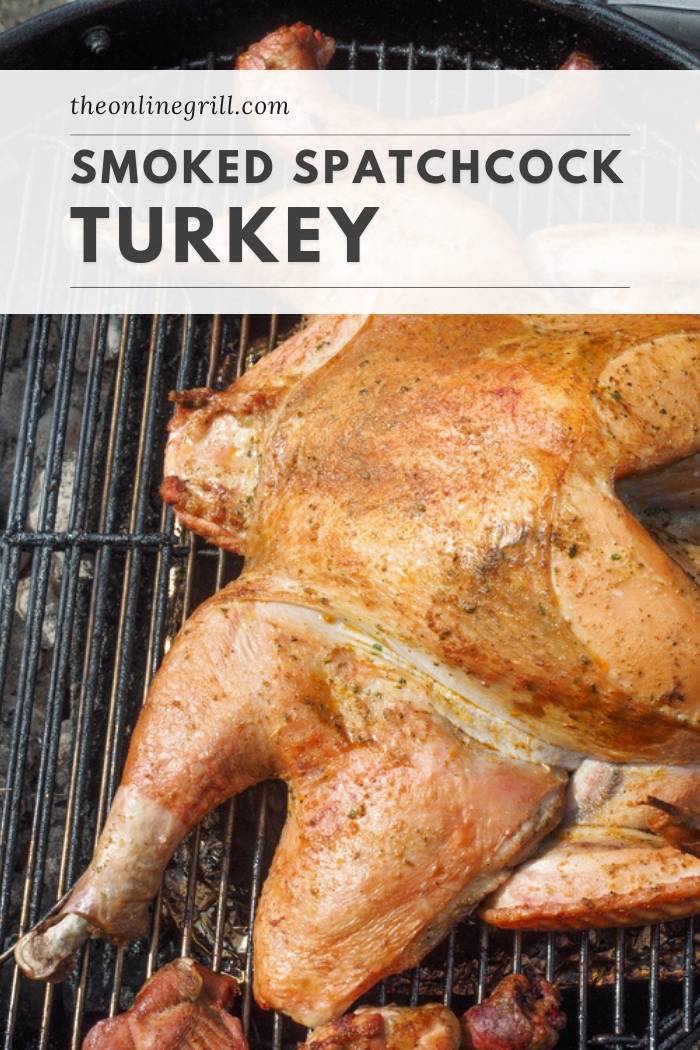 Spatchcock or butterflied turkey is a great way to work smoke and wood aromas throughout your bird. This will lock in the flavor and the juices that we love in barbecue turkey, and will only take a fraction of the time compared to a regular smoked turkey. It's win-win.
Today I'm going to walk you through how to prepare your bird for your smoker, and how to butterfly it the right way. Here's everything you need to know about smoking a spatchcocked turkey.
What is Butterflying?
Spatchcocking or butterflying poultry is when the bird's backbone is removed. This allows the whole bird to lay flat on an oven rack or grill. This cooking method is called "butterflying" because the way that the wings and legs splay out resembles a pinned butterfly.
Spatchcocking a turkey requires more effort when preparing the bird than just chucking it onto the smoker, but it is worth it. Spatchcocking allows the bird to cook more evenly because the large parts of the bird that cook slower get broken down. This also leads to a juicier, flavorful bird because the smaller bits don't dry out while waiting for the main part of the bird to finish smoking.
Spatchcocking a whole turkey is also a great way to save time. The flatter bird cooks faster because more of its surface area is in contact with the grill or smoker.
How to Butterfly Turkey
Start with a prepped turkey. The bird should be thawed to room temperature and brined. If it came with the neck and giblets, remove them.
Then, set the turkey breast-side down on a non-slip surface. The spine should be pointing upward so you can work with it. Take a pair of kitchen poultry shears, cut along each side of the spine to separate it from the meat and ribcage, then pull it out (save the bone for making stock).
Stretch the meat aside so you can access the breastbone. Using the tip of a sharp knife wedged into the top plate of the bone, crack the bone in two. You should be able to stretch your turkey open by this point.
Finally, flip the turkey, so the breast is facing upward. Press down on the breastbone until the bird lays completely flat.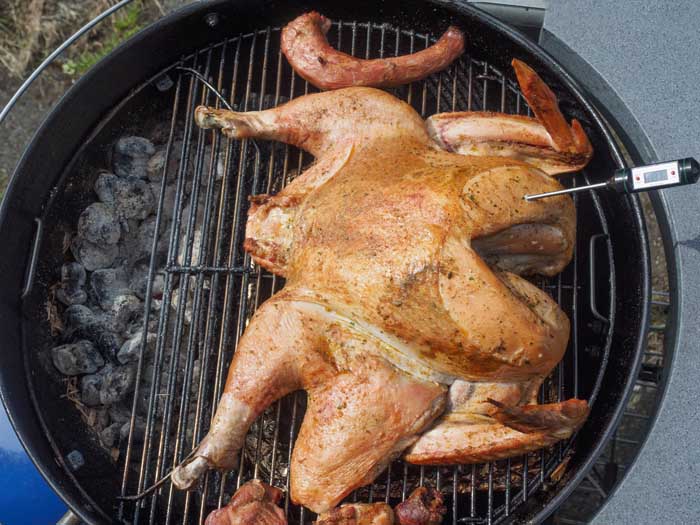 Times & Temperatures
To get the best result possible, it helps to know what temperature to cook the turkey and how long. This way you avoid constantly opening the cooker or poking and prodding, wondering if it is cooked or not. By doing this, you also run the risk of breaking the skin. The ideal temperature for smoking spatchcock turkey is 225˚F (107°C) for between 2 and 3 hours.
The total number of hours depends on the weight of the turkey. You can estimate about 11-13 minutes for every pound. If you're not too sure how much the turkey weighs, then you may want to rely more on the internal temperature rather than on how long the turkey has been cooking.
For turkey to be edible and safe, it has to reach certain temperatures. The recommended internal temperature for turkey is 165˚F. In general, all poultry needs to reach between 160 and 165˚F for it to be safe to eat. This is why it is essential to use an internal meat thermometer. The good news is that most smokers come with these.
Best Wood for Smoking Turkey
Fruity hardwoods are the best woods for smoking turkey. You want something delicate and mild that doesn't overpower the meat while carrying enough fruit flavor to elevate it.
Cherry wood gives your turkey a nice touch of sweetness without overwhelming it. Pecan is a sweet-tasting wood, just like cherry. Pecan is much richer in flavor and adds a note of nut to the smoke. Maple is far more subtle than its sweet counterparts. Applewood is another sweet and fruity wood, but it has a much more mellow taste than cherry or pecan. Choose maple for a much lighter flavor profile.
Avoid mesquite and hickory. They are both strong and robust, and will overwhelm the natural flavors of the turkey. While hickory is undoubtedly a classic wood, it is too tough and intense for poultry.
Smoked Spatchcock Turkey
This smoked spatchcock turkey recipe is the perfect way to master your barbecue platter presentation. Prepared with a beautiful dry rub, this meat preparation method will steal the show this holiday season.
Print Recipe
Pin Recipe
Ingredients
10-12

lb

turkey

3

tbsp

kosher salt

2

tbsp

olive oil
Dry Rub
¼

cup

kosher salt

2

tbsp

smoked paprika

2

tbsp

ground black pepper

2

tbsp

chilli powder

2

tbsp

light brown sugar

1

tsp

garlic powder

1

tsp

onion powder

¼

tsp

cayenne pepper.
Instructions
Spatchcock turkey. Apply kosher salt to the underside of turkey, along the surface, and under the skin where possible. Place in refrigerator and dry brine overnight.

Fire up smoker to 225°F. If you are using a charcoal grill, set it up for 2-zone cooking or indirect grilling.

Remove turkey from refrigerator and rinse under cold water. Pat dry with paper towels. Place on a cooling rack to dry.

Combine all dry rub ingredients in a small bowl. Apply olive oil to skin and underside of turkey. Apply dry rub generously to bird.

Place turkey on smoker grates, with skin side up and underside down. Smoke for 2-3 hours, until internal temperature reaches 160°F – 165°F. Insert a smoker thermometer into the thickest part of the bird for the best results.

Carve turkey and serve immediately.