Delicious smoked chicken wings perfect for any occasion. These BBQ wings are prepared in a simple brine for extra moisture before fired over applewood for beautifully tender but crispy wings.
Smoked chicken wings are perfect for barbecue beginners and smoke pros alike thanks to their quick cook time and easy meat prep. This gameday and party classic always goes down a storm and is the perfect place to start if you need to feed a crowd.
One of the best things about chicken wings is how little time they take from scratch. Like many smoked chicken recipes, they only need a quick two-hour brine to lock in moisture before just one hour on the smoker to get them up to temperature. We'll then give them a quick sear over direct high heat to give them that perfect crispy finish.
From perfecting the salt and sugar brine to choosing the best wood chips, discover how to smoke chicken wings today.
How to Smoke Chicken Wings
Chicken wings are easy to smoke thanks to their lean meat content and small size, and take only an hour to do. Check out our full recipe at the bottom of this article, but the process can be broken down into these simple steps:
Fire Up: Fire up your smoker to 250-275°F (121-135°C). If you're using a charcoal grill, ensure you are set up for 2-zone cooking. The wings will go on the indirect zone, but the direct zone will come in handy for our sear finish later.
Prep the Meat: After brining your wings, pat them dry to remove excess brine solution and coat in dry rub seasoning. You can either use our BBQ rub recipe below or use a store-bought rub. Apply a thin layer of canola oil first – this will act as an adhesive for the rub and help turn the wings crispy.
Smoke: Arrange the chicken wings on your smoker's grates and smoke for 45-60 minutes, until the internal temperature hits 155°F (68°C)
Sear: Crank up your smoker or grill's heat to high and grill your wings directly over the heat for a couple of minutes on each side.
Serve: Chuck the wings into a large bowl and toss in barbecue sauce, or serve as they are. Plate up and enjoy!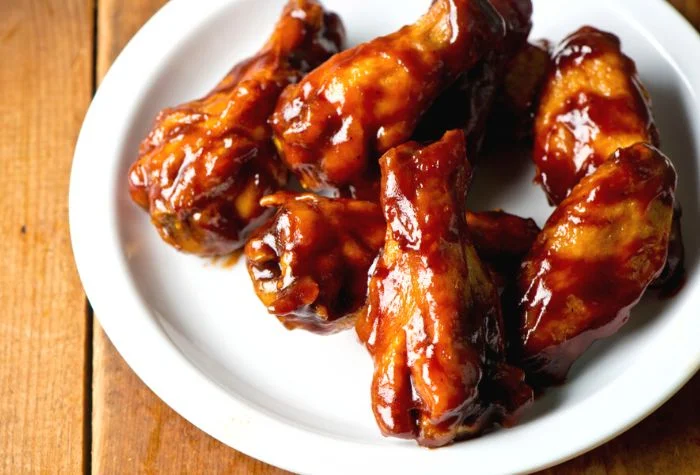 Buying Chicken Wings
Look out for good quality wings that are creamy white or yellow on the surface, with any visible flesh looking pink and plump. The meat should be fresh and chilled, not frozen, and should be organic and antibiotic-free.
Want to buy chicken wings online? Our friends at Porter Road regularly stock preservative-free wings sourced from pasture-raised chickens. The results speak for themselves. Trust us. Check out their wing party pack here.