These smoked brisket nachos are one of the best party foods around. Using leftover beef brisket and cooked on the grill, this packs in that unmistakable barbecue flavor into every bite. Get the easy barbecue appetizer recipe today.
Nachos are the go-to BBQ party food. Sure, they're messy. But is there any other crowd-pleaser that's on the same level?
Today we're doing things a bit differently by topping them with leftover brisket and heating up on the grill. Doing this with charcoal and smoke will give us a layer of smokey flavor that'll be unlike anything you've had on nachos before.
Anyone who's tried our smoked pulled pork nachos will know how doing them barbecue-style elevates them to a whole new level. Exposing them to wood and heat like this gives the meat a deep flavor that's unlike oven cooking.
What are Texas Nachos?
They say everything is bigger in Texas, and the same is true for their nachos and toppings. Texas nachos are characterized by their layers and layers of delicious toppings. Usually, this includes grilled beef cuts such as steak or brisket. Other toppings include grilled vegetables, queso sauce, sour cream, different proteins such as chicken and shrimp, and of course, jalapenos.
How to Reheat Brisket for Nachos
When making brisket nachos, you usually smoke the brisket ahead of time and reheat it when layering the nachos. The best way to reheat the brisket is to chop it into small pieces and reheat it in a skillet along with onions and jalapeno slices.
If you don't want to break out the skillet, wrap the meat in foil and reheat it in the oven. Covering it is important to prevent the meat from drying out.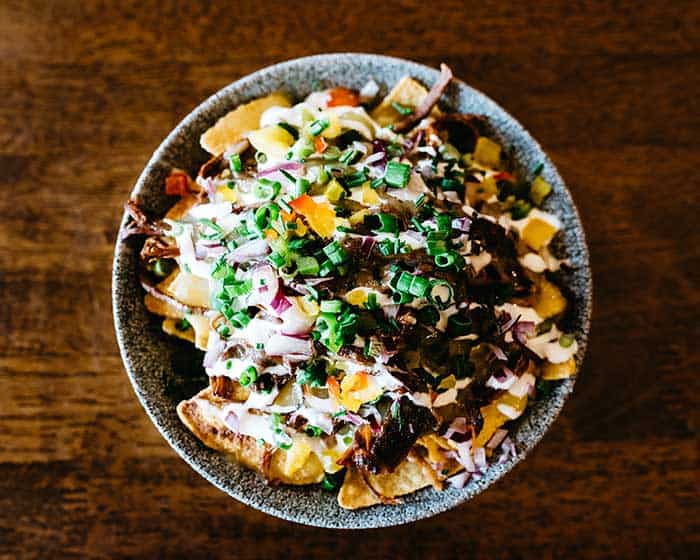 How to Layer Nachos
Layering nachos is important to ensuring everyone gets an even bite with plenty of toppings and that you avoid soggy chips.
Start by spreading tortilla chips along your pan in an even layer. Be careful not to overcrowd the pan. Then, add a smear of refried beans and your shredded cheese. Finally, you can add the brisket and your other, heavier toppings.
This layering order prevents the nachos from collapsing and losing their structural integrity while evenly spreading out all the toppings.
How to Make Brisket Nachos
Pick out a quantity of good-size unbroken chips from a bag of tortilla chips. Top each individually with a smear of warm refried beans across each chip before building upwards.
Toppings should include grated melted cheddar cheese or Monterey Jack. Pickled jalapeño slices, BBQ sauce, red onion, and shreds of smoked brisket.
Arrange the nachos neatly on a cast iron pan and cook at around 375°F (190°C) on the grill. Cook for five to ten minutes, or until the cheese has melted. Transfer to a decorative platter and eat immediately, with salsa or guacamole on the side.
Topping Ideas
A plate of nachos with just brisket would be very sad indeed. The key to excellent nachos is to pile them with plenty of toppings. Here is your guide to the best of the best.
No plate of nachos is complete without cheese. The best cheese to use on nachos is one that will melt easily, such as queso blanco. Cheeses with a slightly sharp flavor, such as Monterey Jack and young cheddar, help balance out the richness of the other toppings.
BBQ sauce is another great nacho topping due to the hint of sweetness that it brings to this savory dish.
Finally, top your nachos with a dollop of sour cream. The cooling flavor of sour cream helps balance out the heat of the jalapeno and other ingredients.
Quick Tips
Use thick chips. Nacho or tortilla chips come in so many varieties now, but as a rule, try to go for a plain variety that's thick in shape. This density will mean they're robust enough to support the brisket and toppings so that they don't get soggy.
Don't pile the chips. We want even coverage as much as possible, so make sure you arrange your tortilla chips by spreading them evenly in the base of your pan. This will help the toppings work their magic on a greater number of chips, giving everyone a chance of getting in on that beef goodness.
Rest in aluminum foil. This recipe is best served fresh off the grill, but if you've made them ahead of time, wrap the nachos in aluminum foil. This will best retain heat and will help keep them moist should they need to be reheated.
FAQ
Why Do My Nachos Go Soggy?
The usual culprit behind soggy nachos is poor layering. A layer of melted cheese and refried beans helps protect the tortilla chips from absorbing the moisture of the toppings and getting soggy.
Smoked Brisket Nachos
The best way to use up your leftover smoked beef brisket. If you love freshly smoked brisket and eating barbecue, this nacho recipe is right up your alley.
Print Recipe
Pin Recipe
Ingredients
1

bag

tortilla chips

3

cups

shredded beef brisket

leftovers or freshly smoked

½

cup

BBQ sauce

½

cup

cheddar cheese

shredded

1

green pepper

chopped

½

red onion

chopped

1

cup

black beans

2

green onions

chopped

½

cup

sour cream
Instructions
Heat up smoker to 350-450°F. Line a cast iron skillet with aluminum foil.

Spread the tortilla chips out in pan. Avoid stacking them in a pile as much as is possible.

Top chips with shredded brisket, cheese, BBQ sauce, green pepper, red onion, and black beans

Transfer to smoker. Close lid and cook for 5-10 minutes.

Remove from smoker and top with chopped green onion and any additional toppings

Serve immediately. To keep warm, cover with aluminum foil.
Nutrition
Calories:
689
kcal
|
Carbohydrates:
30
g
|
Protein:
64
g
|
Fat:
33
g
|
Saturated Fat:
13
g
|
Polyunsaturated Fat:
15
g
|
Cholesterol:
200
mg
|
Sodium:
640
mg
|
Fiber:
5
g
|
Sugar:
14
g