If you have a few slices of extra brisket lying around, try this BBQ brisket grilled cheese recipe to turn them into a gooey and delicious leftover sandwich.
Is there any better comfort food than grilled cheese? Filled with melted cheese and your favorite sauces, this is one of the best ways to use your leftover smoked brisket. What's more, this beef grilled cheese sandwich takes under 15 minutes to put together. Find out everything you need to know with your full walkthrough.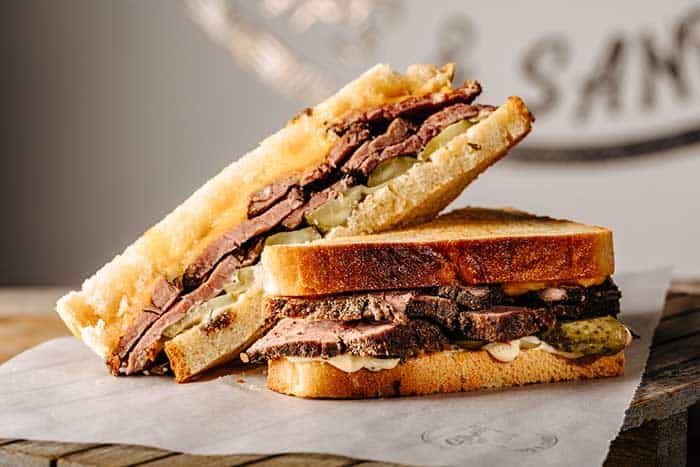 Ingredients
The star of any BBQ beef brisket grilled cheese recipe is always going to be the brisket. You want to showcase the juicy, tender meat above all else, but it's also important to consider the supporting players if you want a grilled cheese that's melted to perfection.
Choosing the right cheese can complement the flavor of brisket to create a gooey, delicious sandwich that lets you make the most of your leftovers.
You want a cheese that's got a mellow, creamy taste so that it won't overpower the flavor of your brisket. It's also best to choose a cheese that melts well for optimal consistency.
Gruyere and Comté are both semi-hard cheeses that each reach gooey perfection with just a little bit of heat. Both kinds of cheese are fairly mild, yet have a distinctive nutty taste that goes well with traditional barbecue flavors.
If you want something a little bit easier to find at the supermarket, Monterey Jack and cheddar also make excellent additions to any BBQ beef brisket grilled cheese recipe. Smoked cheddar in particular can help to bring out the barbecue flavor of your brisket.
The bread is also important when it comes to fixing a grilled cheese. You need something sturdy enough to hold an explosion of melting cheeses, yet not so tough you can't bite into it.
Texas Toast is a popular choice, as it has a pleasant garlic flavor that goes well with brisket. You can also use a loaf of dense sourdough to offset the creaminess of the cheese.
Serving Ideas
A leftover BBQ brisket grilled cheese will go well with just about any traditional barbecue side. You can serve it with corn on the cob, coleslaw, or smoked baked beans.
Like most sandwiches, this dish also pairs with chips, fries, or a small bowl of soup. Something mild and creamy works best, such as tomato bisque or leek and potato soup.
If you want to improve on the sandwich itself, there are plenty of fillings that you can use to bring out more flavor. Condiments such as dijon mustard or relish work well with most BBQ beef brisket grilled cheese recipe options. You can also add extras such as pickles or caramelized onions for a bit of extra crunch.
Time & Temperature
It's easy to fix a BBQ beef brisket sandwich in just minutes, even for novice chefs. The only prep work involved is cutting bread, shredding cheese, and either slicing or shredding your leftover brisket. Make sure you have a knife that's suitable for slicing brisket.
Once your skillet is heated and your sandwiches are ready to cook, it takes a maximum of around just five minutes per side to cook. You'll be done making your lunch in under ten minutes.
It's best to cook your grilled cheese on medium. This will give you hot, gooey cheese without burning your bread or drying out your meat.
Quick Tips
While it's possible to make a brisket grilled cheese with sliced meat, shredded will give you a more even consistency. It ensures that you get tender meat in every bite, and it heats more evenly as you cook.
Always remember to reheat your brisket before putting it into your sandwich. As a central component, it may not cook all the way through in the time it takes you to melt your cheese and toast your bread.
How to Make the Best Brisket Grilled Cheese
If you have leftover brisket on hand, it's easy to whip yourself up a delicious grilled cheese in just a matter of minutes.
You should start by warming your brisket on the stovetop. To save on dishes, you can do this in your main pan or skillet with just a little bit of vegetable oil. If it seems dry, simply add a spoonful of stock or barbecue sauce to introduce more moisture.
When the meat is warm, set aside and keep covered. Next, you need to work on the bread. While your skillet is reheating, take a moment to spread butter on just one side of each piece of bread. This will be the side that contacts the skillet.
On the dry side of one slice, pile on a layer of shredded cheese. Spoon some brisket on top of that, and then cover with another cheese layer. You can use the same type, or you can mix up flavors between layers.
Top the whole thing with another slice of bread, keeping the buttered side facing outwards. Repeat with any remaining slices of bread until you have the desired number of sandwiches prepared.
One at a time, place sandwiches on your hot skillet butter-side down. Cook on medium for about three to five minutes, or until the bread looks golden brown. It's best to cover your skillet when cooking, as it helps the cheese to melt.
Flip your sandwich with a spatula and cook the other side. When it's done, it's ready to cut and serve hot.