Smoked brisket tacos are the best way to use pulled barbecue beef. Cooked low and slow over wood before served in freshly grilled tortillas, this BBQ braised brisket is the best excuse to fire up the smoker!
In this recipe, we'll be looking at making the filling from scratch, but you can also use leftover beef brisket. As long as it's not older than two or three days, it'll taste just as good in the taco.
If you are smoking the beef from fresh, the good news is that you don't need to use an entire beef brisket cut. Avoid the hassle of separating the flat and point, and get just the flat. There's nothing wrong with the point, but the flat tends to be easier to buy and get hold of. It's common in stores and butchers, and mail-order meat sites.
Trim
Some briskets can come a little rough, so start by placing it on a clean chopping board, fat side up. Use a knife to trim any areas that look thicker than a quarter-inch of fat.
Turn the brisket over to have it fat-side-down. This other side should be mostly clean with the meat visible. Trim away any spots of excess fat you see. You don't need to get all of it, so don't agonize over it and spend hours. Just a quick tidy-up with the knife.
Inject
To cram in as much flavor as possible into our tacos, we're going to use a beef brisket injection to help it soak up some extra taste. When brisket is smoked by itself whole we don't always use an injection, in fact some barbecue pitmasters frown upon it. Tacos are best juicy and messy though, so let's infuse some flavor in.
Place the brisket in a shallow baking tray. This will help to catch any marinade run-off as we inject it.
Mix two cups of water, one teaspoon of beef base, one tablespoon of soy sauce, and one tablespoon of Worcestershire sauce. Do this in a small saucepan over medium heat for the best results.
With the ingredients dissolved, load your meat injector with the marinade. Find the direction of the brisket grain, and inject the marinade in at a 90-degree angle to that. Inject in a grid-like fashion, with one inch between each hole. Leave a bit of injected marinade to one side. That will be important later.
Rub
I enjoy a no-fuss rub for my brisket, and taco meat filling is no different. There are plenty of great store-bought seasonings but for my homemade rub I combine these ingredients in a small bowl:
2 tbsp coarse kosher salt
2 tbsp coarse black pepper
1 tbsp cumin
1 tbsp smoked paprika
2 tsp ground coriander
If you want to dial down the spice, try dropping the cumin and paprika. It's important that you keep the salt and black pepper are kept in. This will season and help tenderize the meat, similar to dry brining.
Mix all the ingredients in a small bowl with a fork to remove any lumps. Apply the rub to the brisket flat, covering all sides and aiming for even coverage. Don't be shy – beef can withstand a lot of seasoning.
How to make smoked brisket tacos
Fire up your smoker to 225°F (107°C). Throw in some pecan wood chips to your coals. I often use oak or hickory for smoking brisket, but we're incorporating so much flavor from elsewhere with these tacos, I don't want to overpower it. Read our guide to brisket smoking woods to find out more.
Transfer the brisket to the smoker, and place fat side down on the grates. There's plenty of debate around fat side up or down in the barbecue community, but pointing down shields the meat from exposure to direct heat. This should help the beef retain moisture, staying juicy and tender. Perfect for tacos.
After six hours, the brisket should have developed a nice, deep brown color. We're not interested in creating a bark, so we want to wrap the flat in aluminum foil. This will allow us to moisten the meat, and push through the BBQ Stall.
Remove the brisket from the smoker and place it on a sheet of aluminum foil. Carefully drizzle the rest of the injection marinade (I said it would be important!) over the brisket.
Wrap the brisket tightly by folding each side of the foil. It's important there aren't any air pockets for steam or air leakage, and to double wrap it. With the brisket wrapped with the remainder of the injection marinade, this should work as a braise. With the brisket wrapped with the remainder of the injection marinade, this should effectively braise the meat.
Ramp up the temperature of your smoker to 275°F-300°F and put the wrapped beef back on the smoker grates. Smoke for a further one to two hours. Smoke for a further two hours, but check on it after one hour.
After one hour, insert a meat probe into the thickest part of the brisket. We are looking for a texture with little resistance and an internal temperature of about 210°F (99°C). This is higher than the 195°F (90°C) we would normally go for, but we need it to pull the beef for the taco filling. If it isn't ready, rewrap the beef and cook for a little longer.
With the brisket cooked, remove it from the smoker and place on a chopping board. Keep the meat loosely wrapped and allow to rest for 20-30 minutes.
Use a brisket knife to slice the meat at a 90-degree angle to its muscle fibers. Slice into thin strips, and each slice into small chunks. Return the chunks to the foil, allowing them to soak up the leftover juices.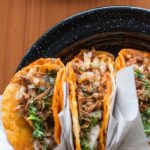 Smoked Brisket Tacos
Smoked brisket tacos are the best way to use pulled barbecue beef. Cooked low and slow over wood before served in a freshly grilled tortilla, this BBQ braised brisket is the best excuse to fire up the smoker!
Print Recipe
Pin Recipe
Equipment
Pecan smoking wood

Meat injector
Ingredients
1

brisket flat

fat trimmed to 1/4-inch

12

small flour tortillas
Injection Marinade
2

cups

water

1

tsp

beef base

1

tbsp

soy sauce

1

tbsp

Worcestershire sauce
Dry Rub
2

tbsp

coarse kosher salt

2

tbsp

coarse black pepper

1

tbsp

cumin

1

tbsp

smoked paprika

2

tsp

ground coriander
Instructions
Fire up smoker to 225°F (107°C). While it preheats, prepare brisket.

Heat up a small saucepan over medium heat. Combine all injection marinade ingredients until fully dissolved.

Place brisket in shallow baking tray. Load meat injector with marinade. Insert injector perpendicular to meat grain direction. Inject in a grid pattern across the meat, with an inch between each hole. Save half of the marinade to use later.

Mix all rub ingredients in a small bowl. Apply liberally to meat, covering all sides in an even coat.

Place brisket in smoker, fat-side down on the grates. Smoke for six hours.

Remove brisket from smoker and place on a sheet of aluminum foil. Drizzle the remainder of the injection marinade over the meat. Wrap tightly in foil, eliminating any pockets of air. Double wrap for good measure.

Increase cooking temperature to 275°F-300°F (135°C-149°C). Place wrapped brisket back on smoker grates. Smoke for 1-2 more hours.

Check on brisket after one hour. Insert a meat probe into the beef. Look for little resistance and an internal temperature of 210°F (99°C).

Remove from smoker. Leave loosely wrapped and rest for 20-30 minutes.

Slice brisket perpendicular to muscle fiber direction into thin strips. Slice each strip into small chunks. Transfer strips back to foil and allow to soak up remaining juices and marinade.

Serve into preheated tacos with your choice of filling and garnish