Beef skirt steak smoked low and slow over fire. Prepared in a citrus and garlic marinade, this simple barbecue steak recipe is rich in flavor and easy to make.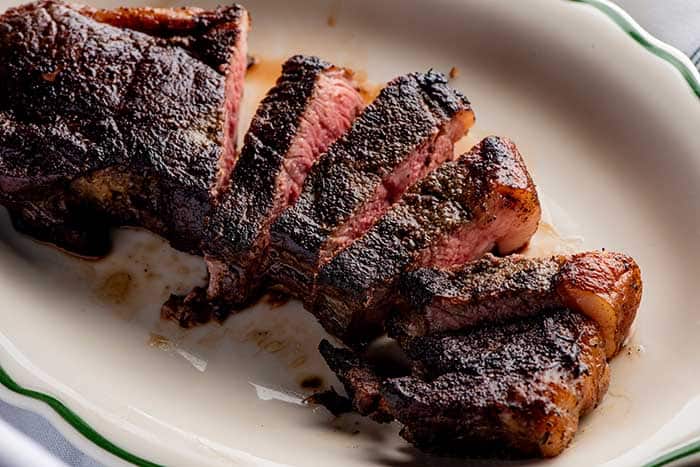 Smoked skirt steak is the perfect way to enjoy this underrated beef cut. While most people opt for grilling this beef gem, barbecue smoking takes the meat's naturally buttery flavors to a new level. The large grain that runs through the beef is beautifully tenderized as we cook it low and slow over fire, giving you a melt-in-the-mouth steak with an outer crunch that's unlike anything else.
Our easy smoked skirt steak recipe is much faster than other primal beef cuts, needing less than an hour on the smoker before we give it a quick sear over high heat to lock in the flavor. The steak can then be enjoyed sliced and served on its own, or as a beefy taco filling.
From how to buy the best skirt steak and barbecue advice, discover how to smoke skirt steak today.
What is Skirt Steak?
One of the most flavorful cuts of beef, skirt steak comes from the diaphragm region of the steer, and is the muscle that helps the animal breathe. Because of this placement, it's a well-worked muscle that is boasts large fibers, thick grain, and incredible flavor.
The term skirt steak refers to two different beef cuts:
the outside skirt, which is the cow's diaphragm muscle
the inside skirt, which is the transversus abdominis muscle
Because of its substantial amount of connective tissues, skirt steak is one of the tougher cuts of meat. However, if prepared correctly, it can be a perfectly tender cut of meat that lends itself perfectly to tacos or fajitas, or can even be enjoyed on its own.
How to Smoke Skirt Steak
Traditionally, skirt steak is cooked quickly over high heat. However, as long as you take care not to overcook your steak, a smoker can be the perfect tool to create a flavorful and perfect skirt steak. The process will impart the distinct smoky flavor that will make your meal incredible.
Prepare the steak by trimming off excess fat along the surface. Dry brine the steak with kosher salt and leave the meat in the refrigerator for 3-4 hours.
Prepare the marinade and pour into a gallon-sized ziplock bag or airtight container. Add the skirt steak, submerging the meat. Marinate for 30 minutes.
Fire up smoker to 225°F (107°C) and smoke skirt steak for 45 minutes
Finish the steak off by searing over high heat for a few minutes
Rest in aluminum foil and slice against the grain to serve
How to Buy Skirt Steak
While two cuts of skirt steak do exist, you will likely only find steaks simply labeled "skirt steak" at your grocery store or butcher.
Which Side Are You On?
Skirt steak could technically refer to either the outside skirt or the inside skirt, and you will most likely only find inside skirt at your grocery store. The outside skirt is thicker and more uniform in size, so it is more sought after by restaurants and other commercial kitchens, leaving primarily inside skirt available for home chefs.
Don't Get Outflanked
Although skirt steak and flank steak are similar and their names are sometimes used interchangeably, they are two distinct cuts of steak. Your butcher should have them labeled correctly. While the flank steak can vary in size from one to four pounds, skirt steak is right around two pounds in weight.
Outside Skirt vs. Inside Skirt
If you do find a butcher that carries outside skirt, it will be more expensive than inside skirt. The outside skirt is encased in a membrane that needs to be removed before preparation. A good butcher will remove this membrane before the sale of the steak.
Inside skirt is thinner and has a more irregular shape. Other than the shape, the two cuts of steak are very similar. You can use outside skirt and inside skirt interchangeably in recipes.
Smoking Wood
The best woods for smoking steak are robust and durable hardwoods like oak, hickory, or mesquite. The thick smoke produced by these woods complements the deep beefy flavors of steak perfectly and can last for the duration of your smoke without needing to be replenished frequently, if at all.
Quick Tips
Because one side of a skirt steak tends to be thicker than the other, be sure to test temperature at the steak's thickest point.
Always slice your steak against the grain. This will help break down the tough fibers in the beef, giving you a beautifully tender steak.