This smoked elk roast is lean but full of flavor. This hearty meat is made with simple dry brine and dry rub seasoning before cooking low and slow over hickory for the perfect barbecue wild game. Learn how to smoke elk roast with our easy recipe.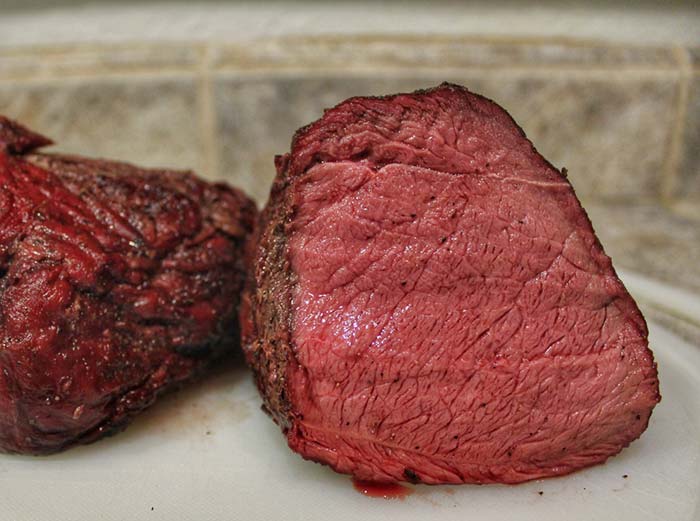 Elk is a beautifully lean cut of meat that's rich in protein and low in fat. It's soared in popularity over the past few years and is widely considered to be one of the best wild game meats. It's often compared to venison, but carries little gamey flavor and is typically leaner.
Just like with venison, we can treat it much like we would with beef. In fact, for our smoked elk roast, we're going to treat it just like our smoked beef top round. The big difference is that the lower fat content means we have to be careful not to let it dry out. To combat this, we're going to dry brine it overnight and also use a marinade injection. Let's get into it!
Where to Buy Elk
Your access to elk might be limited depending on where you are, and you're more likely to find it at a specialty butcher's counter if you are in the Western region of North America. Outside of this, you will have more luck ordering online.
Times & Temperatures
Elk needs to be smoked at 225°F (107°C) for one hour per pound of meat. We're using a 4 lb roast, so will aim for four hours of smoke time. However, the most important thing is that the meat reaches an internal temperature of 130°F, at which point we'll pull it from the smoker. We'll then wrap it in foil and allow it to rest for ten to fifteen minutes, letting it rise to a final temperature of 140°F-150°F. Anything over this and the elk will dry out due to its low fat content.