Cook beef prime rib roast the easy way with an electric smoker. Coated in a mustard and black pepper dry rub, this hickory-smoked prime rib is the perfect barbecue centerpiece.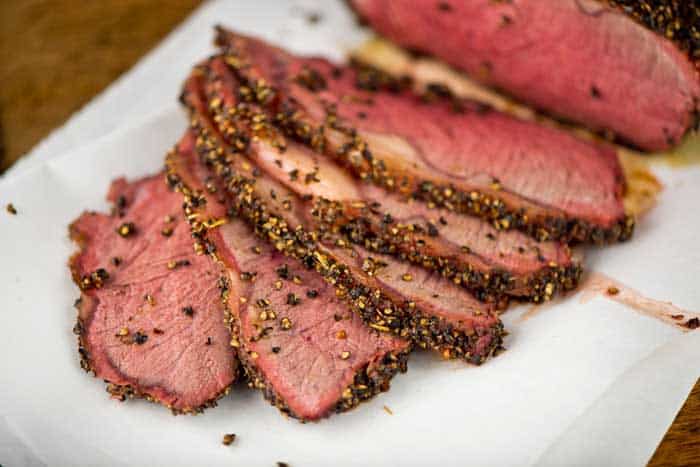 Note: This recipe is specifically for electric smokers. If you have a pellet or charcoal smoker, or are using an outdoor grill, check out my smoked prime rib recipe.
Many people regard prime rib as a holiday meat, but I like to smoke it all winter, and even in the warmer months when I'm craving some red meat.
Regardless of whether you're cooking it for the holidays or summer, prime rib certainly makes a statement. A whole ten-pound prime rib can sit as a table centerpiece, feeding up to ten people.
In this recipe, I'll walk you through how to prepare it, how to season it, and how to smoke prime rib in your electric smoker. Let's get into it.
What is prime rib?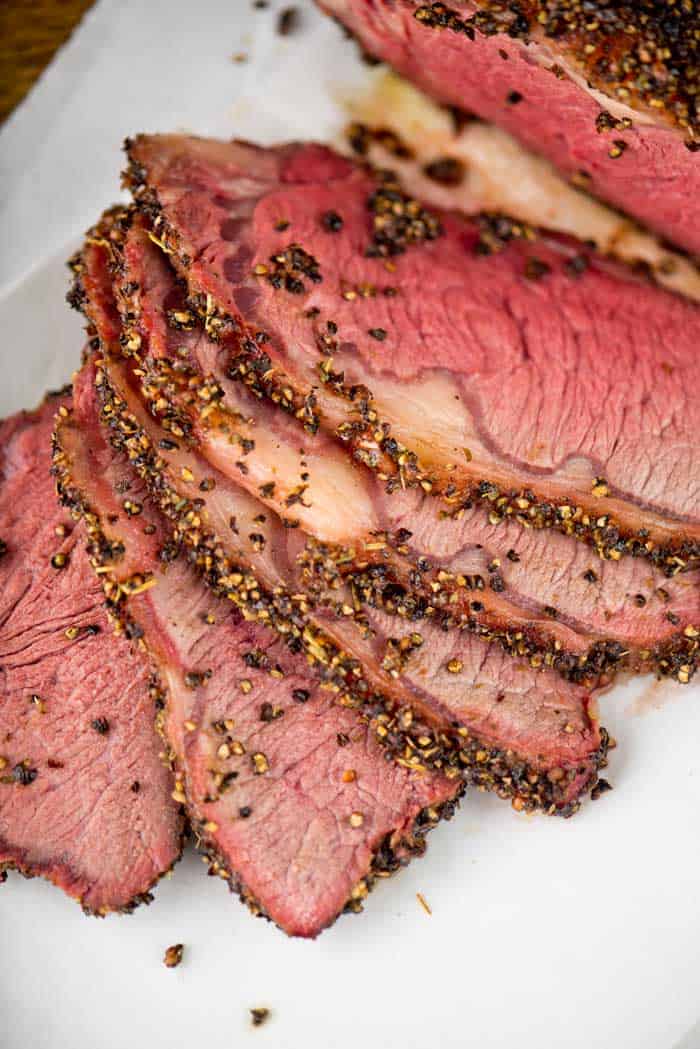 Prime rib is a massive and juicy beef cut from the rib section of the cow (called the primal rib). It can contain between two and seven ribs, and is cut from the 6th to the 12th bones of the cow's ribcage. Prime rib is a massive slice of beef and is usually served bone-in, and the good news is that it's the best part of the cow's rib section.
Why is this called the 'primal' rib? When beef is carved, it's usually split into eight parts, each called primal sections. Each of these cuts is then sent on to butchers for them to carve into the smaller pieces that you see at stores and meat counters.
You might also see it named as 'standing rib', but for the sake of simplicity, we're just going to go with prime rib today!
What does prime rib taste like?
If you're new to prime rib, you're in for a treat. This barbecue favorite is widely regarded as one of the best cuts of beef to smoke, alongside classics like brisket and flank. Thanks to the rich fat and marbling content around the cow's ribcage, the primal rib carries a mouthwateringly rich beefy flavor, and strikes a perfect balance between tough and tender.
The cow's primary rib area is beautifully tender and rich in flavor (just look at the size of some of our beef rib recipes). This is thanks to the large section of marbled meat in the center of the prime rib, also called the 'eye'. When this is part is smoked low and slow, the beef becomes moist and delicious.
Where to buy prime rib
Prime rib can be purchased from some high-end stores, but you might find it sold as 'Standing Roast' or 'Bone-In Rib Roast'. Your best bet in finding a good cut of prime rib is at your local butcher, and not a large supermarket or store. This will give you a better chance of getting a better quality cut of beef with more marbling.
You can also turn to the internet for a little bit of help. Our favorite online vendors both stock beef prime rib and can deliver on purchase.
Wood
For this recipe, I've gone for a simple blend of hickory and oak. Hickory produces a rich aroma that will add a deep, earthy note to your final plate of beef.
While we don't often recommend hickory for meats like chicken or pork, a beef cut like prime rib roast can withstand the intense smoke it produces. I have mixed it with oak just to err on the side of caution.