Weber's famous Smokey Mountain has built up a big following over the years among grilling fans and fellow pitmasters. The charcoal-fuelled smokers are popular among competition masters, and it's not difficult to see why. Find out everything you need to know about the backyard cooker with our Weber Smokey Mountain review.
The Weber Smokey Mountain smoker has seen multiple iterations throughout the last decades, and each has been admired by lovers of smoked meat. The latest iteration of Smokey Mountain is no exception. It's a pricey smoker and requires quite an investment, but it has a number of features that make the price tag justified. It's been on of our top picks for the best drum smoker for years, and in this guide we're going to show you why.
Weber Smokey Mountain Charcoal Cooker
Material Type: Steel
The Weber Smokey Mountain charcoal smoker helps you achieve an authentic smokehouse flavor at...
It can accommodate a whole turkey and an entire ham at the same time. Item weight- 39.1 pounds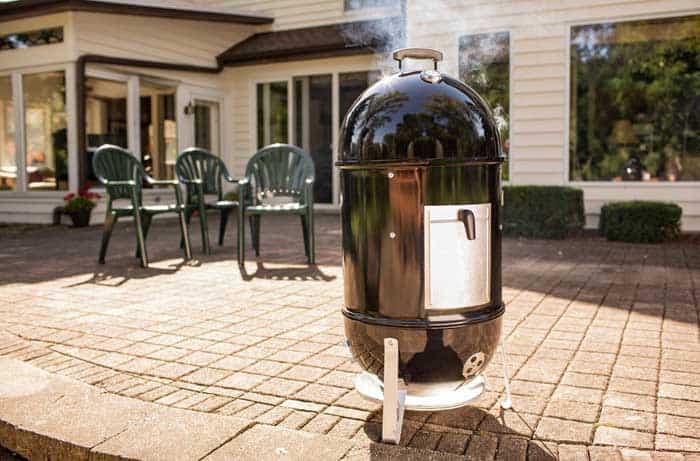 Three Smoker Sizes
Smokey Mountain is available in three sizes, all with ample grilling and smoking space:
14-inch. 286 square inches of total cooking area, serves 3-5 people.
18-inch. 481 square inches of total cooking area, 4-6 people.
22-inch. 726 square inches of total cooking area, serves 6-8 people.
The prices of these Weber Smokey Mountain smokers differ considerably as well, with the 14-inch smoker being about half the price of the 22-inch variant.
Which Smokey Mountain to choose depends on how many people you will be serving at a time. Weber provides estimates of how many people can be served by each smoker, so you could follow them to make the right choice.
Durable Construction
The Smokey Mountain smoker boasts an extremely tough construction that should have no issues serving you for years.
The primary material in Smokey Mountain is steel – this material is used in the grates and seemingly in the body of the smoker. The cooking grates are plated, the bowl, lid, water pan, and the center section are porcelain-enameled, while the legs are rust-resistant. The fuel door, heat shield, and dampers of this thing are made of aluminum as well.
Speaking of the dampers, there are four of them in Smokey Mountain smokers. This allows for quite flexible ventilation and temperature adjustment.
What's also nice about the Smokey Mountain is its tough nylon handles. They are durable, feel nice to the touch, and stay cool during the smoking.
The warranty coverage of Smokey Mountain is quite impressive as well – 10 years on the bowl, lid, and center section, 5 years on plastic components, and 2 years on the rest. Terms apply, of course, so you should check the Weber warranty for details.
Nonetheless, the warranty reflects the service life that you could expect from this grill. With proper care and maintenance, you should be able to enjoy smoked meat with this thing for decades.
Water-Assisted Smoking
Weber Smoker Mountain belongs to the so-called water smokers. It has a water bowl between the charcoal grate and the cooking grates. The two main purposes of the water bowl, if you didn't know, are to:
Keep the temps lower and allow for longer smoking.
Prevent the meat from drying, thus enhancing its flavor.
Due to its positioning, the water pan also catches any drippings from the meat.
If your current smoker doesn't have a water pan, then Smokey Mountain is going to be a substantial upgrade for you.
Easy Charcoal Grate Access
The Smokey Mountain also offers easy access to the charcoal grate from the outside. This is a simple feature, but it's insanely useful and can be easily overlooked by inexperienced buyers.
The charcoal grate may be accessed via the large aluminum door in the front of the unit. You open the door up and gain direct access to the grate for refueling. Unlike lower-end smokers and certain smoker styles – like barrel smokers – you don't have to lift the top of the Smokey Mountain to add charcoal.
As a result, you lose minimum heat when you need to add more fuel to the smoker.
iGrill 3 Thermometer Compatibility
The Smokey Mountain smoker is also compatible with Weber's iGrill 3 thermometer system. This thermometer comes with a pair of meat probes, allowing you to precisely monitor the internal temperature of the food as it gets smoked.
iGrill 3 is a connected device as well – once you pair it with your smartphone or tablet, it will be able to alert you once the food reaches the target temperature.
So essentially, with Smokey Mountain, you get access both to time-tested smoking tech and 21st-century technology.
The Weber temperature system is a fairly nice addition to the Smokey Mountain, but it's quite pricey. However, given how inaccurate the lid thermometer in Smokey Mountain is, it's a good investment. But if your budget is limited, you could go for any other decent-quality probe as well – what to choose is up to you.
How Does Smokey Mountain Compare Against Competition?
Smokey Mountain is often compared with a number of other products, most importantly:
Traditional offset smokers.
Weber Kettle charcoal grill.
Big Green Egg kamado grill & smoker.
The more experienced of you know that you can't really compare Smokey Mountain directly with these cookers because they belong to different classes of cookers. Still, if you are new to meat smoking, we think it's worth briefly covering the differences between Smokey Mountain and its competition.
Smokey Mountain vs Offset Smokers
Offset smokers typically have far larger cooking & smoking areas. Not only that, but they can be used for BBQ and grilling as well. So offset smokers are more versatile products intended for the more advanced user.
On the other hand, Smokey Mountain is much cheaper than offset smokers of comparable quality. It's much smaller as well, and it is going to be more fuel-efficient too thanks to its compactness.
Smokey Mountain vs Kettle grill
This one's easy – the Kettle is designed for grilling (high temperatures + short cooking times), while Smokey Mountain is intended for, well, smoking (low temperatures + long cooking times).
Aside from these, Smokey Mountain is better at maintaining consistent temperatures – partially thanks to the water pan. The Kettle, in contrast, exposes the meat to high heat, and you may need to work hard to keep the temps down in it.
Smokey Mountain is much bigger as well, so it can fit more meat.
Smokey Mountain vs Big Green Egg
The Big Green Egg is a fairly different kind of cooker. As a kamado cooker, it has much better insulation and better fuel efficiency. The Big Green Egg is especially great for low-temp smoking thanks to its insulation. It may be used as an oven for baking pizza or bread too.
On the other hand, Smokey Mountain is half the price of the Big Green Egg. If you don't really need the Egg's benefits, then the Smokey Mountain is going to be just fine.
Weber Smokey Mountain Charcoal Cooker
Material Type: Steel
The Weber Smokey Mountain charcoal smoker helps you achieve an authentic smokehouse flavor at...
It can accommodate a whole turkey and an entire ham at the same time. Item weight- 39.1 pounds
Last update on 2023-10-02 / Affiliate links / Images from Amazon Product Advertising API