There are a ton of great offset smokers on the market these days, each with different features and attributes, at a range of prices. We've picked five of the best offset smokers out there and taken a look at each of their features to help you decide which one would be best for you.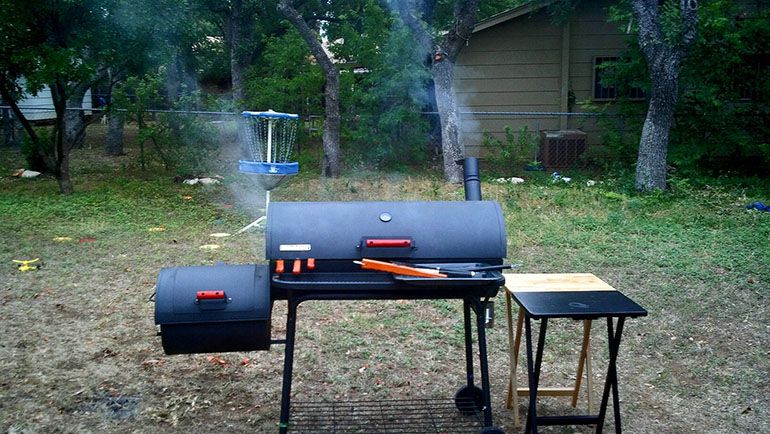 BBQ smokers are perhaps the pinnacle of home cooking equipment. I've been a huge smoking fan for years, and it's my go-to cooking method of choice when I'm deciding what to make come barbecue season.
For the unfamiliar, offset smokers are the traditional model of smoker you might sometimes see at restaurant or outdoor grilling joints. They tend to feature a horizontal chamber that houses the food, while the wood or charcoal burns to one side ('offset', if you will). The smoke from the wood then flows past the food and out the chimney the other end.
The best models are made with thick steel, ensuring excellent insulation and heat retention. They can be pretty heavy duty, but once you find the right one for you, you'll never look back.
Here's my pick of 5 of the best offset smokers out there, with everything you need to look out for to find the perfect one for you.
1. The Char-Broil Oklahoma Joe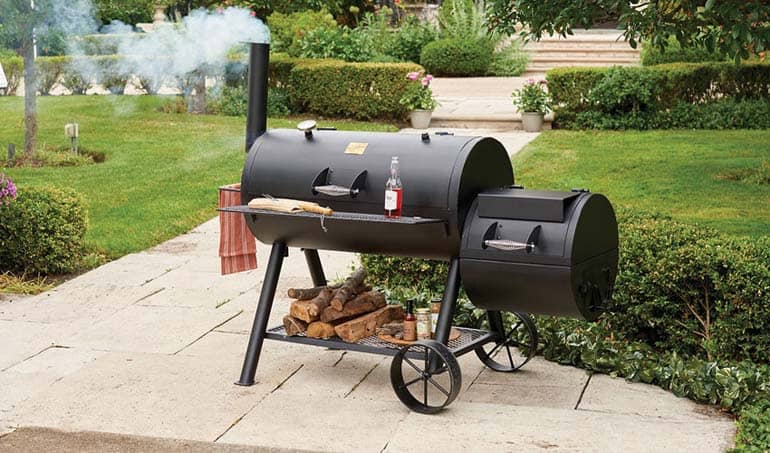 If you're at all familiar with grilling, then the Char Broil name shouldn't be new to you. They've long made excellent, robust grills, so to see them make their way to a fantastic reverse flow outdoor smoker should come as no surprise.
On looks a lone, this has my attention. It boasts the beautiful aesthetics of a traditional smoker design.
However, we're not here just for looks. Which is just as well, as the Oklahoma Joe has so much more to offer than just sitting pretty in your yard.
The Oklahoma Joe can run on both charcoal and gas, which makes it a great entry point for smoking newbies, but still offers enough not to frustrate or limit more seasoned users.
It's also extremely affordable, but never feels like it's skimping on features. It has a mightily impressive 1000 square inches of cooking space, giving you an awfully large area of room to play with.
It comes with rib racks and meat hooks included, and four adjustable grates. It's made of heavy gauge steel which is durable, but makes it more than a little on the heavy side at almost 200lb. However if you plan on letting this take centerstage on your patio then this shouldn't be an issue.
It boasts porcelain-coated grates, which helps ensure even heat distribution along the surface of your grill. Not enough mid-range smokers or grills have this, so it's great to see Char-Broil provide a smoker that is built with the user in mind while not charging over the odds for it.
An excellent smoker that offers enough to keep newcomers and experts alike happy.
2. Dyna-Glo Signature Series
This combination smoker and charcoal grill is a bit stripped back in terms of size, but doesn't shy away from maximizing your cooking. It still has a ton of great features, including a collapsible stainless steel work station, porcelain enameled cast iron cooking grates, a removable grate and ash pan for easy access to put in fuel and for cleaning.
It's more limited in size with 675 square inches of cooking area, but still large enough to cope with the demands of cooking for a crowd. It's lighter than the Oklahoma Joe, at around 125lb. It's another combination smoker and grill, and though it does both these things adequately, it's not the best on the market.
​All around a good design for the money, and would make a great first smoker for someone who doesn't have the cash for a more expensive model.
3. Camp Chef Woodwind Pellet Grill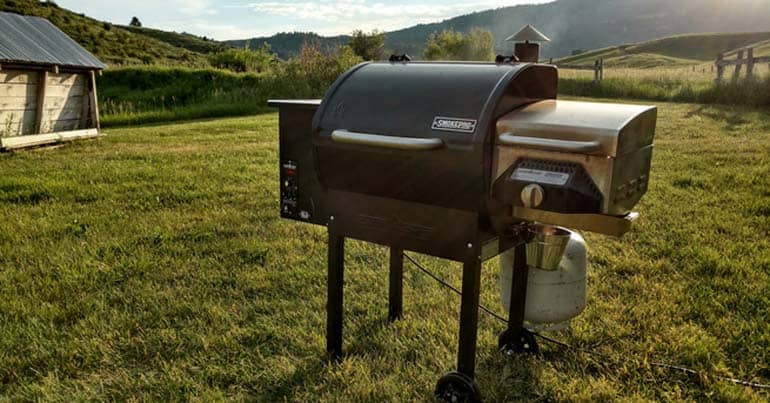 This one is a little heftier in the price department but if you can splash out it's worth every penny. It's another multitasker, but it does it a lot better than the Dyna-Glo.
The propane-run sear box means you can smoke or grill and sear at the same time, and the flavor is incredible.
Even though it's the most expensive smoker on this list, it's still less than half the price of the similar Traeger smoker — and it does the job much better.
If your budget allows it, we would highly recommend this smoker as it's pretty comprehensive with lots of useful features like the patented Ash Cleanout system, which makes cleaning the grate as easy as pulling a lever.
4. Z Grills Wood Pellet Grill and Smoker
The Z Grills describes itself as having 700 sq. in. cookspace, but it's actually 684, over two racks. A small complaint, but worth including for accuracy. That said, this is still a great smoker. It has an induction fan for even cooking, and a waste oil collector for easy cleanup.
Most people find it really easy to assemble in under an hour, even though it's fairly weighty. It even comes with the tools you'll need to put it together! It holds its temperature really well even in breezy conditions, something that not every smoker does. The temperature controls and smoking settings are really useful, too. This is a great, solid smoker that will consistently produce tender meat with a great flavor.
5. Camp Chef SmokePro DLX
Another mid-range price smoker, this features a two-level cooking rack, with up to 429 sq. in. cook space total.
It will reach up to 500°F, and has an ash clean out system for easy cleaning. Most people who own this smoker love it, and there are only a couple of complaints. It does tend to leak smoke a little, but users found that even with little smoke the flavor was still great.
It also comes with a built-in temperature probe — no more running a wire under the lid! The main chamber has a trap door for easy cleaning, which as anyone with a pellet grill or smoker knows, makes a huge difference when it comes to cleaning. This smoker is great value for money, and will long outlast its (admittedly poor) one-year warranty. If you want a Camp Chef but can't stretch to $900, this would be a great alternative.
---
Pay attention to construction
Heat retention is key with BBQ smokers. The low and slow cooking that makes the foundations of BBQ smoking require constant and steady temperatures, which are impossible to achieve if your smoker isn't well insulated against the influences of wind and air leaks.
A lot of cheaper models are made of thin, cheap metal. These don't only transfer heat well but they practically haemorrhage warm air, which can only mean one thing: Aggressive heat fluctuations that will ruin your cooking.
Good construction is also important because you need to be sure that if you're laying out cash for a smoker that it is built to last. It's not necessarily a sliding scale that coincides with price: there are some great budget smokers, and also some poor quality expensive ones that are a huge waste of money. So to make sure you get the most bang for your buck, make build quality your primary concern and cost second.
Ease of use for air vents
The key to good temperature control is mastering the use of your smoker's air vents. These are often also called dampers, and are usually supplied with one positioned towards the bottom of your smoker chamber, with the other positioned near the top.
These vents work with the bottom vent, called the intake damper, supplying air into the chamber, with it then existing through the top, called the exhaust damper.
Getting these adjustable dampers right is what will make or break the success of your BBQ smoking. Make sure that whichever smoker you choose has easy to use vents that are noted for their good impact on airflow.
How big should an offset smoker be?
Now I'm not going to say that bigger always equals better, but when it comes to outdoor grilling we don't like to do things by halves.
What size you go for will largely be determined by how much food you intend on cooking at once. However one important thing to consider: The larger your smoker chamber, the longer it will take to heat up. Not only this but tweaking the heat levels in the smoker to achieve the temperatures you need will be more challenging as it will take a bit longer to notice the impact of your changes.
How to season your new smoker
No, we don't mean the meat. Though this isn't a consideration for buying, seasoning a smoker is still something first-timers might overlook.
Even the best quality smoker needs to be seasoned before first use to maximize its useful life, and many first-time smokers aren't sure how to go about it. Take a look at our guide on how to season an offset smoker and make sure you follow our advice before using your new outdoor appliance.. This will not only give a much better flavor, but will also protect the metal against wear and rust. In addition, it will burn off any contaminants from the manufacturing process or shipping materials. Nobody likes eating styrofoam.