Getting an offset smoker is the perfect way to master charcoal and wood barbecue smoking. Featuring a simple barrel shape, they are one of the most effective ways of cooking meat low and slow. Find out everything you need to know with your offset smoker guide.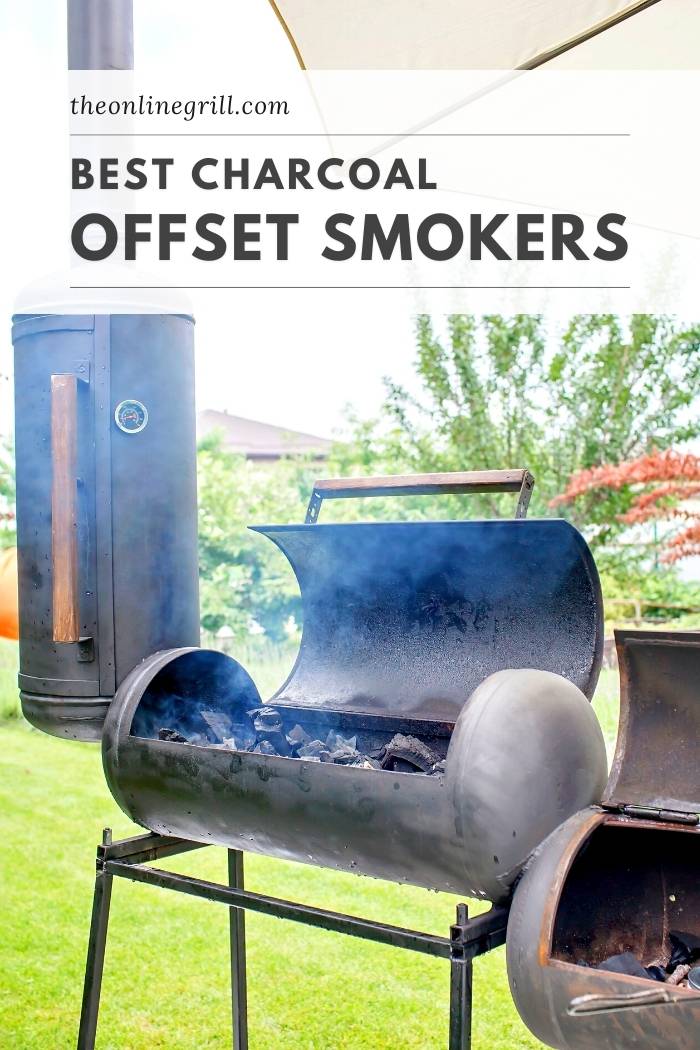 There are a ton of great reverse flow offset smokers on the market these days, each with different features. We've picked five of the best offset smokers out there and taken a look at each of their features to help you decide which one would be best for you.
BBQ smokers are perhaps the pinnacle of home cooking equipment. I've been a huge smoking fan for years, and it's my go-to cooking method of choice when I'm deciding what to make come barbecue season.
For the unfamiliar, offset models are the traditional model of smoker you might sometimes see at restaurant or outdoor grilling joints. They tend to feature a horizontal chamber that houses the food, while the wood or charcoal burns to one side ('offset', if you will). The smoke from the wood then flows past the food and out the chimney the other end.
The best models are made with thick steel, ensuring excellent insulation and heat retention. They can be pretty heavy duty, but once you find the right one for you, you'll never look back.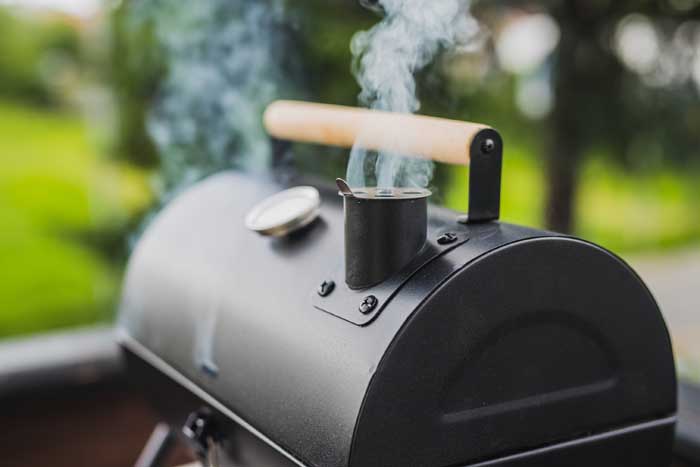 At a Glance: Our Top 5 Picks
Char-Broil Oklahoma Joe Highland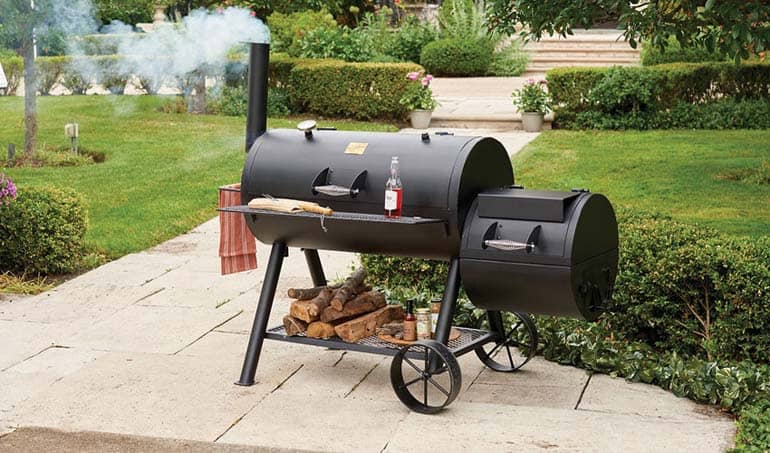 If you're at all familiar with grilling, then the Char Broil name shouldn't be new to you. They've long made excellent, robust grills, so to see them make their way to a fantastic reverse flow offset smoker should come as no surprise.
On looks a lone, this has my attention. It boasts the beautiful aesthetics of a traditional smoker design.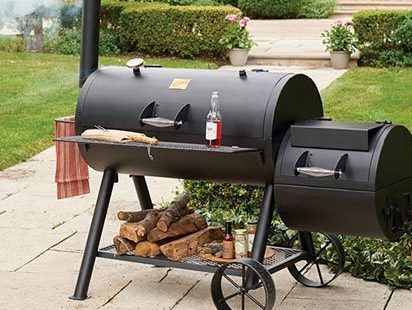 The Oklahoma Joe can run on both charcoal and gas, which makes it a great entry point for smoking newbies, but still offers enough not to frustrate or limit more seasoned users.
However, we're not here just for looks. Which is just as well, as the Oklahoma Joe has so much more to offer than just sitting pretty in your yard.
See our full Oklahoma Joe review
Huge cooking space
It's also extremely affordable, but never feels like it's skimping on features. It has a mightily impressive 1000 square inches of cooking space, giving you a large area of room to play with.
It comes with rib racks and meat hooks included, and four adjustable grates. It's made of heavy gauge steel which is durable, but makes it more than a little on the heavy side at almost 200lb. However if you plan on letting this take centerstage on your patio then this shouldn't be an issue.
Cast iron grates
The Oklahoma Joe boasts porcelain-coated grates, which helps ensure even heat distribution along the surface of your grill. Not enough mid-range cookers have this, so it's great to see Char-Broil provide one that is built with the user in mind while not charging over the odds for it.
Final Verdict
The Oklahoma Joe offers enough to keep newcomers and experts alike happy. Simply put, the best offset smoker out there at the moment
Oklahoma Joe Highland
900 total Square inch cooking surface- 619 Square inches in main chamber, 281 Square inches in...
Reverse-flow smoker employs a Series of 4 baffles to guide heat and smoke through the main...
Removable baffles and optional smokestack locations for a customizable setup
Dyna-Glo Signature Series
This combination smoker and charcoal grill is a bit stripped back in terms of size, but doesn't shy away from maximizing your cooking.
It still has a ton of great features, including a collapsible stainless steel work station, porcelain enameled cast iron cooking grates, a removable grate and ash pan for easy access to put in fuel and for cleaning.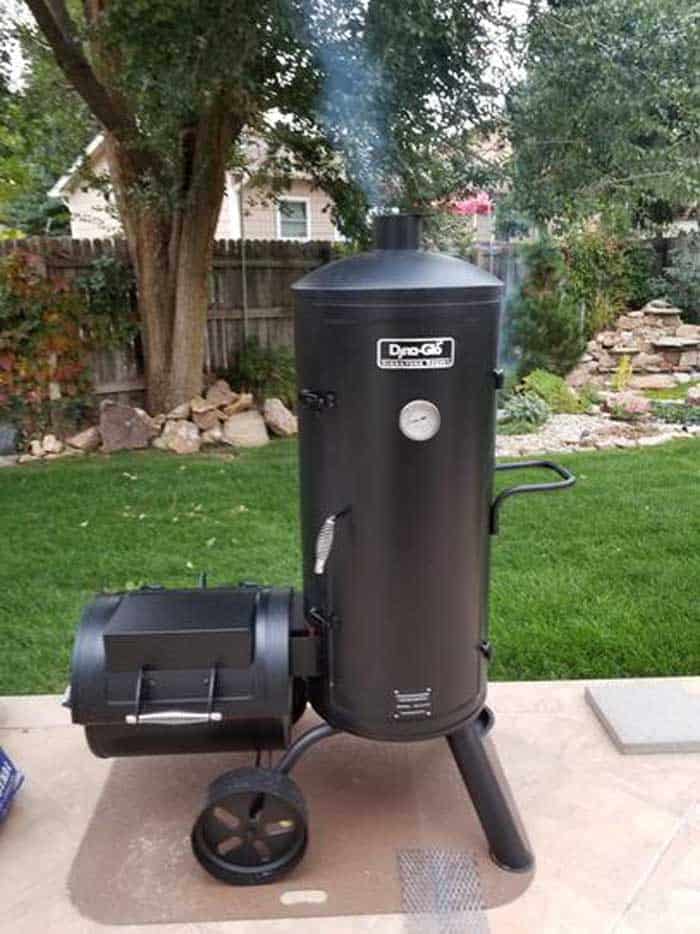 Dyna-Glo Signature Series Specifications
It's more limited in size with 675 square inches of cooking space, but still large enough to cope with the demands of cooking for a crowd.
It's lighter than the Oklahoma Joe, at around 125lb. It's another combo cooker, and though it does both these things adequately, it's not the best on the market.
Sale
Dyna-Glo Signature Series
Features five chrome-plated cooking grates and a total cooking space of 1382 square inches
Heavy-Gauge Steel Body Construction. The temperature gauge features a smoke zone which...
Cool-touch spring lid grip provides safer access to food
Oklahoma Joe Longhorn
The Oklahoma Joe brand has become almost synonymous with creating heavy duty behemoths. Their grills are beasts, and you know exactly what you're getting if you buy one of their units.
The Longhorn is no different. It's a competition-worthy smoker that guarantees high temperatures, sturdy build, and unrivalled durability.
With its black shell and monster branding, it's an impeccable looking smoker.
Huge cooking area
The Longhorn has one of the biggest cooking areas we've seen on this list. With 751 square inches of main cooking space, and 309 square inches in secondary space above its firebox, this has plenty of room to work with.
With long form cooking like barbecue smoking, you want to be sure that you can get as much on your smoker racks as possible in one go. The Longhorn gives you exactly that.
Heavy gauge stainless steel
This cooking space sits upon heavy gauge stainless steel grates that are finished in porcelain enamel. These racks are built to withstand continuous heats, and they're built to last.
Easy airflow and heat control
Its air dampers are positioned in the sides of the chamber for better air flow and temperature control, and it has a built-in warming rack for sauces and sides to help enhance your outdoor cooking experience even more.
Wha also helps its excellent use of heat is the built-in baffles that sit at the foot of the chamber. Also called tuning plates, these baffles help to guide heat through your smoker to give you far more even cooking.
Pros
Even heat distribution: The built-in baffles and tuning plates help to ensure a more consistent level of heat across its grill grates
Added warming plate: A warming plate acts as a secondary cooking area and fits on top of the smoker's firebox. At 309 square inches in size, this is no mean feat.
Total cooking space: With 309 square inches on its warming plate and 751 in space in its main chamber, this smoker offers an incredible amount of room to work with.
Cons
Some small issues with heat retention: The build of the smoker around the chamber doors means that some heat loss is likely. This can be easily fixed with some inexpensive sealant, but is frustrating nonetheless.
Oklahoma Joe Longhorn
TYPE: The Longhorn Reverse Flow Offset Smoker provides the best for you outdoor cooking needs....
FUEL: Charcoal fuel allows you to grill with high heat or cook low and slow.
SIZE: 751-square-inches of primary cooking space; 309-square-inches of secondary cooking space.
Dyna-Glo DGO1176BDC-D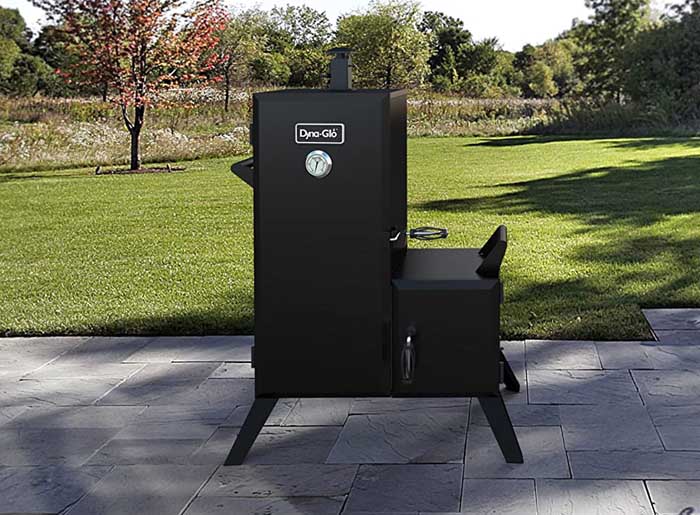 The Dyna Glo's chambers houses a heavy gauge porcelain emailed smoker box, which allows you to house your wood chips of choice in.
This build is great for two reasons. One is… well, it's heavy gauge and guaranteed to last being blasted with heat use after use. The other is that the porcelain enamel ensures solid heat distribution along the surface of the box.
It is predominantly a charcoal offset smoker, but one of the smoker's innovations is that it also features a cast iron burner for quick and easy searing. If you're familiar with barbecue methods like reverse searing then you'll appreciate what a welcome addition this is.
No need to cook between two different tools. It's all built in one here.
The burner boasts 15,000 BTUs, and is fired by an electronic pulse ignition system for one-touch quick startup.
It's total cooking surface boasts a total of 784 square inches, which is more than enough to cater for large groups.
One of the DYna-Glo's key features is its heavy build. Good BBQ smoking is all about heat retention and consistency, and this glorious smoker has it in abundance.
Key to this excellent retention is its dual door design. This build ensures absolute minimal heat loss while cooking, and even while topping up wood chips.
Its main chamber body is constructed with heavy dual steel, and finished with a high temp powder coat. This thing is built to last.
Dyna-Glo Vertical
Vertical design lends itself to naturally rising heat, achieving greater efficiency and...
Six height-adjustable cooking grates accommodate various sizes of food. 784 square Inch of...
Porcelain-enameled steel charcoal chamber is designed to keep briquettes stacked tightly for...
Royal Gourmet 30-Inch Charcoal
Royal Gourmet have built a smoker that's actually a charcoal grill and offset hybrid.
While this might sound a bit like a gimmick, the merge of the two makes complete sense. Charcoal grilling and smoking often go hand-in-hand, particularly with barbecue methods like reverse searing, and actually give you a lot more flexibility when cooking in large numbers.
In its chamber it has porcelain-coated cooking grates for excellent heat distribution and retention. Porcelain coated grates are fantastic for heat retention and distribution, so any smoker that features these have my attention right away. It doesn't hurt that they're easy to clean too.
It also has an ash pan for easily removing charcoal as part of your clean-up. Charcoal grills and smokers are renown for being tedious to tidy up, so any contraption that can help ease this process is always welcome.
It offers 800 square inches of total cooking space, although only 438 of this is in the main chamber. The rest is shared among its side box and swing-away rack. Compared to other similar smokers this is quite small.
While the charcoal grill and smoker combination is great, I can't help but get the feeling that if this were just a pure out-and-out offset smoker than Royal Gourmet would have offered up a lot more cooking space. However this really is the only obvious flaw in what is otherwise a superb offset smoker.
Royal Gourmet CC1830F-C
Easy assembly, a total of 823 sq. in. cooking surface includes 443 sq. in. porcelain-enameled...
Seamless connection between side smoker and main chamber help to heat up quickly and keep...
2-level height-adjustable charcoal pan creates better heat control; Removable charcoal pan...
---
What is an offset smoker?
With terms like electric, vertical, and pellet smoker being thrown around, it can difficult to cut through the noise and know exactly what you're getting.
Simply put, an offset smoker is comprised of a firebox that's attached to the end of the cooker chamber. This means that instead of the coals cooking in the same chamber as your meat, it's instead offset to the side.
Hence… Offset smoker.
This is much more than just a gimmick however, and has some practical logic behind it.
By placing the coals offset and using airflow to pull the heat through the chamber, a much more even and consistent cooking temperature is guaranteed.
This makes much easier to control smoking temperatures, and helps to reduce unwanted flare-ups.
Charcoal offset smoker with firebox attached to the side of the cooking chamber
Features to look out for
Getting a BBQ smoker is a big investment, and if you don't know what you're looking for you could well end up with a poorly built heap of junk.
Save yourself the trouble of needing to return it with these top tips.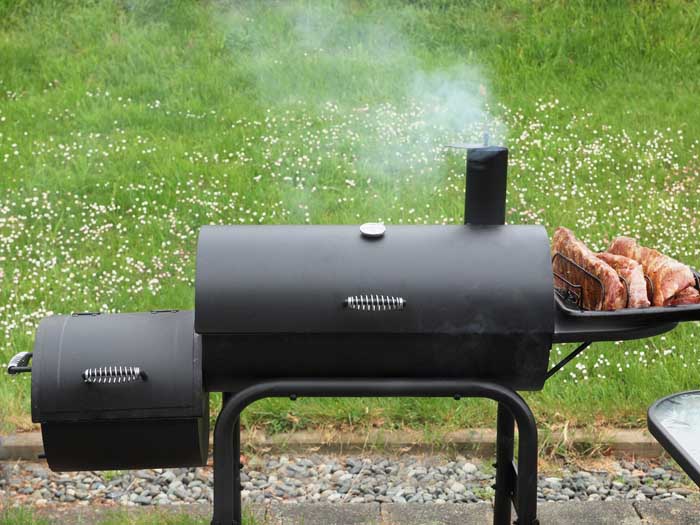 Construction quality
Heat retention is fundamental when it comes to BBQ smokers. The low and slow cooking that makes the foundations of BBQ smoking require constant and steady temperatures, which are impossible to achieve if your smoker isn't well insulated against the influences of wind and air leaks.
A lot of cheaper models are made of thin, cheap metal. These don't only transfer heat well but they practically haemorrhage warm air, which can only mean one thing: Aggressive heat fluctuations that will ruin your cooking.
Good construction is also important because you need to be sure that if you're laying out cash for a smoker that it is built to last. It's not necessarily a sliding scale that coincides with price: there are some great budget smokers, and also some poor quality expensive ones that are a huge waste of money. So to make sure you get the most bang for your buck, make build quality your primary concern and cost second.
Good air ventilation
The key to good temperature control is mastering the use of your smoker's air vents. Doing this will allow you to control the flow of oxygen into and out of your offset smoker.
Oxygen is the key ingredient to getting a good fire going, so it stands to reason that learning how to increase and decrease oxygen flow is important.
Air vents are often also called dampers, and are usually supplied with one positioned towards the bottom of your smoker chamber, with the other positioned near the top.
These vents work with the bottom vent, called the intake damper, supplying air into the cooking chamber, with it then existing through the top, called the exhaust damper.
Getting these adjustable dampers right is what will make or break the success of your BBQ smoking. Make sure that your unit you choose has easy to use vents that are noted for their good impact on airflow.
If a smoker's dampers or vents are too small or difficult to adjust then you won't be able to control your temperature effectively.
Firebox position and airflow
In the case of offset smokers, it's also important that the airflow between the firebox and smoking chamber is good.
Heat rises, so if your firebox is position at the same height or higher than the chamber, then the heat won't flow or distribute efficiently through your offset smoker.
Look out for a firebox that's positioned slightly lower than the main smoker for the best heat dispersion and distribution.
Built-In Thermometer
Getting to grips with temperature is important, so anything included that can help with monitoring smoking temperatures is welcome.
Monitoring internal meat temperature is the final gauge of when meat is done, but being able to track the heat levels inside your smoker is crucial to help you get a good cooking temperature.
Look out for an offset smoker with a reliable, well-calibrated, built-in temperature gauge. These will help you achieve the solid low and slow cooking temperature that we want when barbecue smoking.
Wheels
While not integral to the performance of the offset smoker itself, a good set of wheels help you break it in and out of storage.
The elements can work against you sometimes, so even if you aim to keep your smoker on your patio or lawn, you will need to move it out of the path of the wind or rain from time to time.
Don't underestimate the power of a good set of rollers!
How big should an offset smoker be?
Now I'm not going to say that bigger always equals better, but when it comes to outdoor grilling we don't like to do things by halves.
What size you go for will largely be determined by how much food you intend on cooking at once. However one important thing to consider: The larger your smoker chamber, the longer it will take to heat up.
Not only this but tweaking the heat levels in the smoker to achieve the temperatures you need will be more challenging as it will take a bit longer to notice the impact of your changes.
How to season your new smoker
No, we don't mean the meat. Though this isn't a consideration for buying, seasoning a smoker is still something first-timers might overlook.
Seasoning is a step we take to ensure that our smoker is as well protected as possible against the long term effects of smoke exposure and rust.
On top of this, it helps to burn off contaminants or dirt left from manufacturing. Furthermore, it will help your smoked food retain its quality.
Even the best smokers need to be seasoned before their first use, so it's absolutely crucial that you do the same with yours.
Take a look at our guide on how to season an offset smoker for a full guide on how to take good care of your new unit.
FAQ
Last update on 2023-10-01 / Affiliate links / Images from Amazon Product Advertising API