Brinkmann's barbecue smokers have been able to provide affordable backyard cooking to BBQ addicts for years. So how does this offset smoker compare to its peers? Find out everything you need to know with our Brinkmann Smoke'N Pit review.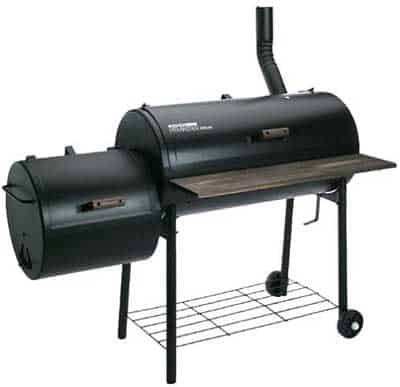 Quick Review
Inconsistent heat retention and usability make the Brinkmann Smoke'N Pit a difficult smoker to get to grips with. For serious barbecue fans who barbecue smoke regularly, there are better offset smokers out there today.
★★☆☆☆
The Brinkmann Smoke'N Pit is an old-fashioned barbecue offset smoker that needs great care to last longer. Versatility best describes the grill as it can smoke, grill, and cook food. It comes with many accessories that help you keep your food warm and all the needed ingredients and equipment readily available.
Convenience and consistency keep the grill working. You do not have to experience soot as it is directly led into the food chamber and out the smokestack. A more detailed review is what is right below.
Gauge
The gauge is not that user-friendly because it does not have readings. There is a compromise of precision. The gauge can be best described as an inaccurate bi-metal thermometer. Although the gauge is not that accurate, the ventilation system gives you more control over airflow. You can easily have that accuracy in heat regulation. It comes with highly adjustable vents; hence the heat produced is up to you.
Firebox
The large firebox allows you to control the air that comes to the firebox and the air that leaves the firebox. What makes it possible is the vent that comes with the firebox. The big firebox gives you the chance to set up a fire that will last you for more hours. You are saved from lighting more coals regularly.
Large wheels
Because the Brinkmann Smoker is bigger and more horizontal, the wheels that come with the grill are decent enough. The grill is ideal for use in the backyard. The wheels have to be all-terrain wheels that can be easily moved on any type of surface. The wheels are big enough to withstand the weight of the grill.
Additional features
Porcelain-coated wire cooking grates.
Bottom storage shelf
A small door on the side of the firebox to remove the ash.
Construction
It is well built as it gives you a solid feeling. It is better if you locate it in your backyard as it tends to occupy more space. You also need room to work on. It has a firebox made so that it does not lose heat as you get to the fire. The big door allows you to have access to the food without getting burnt.
The large door has a single layer design that makes it convenient for you to quickly access your food. The fact that the grill is made up of heavy –gauge steel guarantees you a long-lasting, durable grill. It has tube-like legs and a welded body that makes it more robust than a standard grill. It comes with a rust-resistant finish. It can withstand rains without being affected.
Size
It is a horizontal charcoal smoker and grill with a lot of space for more meat or food to grill. The firebox is also big enough to support the grill. The food chamber has a capacity of 100 pounds of food, and the firebox can carry a volume of 10 pounds of fuel. You do not have to refuel regularly.
Materials
The two wheels are made up of rubber feet. However, after 2 to 3 years, they allow rust to attack the stubs. The rubber feet tend to fall out. The grill is made up of heavy steel construction that is quite durable. You only have to be careful about how you take care of the grill. You need to keep it covered and clean, otherwise, it will not withstand the rain. The lids of both chambers have sturdy hinges. You are guaranteed long-lasting intact hinges.
Usability
Not only is it for domestic use but also large gatherings. It has highly adjustable air vents. You have more control over the airflow in the firebox. It comes with a warming tray that keeps your food hot. This is ideal for food that you will be cooking in batches. You will not have your food cold if you are to cook separate dishes.
There is no need for an extra table since the grill comes with a large wooden tray right at the smoker's front that you can use as a table. You can have all your works on the table as well as some of your equipment and ingredients.
You have to be more careful when you are dealing with this type of grill. Chances are very high that your meat will be filled with soot if you use fresh wood. I recommend that you use either commercial charcoal or coal from burnt wood. Small chips of wood give you the smoke you need for your smoky meat.
The fact that it has compartments tells you that you have to make sure that your meat should stay away from the openings. Chances are very low that your food will burn.
Another possible way to avoid soot is to keep the exhaust valve wide open. The grill comes with adjustable grates that are very easy to clean. There are also wooden handles that will not burn you when you are using the grill.
They are resistant to heat. A recipe book comes with the grill, just if you have little knowledge of smoking food. The metal rack gives stability to the grill and a place to keep your wood and briquettes. It is not very easy to assemble, but you can manage.
Versatility
The fact that you can either smoke or grill your food makes the grill versatile. You do not have just one option when it comes to the chamber. When you are grilling, you can choose to use the large or the small chamber.
What determines the size of the chamber is the quantity of the food you are grilling. The more people you have, the bigger the chamber you need to use. Both sections are easy to use as they give you easy access to the food.
Pros
Large space for grilling
Solid Steel construction
Great ventilation
Controllable heat
Firebox vent
Smokestack damper
Heat-resistant handles
Flexible lid hinges
Great wheels
Cons
Lack of consistency in temperature
Legs are of low quality.
Final Verdict
Inconsistent heat retention and usability make the Brinkmann Smoke'N Pit a difficult smoker to get to grips with. For serious barbecue fans who barbecue smoke regularly, there are better offset smokers out there today.
★★☆☆☆
Last update on 2023-11-30 / Affiliate links / Images from Amazon Product Advertising API