Ready to cook up a storm during tailgating season? Here are 17 awesome gift ideas for the tailgate fan in your life.
Tailgating is much more than just a pre-game ritual. It's a chance to bring the best of outdoor grilling and barbecue to the masses in stadium parking lots across the country. And for fans of this all-American pastime, having the right gear can make all the difference.
From portable charcoal grills to insulated coolers, and electric smokers to beer mitts, these are the best tailgating gifts for the football fan in your life.
Need more inspiration? Check out our guide to the best grilling gift ideas this year.
A Portable Charcoal Grill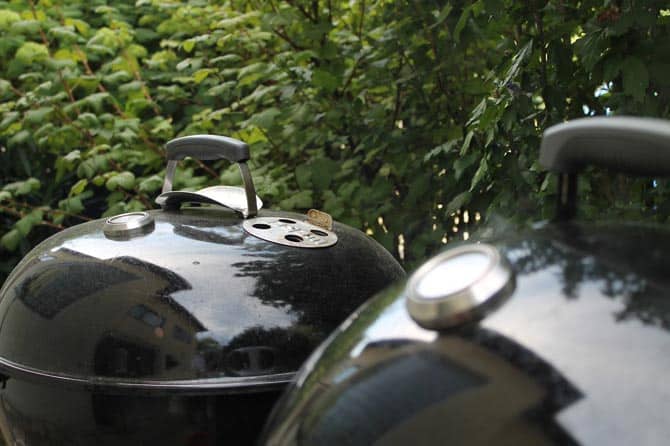 Where else would we start?
A good tailgating grill doesn't have to be big, but it does have to be portable and reliable.
The Weber Kettle is one of the best tailgating grills out there. Its easy to break out and easy to put away.
The Perfect Tailgate Apron
No more arguments over who's in charge. A good apron is ultimate proof of who's running the show.
Personalized aprons are a great idea, and this one has plenty of pocket space included so you can sneak in a beer or five.
BBQ Tool Set
With a whole range of different grilling or smoking techniques and tricks at your disposal, it's common to suddenly realize you don't have the right gear to hand. There's nothing as frustrating as this when you're out on the road or tailgating.
Remove the hassle with a good set of BBQ tools. Spatulas, tongs, knives, magnetic knife holders, and more. Everything you could need.
Digital Electric Smoker
If you really want to set yourself apart, then getting a smoker is the way to go. Leave grilled burgers to the novices, and blow away the competition with smoked briskets, pork butts, and chickens.
An electric smoker is easy to use and gets the job done quickly and trouble-free. They're great for any kind of party, but will be sure to make the tailgate your own when you start churning out smoked meat.
Cooler-Meets-Folding Table (with Cup Holders)
This fold-up table has everything. Cooler? Check. Chip bowl? Check. Beer holders? Oh yes.
Foldable tables are great for keeping everything compact, and this does that and then some. Just be sure to grab your cup holder before someone beats you to it.
This Cooler Beer Belt
For those who like to get more beer under their belt. Literally.
Not only do these belts keep a constant supply of beer at your disposal, but they're built with cooling material so they taste as fresh as they would out of the fridge.
Football-Themed Cups
Cups run out pretty quickly, so if you're going to stock up then why not go all out? These football themed cups are different to the run-of-the-mill red or blue fare, and I like to think that the stitching marks make drinking games a bit easier…
Football Field Tablecloth
Continuing with the football themed setup, this tablecloth is a great addition to the grill party.
This pack comes with 4 bold-colored cloths, and measure at about 78 inches in length. So there's plenty to go around.
The Beer Mitt
OK, so there might be a beer theme developing here.
For all the talk of coolers, and belt beer ice packs, this is a great joke gift to get under the skin of your fellow tailgaters.
Armed with subtle heating pads, this devious beer mitt will warm up the victim's cold one in no time.
NFL Snack Helmet
I once tried to develop the idea of a chip bowl helmet to put on my son, and this isn't a million miles away from that.
With a chip bowl on top, and a tray for nuts nested in the face guard, this thing offers a whole lot of snack space.
It comes in a choice of colors, and can even be bought with your team's badge printed on (you know, just to make sure you don't upset anyone).
A Good Ol' Football Koozie
This football-shaped can hugger is an attention grabber for sure, and is a great gift for your fellow sports fanatic.
Electric Cooler with Dual AC
For all the fun gifts, sometimes you just need something practical and no-frills.
Every tailgate needs a cooler, and this one does the job better than your regular, boring box at home.
It's big, it has a powerful electric fan. What more do you want?
Foldable Leak-Proof Wine Bag
If beer isn't your thing but you don't want the pain of trudging around endless wine bottles then look no further. These leak-proof bags are up to the job.
They each hold a full bottle of wine's worth of liquid, and easily to clean and reusable. They save space, they're lightweight, and they let you have wine. That's my dream gift right there.
Game Day Kickasserole Dish
Casserole might not be everyone's go-to for tailgating, but if you're going to do it then you need to do it right.
A Portable Fan
Forgetting the food for one second (just one second, I promise), never underestimate the importance of a good electric fan. Especially important if you're working away over the grill or smoker for a few solid hours.
Have a good fan or two on the go all day, and you'll stay safe. More importantly, it'll help save you energy reserves for when the real fun starts: Beer.
If you want something more effective, then take a look at our guide to outdoor misting fans.
Football Cutting Board
Alright, it might not be the most practical of cutting boards, but if anything is going to do the job at a tailgate then it's this one.
There's something about the stitching print that seems to lend itself so well to cooking. Measure meat slices? Easy. Mark out beer pong formations? Done. Keep track of how much you've had to drink? Sort of..?
S'mores Maker
Are you even cooking outdoors if you don't throw in some s'mores at the end?
These s'mores cages make everything easier, and help you to batch cook in seconds. The perfect way to become a hero if you've been assigned babysitting duties. Or heck, if you just love s'mores. We don't judge.