The Weber Q2200 is as simple as portable propane grills come. It's a compact and stripped-back grill that's ideal for taking on the road for tailgating or camping. Find out everything you need to know with our outdoor grill review.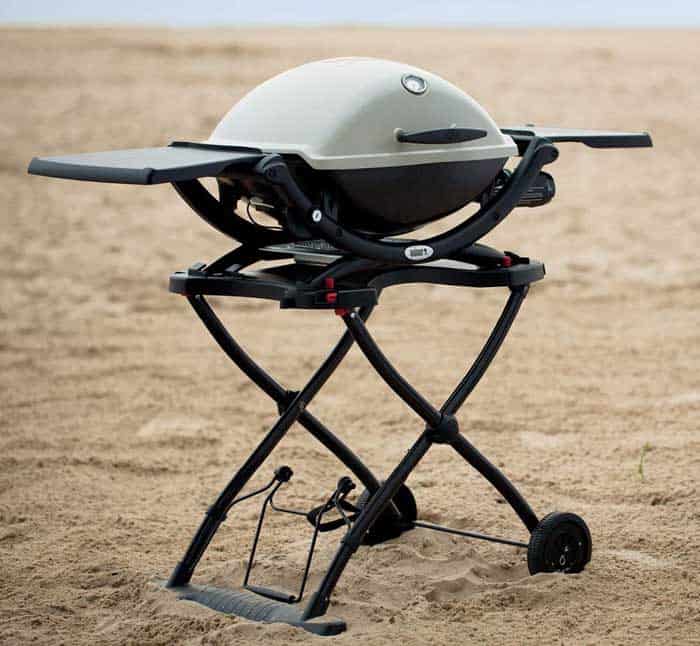 Weber's Q series of portable gas grills has continued to serve BBQ lovers who want to take their grilling on the road. While portability is one thing, most of us expect more from our grills. We have had the pleasure of researching and trying out the Q2200. Let's take a look at what it has to offer.
Quick Review
The Weber Q2200 provides a stripped-down portable propane grill that's perfect for no-fuss grilling while out on the road. Its weight does call its easy portability into question, but once it's up and running it performs as well as any of its gas-fulled peers.
★★★☆☆
Main Features
Compact with large grilling space
One of the features that make the Q2200 a good buy is that it is compact and can pack it up and go on the road with it. But don't be fooled by the term compact. It has a large cooking space considering its size. It has 280 square inches of cooking space, which is fair for a portable grill.
The Q2200 is larger than previous iterations of the Q series, so despite its compact size, it's heavy and might need two people to carry it. For easy transportation, you may choose to remove the different parts such as the grates. Removing these will help lighten the load, but you may still need help shifting it.
Foldable tables
With space at a premium, it's a relief that the grill comes with folding tables on either side. This extra space comes in handy on the road, giving you more room to work with. It can't be understated what a welcome feature this is when camping or tailgating, allowing you to squeeze every inch of cooking space.
Powerful burner
This cooker has a 12,000 BTU tubular stainless steel burner, shaped like a "D". This generates more than enough heat to cook your meals effectively.
Large hood
It has a large hood to give you more space to work with. The hood is significantly larger than previous versions, such as is found on the weber Q1200. With this model, you can make food for more than four people at a time. While it is not the biggest grill, it will suffice for small gatherings.
Thermometer
It has a built-in lid thermometer mounted on the hood, which helps you know what temperature the food is cooking. It helps you get a better result.
Propane gas
This grill is powered by gas, which means that you can use it just about anywhere. It comes with the necessary connectors and also heats up quickly. This is one of the things that makes this grill a good buy.
Construction
It has porcelain-enameled cooking grates, which help make them non-stick. It has a stainless steel burner which is durable and can hold its own as you cook. The burner is a D-Shaped burner placed inside, and this is where you get the heat that cooks your food. It has a cast aluminum heavy lid and will need you to clean it without scratching the surface carefully.
The side tables only take up extra space when they are unfolded. Both the body and then lid are sturdy and durable. The lid has a dome shape, allowing you to cook larger food pieces such as a whole bird. The materials used to make this grill are durable and long-lasting. You should be able to use this grill for a long time to come.
The downside with the side tables is that they are made of plastic and may not be as durable as the rest of the grill.
Usability
It uses an electronic push-button ignition button for easy startup, allowing it to warm up to high grilling temperatures in just a few minutes. The cooking grates are made of porcelain, and they are non-stick. This makes it easy to clean when the time comes. This cooker is also great for cooking food evenly. This is an advantage that you may not find with other traditional outdoor grills. It also has a built-in thermometer, but I would always recommend getting your own grill thermometer.
When you use it, it is important to make sure that you don't open and close it too often. This is how you lose heat. All things being equal, this grill can easily reach 550°F. The thermometer is placed on top of the lid, so it's easy to read. The electric ignition button is easy to access, making this grill even easier to use.
Other highlights
In addition to the features that we have highlighted, the Weber Q2200 has several other features going for it. It has a removable catch pan, also known as a drip tray. It easily slides out and is therefore easy to clean. You can also save yourself the trouble by putting a disposable foil covering. That way, whatever grease drips into the tray is mostly collected in the foil, which you can throw away.
It also has a split grill grate. The split grill grate lets you replace one, perhaps with a grill pan. One of the things that you may like is the fact that it is non-corrosive. You can leave it outside and not have to worry about it rusting.
Also, this grill comes with a cart for you to place the grill on for easy usage. This keeps it at a comfortable height for you to grill nicely. The portable cart makes it easy to move the grill from one point to another, even when you are cooking.
Final Verdict
This is a good buy if you are looking for a portable grill. Its assembled depth is 25 inches whilst its assembled width being 54 inches. You will need to know how to assemble it, though, which may be hard if you have no clue where to start. Whilst it may be a compact grill, it can comfortably fit about 14 burgers.
We like that it is an affordable unit that can easily feed a small family. Also, the fact that it is compact and that you can easily move around with it. Ultimately, the grill you end up buying depends on your personal preference. We think it is a good buy and hope that this guide helps you make an informed decision.
Weber Q2200
Total cooking area = 280 Square Inches
Stainless steel burner puts out 12,000 BTU-per-hour
Porcelain-enameled, cast iron cooking grates
Last update on 2023-10-02 / Affiliate links / Images from Amazon Product Advertising API