Barbecue grills fuelled by natural gas are a great way to save time and money, all while allowing you to plant a grilling machine in your backyard permanently. Here are 11 of the very best natural gas grills.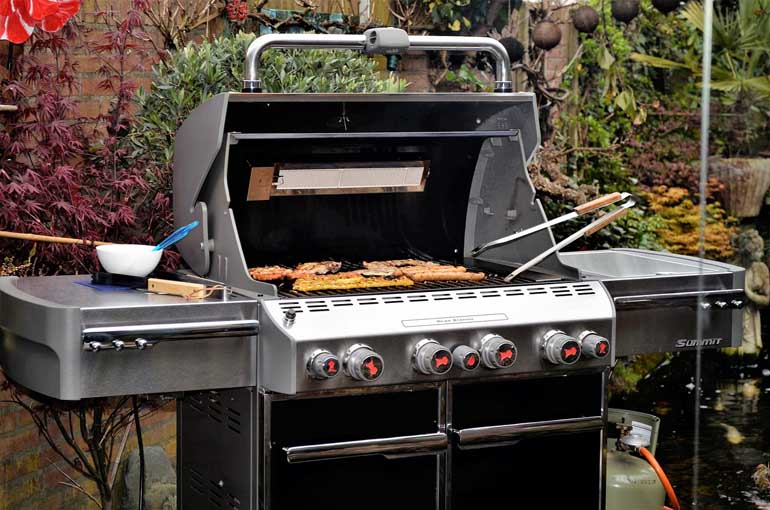 If you're lucky enough to have gas hookups at home then you're in prime position to set up a natural gas grill. Where the big drawback with propane models is that you need to replace the tanks regularly, with natural grills you quite literally have your fuel source on tap.
These cost-effective grills boast cleaner burning within their robust builds, while the very best reliable grilling temperatures and large cooking areas to feed a crowd. But with the vast array of options available, the choices can be dizzying. From grills boasting multiple burners and high BTU outputs to those with added features like sear stations or warming racks, there's a lot to consider before choosing your next backyard cooker.
We're here to help. Discover everything you need to know about the best natural gas grills to help you find your new favorite BBQ cooker today.
Napoleon Grills LEX485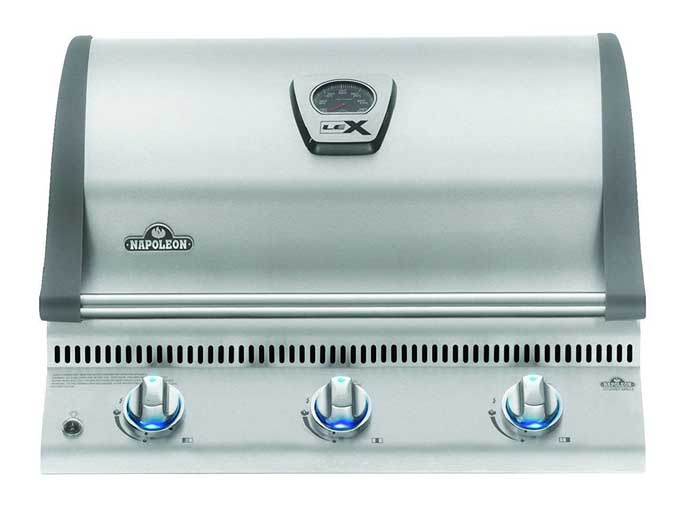 I don't think I've ever made any secret of my love for Napoleon Grills' LEX485. In short, when it comes to gas, this is the pretty much the pinnacle of grills.
Napoleon is just one of our favourite manufacturers offering a selection of fashions in a range of price points.
The price just can't be beaten for the quality. With 74,000 BTU's and 6 burners this grill is a beast. Combined with a natural gas source and you will be cooking massive amounts of steaks, ribs and burgers.
So what power and size do we get from Napoleon? The LEX485 comes with 74,000 BTUs of power spread over its 6 stainless steel burners.
It packs 805 square inches of cooking space. This is huge. More than enough to get going with 24 hamburger patties, or several large steaks. Whichever you choose, it'll more than feed the horde of incoming family members you'll have descending on your home.
Stainless steel cooking grids are made to optimize your cooking temperature and does a great job of spreading heat evenly over the surface of the cooking space. In short, no flare-ups. No cold spots. Just even, consistent cooking temperatures.
It also features Napoleon's signature ignition system for quick and easy startup. A simple push of a button and you're away.
Not only that, but it has a stainless steel sear plate, perfect for grilling steaks. It even has a fitted ice box for storing a few beers or soft drinks while you're at the helm.
Napoleon LEX485PSS-1 LEX485PSS1 Propane Gas Grill,...
The LEX 485 Gas Grill features 4 burners, 48, 000 total BTU's, and 675 square inches of total...
Precise heat control allows barbecuers to grill and roast at lower temperatures or turn up the...
Ignite the LEX Gas Barbecue Grill instantly with the battery free ignition. This failsafe...
Lion Premium Grills L75623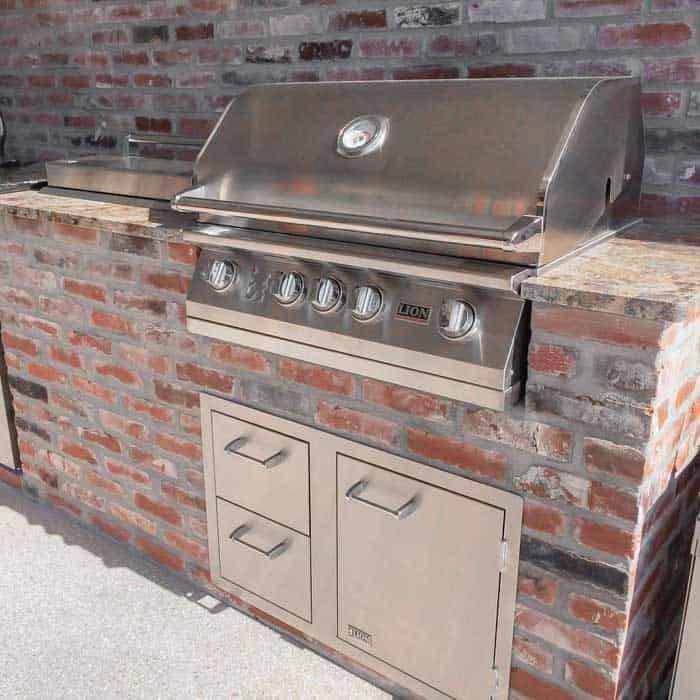 The Lion is a behemoth of a grill, and one of the kings of the gas class. With that does come a large price tag, but for me it's more than worth the investment.
Let me tell you why.
Its build is incredible. It's made with elite-level grate steel, which is pretty much as strong and sturdy as it gets. To put it bluntly, you simply won't find another grill that can match this one in terms of durability. You are not likely to discover a grill which may outlast this one and tear.
Read our full Lion Premium Grills L75623 review
In terms of power and size, it has 5 stainless steel burners over a huge cooking space of 802 square inches. Underneath its cooking grates lies 75,000 BTUs of cooking power. Not only that, but it has an added rotisserie burner that boasts 15,000 BTUs of its own.
This thing packs in power across every inch of its surface.
It has fast light valves to help ensure a quick and easy start, all at the push of a button.
Lion also provides you a double-layer, seamlessly welded stainless steel grill head for optimum durability, as well as 4 cast iron burners, durable stainless steel cooking grates along with an additional large temperature gauge mounted on front and center.
It doesn't just stop there though. It has a rotisserie smoker box, as well as an added built-in griddle pan. So whether you want added smoker options or to pan sear your food, it's all covered with this grill.
Weber Summit S-470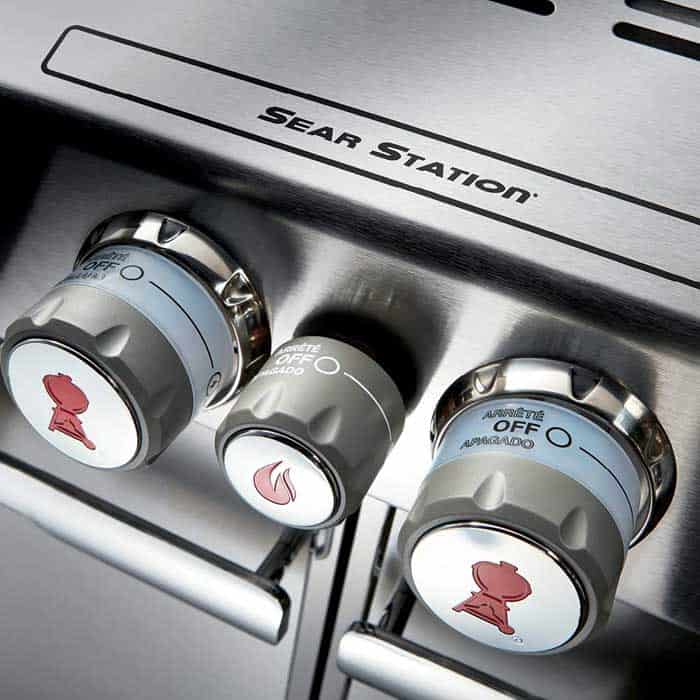 It would not be a Best of… grill list without a Weber appearing somewhere on it. They have proven to produce fantastic charcoal and propane grills, and here they demonstrate their skill and craft with a natural gas option in the form of the beautiful Summit S-470.
It doesn't just stop at aesthetics though. This is more than a solid performer.
It offers a total of 48,800 BTUs power across its 4 burners, which are housed under the grill's 580 square-inch grill grates. At its side it has a 110-square inch warming rack, offering you even more room to work with.
It has an instant ignition button for quick and easy starts, and a great deal of additional burners like a sear channel burner, side burner, smoker burner plus a rear-mounted rotisserie burner.
This really is a luxury grill which is more of a glistening kitchen on wheels.
Weber Spirit II 310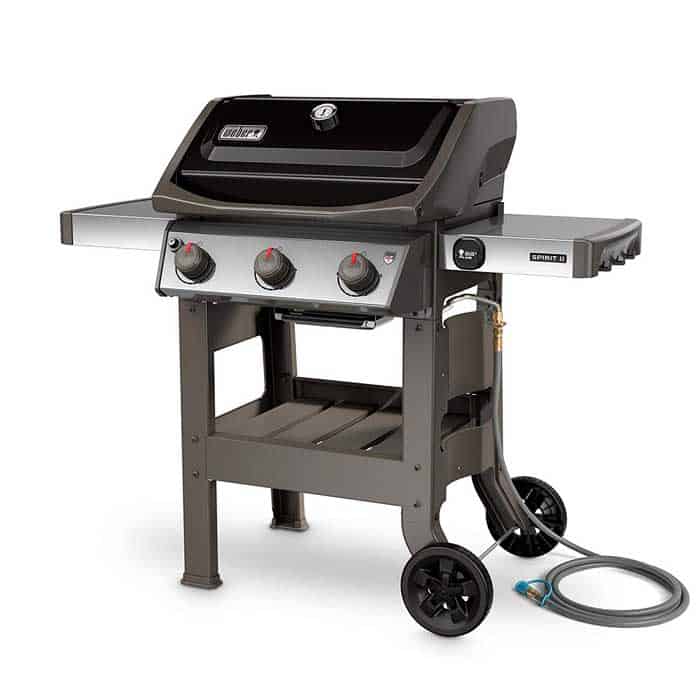 Another grill, another Weber. But this more than justifies its place on this list.
What Weber have always done really well is pack in a lot of power into a compact size, and the Spirit II 310 is no different.
This grill is an update on the original Spirit 310, and adds even more power, higher cooking temperatures, and a third burner to the mix.
None of this comes at the cost of what made the original 310 so good in the first place, and this grill manages to take what some the best of some of the BBQ world's biggest natural gas grills have, and condense it into a more modestly sized, affordable grill.
It has 30,000 BTUs, making it slightly weaker than the Summit, but is almost as powerful on a burner-by-burner basis.
These burners sit under grill grates that provide 529 square inches of cooking space. This is a generous amount of space, so if you're grilling at home you won't be fighting for room.
This grill also has Weber's brand new GS4 grilling system, aimed to provide an improved ignition system, better burners, flavorizer bars, and a grease management system (source).
The more sceptical among us would be forgiven for thinking that this is little more than a marketing ploy, but they mark a fantastic step forward for the Weber brand.
The flavorizer bars are built to minimize flare-ups and evaporate fatty run-off, while their burners are built to stand up to the most robust grilling session. This thing is built to last.
The combination of the bars and burners ensure that this is one of Weber's smoothest grills yet, providing almost faultless even grilling across its cooking surface. No cold spots, no flare-ups. This is impressive for a gas grill, and I'm happy to see Weber at the forefront of improving the gas grilling world.
Its ignition system will have you up and running and ready to cook within about 10 minutes.
Weber Genesis E-335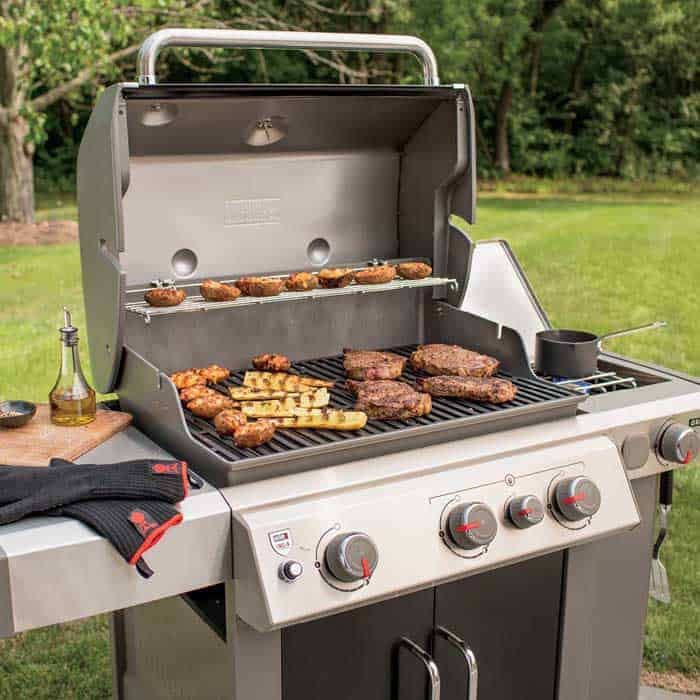 In truth, almost any grill from Weber's Genesis range would serve you well. They all pack in fantastic power under a large grill area, and are easy to get to grips with.
But for our pick we've gone for the Genesis E-335. It's a great mid-range alternative that offers 39,000 BTUs of power across its 3 main burners. It also has a sear burner, and an extra infrared burner for warming up sauces and marinades.
It also has the WS4 grease management system for reducing flare-ups, and its Infinity ignition system for quick and reliable startup.
Broil King Regal S590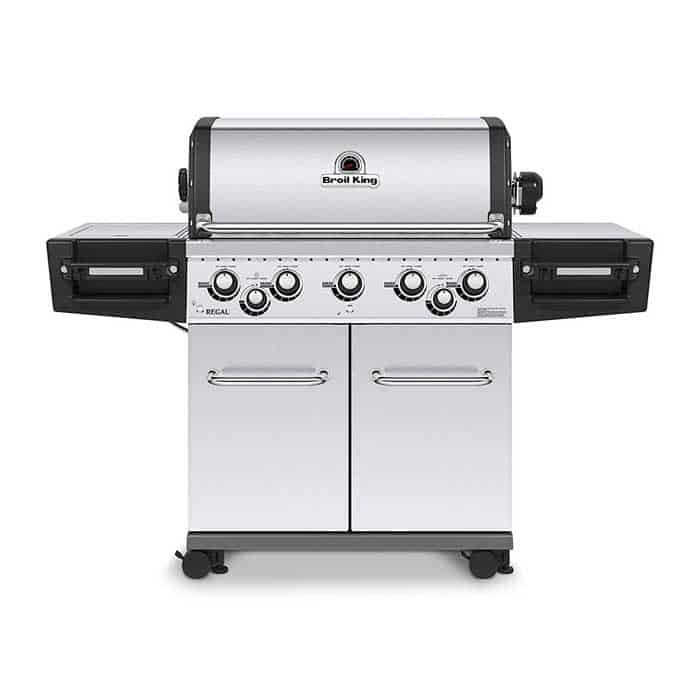 'Regal' is quite a statement name, but rather than just being a bit of marketing hubris, Broil King have made a grill that certainly has an air of royalty about it.
There's no getting around the fact that this is a big grill, and will be sure to take up a good amount of space at home. But very few get into the natural gas game only to use something diminutive, so if you're after something with more heft then this could be the right grill for you.
It has an enormous cooking area of 625 square inches, and also offers a warming rack area.
Not to be bettered by Weber's WS4 system, Broil King has its Flav-R-Wave system that also ensures consistent and even heat distribution, as well as an instant digital ignition feature. It also has what Broil King call its Linear-Flow temperature control system, which is designed to offer accurate temperature control.
Napoleon Prestige
I've written before about the Napoleon Prestige as part of my rundown of the best built-in gas grills, so I'm delighted to be able to include it here too.
The Napoleon Prestige comes with 4 burners, a side burner, and an infrared burner, all packed in under a huge cooking space.
But let's cut to the chase and discuss the real star of the show: The power.
The Prestige offers an incredible 99,000 BTUs of power across its 8 stainless steel burners, making it the most powerful grill on this list. While power can sometimes be a bit of a vanity metric, what it does ensure here is excellent cooking flexibility and quick start-up.
Not only that, but with a cooking space area of 1140 square inches it is a monster of a grill.
Napoleon's signature WAVE grills are one of the industry's best at providing even heat distribution while also reducing flare-ups or fatty run-off from getting into the system.
It also has a fast and effortless ignition system, as well as a heavy-duty rotisserie kit, and a simple grease management system.
What really makes it stand out is its robustness. Sure, this is to be expected from a built-in grill, but its steel exterior ensures fantastic durability and heat retention.
Weber Q3200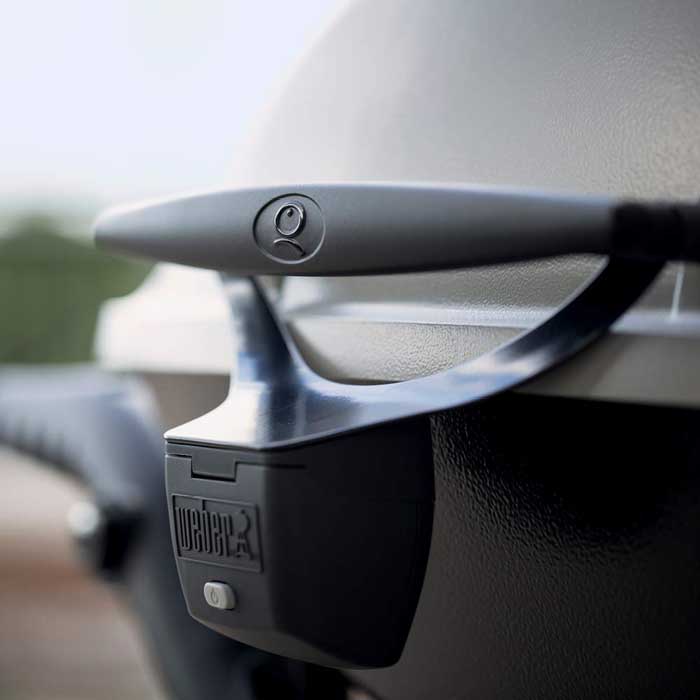 The Q3200 sits firmly at the other end of the scale to the Napoleon, and offers a much welcome option for users wanting a natural gas option that can fit into small space.
If you want a grilling monster for the backyard then this isn't the one for you, but if space at yours is at a premium then you could do a lot worse than the Q3200.
Despite its diminutive size, it still offers an impressive 21,700 BTUs of power, under a fair 462 square inches of grill space.
It does only have 2 burners, but this is more than up to the job of grilling, and can even allow you to make the most of cooking techniques like indirect grilling.
Its grates are porcelain-enamel, which help to ensure near-perfect heat distribution and retention.
Don't be fooled by its size or price. This is a great budget natural gas grill.
Weber Summit S-670
The Summit S-670 is a gorgeous grill, and definitely one of the best Webers out there at the moment.
It has 693 square inches of total cooking space, with an impressive 60,000 BTUs of total power over 6 main burners.
It boasts Weber's signature Snap-Jet ignition system for fast starts, a great deal of additional burners like a sear channel burner, side burner, smoker burner, plus a rear-mounted rotisserie burner.
It also has stainless steel cooking grates and Weber's famous Flavorizer bars for flare-up reduction and even cooking.
Napoleon LEX 605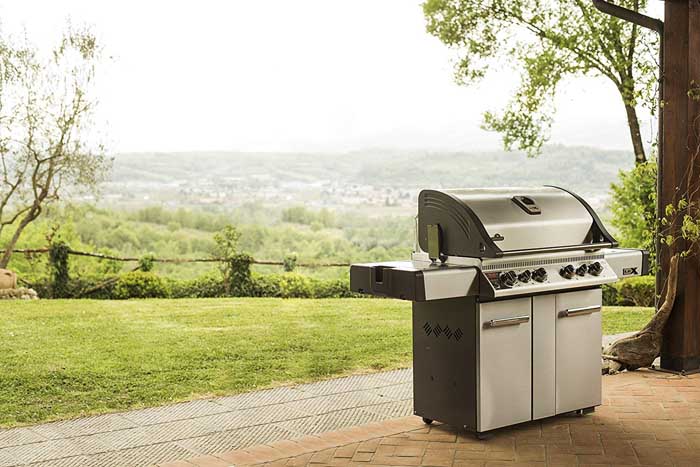 The Napoloen LEX 605 might be the best choice for you if you want to get plenty of cooking space. It offers 850 square inches of grate are for you to work with, allowing you to cook large batches of food for big parties.
It offers excellent heat coverage across its 6 infrared burners, meaning no part of its cooking area is left untouched. Its wave-pattern grates are designed to offer better coverage, and its infrared setup helps to use heat more efficiently than traditional propane grills.
Even grilling, no flare-ups. This is pretty much as good as natural gas grilling gets.
The 6 burners also gives you flexibility, allowing you to set up for multi-zone cooking, while the side burners and warming racks are controlled independently.
A powerful and beautifully designed unit that provides one of the best natural propane grilling experiences. If your budget allows for it.
NAPOLEON LEX 605
An expensive but powerful grill that offers 850 square inches of cooking area, 90,500 BTUs of grill power over 6 infrared burners in its beautiful design.
​
Weber Genesis II S-435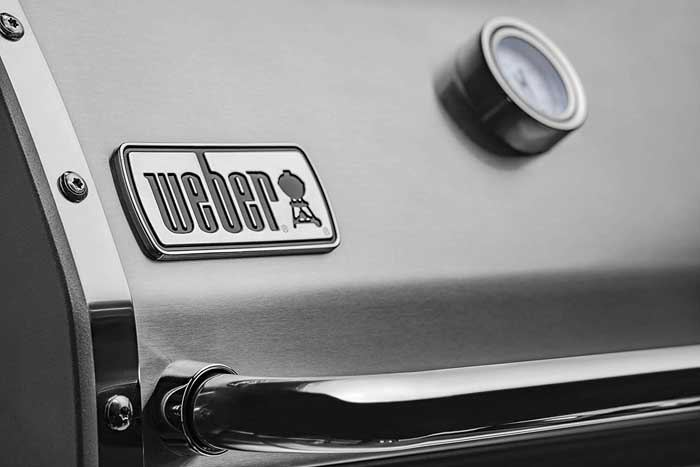 As with a lot of their grills, the Weber Genesis II S-435 is a budget-friendly entry to powerful propane grilling. There are compromises it makes in terms of grilling power and fuel efficiency, however it offers enough features to provide a fantastic cooking experience.
Central to its excellent performance is it flavorizer bars, which have been a Weber mainstay in their propane models since the 1980s. They're designed to catch and repurpose run-off to help enhance your food, while simultaneously reducing smoke and flare-ups across the BBQ surface.
It has a side searing station, which is always a mark of a solid propane unit, as well as a 198-square-inch warming rack. This helps to provide a well-rounded grill experience across its generous total cooking space.
As with all of Weber's recent propane additions, the S-435 is compatible with the Weber iGrill 3 app. This is a thermometer system that allows for much better temperature readings across the Weber range. My grievance here is that the hardware for the app isn't provided with the grill, but will need a separate added purchase.
All in all, a large and affordable grill that carries many of the usual positives we often see with Weber grills. It isn't as powerful or fuel-efficient as elite-level grills, but if you're operating within a budget then this will be one of the best options for you.
Weber Genesis II S-435
An affordable and easy-to-use propane grill. Its BTU output is lower than other grills on this list, but its use of flavorizer bars and iGrill 3 compatibility make it a joy to use.
---
FAQ
Got a burning question about natural gas grills? Here are my quick fire (pardon the pun) questions and answers to help you find out everything you need to know.
What are the benefits of a natural gas grill?
One of the first things buyers think about when buying a new grill is the kind of fuel they want to run on it, and how cost efficient that fuel will be in the long term future.
This is where natural gas stands out. Having your grill running of a natural gas pipe will drastically reduce costs, operating at a fraction of the cost of propane.
Not just that, but no more trips to the store whenever your tank runs out, and no more changing barrels. Once you're hooked up to a gas line you're good to go.
Natural gas also burns cleaner than propane (source). While being green might not be everyone's main concern, the reduction of fumes streaming through your backyard or patio will be significantly noticeable.
Finally, the setup for natural gas grills is simple. Once your line is in place and connected then you're all set.
There are a couple of things to keep in mind before you get excited. Being connected to a single line will mean that you can't move your grill from there, so they do lack the portability that a lot of gas grills offer. As a result, you'll need to invest in a good grill cover to ensure it's protected against the elements.
What are BTUs?
British Thermal Units (BTU) represent the maximum output a grill can produce in an hour. Each burner in a grill has a BTU number, and a grill's BTU measure is usually expressed as a total of each of its burners. So broadly speaking, the higher the BTU on a grill the more powerful it is.
Don't mistake this for better performance though. Heat retention and distribution are equally important. There's no point in having all of that power if you can't use it efficiently. Keep an eye out for grills that have strong BTUs, excellent insulation, and porcelain enameled grates. Infrared burners are a great bonus too.
What are flavorizer bars?
Many new kinds of grills have flavorizer bar, or 'flame taming systems' built in underneath the grill grates. This is much more than a gimmick though, and they actually perform a key function to help the performance of the grill.
Often built in a v-shape, the bars catch any fatty or liquid run-off from your food as it cooks, and funnel it away. This doesn't just help you keep your grill clean but more importantly helps reduce the risk of flare-ups, which can disrupt your cooking temperatures and ruin your food.
Last update on 2023-10-01 / Affiliate links / Images from Amazon Product Advertising API