Lion Premium Grills have a rich history of producing powerful propane gas grills, both as built-in cookers or portable carts. How does the L75623 compare? Find out everything you need to know with our Lion Grills review.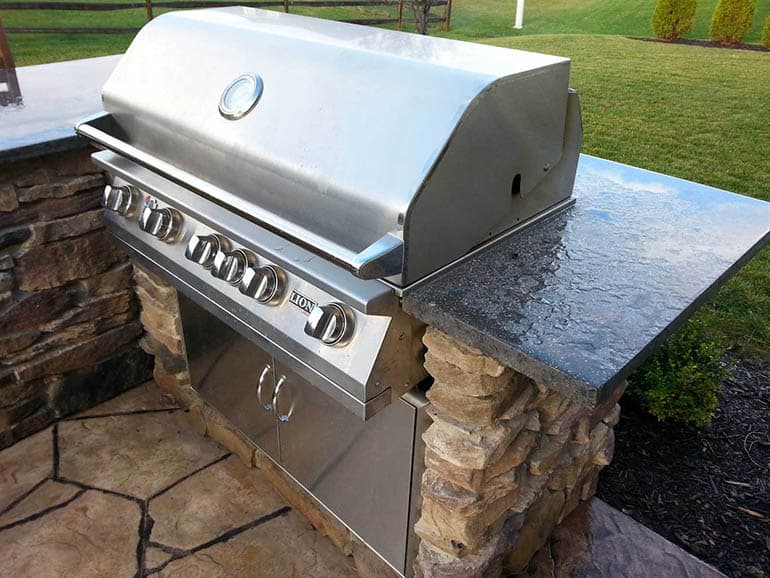 Features
Let's start our Lion Premium Grills L75623 review by discussing its awesome set of features. Enjoy 830 square inches of cooking surface with 4 cast stainless steel burners working at a total of 75000 BTUs of raw power.
This combination of power and room for cooking would surely make sure that you prepare your food fast, and efficiently. This built-in grill is meant for medium to large-sized parties as you will be able to grill a total of 40 standard-sized burgers all at the same time.
The grill also has dual interior lights that are situated inside the lid of the grill. This is beneficial when you're grilling outdoors and maybe it is dusk or dinner time. Mounted at the back end of the grill is an infrared rotisserie back burner that's burning at 15000 BTUs.
You'll also have an adjustable warming rack perfect to keep buns or other food warm while grilling. This enables you to have full control over your food while at the same time letting the grill do all the heavy lifting. You'll also have the option to use a wide array of attachments or accessories that are made by the brand itself. It is a flame ignition type of grill and comes with a Lion Gourmet package.
Construction and Material
This grill is tough and it's built for all seasons. We say that because this stainless steel grill will not only last for years but at the same time has the capability of taking on the beating of all the outdoor elements, namely, heat, cold, snow or humidity.
So matter where you live in the country, this product should right up your list when trying to decide for your next grill. This grill is made with 304 stainless steel frame and the housing and design that's perfect not only to utilize but to look at on your patio, pool parties, backyard, or wherever your family and friends decide to grill.
If you're going to choose a grill and is keen on saving money for the long run, then stainless steel is the way to go, it is more durable than say compared a porcelain type of grill but of course, those types have their advantages too. Stainless steel retains heat way better than cast iron too.
Lastly, it's got stainless steel, double-layered, and seamlessly welded smoker head with stylish polished edges.
Ease of Use and Maintenance
Using this Lion Premium Grills L75623 is not at all challenging. It's the same as any natural gas grill that we're used to. Just a few things to consider, make sure that it is in an enclosure that can accommodate its size and dimensions.
Make sure that the space above the grill is made up of incombustible materials, and lastly, observe proper ventilation for overall safety.
Also, one thing you'd appreciate with stainless steel grills especially ones with stainless steel grates is how easy it is to clean and maintain them. You can easily get rid of grease, food waste, or maybe even dirt from it while at the same time the material is rust and corrosion-resistant. The stainless drip tray is removable and is perfect for cleaning away grease rather easily.
Watch out for the stainless steel knobs and handles though as you could be prone to burning your hands and fingers.
Performance
When it comes to performance it surely is a good all-around grill. It's clean, it's efficient, and it's got enough power and space for you to grill multiple types of meat at the same time. It is perfect for the family and a gathering with friends.
It's got the standard (for Lion grills) 5 Quick Lite valves that are reliable and overall, this grill promises even grilling for the best possible flavors and taste of your food.
Value for Money
This grill is a bit pricey but saying that it is expensive also won't do the features it brings on the table justice. That's why it's better off to say that this Lion Premium Grills L75623 is a great value for your money.
For us, it's a great investment. This is perfect if you like outdoor parties a lot, or find yourself grilling maybe once or twice a week on a patio or poolside. But, if you come to think of it, its price tag is still at the medium range for natural gas grills. And you get to enjoy all of the features we just discussed above.
The brand also has full trust and confidence with their product as they cover the grill with a lifetime warranty. For us, that should be a major selling point. Kudos to the brand!
Dimensions: 31 inches W x 24 ¼ inches D (Top View) / 32 inches W x 21 ½ inches H (Front View)
Pros
Quality stainless steel material
Powerful & durable and built to last
Spacious cooking area
Easy to clean and dismantle
Cons
Heavy and huge
No side burners
No pre-cooking area
What do people say about it?
We snooped around the internet and pooled common user reviews and feedbacks about the Lion Premium Grills L75623.
And there's no doubt about it, based on a lot of the reviews this is a good quality grill. People are pleased about how easy it is to maintain and it is indeed as durable as advertised. And it cooks all sorts of food really well.
Contrary to most grills with stainless steel knobs or handles this one is relatively cool, and even when it is firing at all cylinders, burning your hands is not common. Everything dumps directly into a pull-out tray so that has made things really simple.
It is also very easy to install and dismantle, and the accessories also come in handy. The customer support team for the brand though can improve on a few things as we've seen a few complaints about them, but other than that people are satisfied with this product.
The Final Verdict
Overall, if you're looking for good quality and trusted brand in terms of grills then this should be a no-brainer. The durability and convenience that the features that come with this stainless steel grill are undeniably more than what its price is supposed to bring. Highly recommended!
Last update on 2023-12-01 / Affiliate links / Images from Amazon Product Advertising API