The Weber Genesis II E-310 is a propane gas grill from the brand that has been at the forefront of modern outdoor grilling for years. How does it compare to other mid-size propane grills? Our review takes a closer look at what the unit has to offer.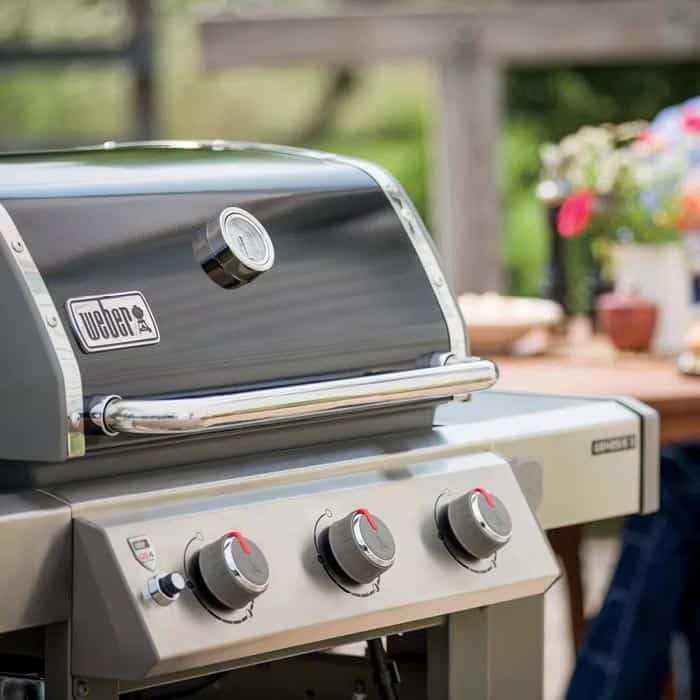 Weber's Genesis series of propane grills has provided casual barbecue fans with the ideal entry point to backyard cooking. Combining 39,000 BTUs of grilling power with 600 square inches of cooking space, there's plenty of grill to play with on the E-310.
Get right to the point with our Weber Genesis II E-310 review. We've broken down the grill's best features to let you know exactly what you need to know. Let's get into it.
WEBER GENESIS II E-310
This product is a Liquid Propane unit and you must have a liquid propane tank to be able to use...
Equipped with the GS4 high performance grilling system featuring infinity ignition,...
Porcelain-enameled, cast-iron cooking grates provide superior heat retention
Main Features
Some of the most important information you will need to get includes the grill features that you are considering. They will determine whether or not the grill is for you. Let's take at some of the main features of the Weber Genesis II E-310.
Thermometer
The lid has a built-in thermometer. This will assist you in keeping a tab on what's going on inside the grill.
Gas burners
Weber has employed a GS4 high-performance grilling system with three burners that each burn at 37 500 BTUs. These high temperatures allow you to sear your meat nicely.
The burners are made of stainless steel, which makes them easy to clean and durable. The great thing about the burners is that they are individually operated to cook in different zones with varying heat.
Side burners
This grill does not come with side burners. However, it has side tables to provide you with an extra workspace to prepare food and place utensils and anything else that you may need as you cook. They are made of stainless steel, which makes them easy to clean.
Cooking space.
This grill has a total cooking area of 637 square inches. This grill has a total cooking area of 637 square inches. This will feed a sizable number of people.
Ignition system
Lighting with match sticks can be tricky and is not full-proof. The Weber Genesis II E-310 uses a push-button electric ignition powered by AA batteries. This makes it easy to turn on and off. However, you will still need to take caution whenever you use it because it is a propane grill.
iGrill 3 Compatibility
Weber prides itself in making smart grills. The iGrill 3 is a digital thermometer connected to a mobile app, making it super easy to use if you're one to prefer connectivity and remote access to your grill. The iGrill 3 will let you check on how far your meat is. It easily mounts on the Weber Genesis II E-310 and will let you know via the mobile app on your smart device when the meat is done.
Built-in fuel gauge
It also has a propane fuel gauge so that you always know where you stand and when next you will need to fill up, rather than be a victim of the element of surprise.
Construction
The first notable thing about this grill, similar to other grills from weber, is the grill's sturdy and durable construction. When you handle it, it feels sturdy. This may be due to the heavy-duty materials used to make it. The lid and side tables are made of durable and heavy steel.
While this may affect portability, it has a good effect on how the grill handles heat and how it cooks. The grates are made of cast iron, and so is the lid. This is great, especially for heat dispersion. They are then coated in porcelain. Also, it has an enclosed cabinet where you can keep your propane tank.
Usability/Ease of Use
This grill, like most gas grills, is easy to use. To turn it on, all you need to do is push a button and start grilling—this aids in the ease of use. When you turn the ignition on, you will need to let it heat up for a bit, but this won't take too long, thanks to the meat dispersing materials that the grill is made of.
Gas grills are often favored because they are clean and easy to use. There's charcoal or wood to load and get your hands dirty with. All you will need to do is turn the gas on, ensuring all safety precautions have been taken. Then use your grill. While it is simple enough to use, a level of expertise is necessary for you to get the most out of your grill.
Genesis vs. Spirit: What's the difference
There is often confusion between the genesis and spirit grills from Weber, but there is a difference, and you should not mix up the two.
Aesthetics, the Weber Spirit E310, is smaller than the Weber Genesis E310 model.
Price. Genesis grills are more costly than the spirit model. However, the genesis has more frills, if you can call them that. It is often chosen by the type of person who cooks on a professional level or commercially and wants to get a certain stand. Therefore he/she is not afraid to spend a certain amount on the grill.
Compatibility. The Genesis E310 is compatible with smart technology.
BTUs. The Genesis burners have higher BTU output as compared to the Spirit E310.
The other difference is that the Genesis has a larger total cooking area, so it is better for larger crowds or professional cooking.
The genesis model has infinity controls, while the spirit E310 has infinity burners.
The spirit E310 has porcelain bars, while the genesis has plastic on the handle.
Cons
Some of the finishings are plastic, making it look a tad tacky.
To get the most out of this grill, you will need to have some level of expertise. It is not the best for cooks who are just starting.
You will need to buy some of the accessories and attachments separately.
Final Verdict
The Weber Genesis II E-310 is a semi-permanent grill. This means that you will need to
find a spot to place it in that you are happy with and stick with it. You will not be moving it around too often. The materials that it is made of are heavy. They do well with heat retention but not for portability issues.
It also comes with a warranty, as do all grills from Weber. This is comforting, knowing that the manufacturer backs up the construction and functionality of this propane grill. It's an impressive-looking grill with an imposing appearance. If you do mind spending the extra penny, this grill is well worth it.
WEBER GENESIS II E-310
This product is a Liquid Propane unit and you must have a liquid propane tank to be able to use...
Equipped with the GS4 high performance grilling system featuring infinity ignition,...
Porcelain-enameled, cast-iron cooking grates provide superior heat retention
Last update on 2023-12-01 / Affiliate links / Images from Amazon Product Advertising API