Need your BBQ to have a bit more power to it? Here are seven of the very best 4-burner gas grills to take your outdoor kitchen to the next level.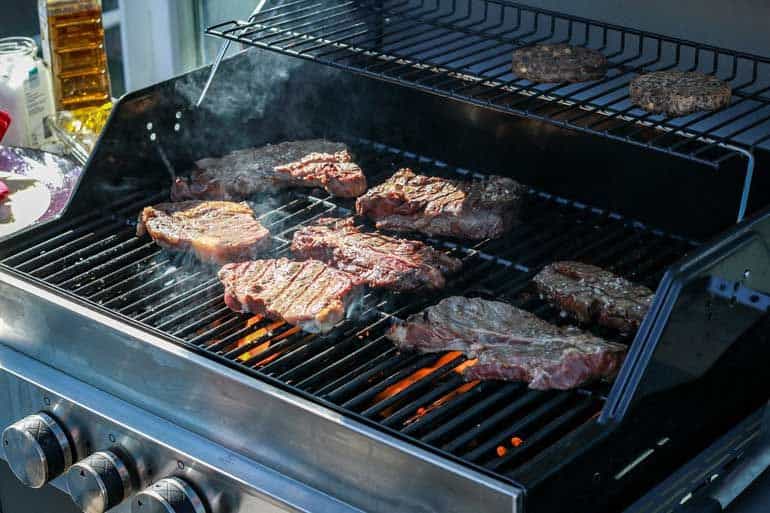 In the world of propane BBQ, 4-burner gas grills offer the perfect blend of cooking power and balanced heat distribution. While 2-burner models tend to provide little flexibility and 6-burners are prone to hot spots, the best 4-burner propane models offer the best of both worlds.
From powerful BTU cookers to feature-packed rotisserie units, these are the best 4-burner gas grills out there today.
Napoleon Prestige 500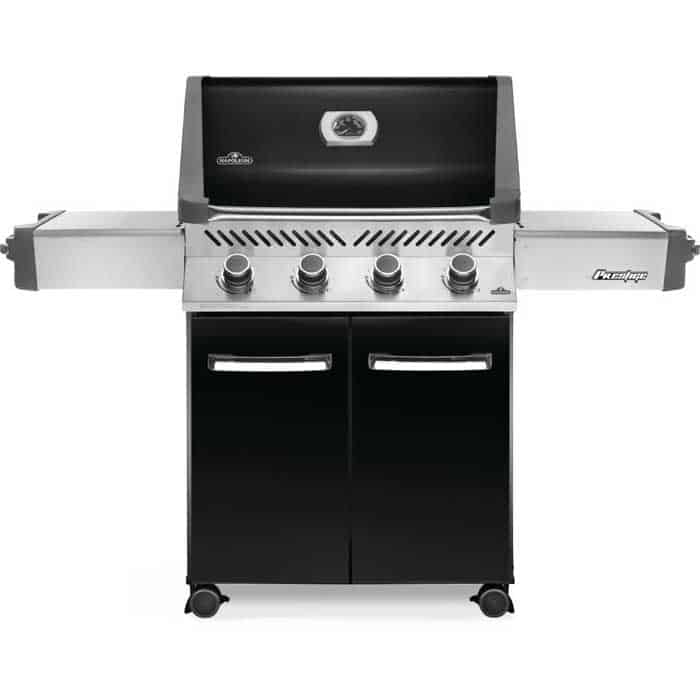 Kicking off our list is the Napoleon Prestige P500.
It has a very high end build and appearance, but all at a very affordable price compared to other grills from the Napoleon brand. Its price point is even competitive relative to the majority of Weber's gas offerings. For me, if you can get a Napoleon grill for the same price as a Weber then you're onto something.
The Prestige range is one of about 12 lines from the Napoleon brand, and is certainly one of their best, perhaps only beaten buy their Prestige Pro and Prestige II & V ranges.
Within the Prestige range however, this is perhaps the very best offering from Napoleon.
The Prestige comes in a propane version and a natural gas version, but without a converter kit to help you switch between the two.
Across the Prestige's four burners sites 48,000 BTUs of power, with 12,000 assigned to each burner. On top of this it has a 10,000 BTU rotisserie burner and a 14,000 BTU infrared burner on its side table.
That's 72,000 BTUs of pure barbecuing power.
Does this translate into high performance though?
The infrared burners on this grill are what helps it come to the fore. Unlike a lot of infrared burners, the temperature can easily be controlled down, and can also be brought up to a sear of over 1000°F.
The four main burners are arranged specifically to help reduce the risk of hot spots, and with carefully placed hot plates to help provide more surface area of juices to vaporize on.
Made with high quality 304 stainless steel, this grill is built to last. It can withstand all that high cooking temperatures can throw at it, and with some to spare.
The inner build of the lid has a layer of SS to help the chamber retain heat without any significant leakage.
As an added option you can get an inserted firebox that allows you to burn charcoal, effectively making this a gas-charcoal combo grill. I'd caveat this by saying that the number of vents in this make it too difficult to control air flow in to make it effective as a sole charcoal grill, but it's a nice added feature to help infuse a little more flavor on your grill.
The bottom line: This is a superb gas grill that packs in an near-invincible build with high power performance, all at a very reasonable cost.
Napoleon P500RSIBPSS-3 Prestige 500 RSIB Propane...
4 Stainless Steel main burners that produce 48, 000 BTU-per-hour input along with Stainless...
Invite all your friends and family over with 500 square inches of main cooking space, enough to...
Forget the matches, a quick start up you can count on every time with the flame throwing...
Weber Genesis II E-410 LP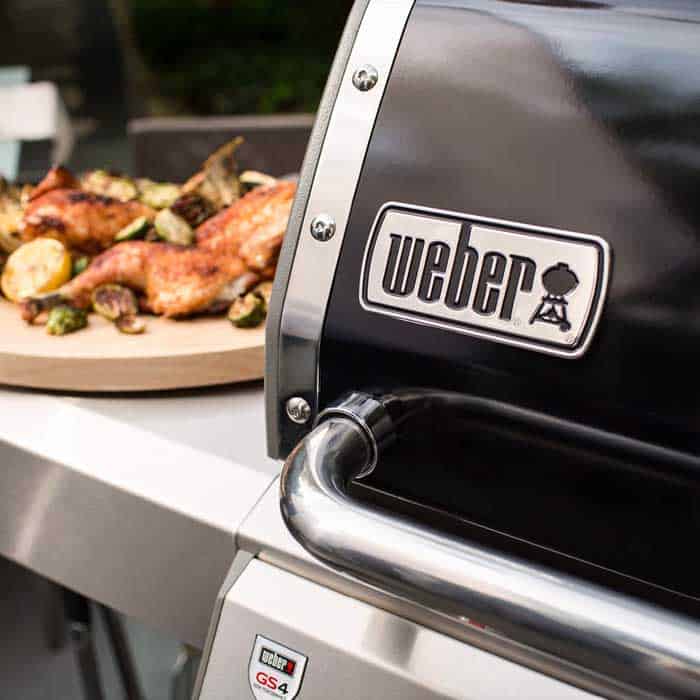 The Weber brand don't really need an introduction, and neither does their Genesis range.
For many the Genesis range is the first port of call for people diving into the gas grill range. And for good reasons: Weber have long manufactured some of the best gas grills out there on the market.
The Genesis II E-410 lives up to this reputation superbly. It boasts a lot of power, great heat retention and distribution, and it even looks great.
Its 4 stainless steel burners combine with Weber's new patented Grease Management System to reduce flare-ups, giving you an even cook through out as well as easy clean-up after use.
These burners sit beneath a generous 646 square inches of glorious cooking space, and even has additional 198-square-inch side warming racks to help enhance your grilling flexibility and mobility.
This is one of the more high-end models that Weber produce, but when performance is this good it's more than worthwhile.
The bottom line: This is one of the best gas grills that Weber have ever produced, and is perfect for grill-heads who want need something that's as energy efficient as it is powerful.
Weber Genesis II E-410 Liquid Propane Grill, Black
This product is a Liquid Propane unit and you must have a gas tank to operate this grill.
Equipped with the powerful GS4 High Performance Grilling System.
Porcelain-enameled, cast-iron cooking grates provide superior heat retention.
Dyna-Glo DGE Series Propane Grill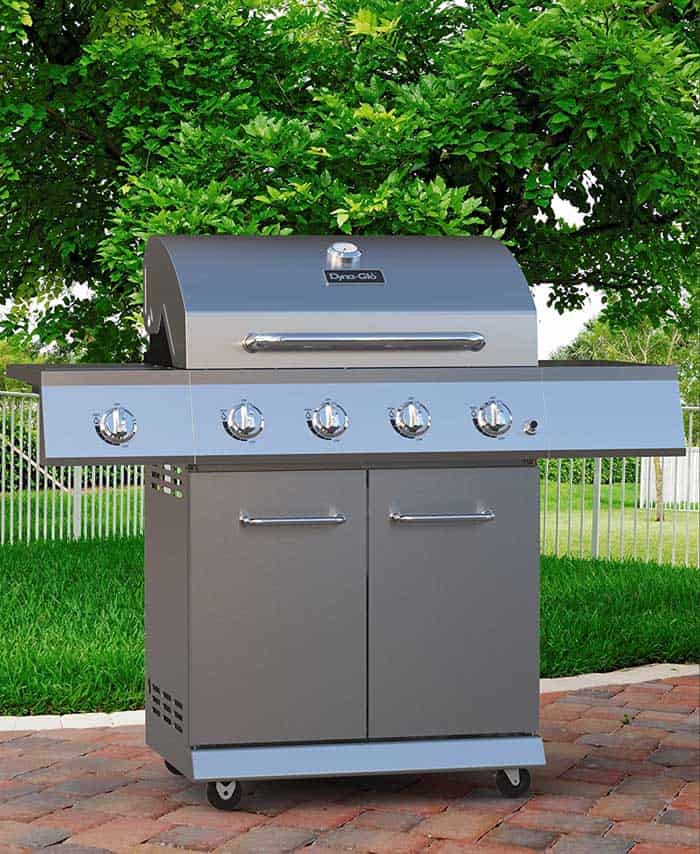 Behind perhaps only Weber and Char-Broil, Dyna-Glo are one of the more commonplace brands we see in our top grill lists. And it isn't difficult to see why.
Almost every grill they release is solid, reliable, and powerful.
Their DGE Series Propane Grill is no different.
This grill crams in 52,000 BTUs across its 4 burners and extra side burner. This power-per-burner puts it on par with the Napoleon Prestige.
These burners are housed underneath 646 square inches of huge cooking space. This should come as no surprise however, as you can tell that this is a big grill the moment you see it.
This isn't just a gas grill though. It has a well insulated firebox to allow you to combine your gas cooking with charcoal or wood pellets, so you infuse your food with more traditional smokey flavors.
The bottom line: This is a very affordable grill that offers as much BTU power as the very best on this list. Its heat retention and fuel efficiency isn't as strong as the Napoleon Prestige, but is still good enough to make this the perfect option for anyone on a budget.
Dyna-Glo DGE Series Propane Grill, 4 Burner,...
4 stainless steel commercial grade straight tube burners (10,000 BTU's each), and a side burner...
52,000 TOTAL BTU's of heat-generating cooking power with electronic ignition and infinite...
3 pc heavy gauge 7 mm stainless steel cooking grates, stainless steel warming rack, and...
Blackstone 36 Inch Outdoor Flat Top Gas Grill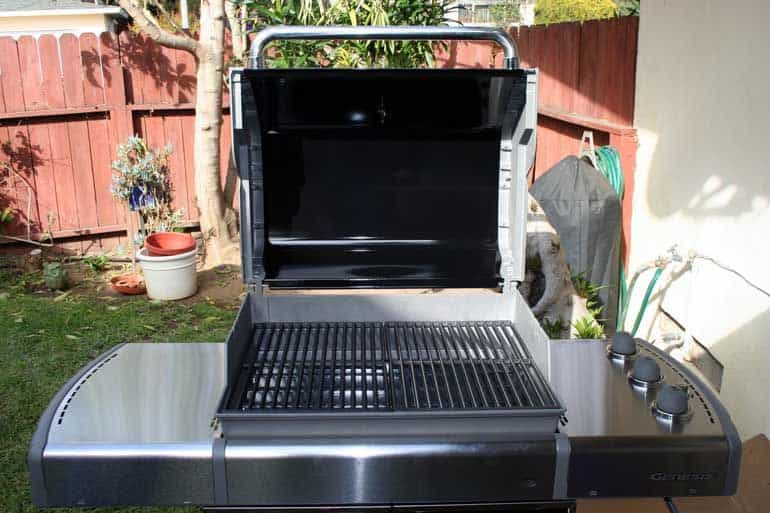 This is a flat top grill style that stands out from most of the other cart or cabinet burner style grills on this list.
What flat tops don't offer is the same vaporizing or indirect qualities of standard gas grills, but the flat top does provide with safer even heat distribution over a larger cooking surface.
The Blackstone has a huge 720 square inches of grilling space sat over its four burners, totalling 60,000 BTUs.
It's a budget 4-burner grill, and sometimes this is evident in its performance. However there's a lot to be said for the space it offers you, as well as providing a cooking experience that's a bit different to traditional gas grills.
It doesn't really have the grilling nuance that a lot of us crave, and its surface is notoriously difficult to clean. But for people in need of something that can accommodate batch grilling then this is one of the best there is.
Sale
Blackstone 36 Inch Gas Griddle Cooking Station 4...
INNOVATIVE REAR GREASE MANAGEMENT SYSTEM: If you plan on cooking bacon or any other juicy meat,...
Replace your standard grill - replace your grill or BBQ with a Blackstone griddle and never...
Restaurant style cooking - with 720sq inches of flat top grilling, This griddle is perfect for...
RevoAce 4-Burner LP Gas Grill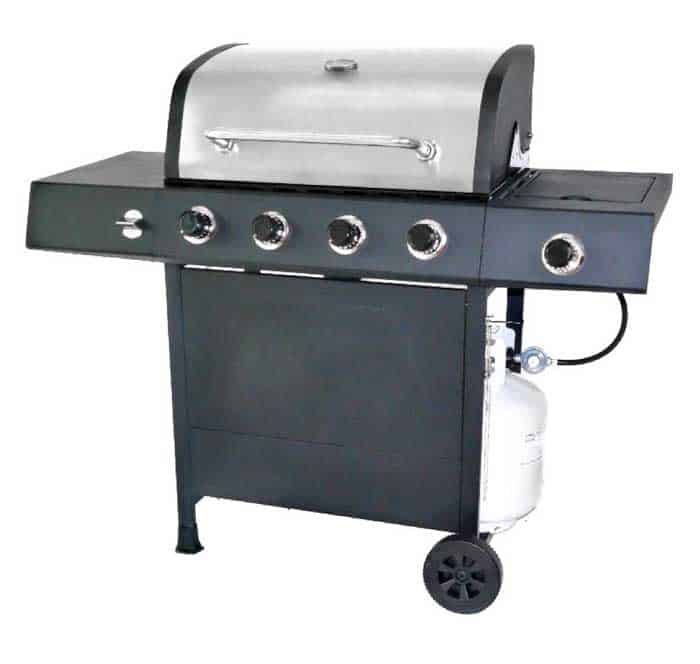 RevoAce is a brand we very rarely see come up, but the affordable price here should make most of you sit up and take notice.
All things considered, a 4-burner grill at this price is remarkable.
But is it a case of you get what you pay for?
For me the answer largely depends on what you want in a grill. This grill offers 480 square inches of cooking space as well as 180 square inches on its side burner. This is generous at any price level.
In terms of power it offers 48,000 BTUs across its four main burners. Again, this is just as good as any other grill on this list. It also has a push ignition system for easy startup.
For me the difference lies in its ability to retain and distribute heat. It does have the build to retain heat properly, which means it actually needs more power to keep the same temperatures as the more high-end grills on this list. This means you burn more fuel, and in turn up your fuel costs.
The bottom line: As an entry level gas grill, this is one of the best out there. But once you've gotten to grips with it you might quickly start looking elsewhere for an upgrade.
RevoAce 4-Burner LP Gas Grill with Side Burner,...
Practical : This patio umbrella is made of a mixture of strong material and water-resistant
Practical : This patio umbrella is made of a mixture of strong material and water-resistant
Practical : This patio umbrella is made of a mixture of strong material and water-resistant
Char-Broil Performance Cabinet Style
Outside of Weber, Char-Broil are perhaps one of the most dependable brands for producing reliable and affordable gas grills.
If you're after something fuel efficient and powerful, all at an accessible price then you don't often need to look beyond the brand.
The Performance series comes in a few different forms, but this cabinet version is one of the best.
Read our full Char-Broil Performance review
With 36,000 BTUs of power, it has a little less power on a per-burner basis, but like I always say it's more important that you use this power efficiently.
Thankfully, the excellent build quality of the Char-Broil ensures that every single British Thermal Unit is used to the maximum. For this reason, I'd rather have this 36,000 BTU grill than a 48,000 unit with a poor construction.
It offers 475 square inches of cooking space, and is built to stand up to (almost) anything the weather can throw at it.
The bottom line: Every bit of power here is made the most of, making this one of the most fuel-efficient gas grills available today.
Sale
Char-Broil 463375919 Performance Stainless Steel...
Your purchase includes One Char-broil Performance Series Liquid Propane Gas only Grill | Not...
Grill dimensions – 24.5" D x 53.1" W x 45" H | Primary cooking area – 23" W x 18.5" D |...
Exclusive Stainless Steel finish for increased style and durability | Not infrared grill
Nexgrill Propane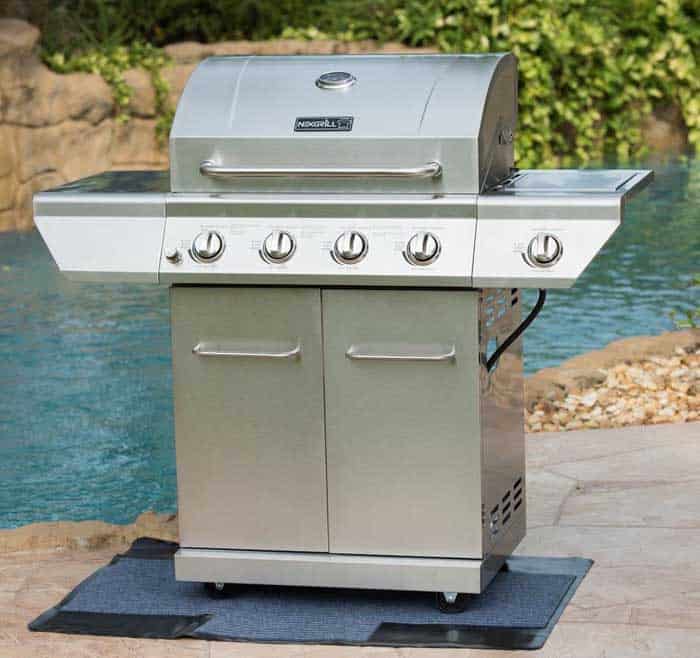 Nexgrill's budget-friendly stainless steel grill offers enough features to rival everything on this list. With 60,000 BTUs of cooking power, a side burner, and 626 square inches of total cooking space, Nexgrill doesn't shy away from providing a powerful backyard propane cooker.
It has angled flame tamers that create even heat across the entire cooking surface, almost entirely eliminating the types of flare-ups that we sometimes see with propane grills. These tamers also vaporize food run-off, keeping the quality of the smoke clean while also infusing some added flavor into your grilled meat.
If the grill isn't enough, it comes with a 12,000 BTU side burner to give your food a quick seared finish, while its electronic ignition system makes start-up fast and easy.
Nexgrill 4-Burner Propane Gas Grill in Stainless...
This refurbished product is tested and certified to look and work like new; The refurbishing...
BTUs - 60000 / 12,000 BTUs side burner / Number of Burners - 4
Grill Grate Material/Grill Material - Stainless Steel
Last update on 2023-10-04 / Affiliate links / Images from Amazon Product Advertising API