When shopping on a budget, you never want to feel like you're having to compromise on quality for the sake of saving money.
This list is here to show you that you can get a lot of bang for your buck, and you can get a fantastic propane grill within the constraints of a relatively tight budget.
1. Char-Griller E3001 Grillin' Pro
This grill from Char Griller gives you one of the best returns in terms of pure power, packing in 40,000 BTUs spread over 3 burners. Even compared to slightly higher end models, this is impressive, so its modest price makes this grill a bargain.
Not only this, but it has a cooking grate area of 436 square inches, giving you plenty of room to cook in, meaning you can cook for larger parties. This plus the Char Griller's excellent grill power means that your outdoor cooking operation will be an energy efficient, smooth-running machine.
As a bonus, it has a 192-square-inch warming rack which gives you a great means of keeping cooked food before you serve it. It also has a 12,000 BTU side burner to allow you to give a nice sear to your meat after you've grilled it, or cook more modestly size food, like vegetables.
It's also a great-looking piece of kit. It resembles some of the offset smokers that experienced grill enthusiasts use, and its black steel construction means it'll demand respect on your patio.
Ultimately with a budget grill, you want some sort of assurances that it will be durable enough to last you a long time. There's no point in buying anything if it falls apart on the second use, regardless of how much it costs.
No need to worry with this grill. It's made with excellent steel construction, and finished with a black powder coated matte. As well as this, it has porcelain coated grill grates, which make it not only durable but also excellent at distributing heat across the surface of your grill.
It has an electric ignition system to make starting the grill up remarkably easy. It also has a removable drip tray to help you easily clean up any greasy run-off.
All in all, if I were to design my ideal budget gas grill then this would be it. It has plenty of power, is roomy enough to let you cook everything you want, and is built to last. It also has the kinds of bonus features that you'd normally see on higher end grills. All within a reasonable budget.
2. Char-Broil Performance 300 2-Burner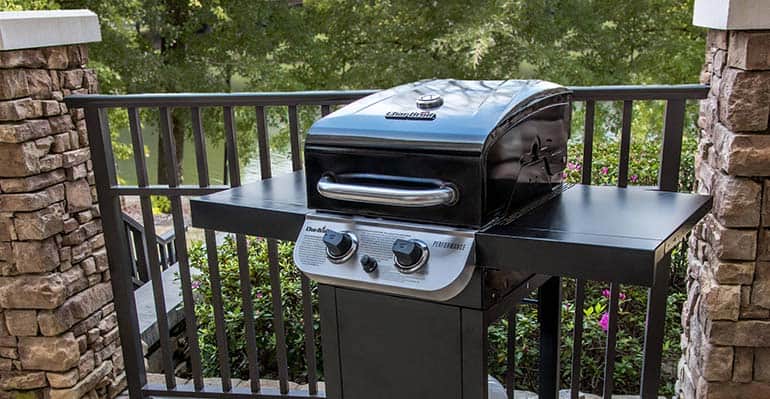 Char-Broils Performance grill isn't named that just as a marketing ploy. It really does great performance.
It has 36,000 BTUs of cooking power which, although not as much as the Char-Grill above, is still a remarkable amount of power given its low cost. Not only this, its side burner has 10,000 BTUs, giving the grill a combined power of 46,000 BTUs.
It has 475 square inches of cooking space across its grill grates. It also has 175-square-inch warming rack to allow you to keep food warm before you serve it up.
Like many of the best gas grills it has porcelain-coated iron grates. If you're unfamiliar with these, porcelain acts in two fantastic ways. One is that it helps create a protective shield over your grates, protecting it from the effects of constant exposure to heat and moisture.
It also offers excellent heat distribution. A lot of cheap grills suffer from 'hot spots' whereby certain areas across a grill are hot while other remain very cold. Porcelain helps distribute the heat more evenly, meaning that you can have more confidence that your meat will be cooked properly and safely, regardless of where it's placed on the grill.
This porcelain coating isn't just reserved for its main cooking grates however, as its swing away warming rack also has coated grates.
The grill has an easy-to-use electric ignition system, making heating up your grill a sinch. While this kind of feature might seem like an obvious thing to include, far too many cheaper gas grills have a manual system which can be much more tedious to light.
As added bonuses, it has side shelves to help give you more room to prepare food outdoors on. It also has a drip-tray that's placed at the foot of the grill chamber during cooking. This helps catch any water or grease run-off from your meat while it cooks. The benefit of this is that it makes clean-up afterwards much simpler and pain-free. It also allows you to remove it during cooking for you to empty and replace.This helps prevent any nasty build-up of smoke.
All in all it's a well-built, study, powerful grill with generous cooking space. A worthy runner-up.
3. Megamaster 720-0804
This grill just looks mean and I love it.
This menacing-looking grill from Megamaster is fantastic value for money, largely owing to two key factors: It's massive, and it's powerful.
It's one of the largest grills on this list, and if cooking area size is important to you then this might be the best option for you. It has 543 square inches of cooking space. That's not all though as it also has a 210-square-inch warming rack, giving you a total of over 750 square inches of cooking area.
But for me the size isn't the most impresisve thigng about the Megamaster. Oh no. What's most striking is it's mightly impressive 54,000 BTUs of power. Shared between a generous 6 burners, that is a mighty amount of power to cram into a budget grill. But the Megamaaster does it easily. And then some.
Just like the two grills above, it has an easy-to-use electronic ignition system to help get things going quickly and without fuss.
Also just like the other grills, it has porcelain-coated grates to help with cooking heat efficiency and durability. Not just that though, but it has porcelain flame tamers which help protect the burners themselves from wear and run-off from the meat.
Just like its appearance might suggest, this is an extremely durable piece of equipment.
Unfortunately, the grill doesn't have a side burner, so if a quick means of searing your meat without disturbing your grill is key then you might want to look elsewhere.
However if something big and powerful is top of your list, then this is the grill for you.
4. Dyna-Glo Smart Space Living 3-Burner
Dyno-Glo have a long history of building powerful yet affordable grills, so it's no surprise that one of theirs makes it on to this list.
This grill comes with 36,000 BTUs of power spread over 3 burners and 503 square inches of cooking space.
This might seem slightly lower to a couple of the other grills on this list, but it's generous cooking space more than makes up for it.
It also has heavy gauge porcelain enameled cast iron cooking grates, making its 36,000 BTUs far more efficient as your grill will retain heat to sear foods much more efficiently. It sirebox containing its burners are also porcelain enameled, ensuring that your grill is well protecting from long term wear or rust.
5. Weber Q2200
I'll admit, this is a bit of a strange looking grill, but it has an awful lot to offer.
It's a compact grill with just a single burner offering 12,000 BTUs of power. However this is a compact grill designed for portability, and it doesn't fail to do just that. In fact, considering its modest size it actually manages to pack in an awful lot.
Weber are famed for making durable and high performing grills, and this is no different.
It offers 280 square inches of cooking space, which is a lot for a compact grill. It also offers porclelain-enamled grates, which means that if you're set to carry this thing around with you a lot for camping, tailgating or trekking, then this thing will last.
It has a cast aluminum lid for extra protection, and an easy-start electric ignition system.
If you're after something compact and portable without compromising on overall quality, then this is the grill for you.